358th McConnell Crew
John McConnell, Pilot
Home

About Us

Contact Us

Donate

Newsletters

8th AFHS

Links

FAQ

Facebook

Search
Personnel

Aircraft

Nose Art

B-17 Thunderbird

Ground Support

Uniforms

Journals

More Info
Mission Reports

Combat Crews

Individual Photos

Photos

POW

KIA

MACR

Overseas Graves

TAPS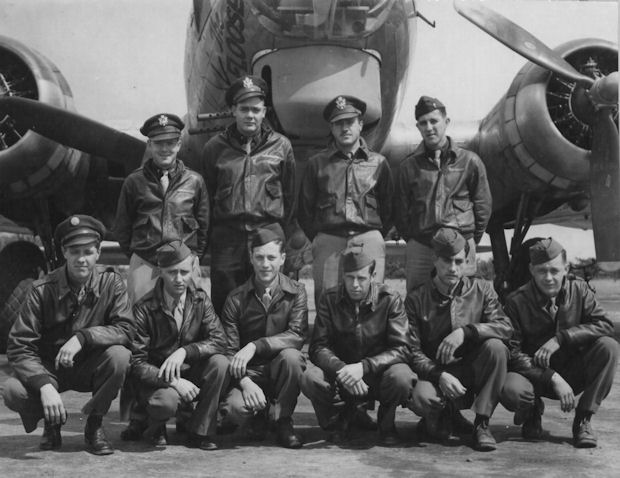 JOHN McCONNELL CREW - 358th BS
(Assigned 358BS: 13 June 1944 - Photo: 27 June 1944)

Original McConnell Crewmen:
1Lt John McConnell (P)(1), 2Lt Charles E. Thomas (CP)(POW)(2),
2Lt Thomas M. Atwood (N)(3), 2Lt Robert W. Bennett (B)(4)

S/Sgt Jack M. Johnson (E)(3), S/Sgt John C. Hess (R)(3),
S/Sgt Jerome R. Messerich (BTG)(5), Sgt Henry R. Krebs (WG)(3),
Sgt James H. Tuchel (WG)(6), Sgt Lawrence J. Schneider (TG)(3)
McConnell Crew Thirty-five combat missions:
190 (24 June 44), 191, 193, 194(A), 195, 196, 198, 200, 201, 202, 203, 204, 208, 209, 210, 211, 212(AS), 213, 214, 215, 216, 218, 220, 221, 222, 230, 231, 233, 234, 235, 236, 237, 238, 240, 243, 244, 245 (21 September 1944)
(A) Non Credited aborted mission - (AS) Credited abortive sortie - Bombs not dropped
Crew Notes:
1Lt John McConnell (P) - Mission #191 flown as CoPilot - Lt Campbell Miller, Pilot
2Lt Charles E. Thomas (CP)(POW) - Missions flown with other Pilots (190, 234, 253, 254, 255) - Three Missions flown as 1st Pilot (249, 250, 251). Became POW on mission #255 11 Oct 44, to Wesseling, Germany, 1Lt Ernest C. Price (P), in B-17G 42-31739 Pugnacious Peter (358BS) VK-P. B-17 shot down and entire crew became POWs.
2Lt Thomas M. Atwood (N), S/Sgt Jack M. Johnson (E), S/Sgt Charles J. Rego (R), Sgt Henry R. Krebs (WG) and Sgt Lawrence J. Schneider (TG) - All missions flown with the Lt. McConnel Crew.
2Lt Robert W. Bennett (B) - Did not fly on mission #211. LtCol Lewis E. Lyle was the substitute Bombardier.
S/Sgt Jerome R. Messerich (BTG) - Did not fly on missions 204, 213, 214 & 231 with the Lt McConnell Crew. Flew on missions 246, 247 & 248 with other Pilots. On mission #248 28 Sept 1944, to Magdeburg, Germany in B-17G #43-38176 (358BS) VK-B, 1Lt Walter J. Mayer (P) [MACR 10586) the B-17 was attacked by German fighters badly damaging the B-17 crew bailed out over friendly territory. Three crewmen were wounded and hospitalized. One crewmen was KIA and others were returned to Molesworth.
Sgt James H. Tuchel (WG). Flew one mission with the 303rd BG(H) and Lt McConnel Crew (# 196). Removed from crew when 2nd Waist Gunner position was deleted from combat Crews.
[Researched by Historian Harry D. Gobrecht]