358th Lay Crew
William P. Lay, Pilot
Home

About Us

Contact Us

Donate

Newsletters

8th AFHS

Links

FAQ

Facebook

Search
Personnel

Aircraft

Nose Art

B-17 Thunderbird

Ground Support

Uniforms

Journals

More Info
Mission Reports

Combat Crews

Individual Photos

Photos

POW

KIA

MACR

Overseas Graves

TAPS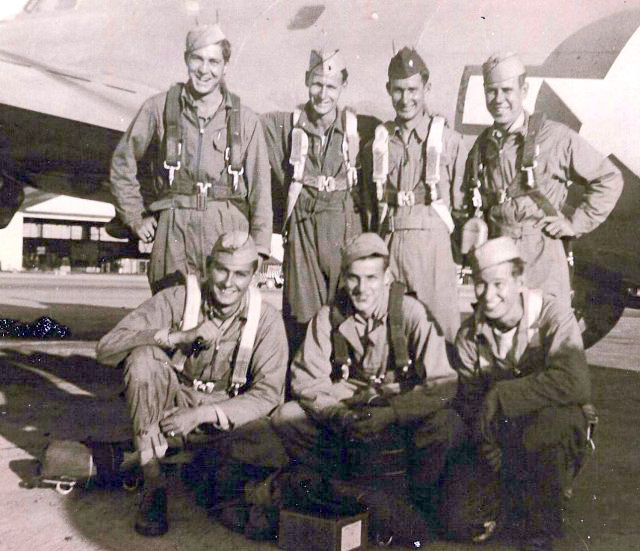 WILLIAM P. LAY CREW - 358th BS
(Assigned 358BS: 17 August 1944)

(Back L-R) Sgt Ray A. Miller (E)(POW)(3), 2Lt David A. Grenier (CP)(KIA)(2),
2Lt William P. Lay (P)(KIA)(1), Sgt Vernon E. Gant (WG)

(Front L-R) Sgt Donald T. Hasper (WG)(KIA)(3),
Sgt Henry F. Gillespie (TG)(KIA)(3), S/Sgt Edward P. Kedzierski (BTG)(6),

Not in photo:
2Lt John T. Goslin, Jr. (B), 2Lt Robert M. Lasker (N)(KIA)(3),
Sgt Freddie E. Kane (R)(KIA)(5), 2Lt Jackson R. Bohannon (B)(KIA)(4)
Lay Crew eight combat missions:
233 (27 Aug 44), 234 (AS), 236, 237, 238, 241, 244, 248 (28 September 44)
(AS) Credited Abortive Sortie - Bombs not dropped
Crew Incident
Mission #241, 12 September 1944. B17G #44-6316 (no name) (358th BS) VK-C. Limped back to England on three engines. The right landing gear collapsed when the B-17 touched the Molesworth runway. A fire was quickly extinguished by the crash crew. There were no injuries. See the Crash Photo.
Final Mission (All crewman except Sgt Kedzierski)
#248, 28 Sept 1943, to Magdeburg, Germany in B-17G #43-38206 Silver Fox (358BS) VK-F. Was burning from the waist when last seen to be in trouble. About 20 seconds later it burst into flames all over, turned on its back and fell straight down. No parachutes were seen. Sgt Ray E. Miller (E) was the only survivor. He noticed that CoPilot 2Lt David A. Grenier was severely wounded on his left shoulder. Lt Grenier motioned for Sgt Miller to bailout, but instead Sgt Miller fastened Lt Grenier's parachute and threw him overboard. Sgt Miller then heard a terrific explosion and did not remember anything until just before he hit the ground. Sgt Richard J. Chaltraw (BTG)(KIA), from the 2Lt Glenn H. Gillespie crew, was a substitute for Sgt Edward P. Kedzierski (BTG)
Crew Notes:
2Lt William P. Lay (P)(KIA) - Mission #233 flown as Co Pilot with orientation Pilot
2Lt David A. Grenier (CP)(KIA) - Did not fly on missions 233, 234 & 236 where substitute CoPilots were used.
2Lt Robert M. Lasker (N)(KIA), Sgt Ray A. Miller (E)(POW), Sgt Donald T. Hasper (WG)(KIA) and Sgt Henry F. Gillespie (TG)(KIA) - Flew on all of the 8 Lay Crew missions
2Lt Jackson R. Bohannon (B)(KIA) - Did not fly on missions #238 & 241 where a substitute Togglier was used. Flew on 11 other missions with other Pilots
Sgt Fred E. Kane (R)(KIA) - A substitute Radio Operator was used on mission #236.
S/Sgt Edward P. Kedzierski (BTG) - Did not fly on mission #248. He was then dispatched on 27 additional missions as BTG and Togglier with other Pilots. Completed his combat tour on mission #303, 17 January 1945.
[photo courtesy of John T. Goslin, Jr.]
[Researched by Historian Harry D. Gobrecht]