358th O.B. Larson Crew
Oliver B. Larson, Pilot
Home

About Us

Contact Us

Donate

Newsletters

8th AFHS

Links

FAQ

Facebook

Search
Personnel

Aircraft

Nose Art

B-17 Thunderbird

Ground Support

Uniforms

Journals

More Info
Mission Reports

Combat Crews

Individual Photos

Photos

POW

KIA

MACR

Overseas Graves

TAPS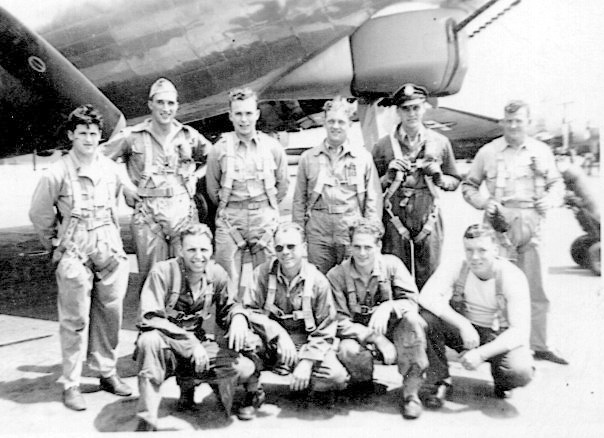 OLIVER B. LARSON CREW - 358th BS
(crew assigned 358BS: 06 July 1944 - photo: 20 May 1944)

(Back L-R) S/Sgt Robert E. O'Connor (E)(POW)(6), 2Lt John M. Gard (N)(EVD-POW)(3),
2Lt Oliver B. Larson (P)(POW)(1), 2Lt George B. Kersting (CP)(POW)(2),
2Lt John J. Draves (B)(KIA)(4), S/Sgt Donald F. Mullaney (R)(POW)(6)

(Front L-R) Sgt Hubert H. Ward (WG)(7), Sgt Norbert M. Philson (TG)(POW)(6),
Sgt Charles R. Sweeney (BT)(POW)(5), Sgt Huber D. Holland (WG)(POW)(6)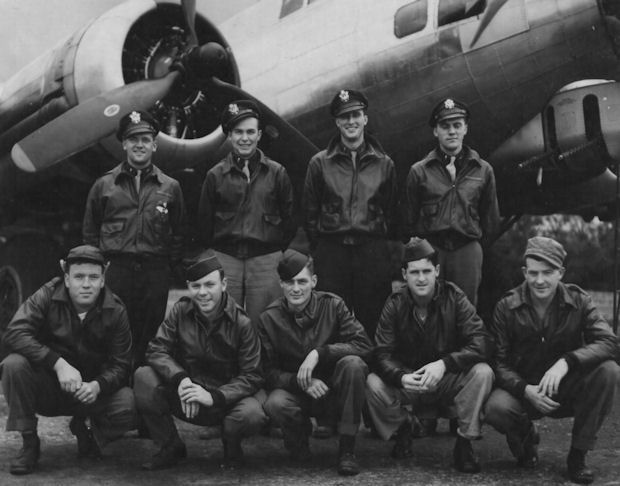 OLIVER B. LARSON CREW - 358th BS
(crew assigned 358BS: 06 July 1944 - photo: 27 July 1944)
CREW NOTES:
Crewmen flew on the following seventeen 303rd BG(H) combat missions:
#205 (17 July 44), 206,207,208,209,212,213,214,215,217,218,220,221,225,226, 227 & 229 (15 Aug 44)
2Lt Oliver B. Larson (P) - Flew as CoPilot on his first three missions (#205,206 & 207) with an experienced Pilot, F/O Robert B. Kirkland.
2Lt George B. Kersting (CP) - Stood down on the crews first three missions.
2Lt John M. Gard (N) - Flew with other crews on missions #215, 218 & 220
2Lt John J. Draves (B) - Did not fly on mission #212. Flew as the crew Navigator on missions #218 & 221. Substitute Togglier used for Bombardier position.
Sgt Charles R. Sweeney (BTG) - Did not fly on mission #205. Substitute BTG used.
S/Sgt O'Connor (E), S/Sgt Mullaney (R), Sgt Holland (WG) and Sgt Philson (TG) - Flew on all of the crew's seventeen missions.
S/Sgt Huber D. Ward (WG) - Flew on crew's first combat mission. Crew size changed from 10 to 9 men and the second Waist Gunner position was deleted from the crew. Departed the 358th BS on 18 July 1944. Subsequent duty station and assignment unknown.
CREW EXPERIENCES:
Mission #212, 25 July 1944
- 2Lt Oliver B. Larson (P) was preparing to land in #42-102453
Princess Pat
, 358th BS (VK-J). He came in too high and failed to go around for a better landing approach. The B-17's wheels hit in the soft ground at the runways end and nosed over. There were no injuries but the badly damaged B-17 flew no more combat missions and was salvaged to the "Boneyard".
Mission #229, 15 August 1944 - To Wiesbaden, Germany in B-17G #44-6086 My Blonde Baby 358BS (VK-L). Squadron was attacked by 25 FW-190s south of Wiesbaden, after bombs were dropped. Nine aircraft were lost (7 -358th BS Crews and 2 - 427th BS Crews). There was no fighter coverage at the time of the attack. The B-17 was burning in the #3 engine and bomb bay. The right wing broke off and the aircraft was spinning downward with a violent centrifugal force. 2Lt Larson (P) was unable to reach the nose escape hatch and he exited through a hole in the belly. Three panels of his parachute were ripped and he landed hard badly spraining his ankle which hurt for two years. The B-17 crashed at Sedffrin, Germany (MACR #8172).
LARSON CREW's B-17s: The Larson Crew flew in seven different B-17G's during their 17 combat missions. All of these B-17 experienced a tragic end.
Pugnacious Peter #42-31739 358th BS (VK-P) - Larson Crew: Missions 205, 214 & 220. Fate: MIA 11 Oct 44, on 85th mission. 358th BS Lt Price (P) [9 POWs]
Princess Pat #42-102453 358th BS (VK-J). Larson Crew: Mission 212 Fate: Crash Landing 25 July 44 on 10th mission. 358th BS Lt Larson (P) Badly damaged. Salvaged.
The Floose #42-97298 358th BS (VK-H). Larson Crew: Missions 215,217,218,221 Fate: Crash landing on 102nd mission, 24 Dec 1944 at Snetterton Heath, England, 92nd BG(H) Lt W.H. Hackett (P). Pilot did not completely lower landing gear causing gear to collapse on landing. Was badly damaged and salvaged. The B-17 had been lent to the 92nd BG(H) for this mission.
Jigger Rooche aka Kraut Killer #42-31423 427th BS (GN-M). Larson crew: Mission 227. Fate: MIA 15 Aug 1944 on 67th mission. 427th BS Lt Clark (P) [6 KIA & 3 POW]
My Blonde Baby #44-6086 358th BS (VK-L). Larson Crew: Missions 226 & 229 Fate: MIA 15 Aug 1955 on 50th mission. 358th BS Lt Larson (P) [1KIA, 7 POW, 1 EVD/POW]
(No name) #42-97085 358th BS (VK-B). Larson crew missions 207,208,209,213,215. Fate: MIA 15 Aug 1944 on 51st mission. 358th BS Lt Charnick (P) [2 KIA, 6 POW, & 1 EVD]
(No name) #42-102680 358th BS (VK-L). Larson crew: Mission 206. Fate: MIA 15 Aug 1944 on 37th mission. 358th BS Lt Cathey (P) [1KIA, 6 POW & 1 EVD]
[photo courtesy of Oliver B. Larson]
[Researched by 303rdBGA Historian Harry D. Gobrecht]