358th Hofmann Crew
Raymond Hofmann, Pilot
Home

About Us

Contact Us

Donate

Newsletters

8th AFHS

Links

FAQ

Facebook

Search
Personnel

Aircraft

Nose Art

B-17 Thunderbird

Ground Support

Uniforms

Journals

More Info
Mission Reports

Combat Crews

Individual Photos

Photos

POW

KIA

MACR

Overseas Graves

TAPS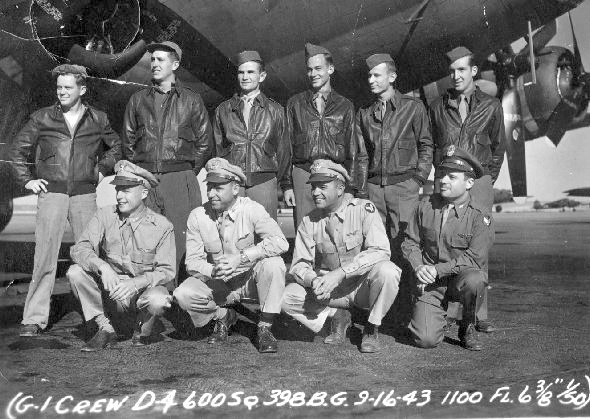 RAYMOND HOFMANN CREW - 358th BS
(crew assigned 358BS: 16 Jan 1944 - photo: 16 Sep 1943)
(Upgraded from CoPilot, Quentin J. Gorman Crew, to Pilot: 03 March 1944)

(Back L-R) Sgt Ollie G. Crenshaw (BT), Sgt John B. Galloway, Jr. (WG),
Sgt Bob Jensen (WG), T/Sgt William R. Blakeney, Jr. (E),
T/Sgt Seymour Berman (R), Sgt Verle J. Maxwell (TG)

(Front L-R) 1Lt Carroll Binder, Jr. (N), 2Lt Raymond Hofmann (P),
2Lt Calvin S. Brothers (CP), 2Lt Elmer P. Israelson (B)
Crew Note:
2Lt
Raymond Hofmann
(P) - Flew on five missions as CoPilot with the 2Lt
Quentin J. Gorman Crew
(109, 110, 113, 114,115). Upgraded from CoPilot to Pilot on 3 March 1943 and flew on seventeen credited missions as 1st Pilot with five different CoPilots (116, 118, 119, 120, 122, 123, 124, 125, 126, 127, 129, 132, 134, 135, 136, 139, 140) - Eleven with 2Lt
Calvin S. Brothers
as CoPilot.
Crew Incident:
On 24 April 1944 mission #140 to Oberpfaffenhofen, Germany in B-17G #42-31669 Shoo Shoo Baby (358BS) VK-J. Lost one engine during a fighter attack before reaching the target. Another engine was lost when hit by flak near the target. Its propeller ran away and could not be feathered. Realizing that they were badly damaged and low on gasoline, the crew opted to head for Switzerland. They landed at Zurich with twelve flak holes in their B-17. All classified equipment was destroyed before landing, including bombsight, IFF & CHF equipment, flimsies and maps. 2Lt Elmer P. Israelson managed to escape from internment and returned to England. Substitute crewmen on mission: 2Lt Robert W. Snyder(CP): 1Lt Samuel Minkowitz (N); Sgt John W. Bahr (LWG); S/Sgt Tracy W. Lawson (RWG); S/Sgt Thomas P Hickey (TG).
Related Web Pages:
[photo from the 303rdBGA Archives]
[Researched by 303rdBGA Historian Harry D. Gobrecht]