358th Hartigan Crew
William R. Hartigan, Pilot
Home

About Us

Contact Us

Donate

Newsletters

8th AFHS

Links

FAQ

Facebook

Search
Personnel

Aircraft

Nose Art

B-17 Thunderbird

Ground Support

Uniforms

Journals

More Info
Mission Reports

Combat Crews

Individual Photos

Photos

POW

KIA

MACR

Overseas Graves

TAPS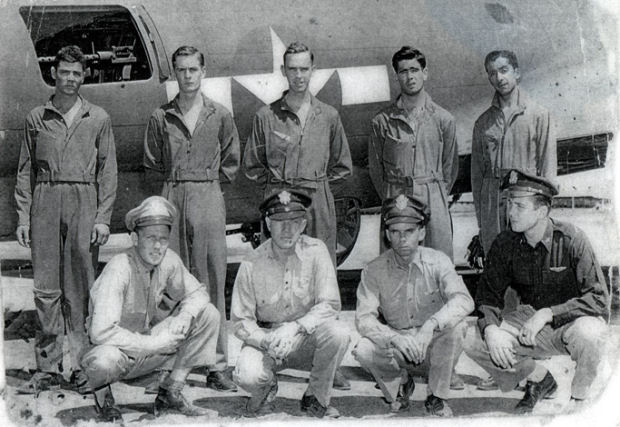 WILLIAM R. HARTIGAN CREW - 358th BS
(Assigned 358BS: 14 September 1943)

(Back L-R) S/Sgt James T. Ince (TG)(POW), S/Sgt Val F. Stoddard (BT)(POW),
T/Sgt Robert L. Ward (R)(EVD), S/Sgt John W. Lowther (RWG)(EVD), T/Sgt Clement Resto (E)(POW)

(Front L-R) 2Lt Bernard F. Dorsey (B)(POW), 2Lt Lorin F. Douthett (N)(EVD),
2Lt Edward N. Goddard (CP)(POW), 2Lt William R. Hartigan (P)(EVD)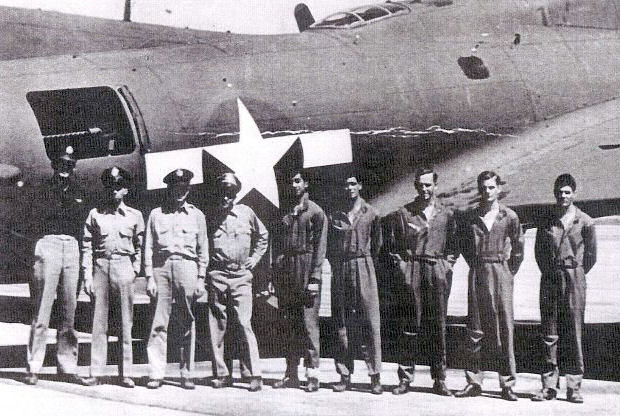 WILLIAM R. HARTIGAN CREW - 358th BS
(Assigned 358BS: 14 September 1943)

(L-R) 2Lt William R. Hartigan (P)(EVD-E&E 231), 2Lt Edward N. Goddard (CP)(POW),
2Lt Lorin F. Douthett (N)(EVD-E&E 232), 2Lt Bernard F. Dorsey (B)(POW),
T/Sgt Clement Resto (E)(POW), S/Sgt John W. Lowther (RWG)(EVD-E&E 2335),
T/Sgt Robert L. Ward (R)(EVD-E&E 2424), S/Sgt Val F. Stoddard (BTG)(POW),
S/Sgt James T. Ince (TG)(POW)

Not in photo: S/Sgt Charles J. Dove (LWG)(KIA),
Seven Credited Crew Missions:
72 (27 Sept 43), 73, 74, 75, 76, 77, 79 (20 Oct 43)
Substitute Crewman on missions:
Mission #72 - 2Lt Paul M. Campbell (CP) for Lt Goddard (CP)
Mission #75 - Sgt Robert W. Hoffman (Togglier) for Lt Dorsey (B)
Mission #76 - Sgt George F. Fee (Togglier) for Lt Dorsey (B)
Additional Crewman on missions:
Mission #72 - Sgt Wallace E. Martin (Photographer)
Mission #79 - Sgt Ralph P. Moffett (Photographer)(POW)

KIA (Killed in Action) EVD (Evadee)
Mission #79, 20 Oct 43 to Duren, Germany in B-17F #42-29571 Charley Horse (358BS) VK-L Crashed near Mons, Belgium (MACR 1033). T/Sgt Robert L. Ward (R) avoided capture and made contact with the French underground. He was taken to Paris and was accompanied by an underground member to the Swiss Border eleven days after their landing. He worked for the US Embassy before being returned to England in September 1944. S/Sgt John W. Lowther (RWG) arrived in Switzerland six months after T/Sgt Ward. He had been in the hills with the French Maquis. Lt's Hartigan (P) and Douthett (N) also avoided capture. They escaped through Spain and returned to Molesworth on 10 December 1944. S/Sgt Charles J. Dove (LWG) was Killed in Action. Lt's Goddard (CP) and Dorsey (B) and T/Sgt Resto (E), S/Sgt's Stoddard (BTG) and Ince (TG) and Sgt Moffett (Photographer) were captured and became POWs.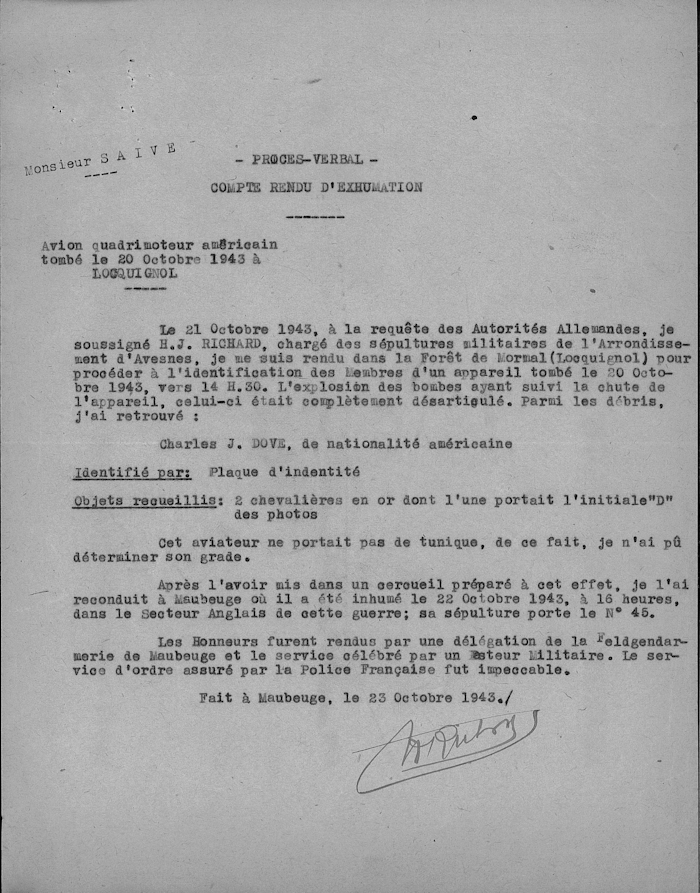 TRANSLATION:
- Mister Saive -
ACCOUNT OF EXHUMATION
US quadrimotor aircraft, fallen on 20 oct 43 at Locquignol
(Locquignol is located in French departement of the "North" dept number is 59, for example my dept is number 71 "Sa˘ne et Loire", in France, depts are alphabetically classified : 01 is "Ain" 02 is "Aisne" 03 is "Allier" etc....)
On 21 oct 1943, on German Authorities's request, i undersigned H.J. Richard, in charge of militaries graves in Avesnes area
(Mr Richard was a French authorities employee - Avesnes is a city in "North" departement)
i was gone to Mormal forest
(near Locquignol)
to identify crew members of an aircraft which came down on 20 oct 1943, at about 2.30 p.m.
The explosion of the bombs followed the aircraft falling, so this plane was completely dislocated. Among the debris, i've found :
Charles J DOVE (American citizen)
identified with id tag
objects found :
2 golden signet rings with one beared initial "D"
This airman didn't wear uniform, so, i didn't determinate his rank.
After placed him in a coffin, i've showed him out to Maubeuge (another town of North departement) where he was buried on 22 oct 1943, at 4 p.m., in English Sector, his grave have number 45.
Honors were made by Feldgendarmerie delegation of Maubeuge (Feldgendarmerie was German military police) and service celebrated by miitary chaplain. Order service was assured by French Police, was impeccable.
Made at Maubeuge, on 23 oct 1943."
[photo courtesy of Val Stoddard]
[French document courtesy of Bernard FEUTRY, translation by Daniel BON]
[Researched by Historian Harry D. Gobrecht]