358th Elliott Crew
Albert H. Elliott, Pilot
Home

About Us

Contact Us

Donate

Newsletters

8th AFHS

Links

FAQ

Facebook

Search
Personnel

Aircraft

Nose Art

B-17 Thunderbird

Ground Support

Uniforms

Journals

More Info
Mission Reports

Combat Crews

Individual Photos

Photos

POW

KIA

MACR

Overseas Graves

TAPS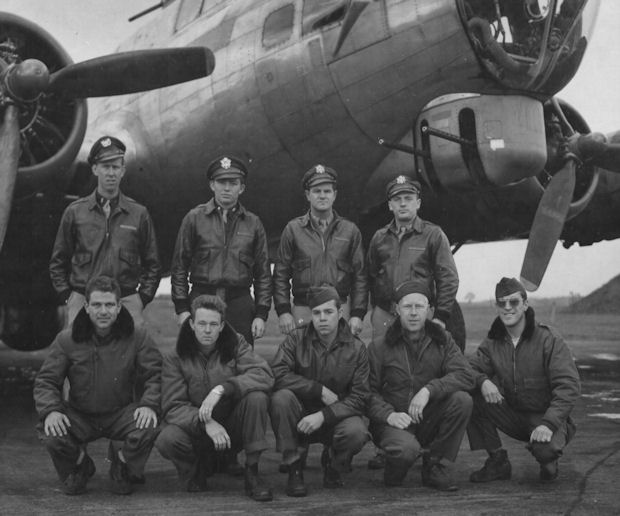 ALBERT H. ELLIOTT CREW - 358th BS
(crew assigned 358BS: 04 Mar 1945)

(Back L-R) F/O William E. Wiley (N), 2Lt Charles F. Stockton, Jr. (CP),
2Lt Albert H. Elliott (P), 2Lt Paul W. Hershner (B)

(Front L-R) Sgt Milton L. Albrecht (E), Sgt John W. Le Stonga (R),
Sgt Raymond W. Gayvert (TG), Sgt James A. Smith, Jr. (BTG),
Sgt Edward J. Regan (WG)
Four Crew Missions:
358 (11 April 1945), 359, 360, 362 (17 April 1945)
Crew Notes:
2Lt Albert H. Elliott (P) - Crew flew on two missions (358, 359) with instructor Pilot 1Lt John D. Dorsett


2Lt Charles F. Stockton, Jr. (CP) - Flew on two missions (358, 364) with 2Lt Rudolph L. Griffith (P)


F/O William E. Wiley (N), Sgt Milton L. Albrecht (E), Sgt John W. Le Stonga (R), Sgt James A. Smith, Jr. (BTG), Sgt Raymond W. Gayvert (TG) - Flew on all four crew missions


2Lt Paul W. Hershner (B) - Did not fly on two crew missions (360, 362). Substitute Toggliers used.


Sgt Edward J. Regan (WG) - The Lt Elliott Crew used no Waist Gunners on their four missions. Flew on one mission (362) as the Lt Elliott crew Togglier.
[photo from the 303rdBGA Archives, identification by Paul Hershner]
[Researched by Historian Harry D. Gobrecht]