358th E.E. Clark Crew
Elmo E. Clark, Pilot
Home

About Us

Contact Us

Donate

Newsletters

8th AFHS

Links

FAQ

Facebook

Search
Personnel

Aircraft

Nose Art

B-17 Thunderbird

Ground Support

Uniforms

Journals

More Info
Mission Reports

Combat Crews

Individual Photos

Photos

POW

KIA

MACR

Overseas Graves

TAPS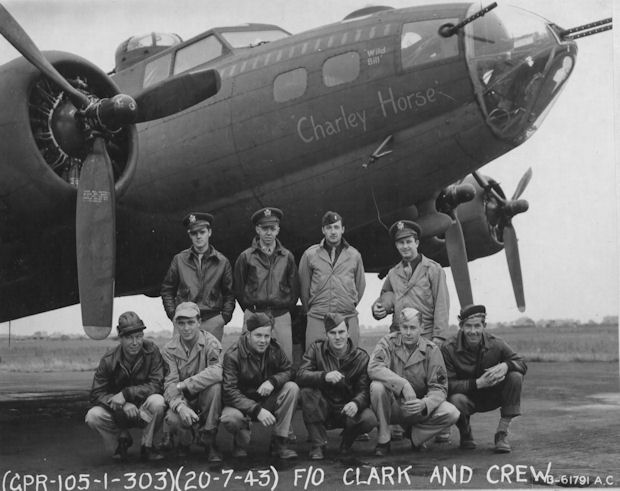 ELMO E. CLARK CREW - 358th BS
B-17F #42-29571 Charley Horse (358BS) VK-L
(pilot assigned 358BS: 08 Apr 1943 - photo: 20 July 1943)
(Upgraded from Co Pilot, John V. Lemmon crew, to Pilot: 24 July 1944)

(Back L-R) F/O Elmo E. Clark (P)(1); Lt Donald F. DeCamp (CP)(2);
Lt Robert E. Galbraith (B); Lt Ralph M. Haddock (N)

(Front L-R) S/Sgt Charles R. Doback (WG)(4); S/Sgt William T. Hembree (E);
S/Sgt Richard J. Tracy (WG); S/Sgt Frank M. Matthews (TG);
S/Sgt Curtis O. Brooke (R)(3); S/Sgt William H. Jenkins (TG)(4)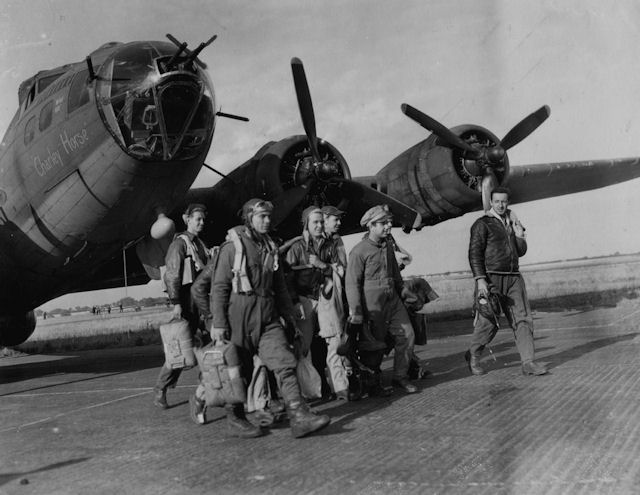 F/O Elmo Clark and his Crew exit B-17F #42-29571 Charley Horse following the 6 September 1943 Stuttgart mission.
Clark (P) - Became CoPilot on the Lt John V. Lemmon Crew on 17 April 1943 Mission #31 [See 358th BS Lemmon crew]. Upgraded to Pilot. First mission as Pilot on 24 July 1943 mission #52. Completed his 25 mission combat tour on 09 September 1943. Flew on 15 missions as CoPilot and 10 as 1st Pilot.


DeCamp (CP) Was upgraded from CoPilot to Pilot and took over the F/O Clark crew when F/O Clark completed his combat tour. First mission as crew Pilot was on 16 September 1943 mission #70.


Brooke (R) - Became a POW on 19 August 1943 mission #61 to Gilze-Rijen, Netherlands in B-17F #42-3192 (358BS) VK-G while flying as Radio Operator with the 358BS 1Lt J.S. Nix crew.


Doback (WG) & Jenkins (TG) - Sixth and last combat mission was on 24 August 1943. Transferred out of the 358th BS on 22 February 1945.
Related Web Pages:
[photo from the 303rdBGA Archives]
[Researched by 303rdBGA Historian Harry D. Gobrecht]