358th Bailey Crew
Ernest A. Bailey, Jr., Pilot
Home

About Us

Contact Us

Donate

Newsletters

8th AFHS

Links

FAQ

Facebook

Search
Personnel

Aircraft

Nose Art

B-17 Thunderbird

Ground Support

Uniforms

Journals

More Info
Mission Reports

Combat Crews

Individual Photos

Photos

POW

KIA

MACR

Overseas Graves

TAPS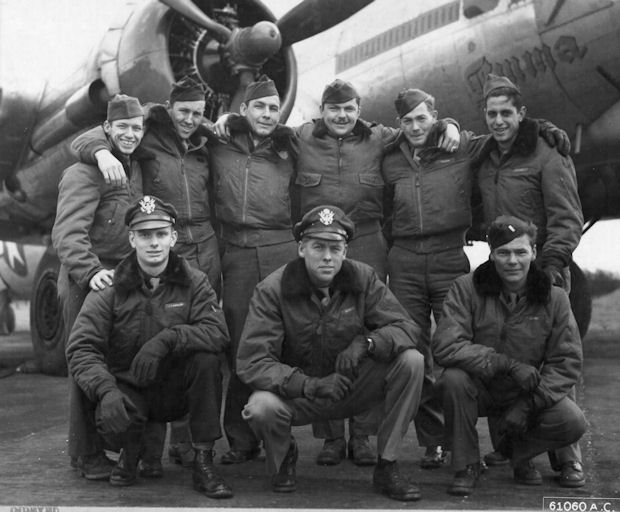 ERNEST A. BAILEY, JR. CREW - 358th BS
B-17G #43-38999 Emma VK-F
(crew assigned 358BS: 01 Apr 1945 - photo: 03 April 1945)

(Back L-R) Sgt Alexander F. Masson (R), Sgt Frank L. Farmer (TG),
Sgt Austin D. Deaver (Tog), Sgt Leo W. Fogarty (RWG),
Sgt Gerald L. Bacon (BT), Sgt Richard P. Beamer (E)

(Front L-R) Lt Fred D. Dornblaser, Jr. (N),
2Lt Ernest A. Bailey (P), 2Lt Lawrence L. Fries, Jr. (CP)(KIA)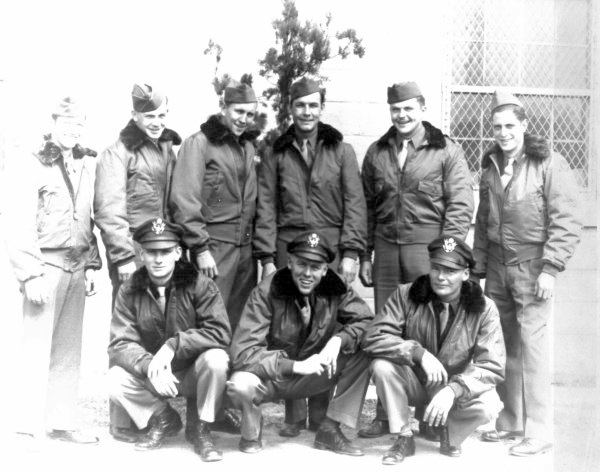 ERNEST A. BAILEY, JR. CREW - 358th BS
(Back L-R) Sgt Alexander F. Masson (R), Sgt Gerald L. Bacon (BT),
Sgt Frank L. Farmer (TG), Sgt Austin D. Deaver (Tog),
Sgt Leo W. Fogarty (RWG), Sgt Richard P. Beamer (E)
(Front L-R) Lt Fred D. Dornblaser, Jr. (N),
2Lt Ernest A. Bailey (P), 2Lt Lawrence L. Fries, Jr. (CP)(KIA)
Missions flown by the Bailey Crew:
356 (8 Apr 1945), 357, 358, 359, 360, 363, 364 (25 April 1945)
Crew Notes:
Crew flew with no Waist Gunners on all missions. Had a Passenger on each of the last four missions.
2Lt Ernest A. Bailey, Jr. (P). Flew as CoPilot with a crew orientation Pilot on one missions (357). Other missions as Crew Pilot.
2Lt Lawrence Fries, Jr. (CP)(KIA) - Flew on no missions with the Lt Bailey crew. Flew two missions with other Pilots (356, 357). Was Killed in Action on mission #357 to Oranienburg, Germany, 10 April 1945, in B-17G 44-8427 Henn's Revenge (358BS) VK-E [MACR 13875]. B-17 was hit by attacking ME-262 jet fighters coming in on the tail. It burst into flames between the #3 and 4 engines and held on course for only a few seconds. It then peeled up and slid over and down right through the formation and crashed near Oranienburg, Germany. Eight crewmen were KIA and one became a POW.
F/O Robert Boardman (CP) became the crew CoPilot on the crews last five missions. He was a member of the Lt Robert I Murray Crew
Sgt Alexander F. Masson (R) - Flew on four missions with the Lt Bailey Crew (359, 360, 363, 364). Substitute Radio Operators used on three missions (356, 357, 358). Flew on one mission (356) with another crew.
Sgt Leo W. Fogarty (WG) - Flew no missions with the Lt Bailey crew or the 303rd BG(H). Waist Gun position had been deleted from the crew.
Crew Incident:
Shot down by another 358th BS B-17: On 25 April 1945 mission #364 (Last 303rd BG(H) mission) to Pilsen, Czechoslovakia in B-17G #43-38191 Shasta (358BS) VK-A. Lt Bailey landed at Wurzberg, Germany (Field R-24). The #2 gas tank and radio compass were damaged after being hit by gunfire from the chin turret of B-17G #43-39450 (No name) (358BS) VK-P operated by Bombardier Lt Charles A. Bradshaw and piloted by 1Lt William L. McKimmie. Fortunately there were no injuries. The nine man crew returned to Molesworth a week later. The B-17 was salvaged.
[photo from the 303rdBGA Archives]
[Researched by Historian Harry D. Gobrecht]