Having trouble viewing this email? See the online version here. To unsubscribe, please reply and request removal.
Submissions of 303rd Bomb Group related stories and articles are most welcome.



December 14, 2014
Volume VI, Issue 8
www.303rdBG.com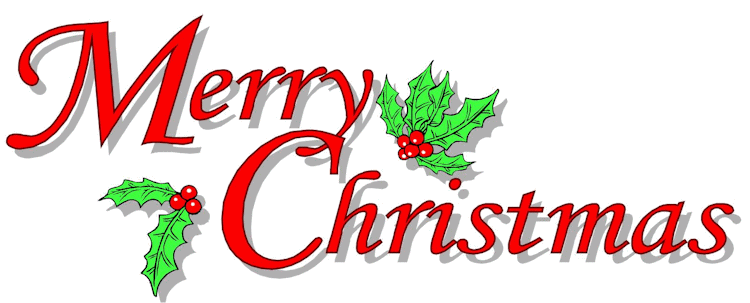 303rd Bomb Group Veteran Inspires Artists
by Jacob Langston, Orlando Sentinel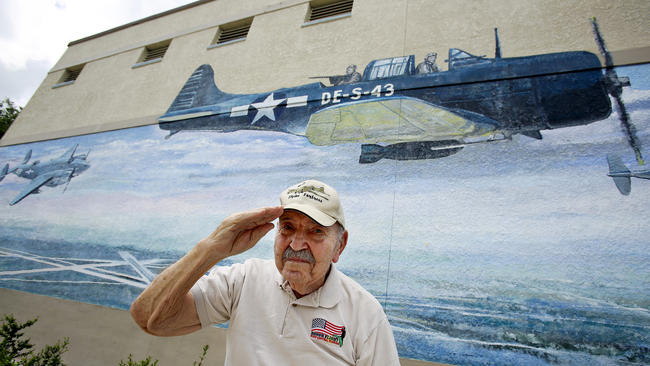 99-year-old Kenneth Davey stands in front of a WWII themed DeLand Naval Air Station mural along New York Ave in downtown DeLand on June 24, 2013. Davey was a B-17 Flying Fortress pilot (plane not pictured in mural) in the Army Air Corps and flew 30 missions with the 303rd Bomb Group.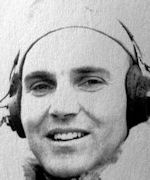 Earlier this year I worked on a blog post about some of the fun murals around Central Florida. I had the honor of meeting WWII B-17 pilot Kenneth Davey who is now 99-years-old. I had the idea to photograph people in front of the murals and find a person that fit the theme of each mural. While researching for this mural I reached out to the public relations team at Fantasy of Flight. They put me in touch with a friend whose grandfather was a pilot during WWII.
Fast forward a few months and I received an email from Laurie Pinna, a chalk artist, asking for permission to use the photo as inspiration for a piece she was working on at the Sarasota Chalk Festival.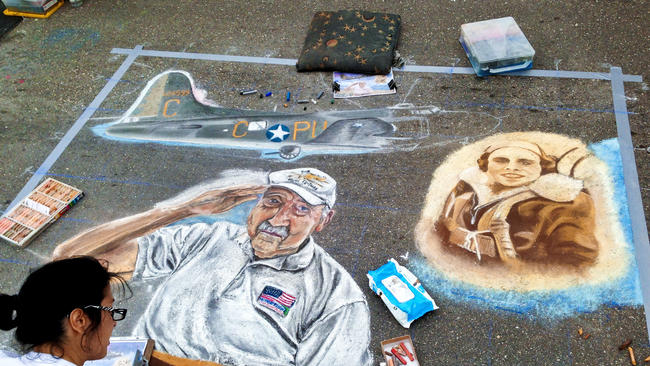 Laurie Pinna hard at work at the Sarasota Chalk Festival.
While Pinna was brainstorming for her piece for the theme "Legacy of Valor", her friend mentioned a clip from a newspaper that featured her father, Mr. Davey. She pulled out the clip of Kenneth Davey from the Orlando Sentinel proudly saluting in front of a mural in downtown DeLand. While the plane on the mural is not a B-17, Pinna and friend Dave Conley were able to add a B-17 to the piece they were creating for the festival.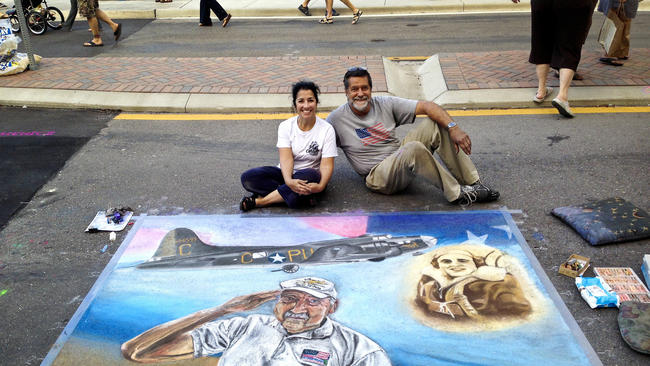 Laurie Pinna and Dave Conley pose next to their 6' x 8' mural featuring 99-year-old Kenneth Davey during the Sarasota Chalk Festival. The festival's theme this year was "Legacy of Valor" and included artists from all over the world.
They were almost rained out over the weekend, but were able to scale down their piece and complete it on Sunday. Pinna and Conley both are artists, but classify themselves as hobbyists. They create pieces for chalk festivals throughout Florida.



Texas WWII B-17 pilot crosses off bucket list item with visit to Mighty 8th in Pooler
photos and story by Corey Dickstein
Savannah Morning News
October 16, 2014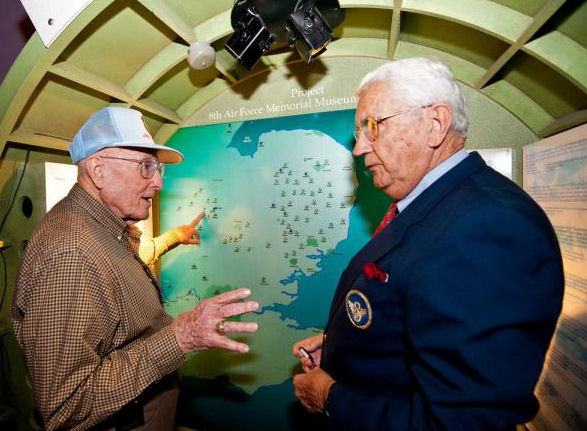 Sam Smith, a 90-year-old World War II veteran who flew B-17Gs out of England with the 360th Squadron, 303rd Bomb Group of the 8th Air Force, shows National Museum of the Mighty Eighth Air Force docent John Telgener where his unit was stationed as it flew 24 missions over Europe toward the end of the war. Smith said the Thursday visit to the Pooler museum was among his bucket list items.
Sam Smith, a 90-year-old World War II veteran who flew B-17Gs out of England with the 360th Squadron, 303rd Bomb Group of the 8th Air Force, shows National Museum of the Mighty Eighth Air Force docent John Telgener where his unit was stationed as it flew 24 missions over Europe toward the end of the war. Smith said the Thursday visit to the Pooler museum was among his bucket list items.
With his eyes fixated on the aluminium-bodied airplane just ahead of him, Sam Smith slipped past a rope and rushed up a set of stairs toward the door of the pristine B-17G Flying Fortress.
The 90-year-old Texas man unlatched the door and ducked inside the World War II-era bomber before anyone could tell him not to.
"It's too damn clean," Smith yelled from inside the fuselage of the nearly fully restored aircraft that serves as the centerpiece of the Combat Gallery at National Museum of the Mighty Eighth Air Force. "Our planes were not this pretty. It needs some work.
You got to dirty it up like a combat bird."
Sam Smith shows National Museum of the Mighty Eighth Air Force docent John Telgener a list of the 24 missions he and his crew flew over Europe toward the end of the war. Smith was a member of the 360th Squadron, 303rd Bomb Group "Hells Angels" as a 20-year-old lieutenant.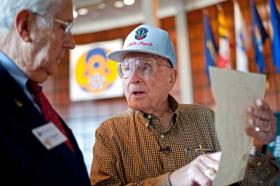 Smith certainly knows his way around a B-17. As a child growing up on a Central Texas farm he fell in love with airplanes, including the quad-engined Flying Fortress, and dreamed of one day flying them. By 20, his dream had come true; the young Army Air Corps 2nd lieutenant had been shipped off to England to command a B-17G crew on bombing missions over war-torn Europe.
Nearly 70 years after flying the last of his 24 missions, Smith made his way to the Mighty Eighth Museum in Pooler on Thursday to cross off an item on his bucket list.
"It's been my dream to come here a long, long time," said Smith, who'd visited the museum years ago but wanted to see it in its updated state. "It's a real pleasure for me to come and revisit that part of my life."
Smith and his son Tim brought a filmmaker along to document the tour led by longtime Mighty Eighth docent John Telgener. Throughout the tour, Smith shared stories from his time in service with the 8th Air Force's 360th Squadron, 303rd Bomb Group.
He watched intently the museum's series of videos that prepare its visitors to "fly a mission" and compared it favorably to his own experiences in war. Throughout the tour he stopped and shook hands and shared stories with other museum-goers, graciously posing for photos with a trio of younger Air Force veterans.
Sam Smith, left, chats with other visitors Thursday morning at the National Museum of the Mighty Eighth Air Force about his experiences as a B-17 pilot during World War II.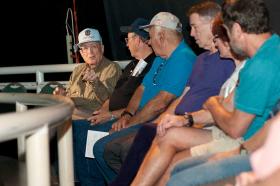 "It's been probably one of the greatest pleasures I've had as a docent here," Telgener said. "I've been with the museum since 1998, and touring today with Mr. Smith — he was there (in World War II), and the way he recalls details and his stories are amazing. There's going to be a lot of my presentation to future groups that I'm going to adjust because of his knowledge he's sharing."
Stories like Smith's bombing mission March 21, 1945, over Hopsten, Germany — his 11th mission and a flight that would eventually earn him a Distinguished Flying Cross.
"We had so many holes in the airplane you couldn't count them all — that was one of the great things about a B-17, you could shoot her full of holes and that baby would still fly," Smith recalled. "When I touched the ground the airplane made a real sharp turn to the right. I corrected it, and I realized that my landing gear on the right side — something was wrong."
Smith had to make a quick decision. He could either try to stop the nearly immobile plane on the runway or he could maneuver it off the landing strip to let the other planes that had flown the mission land.
"I picked up that wing and rolled it down on two wheels and spun it off into the ground, because I didn't want my buddies behind me to have to (circle) around," Smith said. "They might not have had enough fuel to make it back to land. That was the biggest worry — you probably didn't have any extra fuel, and that's a big problem."
The damage to the B-17 was extensive, Smith said. Still, everyone in his crew made it back.
National Museum of the Mighty Eighth Air Force docent John Telgener points out a plaque on the museum's Wall of Valor dedicated to Sam Smith and his B-17G crew that flew a plane named Jackie during World War II. Smith, 90, of Texas, visited the Pooler museum Thursday to see the plaque, the museum's B-17 and other attractions it offers.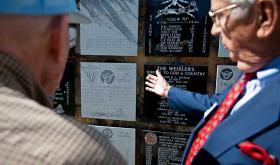 "The good Lord, I think, smiled on me and my guys a lot," he said. "We took a crew over there, and we all came back as a crew and not one of us was all shot up.
"When the war ended and they separated us, it was like breaking up a family. Everybody was in tears. That's the way the camaraderie was among the crew. Everybody took care of everybody else."
His crew that primarily flew a plane named Jackie that is memorialized on the museum's Wall of Valor in its Memorial Garden. Smith, visibly moved Thursday morning, stared in silence at the names of each of his crew members written on their granite marker.
"They've done a magnificent job," Smith said of the museum. "It's a really beautiful place. I'm glad we have it on display, and I hope the future people who visit enjoy it too."




NEW 303rd BOOK !!
"Hell's Angels-The True Story of the 303rd Bomb Group
in World War II"
by acclaimed author LtCol (Ret) Jay A. Stout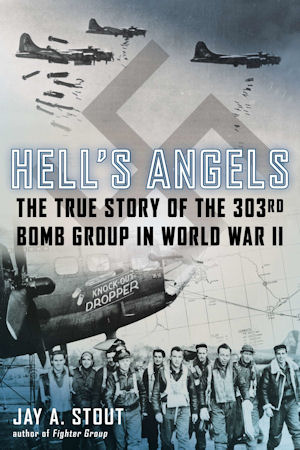 DESCRIBE THE BOOK.
It covers the 303rd and its men--combat and support--from the time of its formation in 1942 until the end of the war in 1945. It's being published by Penguin Random House, the largest publisher in the world. At 496 pages with 40 photographs it's a very comprehensive book and is available for preorder from Amazon, Barnes and Noble, and fine independent bookstores everywhere. The official release date is January 6, although books might arrive sooner. It will also be available as an audio book, narrated by the exemplary Robertson Dean.
WHY DID YOU DECIDE TO WRITE ABOUT THE 303RD?
The 303rd was one of the very best bombing units to serve during World War II. It was also among the first American bomb groups to start operations against Germany. So, I was also able to use the 303rd's record to additionally tell the story of the entire American strategic bombing campaign.
But that was only part of the reason. I also picked it because no other bomb group documented its history so well. This documentation included the normal official records, but the biggest treasure was the 303rd Bomb Group Association's newsletters. The group's members contributed wonderful anecdotal stories that would have been otherwise lost; the editors who put the newsletters together can't be thanked enough.
And then there were books written by the flyers themselves. Harry Gobrecht's MIGHT IN FLIGHT was particularly useful. And of course, there is the 303rd's website, maintained by Gary Moncur. It quite literally has no equal in the world. So, in short, I chose the 303rd because of its great combat record and the tremendous resources that were available.
WHAT DO YOU LIKE MOST ABOUT THE BOOK?
I cover quite a bit of combat action, but an entire book about nothing but the horror of air combat would make the reader numb. Or worse, bored. And it would be incomplete. It's important to remember that for each flyer, there were about ten other men doing the jobs that made the air war possible. These were the maintenance men, the armorers, the bomb loaders, the clerks and cooks and bakers and candlestick makers. So, I tell some of their stories as well. And then I backdrop it all with discussions of the strategies, tactics and machines that made victory possible. I like the book because it's not only complete, but it's also interesting. There's something new for everyone.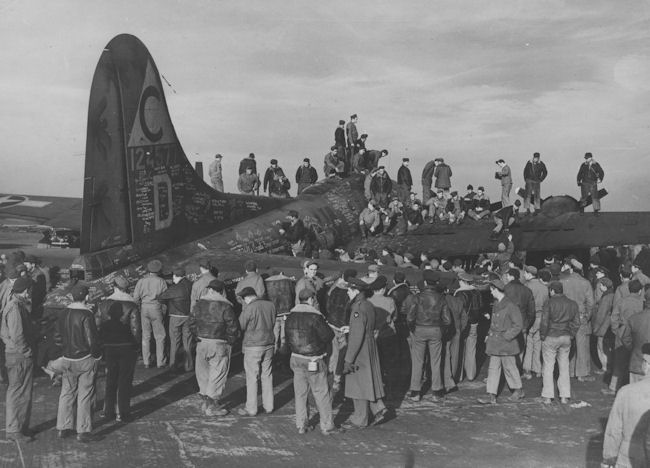 WHAT MOST IMPRESSED YOU ABOUT THE MEN?
Most of them were amateurs, and yet they won the war. I'm amazed at how quickly the nation built its armed forces. For instance, in 1940 the United States Army Air Forces was only about 25,000 men strong. By 1944 it had 2.5 million men on its rolls. In practical terms, it meant that for every 100 men in the 303rd--or any other unit--only one had been on the job for more than five years. And they did it all without computers.
DID YOU HOPE TO ACCOMPLISH ANYTHING BEYOND THE OBVIOUS TELLING OF THE 303RD'S STORY?
In telling the 303rd's story, I think I told most of the stories of every other American heavy bomb group that flew against the Germans. I'm sure that men who flew with other bomb groups will find much that is familiar. And I think that the children and grandchildren of all the bomber men will gain a greater appreciation of what was done. Too, I think I've put together elements of that life in a way that makes it much more understandable when compared to most other works.
ANY REGRETS?
The group counted nearly 9,000 men on its roster through the course of the war. I couldn't cover or mention them all. Moreover, I was inundated by wonderful material and photographs from the veterans and their progeny. I simply couldn't use it all without the book ballooning to thousands of pages. But I still appreciate the help as I learned a great deal, even from material that I didn't use. Most of all, it was just a great honor to work with the 303rd's veterans, their families and their friends.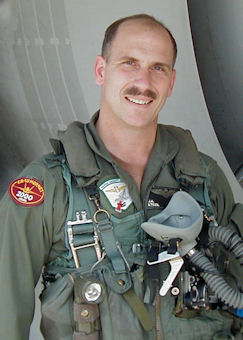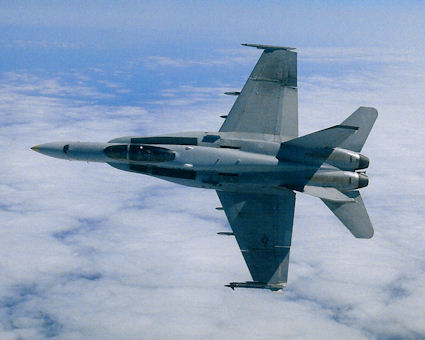 Author LtCol Jay A. Stout, before and during his last F/A-18 flight
WHAT IS YOUR OWN BACKGROUND?
All my life I wanted to fly in the military. I grew up in Indiana, went to school at Purdue and was commissioned into the Marine Corps in 1981. I flew F-4s and F/A-18s-including 37 combat missions during Desert Storm-before retiring in 2001 as a lieutenant colonel. I've worked for a large defense contractor on drone programs for a dozen years. HELL'S ANGELS is my tenth published book.
PRAISE FOR "HELL'S ANGELS-THE TRUE STORY OF THE 303RD BOMB GROUP IN WORLD WAR II."
"[An] epic tale of the World War II aerial campaign over Europe… HELL'S ANGELS is a gripping and awe-inspiring book." -Nathaniel Fick, author of One Bullet Away
"It's all there-the boredom, the devotion, the horror and even the humor in an industrial war fought on a global scale that we'll never see again. Unit histories just do not get any better." -Barrett Tillman, author of Whirlwind and Forgotten Fifteenth.
"Jay Stout is a triple-threat aviation historian--an experienced combat aviator, a meticulous researcher and a compelling story teller. His uncanny eye for authentic detail allows HELL'S ANGELS to be the incredible story of the 303rd Bomb Group and the bombing campaign that crippled Nazi Germany. Stout makes a hard-ridden topic seem fresh and new again. Highly recommended." -Walter J. Boyne, Author/Historian
"Jay Stout's reputation as a hard-hitting, authoritative, yet easy-to-read aviation author is upheld with this book. Readers looking for new insights and material will not be disappointed. Highly recommended." -Donald Caldwell, author of JG 26: Top Guns of the Luftwaffe
"A well-researched, beautifully written, and deeply evocative paean to the 303rd Heavy Bombardment Group-and all the young American heavy-bomber crewmen who, from 1942 to 1945, went out, facing a high probability of death or imprisonment, to grind the German industrial base to dust." -Eric Hammel, Author of The Road to Big Week
"Jay Stout has done a masterful job. The life and death struggles are told using the mission records, personal writings and experiences of one of the Eighth Air Force's most successful bombardment groups. All who wish a complete understanding of the role played by the Eighth Air Force and the strategic bombing of Germany should read this book." -Keith Ferris, Artist and Military Aviation Historian
ADDITIONAL INFORMATION:
Available for preorder on Amazon.com: http://tinyurl.com/q7pmg42
Available for preorder on Barnes & Noble.com: http://tinyurl.com/l5ovqxr:
Information on Author Jay Stout and his other books: http://tinyurl.com/nh652xh
---
HELL'S ANGELS NEWSLETTER
— Historic Issues Revisited —
This Month: April 1982



Edward R. Chapman
, 91, of Mount Prospect passed away Friday, November 28, 2014 at Church Creek Assisted Living in Arlington Heights.
He was born on Aug. 3, 1923 in Newark, New Jersey the son of Walter and Freida (Reinbott) Chapman.
Edward served in the Army Air Corps during WWII.
In February of 1947 he married Paula Steck. He is survived by his children, Russell Chapman and Paula (Bob) Schikorra; grandchildren, Jason, Joshua and Shayna Chapman, William and Samuel Schikorra; great-grandson Jack Chapman; sister, Shirley (Jack) Schuman.
He was preceded in death by his parents; wife Paula in 2005; two sisters and one brother. A Memorial Funeral Service will be held on Friday, Dec 5, 2014 at 1:00 pm at the James A. O'Connor Funeral Home, 11603 E. Main St, Huntley with the Rev. Arn Schaper officiating. Visitation will be prior to the service from 10 am - 1pm. Burial with Military Honors will follow in the McHenry Co. Memorial Park in Woodstock.


Joseph C. Sofianek, 88, passed away March 26, 2014 in Broomall, Pennsylvania.
Joseph was a loving, fun, caring, and thoughtful father, grandpa, husband, Veteran, Electrical Engineer, inventor and model railroader. "He was a dedicated man. He was dedicated to his work and dedicated to his family," said his wife of 67 years, Marie Sofianek.
Born in Hazleton, Pa, Joseph was the oldest of seven siblings. After high school graduation in 1944, he was drafted into the army and served in the European theater as a fighter pilot [B-17 gunner]. He was shot down over Eastern Germany and was imprisoned in a POW camp for the remainder of the war.
After earning an Electrical Engineering degree from Penn State University in 1951, Joseph started working for General Electric. After working at several GE plants in the northeast, he and his wife decided to settle in the Philadelphia suburbs so they could be closer to their family in Hazleton. He went on to create an estimated 20-30 patents for General Electric. He felt at home playing, pushing, trying, and doing with his experiments in his lab.
His tinkering was not limited to his employment. He personally remodeled or created most of his home in Broomall, Pa. He added the garage, furbished the basement, tore down the wall between the kitchen and dining room, installing cabinets where the wall was, and remodeled the main bathroom. "He planned every one of his projects to the nth degree. He would make all of the tools he could possibly need for the project before he even started it," said his daughter Jo-Anne.
He was an avid model railroader whose first modest train track around the Christmas tree developed into a huge platform that took up one-third of the basement in his home. Most of all, he was a family man. He was happiest when he was surrounded by his family, especially during the holidays. He loved and cared for each of his children and grandchildren with enthusiasm and dedication.
At the age of 88, after suffering a stroke, Joseph passed away on Wednesday, March 26 at Bryn Mawr Hospital. He is survived by his wife Marie, his children Jo-Anne and Jay, and his grandchildren Kyle, Brynn, Jessica, and Mark. Memorial service arrangements are being made by the family and the date will be announced later. In lieu of flowers, donations may be sent to the Military Order of the Purple Heart Service Foundation.


Enrique M. "Ricky" Reider, 91, passed away March 4, 2013 in Mexico City.
Ricky was the ball turret gunner on the 359th Richard F. Tasker Crew, flying 31 combat missions.




Gary

Just a short note to let you know that Ralph Page will be buried with full military honors at Arlington National Cemetery on January 14, 2015 at 1:00 p.m. There will be a reception following at Spates, which is on the Ft. Myer base, not far from the chapel where his service will be held.

I have been to a few services at Arlington, my very first one was a burial with the horse and caisson and it was spectacular. What a wonderful send off it will be for a man who sacrificed so much for our country.

If anyone would like further information or plans to attend, please contact me at MelPage@aol.com.

Thank you,

Melanie Page
Keeping the Legacy Alive,

Submissions of 303rd Bomb Group related stories and articles are most welcome.