Having trouble viewing this email? See the online version here. To unsubscribe, please reply and request removal.
Submissions of 303rd Bomb Group related stories and articles are most welcome.



May 25, 2014
Volume VI, Issue 5
www.303rdBG.com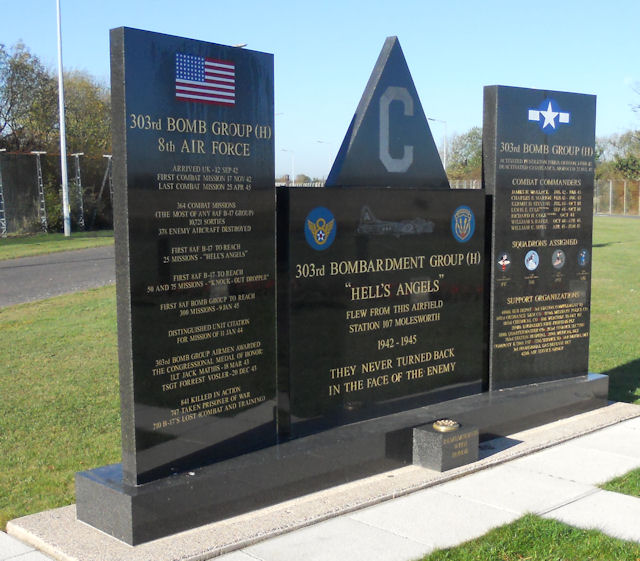 Honoring Our Veterans — Memorial Day 2014
Mission of Gratitude: Sgt. Harry R. Sansum
A Local WWII Hero Remembered
By Bill Schuette
The Sauk County Historical Society
Baraboo, WI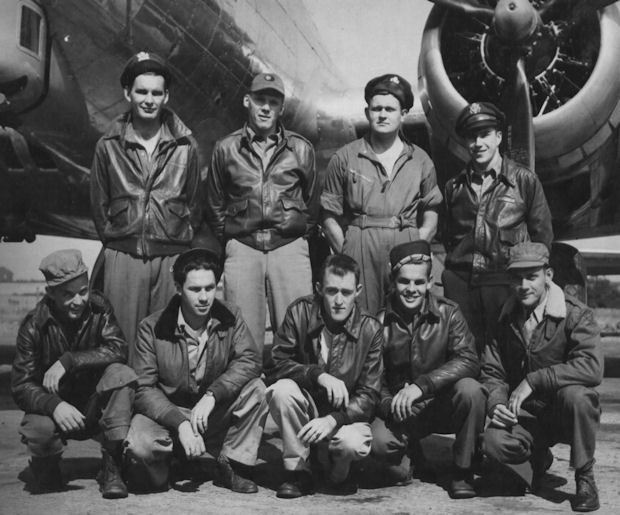 JACK R. HILLARY CREW - 359th BS
(crew assigned 359BS: 16 July 1944)

(Back L-R) 2Lt Jack R. Hillary (P-KIA), 2Lt William Robertson III (CP-KIA),
2Lt John E. Rice (N-KIA), 2Lt Rocco De Filippis (B-KIA)
(Front L-R) Sgt Neldon Reid Bishop (BT-POW), S/Sgt George E. Paul (E-KIA), Sgt Harry R. Sansum (WG-KIA), S/Sgt Eugene E. Girman (R-POW), Sgt James R. Watson (TG-POW)
The Myasis Dragon began its bomb run over Mersenburg, Germany, flying into heavy flack as it approached the designated target. The bomb bay doors were opened and Myasis Dragon was ready to drop its ordnance upon command. Visibility was excellent as the bombers lined up to release their payloads. A multitude of fires and explosions were visible below as each plane made its run.
Mersenburg was the target of the day and 39 crews were dispatched to hit the Leuna Synthetic Oil Plant, an eight hour round trip. It was not a favorite target of combat crews because of the heavy artillery positioned around the plant. "Friendly fighter support was good," noted a report at the post flight briefing. "Anti-aircraft fire was very intense and accurate-probably the most ever encountered by 303rd BG(H) crewmen," it continued. About 20 to 25 enemy aircraft were spotted near the target, but they did not interfere with the bombing run.
The Myasis Dragon, a B-17G, was part of the 303rd Bombardment Group, known as the Hells Angels. During WWII, they were part of the 8th Air Force stationed in Molesworth, England from 1942 until 1945. Their motto was Might in Flight, and the title was surely earned during their record 364 combat missions.
Twenty-six year old Sergeant Harry R. Sansum, a native of Baraboo, Wisconsin, was a waist gunner on the Myasis Dragon. As the plane leveled off over the target, the crew could see anti-aircraft tracer fire coming at them from the ground below. As they closed in on the plant, the first of three shells hit the Myasis Dragon's number three engine blowing it apart. The second hit just below the radio compartment as T/Sgt. Girman, the radio operator and gunner, loosened his flak jacket and clipped on one of his parachute rings. The last burst entered the open bomb bay door and exploded between two bomb racks. The plane was immediately engulfed in flames, disintegrating as it peeled off and went into a vertical dive. Sgt. Girman later described seeing the aircraft melting before his eyes. The explosion showered several nearby aircraft with burning metal.
As the Myasis Dragon descended to its inevitable fate, T/Sgt. Girman, and Sgt. Reid Bishop fell through the air entangled in a large section of aircraft debris. In a written report, they later recounted what happened during that fateful descent:
"One piece of the falling wreckage included the ball turret with Sgt. Reid Bishop inside. T/Sgt. Girman was unconscious. His foot was caught in the runner of the ball turret gunner's hatch, trapping Sgt Bishop inside. Soon, however, T/Sgt. Girman fell free and Sgt. Bishop was able to open his hatch, grab his parachute, connect it and free himself from the wreckage. T/Sgt. Girman regained consciousness as he hit denser air, and remembers seeing Sgt. Bishop's chute open at almost the same time as his, maybe 1,500 feet above ground."
They both landed near Torgau, about 30 miles east of Leipzig and were immediately captured and sent to a German prisoner of war camp for nine months.
After his repatriation at war's end, Sgt. Bishop reported having seen the body of Harry R. Sansum lying on the ground near where he (Bishop) had landed. Sansum was not wearing a parachute. The other six airmen on the plane also perished. The date was August 24, 1944.
For his service to his country, Sgt. Harry R. Sansum posthumously received the Air Medal and Purple Heart. Eugene Girman died in 2004, and Reid Bishop, a year later.
Fast forward seventy years to March, 2014. The Sauk County Historical Society received an e-mail from Martin Maijntz a resident of the Netherlands. He wrote that he is a member of the Fields of Honor database, a Dutch non-profit organization. "This foundation has set as its goal to honor American World War II servicemen who have fought and died for the freedom of others and have been buried in overseas American Cemeteries," notes its mission statement. Their objective is to research each serviceman buried there and give a face and history to the names of those who perished in combat in a distant land.
Martin Maijntz's interest in WWII is not just curiosity, it is very personnel. He writes that, "My grandfather (from my mother's side) got killed at the age of 34, by a grenade while he was picking apples for his hungry children, just a few days before the liberation of our hometown. This happened during a fight between the Germans, and the American liberators. Marie's [Martin's wife] dad joined the Dutch Resistance, was betrayed and put in a concentration camp in Germany. Luckily, he survived the ordeal."
Martin continues, "My grandparents from my father's side adopted Harry's grave at Margraten War Cemetery many many years ago. When my grandfather died in 1962, my father resumed his responsibilities in taking care of Harry's grave. When my father, an ex-marine, died in 2009 I adopted Harry's grave and I'm now taking care of it." The Margraten cemetery is the final resting place for 8,301 American soldiers who died during WWII.
As part of his dedication to that mission, Maijntz began researching the history of Sgt. Sansum. His search eventually led him to contact the Sauk County Historical Society, Baraboo, Wisconsin, for more information. He was specifically looking for any surviving relatives.
Linda Levenhagen, Office and Research Manager, and Bob Doepke, research volunteer, began searching the Society's archives for any information on Sgt. Sansum. They were able to locate 1944 newspaper items which chronicled the death and obituary of Sgt. Sansum. After finding the names of his siblings, a search of city directories and the marriage records at the Register of Deeds office revealed two great-nieces who had continued to reside in Baraboo. They were then fortunate enough to find a living relative, Patti Kay Beach, one of the great-nieces. Mrs. Beach is now in direct contact with Mr. Maijntz.
Mr. Maijntz concludes his letter with, "All in all, we feel it is the least we can do for these heroes, who gave their lives to liberate our country!"

Fortresses Under Fire
by Keith Ferris
Depicting the 70th Mission of Thunderbird - 15 August 1944
Flown by the 2Lt Jack R. Hillary Crew
From the Smithsonian National Air and Space Museum
A 25 by 75 foot painting "Fortresses Under Fire" of one of the B-17s-nicknamed Thunder Bird-from the 303rd Bombing Group-Sgt. Sansum's outfit-highlights the entry to the Smithsonian's Air and Space Museum's World War II gallery, in Washington, D.C.




2014 8th AIR FORCE HISTORICAL SOCIETY
ANNUAL REUNION
SHERATON MUSIC CITY HOTEL – NASHVILLE, TN -- (615) 885-2200
https://www.starwoodmeeting.com/StarGroupsWeb/res?id=1402066861&key=30784
October 8 - 12, 2014

HELL'S ANGELS NEWSLETTER
— Historic Issues Revisited —
This Month: March 1981



Hi Gary

I wanted to share two photos with you.

One is my dad, Bernard "Budd" Greenberg. The second is my son Matteo Greenberg, 14, his grandson, wearing his uniform. My dad passed away a few years ago, but his grandchildren can cherish some of his wartime mementos. I'm so glad we photographed Matteo in uniform today--the way he is growing he most likely wouldn't have fit into the shirt and jacket in a few more months.

Thank you for the great work you do keeping alive the deeds of the men who served in the Army Air Force. I love reading your postings.

Best wishes to you and to all the men and women who served, the families and friends who loved them, and the millions of people who lead a better life thanks to their sacrifice.

Carry on.
Mark Greenberg


Alois G. "Al" Oswald, Jr.
passed away January 5, 2014.
Flew 35 combat missions as bombardier on the 427th BS Stewart S. Ackerman Crew.
He regularly attended the 303rd BG Reunions and the 8th AF Reunions.
Arrangements under the direction of Moss Feaster Funeral Home & Cremation Services, Largo, FL.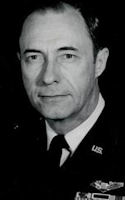 Anthony Joseph Boland passed away on Sunday, January 5, 2014 at the age of 91. Anthony was born in Detroit on January 10, 1922, the oldest of eight sons of Hazen and Amelia ( Waltman ) Boland.
During World War II Anthony served with the United States Army Air Corps and was stationed at Molesworth, England attached to the 358th Squadron of the 303rd Bomb Group. He flew 35 missions over Germany as a bombardier and navigator in a B-17. He was a full Bird Colonel. After returning to the States he became a pilot. Anthony remained in the United States Air Force Reserves, serving his country for forty years.
After ending active duty Anthony went to work with the Ford Motor Company in their marketing department. A major project area was organizing and selecting the models used to demonstrate the various cars shown at annual automobile shows. One of these models he selected later became his wife. Anthony was involved in many sporting activities including playing tennis and golf. He was also an excellent baseball player and enjoyed hockey and bowling. Flying was a special enjoyment of his life.
Anthony is survived by his wife Nancy and children Michael Boland, Cheryl ( Richard ) Chrzanowski, Brian Boland and Barbara ( Gary Whittaker ) Boland. Also surviving are his grandchildren Rebecca ( James ) Jordan, Jeffrey Chrzanowski, Brandon Boland and great grandson Maxwell Jordan.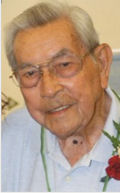 Clayton S. Balcombe, beloved husband, father, and friend, died in Oceanside, CA, on April 20, 2014, at the age of 90. Born in Cosmopolis, WA on January 21, 1924, Clayton was the ninth of ten children born to Maude Sexton and Harvey Balcombe. He and his wife Donna, who preceded him in death in 2003, resided in Washington until 1955, when he moved his growing family to Southern California where the last three of his eight children were born.
Clayton entered the Army Air Corps at the start of World War II where he served in the 303rd Bomb Group (H) as Tech Sergeant. In March 1943, his B-17 collided with another aircraft over the Molesworth Air Base at Mears Ashby, England, and with the exception of he and another soldier, all perished. After recuperation, Clayton returned to active flying duties on D-Day, and left the service at the end of the war. One of the highlights of Clayton's life occurred on March 31, 1996, when he traveled to England and was honored by the citizens of Mears Ashby as they dedicated a plaque commemorating his service and sacrifice to the people of England. He also toured The Mighty 8th Air Force Heritage Museum near Savannah, GA as well as numerous museums in Washington, D.C. where many Mighty 8th memorials are displayed.
Clayton lived a full and happy life, committed to his family. Active in the American Legion Post 20 in Porterville, CA, Clayton served in various service positions, including Commander from 1972 through 1974 and District 15 Commander in 1976. He was an enthusiastic member of service organizations involving youth and charitable causes. In Porterville he could be found flipping burgers and roasting hotdogs at fund-raising events, as well as judging the entries of the Veteran's Day Parades.
Golf was Clayton's favorite pastime once he retired and moved to Oceanside, CA. He enjoyed traveling throughout the state with family and friends and consistently shot near his age. He also achieved the elusive hole-in-one on July 30, 2006.
Clayton is survived by his eight children, Dennis (Kathy) Balcombe of Kowloon, Hong Kong, Michael (Jill) Balcombe of Seattle, WA, Roxanna (Leonard) Towery of Chase City, VA, Douglas (Valerie) Balcombe of Poway, CA, Patti (Robert) Bryant of Gold River, CA, Cheryl Comer of Sacramento, CA, (Stuart Comer of Rancho Bernardo, CA), Bruce (Jo Anne) Balcombe of San Diego, CA, and Jeannine Balcombe of Wheatland, CA as well as 21 grandchildren, 26 great-grandchildren, his brothers Forrest Balcombe of Cosmopolis, WA and John Balcombe of Apple Valley, CA, and numerous in-laws, nieces, nephews and many longtime friends.
Donations in his memory may be made to the National Museum of The Mighty Eighth Air Force, or to a charity of your choice.
Clayton will be greatly missed by all of us who loved him. "I've had a great run," he said.


Theodore J. "Ted" Knauff, 92, of Canadohta Lake, PA passed away at his residence on Tuesday, September 24, 2013. Ted was born December 12, 1920 in Elwood City, PA the son of the late Theodore Adam and Hazel Frances (Brydon) Knauff.
He served in the United States Air Force during World War II in the European Theatre as an aircraft mechanic working on the B-17's. He was very proud of his service to his country in time of war. After World War II he worked for the Elwood City Forge, later at Matthews Conveyor and retired from Fombell Fabrications. He loved to fish and hunt, do wood working, spending time outdoors, enjoying music, socializing, and dance skating at Canadohta Roller Rink. He was a member of the First United Methodist Church of Union City, PA. and the German Club of Ellwood City, PA. Ted met and married Katherine "Kay" Lutz on September 1, 1942 in Trenton, New Jersey, and she preceded him in death in December of 2005. Besides his parents he was also preceded in death by a brother William Jay Knauff.
Survivors include a daughter Judith Humes and her husband Vincent of Union City, Pa and sons Thomas Knauff and his companion Linda Snyder of Meadville, Pa and Jim Knauff and his wife Sue of Columbus, Ohio, three grandchildren Jasmin Humes and her fiancée Austin Collins and Michael Humes all of Union City, Pa and Benjamin Humes and his companion Shannon Davis of Wattsburg, PA two great grandsons Gabriel and Garin Humes. Friends are invited to call at the FIRST UNITED METHODIST CHURCH, 42 East High Street, Union City, Pa 16438 on Sunday, September 29, 2013 from 1:00 until time of memorial services there at 4:00 PM. Rev. James Parkinson will officiate with interment in Sylvania Hills Memorial Park, Rochester, PA.
Memorials are requested to the Sight Center of Northwestern, PA, 2545 West 26th Street, Erie, PA 16505.




Keeping the Legacy Alive,



Submissions of 303rd Bomb Group related stories and articles are most welcome.