Having trouble viewing this email? See the online version here. To unsubscribe, please reply and request removal.
Submissions of 303rd Bomb Group related stories and articles are most welcome.



April 25, 2014
Volume VI, Issue 4
www.303rdBG.com
NOSE ART ARTIST EXTRAORDINAIRE:
Sgt Sam P. Rodman, 303rd BG/360th BS
by Ray Bowden
USAAF Nose Art Research Project
www.usaaf-noseart.co.uk/
Sam Rodman hailed from Chicago but apart from the fact that he was assigned to the 360th Bomb Squadron to work as the squadron painter, I have been unable to establish much about him. A talented artist he was responsible for painting several B17 Forts in his squadron and had the distinction of not only painting nose art but also tail art! At least two B17Fs had their tail fins embellished with artwork below the aircraft serial number -- "Lady Luck" and "The Little Woman". In many respects the huge flat tail fin of the B17 was ideal for painting and it is surprising that more examples of tail art did not materialise although Rodman's examples are by no means unique -- other examples existed but not many.
I have been unable to locate very much information about Sam Rodman If you have any knowledge or information on him, I would be delighted hear from you.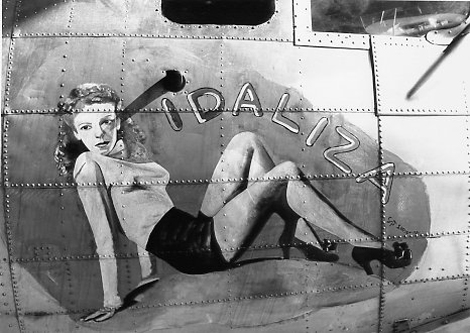 IDALIZA B-17G-20-VE 42-97546
303rd Bomb Group 360th Bomb Squadron
Another fine example of painting done by Sam Rodman and signed by him just above the girl's right foot. This was a long serving Vega-built B17 which arrived at Molesworth in March 1944 and survived combat missions right through to the end of hostilities in Europe. 106 successful sorties have been recorded for this veteran bomber which flew to attack almost every major target in northwest Europe. It was well cared for by crew chief M/Sgt Norman Cote and his team. More than fifty flight crews manned this ship during its combat career and it is not known which of them named the plane. An official photograph taken on 15th September 1944 shows the artwork in place at that time. There is considerable likeness in the face to the actress Ida Lupino -- not surprising since Rodman used a press release photo as a reference for his painting.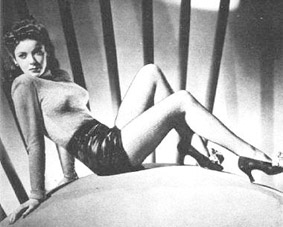 Lupino had shot to fame as a teenager and starred in "Come on Marines" in 1934 at the age of 16. Co-starred with Gary Cooper a year later in "Peter Ibbetson" and then Bing Crosby in "Anything Goes" (1936). Her finest role was probably in "The Gay Desperado" and "Artists and Models" in 1937. Post war, in the 50s, Lupino made her name as the director of some of TV's best known series : "The Untouchables" and "The Fugitive". I wonder if she ever knew that she had also starred on 303BG's "Idaliza".
On 13th April 1944, Idaliza flew to Schweinfurt and was attacked by fighters in a fierce running battle. During this time the bombardier 2Lt Thomas Dello Buono was wounded but continued to man his guns and was ultimately awarded a Distinguished Flying Cross -- the USA's second highest award for heroism. At war's end, on 7th June 1945, the plane took off from England on its journey back to Bradley Field AAB in the USA and thereafter onwards to its ultimate scrapping at Kingman, Arizona at the beginning of December.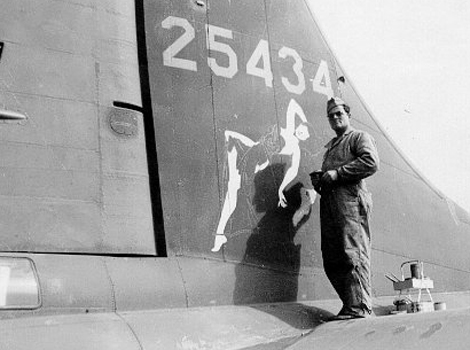 LADY LUCK B-17F-50-BO 42-5434
303rd Bomb Group 360th Bomb Squadron
One of two known tail art paintings done by Sam Rodman. This languishing beauty adorned the tail fin of a Fort which carried the simple title of Lady Luck on the nose -- perhaps one of the most popular and understandable names chosen by numerous air crews across the world. Standing on the horizontal stabiliser of the Fort and painting onto the huge tail would have made the task of painting much easier for Rodman (and other artists) and it is surprising that the tail was not used more often for embellishment.
This particular B17F arrived at Molesworth via the South Atlantic route to England having passed through Marrakesh, North Africa. Assigned to the 303BG on 6th March 1943, it began combat flying with a mission to Wilhelmshaven on 22nd under the command of Lt Griffin. It was lucky 13 for 1Lt Loyd Griffin, later made Captain, as he completed that number of sorties in Lucky Lady before finishing up in mid-July. Thereafter, nine different crews took the Fort to targets across France and Germany until misfortune over took Robert Cogswell's crew. On a recalled mission to Nantes in France on 26th September 1943, they experienced a runaway prop on #4 engine which subsequently caught fire and forced them to abandon the aircraft over England. The pilot Lt Cogswell stayed with the ship until all his crew were safely out and then jumped himself -- too low by then -- and he sustained severe back injuries as a result. Lady Luck crashed near Winchester -- a sad end for a veteran of some 25 missions. Robert Cogswell returned to combat flying but was tragically killed in action flying a B29 during the Korean conflict in 1951.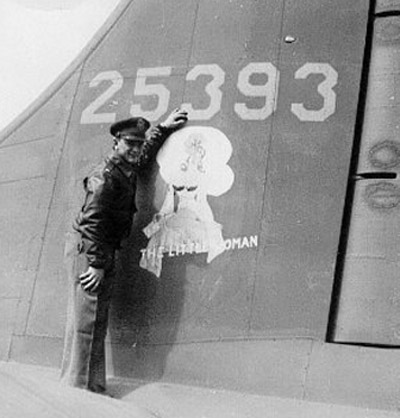 THE LITTLE WOMAN
aka Just for Laffs and Thumper Again
B-17F-50-BO 42-5393 303rd Bomb Group 360th Bomb Squadron
One of two known tail art paintings done by Sam Rodman, this Boeing-built Fort is reputed to have carried at least two other titles on the nose, possible at the same time. It was assigned to the group in late February 1943 having flown to England via Brazil and North Africa on the South Atlantic route.
It flew its first mission on 6th March 1943 to Lorient in France. Four different crews took the ship on its first four missions but then Lt Stallings was assigned on a regular basis and completed eight sorties to French and German port facilities. In late July 1943, the Bradbury crew took over and achieved ten missions in the aircraft. They sustained considerable punishment in the ship and recorded significant battle damage on at least five of their missions before finishing up on 3rd September. Carl Fyler's crew added another five missions, others added four more until William Heller had most of the left main wing flap shot away and was forced to landed at RAF Kenley on 14th October after the costly raid on Schweinfurt -- it blew a tyre on landing and skidded into a truck. Repairs put the Fortress out of action for some time and it may have undergone a name change at this time to become "Thumper Again". It returned to combat flying in late January 1944 and John Parrott took the ship for five more missions until flak again ripped up the right wing. It was repaired but shot up again two days later, and yet again on the following day 25th February. It seems that the combat weary veteran was thereafter withdrawn from operations -- in any case, newer B17Gs with longer range tanks were beginning to fill out the ranks.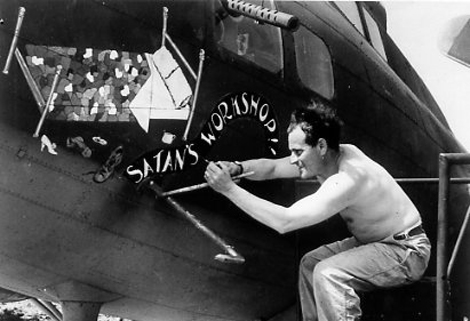 SATAN'S WORKSHOP B-17F-75-BO 42-29931
303rd Bomb Group 360th Bomb Squadron
This B17 served with the famous "Bloody Hundredth" 100th Bomb Group prior to being transferred out of the 3rd Bomb Division in mid-July and sent to the 303rd Bomb Group at Molesworth. It completed three missions flying from Thorpe Abbotts sporting the name of "Jaybird".
After arrival at Molesworth the aircraft flew many lead roles and sustained considerable damage in the process. Of its 35 recorded missions, nineteen were flown as group lead; on eleven of them significant battle damage was sustained from flak, fighters and friendly fire. On 4th October 1943 the crew of Captain John Casello claimed three Me110s shot down -- the same crew claimed another Me109 over Oschersleben on 11th January 1944. David Clifton's gunners had bagged an Fw190 over LeBourget in mid-August and Major Mitchell's ball gunner destroyed another over Emden in early October.
It was the icy cold waters of the English Channel that finally claimed Satan's Workshop on 22nd February 1944. George Underwood had the #2 engine shot out by flak over Achersleben and after struggling back across the enemy coast he was forced to ditch into a rough sea -- all on board were killed.




2014 8th AIR FORCE HISTORICAL SOCIETY
ANNUAL REUNION
SHERATON MUSIC CITY HOTEL – NASHVILLE, TN -- (615) 885-2200
https://www.starwoodmeeting.com/StarGroupsWeb/res?id=1402066861&key=30784
October 8 - 12, 2014

HELL'S ANGELS NEWSLETTER
— Historic Issues Revisited —
This Month: October 1980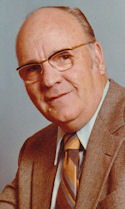 Andrew Richard Olds
passed away April 19, 2014 surrounded by his loving family. He was born April 16, 1923 in St. George, Utah to Charles Andrew and Gladys Sylvester Olds. He married Virginia Thorley November 21, 1951 in the St. George Temple.
Andy attended school in Toquerville and Hurricane. After graduating from Hurricane High School, he was drafted into the army during World War II. He served in the 303rd Bombardment Group (Hell's Angels) stationed in England.
After serving his country he returned to Cedar City where he attended and graduated from BAC (SUU). He taught at the Cedar Junior High School for 31 years. He also served on the Board of Directors of the Educators Mutual Insurance Association for 23 years retiring as Vice Chairman of the Board.
Andy also served as treasurer of the Iron County Educators Credit Union for 35 years. He truly enjoyed his association with the many members of the Credit Union.
He was a member of the Church of Jesus Christ of Latter-day Saints and served faithfully in all his callings. He especially enjoyed the many years he served as a home extractor for the Genealogy program.
Andy loved the mountains and his family and was always grateful for the time he could spend at the cabin with his children and grandchildren.
He was preceded in death by his parents, sisters Shirley, Joy and Jeanen, brothers Merrill, Rod and Kent and daughter, Susan Bonzo. He is survived by his eternal companion Virginia, his son-in-law Jim Bonzo, children Margie Rector, Dan (April), Carolyn (Greg) Johnston and Gary (Sherry), 14 grandchildren and 3 great-grandchildren and his brother LeGrande.
A visitation will be held Friday, April 25 from 6:00 pm to 8:00 pm at Southern Utah Mortuary (190 N 300 W) in Cedar City, Utah. The funeral will be Saturday, April 26 at 1:00 pm at the Cedarview Chapel (1925 W 320 S) with a visitation from 12:00 noon to 12:45 pm also at the church. Burial will be in the Cedar City Cemetery under the direction of Southern Utah Mortuary. Online condolences can be sent to www.sumortuary.com.
We would like to thank all those who helped with Andy over these past years: our neighbors and ward family, Amber, Kregg, Garland and especially Katrin. A special thanks to our granddaughters Chelsea and Katie.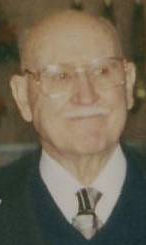 Fletcher Helton, 99, of Emporia entered into rest Sunday, April 13, 2014. Fletcher was born January 25, 1915 in Muskogee, Oklahoma to Commodore Perry and Mary Edna Helton.
Fletcher attended Arkansas Jr. College then entered the U.S. Army Air Corps. He served with the 303rd Bomb Group, 8th Air Force at Molesworth Base in England as a line chief on the B-17's. Then he went with the B-29's to the pacific to 39 Bomb group 20th AF General's Staff Guam. He married Gwendolyn Mounkes on Feb. 22, 1942 and they enjoyed 54 years together. She passed in 1996. They farmed South of Allen. He then went to work for the Santa Fe Railroad as a locomotive electrician. He was a member of the First United Methodist Church in Emporia were he sang and did solo work with the choir.He then married Lena San Romani. She died in 2004.
Fletcher is preceded in death by his parents; his siblings Bill Coker, Ory Helton, Mary Jo Addington, and Paula Game. He is survived by daughter, Sally (David) Anderson of rural Allen; Grandson, David (Holly) Anderson of Mayfield, Kentucky, Steven Anderson of Emporia; his devoted friend, Ruth Thomsen.
A memorial service will take place Friday, April 18, 2014 at 10:00 a.m. at the Allen Methodist Church in Allen, Kansas with a graveside service to follow at Allen Cemetery. Memorial contributions may be made to the "Gwendolyn and Fletcher Helton Scholarship Fund" in care of Charter Funerals.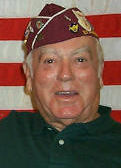 Mr. Clyde "C. J." Johnson Cottle, Jr., 91, of 2063 Summerhill Road, died Wednesday, January 8, 2014, at his beach home in Surf City, NC.
Funeral services will be held 2 P.M., Tuesday, January 14th, at Turkey Baptist Church, 144 E. Faison Avenue, Turkey, NC, with the Reverend Dr. Ron Bryan and the Reverend Donnie Myers officiating. Interment with military honors will follow in Grandview Memorial Park in Clinton.
Mr. Cottle, born in Duplin County, was the son of the late Clyde Johnson Cottle, Sr. and Ida Howard Cottle and was the husband of Doris Dixon Cottle.
He was a World War II veteran of the US Army Air Corps and was held as a prisoner of war in Nurembert, Germany from January, 1945 to June, 1945.
Mr. Cottle retired from the position as Town Manager of Turkey and was a member of Turkey Baptist Church. He is survived by his wife, Doris Dixon Cottle of the home; five daughters, Donna Goins and Paula Stuart, both of Georgia, Gloria Phipps of Turkey, Sheila Bryant of Clinton, and Renee Hunter of Turkey; eight grandchildren; nine great-grandchildren; a sister, Mary Virginia Veach of Warsaw; a brother, Johnny Cottle of Garland.




Gary

I read with enjoyment the brief story of t/shy Walter Jones. It was almost identical to the my story; there were only a few differences. We also took off from Lincoln in December of 44. The major difference was that we hit turbulence over Omaha andwent into a spin. I wasthe RO, and as I called the pilot to say I had not been able to get a position report through the static, I heard the pilot say"Crew, bail out". THe tail and ball gunners were in the radio room with me and we were held by the centrifugal force and couldn't move. A A very long few minutes later, the force abated and we leveled off. THe flight engineer, navigator and bombardier were apparently closer to the center of rotation and bailed. The flight engineer suffered a broken vertebra. The navigator and bombardier suffered only abrasions and later rejoined the crew. We landed at Chicago, where we were adopted by many new friends and in fact, the armorer gunner met a young lady and married her before we left. (They had a long and happy marriage which ended only with his death in an automobile accident). We went to England on board the Aquitania and began what was for me thirty missions with the 303d without a scratch. Best Wishes ,

John P. Mullen
Lexington MA
Keeping the Legacy Alive,

Submissions of 303rd Bomb Group related stories and articles are most welcome.