Having trouble viewing this email? See the online version here. To unsubscribe, please reply and request removal.
Submissions of 303rd Bomb Group related stories and articles are most welcome.



January 22, 2014
Volume VI, Issue 1
www.303rdBG.com
Remembering the Untimely Death of Former Redskin Keith Birlem
By Marc Lancaster
The Washington Times, May 26, 2013
© The Washington Times, used by permission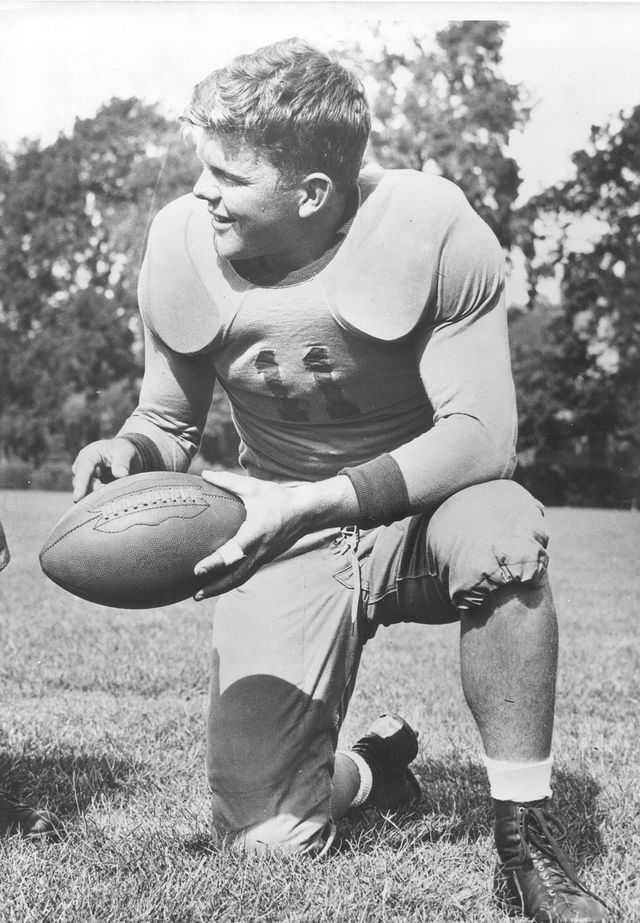 Keith Birlem is pictured during his time as a quarterback at San Jose State in 1938. He was named a "Little All-American" that year and went on to play in the NFL for the Chicago Cardinals and Washington Redskins. Birlem was killed in an airplane accident May 7, 1943 near Polebrook, England.
Skies were clear and visibility perfect as the B-17 Flying Fortress dubbed "Vicious Virgin" took off along with 26 other bombers from their base in Molesworth, Northamptonshire, England.
It was May 4, 1943, Maj. Keith Birlem's 28th birthday, and he would celebrate it with his first combat mission of World War II, a bombing run targeting repurposed Ford and General Motors plants in German-occupied Antwerp, Belgium.
Three and a half years earlier, Birlem had worn the uniform of the Washington Redskins rather than the Army Air Forces, seeing time in three games as a blocking back after a midseason trade brought him over from the Chicago Cardinals. The Cardinals had opened their 1939 season on Sept. 10, nine days after Germany invaded Poland to initiate a six-year cataclysm that cost tens of millions their lives.
Now Birlem was getting his first look at the enemy he had trained to fight. Named the commander of the 508th Bombardment Squadron, 351st Bombardment Group (Heavy) the previous November, Birlem had arrived in England in mid-April along with the rest of the 351st. His group's first combat mission wouldn't go off until May 14, but he strapped in on his birthday as the co-pilot alongside Capt. Eddie Broussard of the 303rd Bomb Group to get a feel for the action to come.
Birlem was not the only man in the air that day with name recognition. Co-piloting the B-17 in front of the Vicious Virgin was Capt. Billy Southworth Jr., son of the Hall of Fame St. Louis Cardinals manager. And riding along as a passenger on another bomber was Capt. Clark Gable, who would spend much of 1943 with the 351st producing the film "Combat America."
The Vicious Virgin and its mates flew southeast over Cambridge to the English Channel, near the mouth of the River Somme, before turning back to the west and regaining land over England, then making a sharp turn back to the southeast near Clacton-on-Sea and heading toward Antwerp. The bombing run was relatively routine to the veterans of Broussard's 303rd, with no planes lost in the 4 ½ hour mission. But to combat rookie Birlem, a 20-minute skirmish with 30 to 40 German fighters en route proved eye-opening.
"I never thought those Germans would come so close," Birlem said. "... One FW-190 came right at us. If Capt. Broussard hadn't pulled up the nose, he would have hit us head on."
Birlem could not have imagined after landing safely that day that it would be both his first and last combat mission.
***
Birlem was something of a hometown hero back in northern California. He grew up in San Mateo, the son of an insurance broker, Frederick, who for years had offices in San Francisco's Financial District.
Birlem attended San Mateo High and went on to San Jose State College, where he starred on both the football and swimming teams. A journalism major, he also worked on the staff of the Spartan Daily newspaper.
The Spartans went 5-4 in 1936, Birlem's first year playing varsity football, but they were 11-2-1 the following season and won their first 11 games in 1938. That undefeated run, which would end in a 13-12 loss at Hawaii in the season finale, was due in large part to Birlem's play.
The 190-pound quarterback was considered the "brains" of the Spartan offense, according to a United Press story at the time. Quarterbacks in those days spent their time blocking and running, not throwing (fullback Leroy Zimmerman was San Jose State's best passer), so Birlem would have been much more in the mold of a Tim Tebow than an Andrew Luck.
Birlem was named to the Little All-America Team – for players at smaller colleges – following the season and in 1939 embarked on a pro career with the Chicago Cardinals. He saw action as a reserve in the Cardinals' opener and by the second game, at Green Bay, was starting at left end. The Redskins acquired Birlem from the Cardinals in late October and shifted him from end back into the backfield, where he came off the bench in three games as Washington's season wound down.
Back home, some of Birlem's former San Jose State teammates were attracting attention from pro scouts, with that increased visibility thanks in part to the former quarterback.
"Birlem's steady play and the national publicity received by the Spartans is believed the principle [sic] reasons why the professional ranks are turning attention to San Jose," wrote the San Jose Evening News in November 1939.
Both the fullback Zimmerman and Spartans center Robert Titchenal would sign with the Redskins in the spring of 1940, but they would not be reunited with Birlem. He left pro football that spring, telling Redskins general manager Jack Espey he was joining the military.
Birlem had long aspired to be a pilot but failed several military eye tests during his time at San Jose State. It turned out Birlem's eyes had been irritated by continued exposure to chlorine when he was on the swim team, so after returning to school to finish up his degree following the 1939 NFL season, Birlem tested again with the Army Air Corps.
He passed, and by the fall of 1940 he had logged more than 70 hours in the air during flight training in California and Texas. According to a Washington Post report that November, Birlem's only regret in leaving pro football was bidding farewell to the Washington fans.
Birlem continued training through 1941 and 1942, assigned at various times to bases in Texas, Spokane, Wash., and Pueblo, Colo., and rising in rank from first lieutenant to major. In March 1943, shortly before the 351st Bomb Group deployed overseas, Birlem married Mary Jane Porter of Watsonville, Calif.
***
On May 7, 1943, with the start of combat missions for his squadron still a week away, Birlem lifted off from Polebrook as pilot of the B-17 designated 42-29865.
Also up on a training flight that day was B-17 number 42-29491, piloted by Capt. Roy Snipes, an Indiana native and Ball State University graduate. Each plane carried a 10-man crew – generally broken down into pilot, co-pilot, bombardier, navigator, radio operator, engineer and four gunners.
Back over Polebrook, something went wrong. The two Flying Fortresses collided, and all 20 men aboard were killed. Most of them had never even seen battle.
Word traveled quickly, for the times; Birlem's family and friends were notified of his death on May 17 – if not necessarily the relevant details. Some reports later had him piloting a bomber over Germany at the time of his death, and the Pro Football Hall of Fame continues to list Birlem – one of 21 NFL players killed during World War II – as having died "trying to land a combat damaged bomber in England."
The news of Birlem's death "staggered" San Jose, Buddy Leitch wrote in the Evening News.
"For Birlem, you understand, was a type of youngster who looked upon life's problems as something that could best be solved with a smile. And a kid who goes around smiling and making other people smile is a kid with friends ... lots of them.
"We never could picture easy-going Birlem flying a Fortress of destruction, but he was doing so probably because he felt it his duty to interfere with the existence of those who looked upon life as something hard and cruel and bitter."
Words that could easily have been used to describe the end for Birlem and the other airmen who lost their lives that day, unable to really contribute to the struggle they had trained to fight.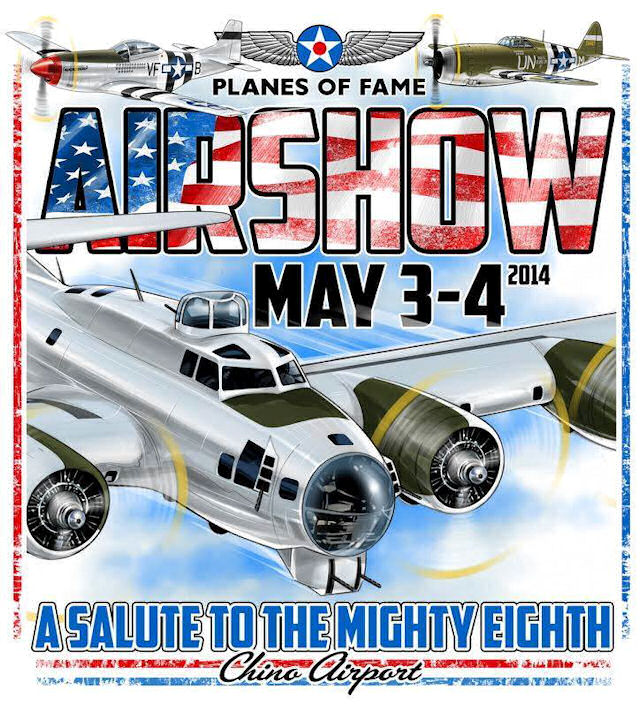 We'll be there! Hope to you will, too !

HELL'S ANGELS NEWSLETTER
— Historic Issues Revisited —
This Month: October 1979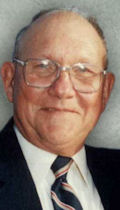 Max Richard Bartholomew
was born March 25, 1924 in Algona, Iowa to Maurice and Leona (Miller) Bartholomew. Max graduated from Algona High School as Valedictorian then enlisted in the Army Air Corps. Following his discharge, he enlisted in the Air Force Reserves, serving for 30 years, discharged as a LT. Colonel.
On May 3, 1946, Max was united in marriage to Marjorie Peterson at the United Methodist Church in Titonka. The couple lived in Algona where, in 1946, Max along with his father Maurice and uncle Fred, purchased Miller Lumber Company from his cousin. Max owned, operated and worked at Miller Lumber until 2011.
Through the years, Max was a long time Commander of the V.F.W. Post # 2541 in Algona where he helped design the current building. He was a member of the American Legion Hagg-Turner Post #90, a past member of Toastmasters and a long time member and President of Algona Planning and Zoning Commission. He was a skilled trap and skeet shooter and became a licensed airplane pilot while a junior in high school. Max enjoyed and attended all of the 303rd Bomb Crew reunions held through the years.
Max died on Tuesday afternoon, January 7, 2014 at his home in Algona at the age of 89. Family requests no flowers and memorials be directed to the Algona P.O.W. Museum.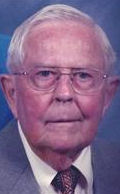 Frank X. Neuner, Sr., 91, of Perdido Key died January 10, 2014 (just two days shy of his 92nd birthday) at Baptist Hospital, Pensacola, FL.
He was a native of St. Louis, MO, resided in Baton Rouge, LA for 38 years, and retired to Perdido Key, FL in 1988. He was retired from General Hardware, having been a wholesale hardware dealer for 39 years.
He served in the 303rd Bomber Group and was a member of the 427th Bomb Squad, in the Army Air Corp during WWII from 1942-1945. He was a Flight Engineer Gunner on a B17 Flying Fortress. Among his many medals awarded were The Distinguished Flying Cross, the Air Medal - 4 Oak Leaf Clusters, Presidential Citation - 2 Oak Leaf Clusters, the WWII Victory Medal, the European African Middle Eastern Campaign and the American Campaign, and a Purple Heart. He flew 38 missions and became a member of the Gold Fish Club, after ditching his aircraft in the English Channel due to enemy gunfire over Solingen, Germany.
Frank is survived by his wife of 67 years, Mary Frances Ellis Neuner. Son, Frank X. Neuner, Jr. and wife, Tracy Owens Neuner of Lafayette, LA; daughter, Mary Jane Neuner Riley and husband, Bill Riley of Jennings, LA; and son, William A. "Tony" Neuner, and wife, Carole Earle Neuner, of Pensacola, FL. And by grandchildren, Gretchen Neuner Daniel (Randy) of Shreveport, LA, Hearin Neuner Brannock (Christopher) of San Antonio, TX, F. Xavier Neuner, III of Atlanta, GA, Mary-Frances Meade Neuner of Baton Rouge, LA. , Megan Mary Riley of Lake Charles, LA, Erin Elizabeth Riley of New Orleans, LA, Camille Earle Neuner of New York, NY, and William A. "Will" Neuner of Pensacola, FL. Frank is also survived by four great-grandchildren, Owen, Mary-Charlotte, and William Daniel, and Violet Brannock. He is also survived by a sister, Rosemary Neuner Langan, of St. Louis, MO and sister in laws, Libbie Neuner of Buffalo, NY, Nancy Neuner of Pompano Beach, FL, and Kathryn Taylor of Biloxi, MS. Frank is survived by 20 nieces and nephews, most of whom he spoke with frequently even though they live all over the U.S. He was especially close to his nieces, Pat James and Sara Morris who were always available for a glass of wine or to help him and Mary in any way.
Visitation will be Tuesday, at St. Thomas More, 3295 Barancas Ave., Pensacola, FL starting at 9:30 a.m., funeral mass of Christian burial at 10:30 a.m., with burial in the National Cemetery, Pensacola Naval Air Station (Mainside). Express your condolences at dignitymemorial.com. In lieu of flowers, donations may be made to The National WWII Museum, 945 Magazine St., New Orleans, LA 70130 (504-528-1944 ext. 271), woundedwarriorproject.org., and The Gladney Center for Adoption, 6300 John Ryan Drive, Ft. Worth, TX 76132.
Frank was preceeded in death by his parents, Louis and Johanna Neuner, brothers, Louis, Oliver, Jim, and David Neuner, and sister in laws, Jeannette Neuner and Earline Ellis, and brother in law, Jack Ellis.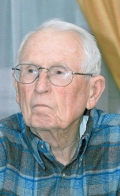 Marvin P. "Mike" Fink born December 21, 1918 in Kannapolis, NC peacefully passed away December 27, 2013, at Riverside Hospital.
Known as Mike Fink, he resided in Hampton, VA for more than 60 years. Mike was the oldest of six children, all of whom predeceased him. He was a graduate of Auburn University and a War Eagle football fan. He was married for 31 years, to Paula Sherlock Fink, with whom he had three daughters. They are survived by Shelley Fink-Brackett (Jesse), Leslie Fink (Annette), and Valerie Fink Foley (David); two grandchildren, Jessica Foley and Brianna Foley. Mike was married to Edna Strickland Scoggins Fink for 32 years, and is survived by four step-children, David Scoggins (Julia), Janice Roberts (Larry), Doug Scoggins (Beth), and Cynthia Scoggins; six grandchildren; and five great-grandchildren.
Mike retired from the USAF. During World War II he was a B-17 pilot in the famed Flying Fortress. He was a member of the 8th Air Force, 303rd Bomb Group. He was one of the original Hell's Angels flying 35 missions without a single loss.
He retired from NASA where he was a test engineer in Full Scale Tunnel. During retirement Mike became a master craftsman, working daily in his shop building reproduction antique furniture. He loved being with family and friends and lived a full and active lift up to the time of his death.
Interment will be at Parklawn Memorial Park. Friends are encouraged to visit www.parklawn-woodfh.com to share memories and words of condolence with the family. Arrangements are under the care of Parklawn-Wood Funeral Home, 2551 N. Armistead Ave. in Hampton, 23666.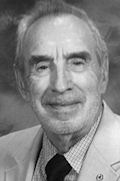 Paul A. Pinkert, 91, Madison, Wis., died Monday, Nov. 25, 2013 at St. Mary's Hospital after a brief illness.
A memorial service was held Tuesday, Dec. 3 at Oakwood Village University Woods, Resurrection Chapel in Madison.
Paul was a philanthropist, so in lieu of flowers, donations to your favorite charity or charities would be appreciated.
Paul was born near Big Stone City, S.D., on Feb. 3, 1922. He attended the University of Minnesota where he played football with the undefeated Golden Gophers. It was there that he met Elinor Schulze in a college chemistry class.
Paul enlisted in the Army Air Force and served in the 303rd Hell's Angels Bomb Group H, 358th Squadron and piloted B-17 aircraft on ten missions over Germany.
He and Elinor Schulze were married in November 1944 while she was in nurses training and he was completing flight training.
Upon discharge from the AAF he attended Iowa State University in Ames, Iowa and graduated with a degree in veterinary medicine in 1949. He and his partners had a large and small animal practice in Pipestone for many years. He began working for the USDA in the mid 1960s, moved to Madison around 1971 and retired from the Federal service in the mid 1980s.
He is survived by his three children, Ted (Yin) Pinkert, Gaston, Ore., Teresa (Henry) Ivers, Swampscott, Mass. and Thomas (Susi) Pinkert, Waikoloa, Hawaii; three grandchildren; his brothers, Harry Pinkert, Armin (Bea) Pinkert and his sister-in-law, Gynnie Duepner.
He was preceded in death by his wife, Elinor; his parents, Rudolph and Lydia; his brother, Reuben and his sister, Harriet.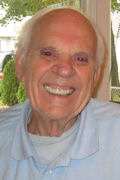 Louis C. Grandwilliams, 89, of North Bellmore, passed away on December 21, 2013.
Beloved husband (65 years) of Rosemary. Loving father of Joseph, Eileen Todhunter, Richard (Jodee), and the late Rory. Caring grandfather of Jason (Amy), Annie, and Harry. Adoring great grandfather of Brooke Todhunter.
Lou was a B-17 Pilot (Old Black Magic) stationed at Molesworth, assigned to the 303rd BG, Hell's Angels. Returning after one rough mission, the Ground Crew stopped counting holes in his plane after reaching 600. Lou said he couldn't stop shaking for 5 days. Lou completed 35 missions and was awarded the Air Medal with 6 Oak Leaf Clusters. He returned to the States on his 21st birthday.
Retired from 7C Consumer Affairs. Lou was a Docent at the American Air Power Museum, 4th degree knight K of C Bellmore Council, and member of 8th Air Force Historical Society.
Reposing Monday 2-4 & 7-9:30 pm at C.S. Bartholomew & Son Funeral Home, 302 S. Bedford Ave, Bellmore, NY. Funeral Mass Tuesday 9:45am at St. Barnabas RC Church. Interment Holy Rood Cemetery.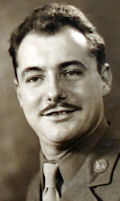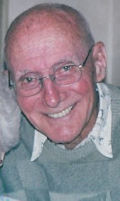 Richard G. Scharch, 92, passed away peacefully at his home in Camarillo, CA on December 13, 2013 with his family at his side.
The eldest of six children, Richard and twin sister Rosemary were born on January 14, 1921 in Milwaukee, Wisconsin to George and Magdalene Scharch. He married Florence Ruth Denton on June 1, 1946 and together they had five children and celebrated 67 wonderful years of marriage.
Richard was employed as a tree surgeon for the City of Milwaukee and later for the Los Angeles School Board until he retired to Camarillo in 1982. During his life he devoted himself to his family, service to the Catholic Church, helping relatives and friends, and to his love of carpentry and wood carving where he found an outlet for his artistic talent. He was proud of completely building his own house in Milwaukee. He was a member of St. Mary Magdalen Catholic Church in Camarillo and a member of the Knights of Columbus.
During WW II Richard served in the U.S. Eighth Army Air Force 303rd "Hell's Angels" Bomb Group in England. He completed 26 missions serving as ball turret gunner on a B-17 "Flying Fortress" in the 358th Squadron, chosen to fly in the perilous Regensburg-Schweinfurt Mission in 1943. He was awarded the Air Medal with (3) Oak Leaf Clusters and the Distinguished Flying Cross for heroism and extraordinary achievement in aerial combat. He is mentioned by name and a photograph with his squadron appears in the book "Half a Wing, Three Engines and a Prayer: B-17s Over Germany" by Brian O'Neal.
Richard was a quiet, modest man blessed with many talents. At the end of a long and fulfilling life he leaves the loving legacy of his art and helping others in the homes of his family and friends, and he will be missed by those who knew and loved him.
He is survived by his wife Florence, 91, children Bill Scharch, Fay Zuhde, Dan Scharch, Richard Scharch and Roseanne Caya, six grandchildren and one great grandchild. He is preceded in death by his twin sister Rosemary Gieg, his sister Magdalene Berg, and his brothers Edward, George and James.
A funeral mass service will be held at 11:00 on Friday Dec. 20, 2013 at St. Mary Magdalen Catholic Church in Camarillo, CA at 25 Los Posas Road.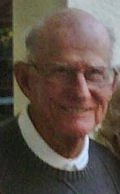 James Milo "Jim"Conklin, Jr., 93, passed away peacefully at Florida Hospital in Apopka on December 12, 2013 in the company of his loving wife Joan and daughter Jane.
Born December 12, 1920 to Sophie Lambert Conklin and James Milo Conklin Sr., he is survived by his beloved wife Joan, daughters and son-in-laws Jane and Patrick Magrady of Ponce Inlet, FL, and Mary Lou and Claude Stocky of Hanover, VA. Also surviving Jim are his step children Laura Harkins of Portland, OR, Beth and her husband John Miller of Houston, TX, Pamella Conklin of Chapel Hill, TN, and Richard Paul of Delphi, IN. Jim's grandchildren Jennifer Matthews, David and wife Katie Matthews and great grandchildren Bailey and Dominic Matthews will lovingly remember Grandpa Jim.
Raised in Orlando, Jim graduated from Rollins College in 1943. Jim served in the 8th Air Force, 303rd Bomb Group/360th Bomb Squadron as a 1st lieutenant/navigator on B-17 bombers during WWII. Based at Molesworth Airfield in England, he flew many successful missions.
Jim was an avid golfer and a past member of both Oakwood and Columbia Hills Country Clubs in Cleveland, Ohio prior to his retirement in Florida where he continued to enjoy this pastime at both Country Club of Mount Dora and Errol Estate Golf & Country Club in Apopka. In addition to an amazing five Holes-in-One, Jim shot his age when he was 81 years old!
A memorial service and reception will be held on Saturday, December 21, 2013 at 1:00 p.m. at the Errol Estate Clubhouse. In lieu of flowers, donations may be sent in memory of James M. Conklin to the Alzheimer's Association.


Kenneth Thomas Zetlmaier July 1, 1920 - September 7, 2013. Ken was a former Grants Pass and Williams, Oregon resident. He was born July 1, 1920 in Los Angeles, California, and grew up in Monterey Park, California. A veteran of WWII he served in the US 8th Air Force 303rd bomb group. He met and married his wife Daphne while stationed in England in 1945, and shortly after starting a family he was called to serve in the Korean War.
He retired from the Cal Tech - Jet Propulsion Laboratory, Pasadena, California in 1977, moving to Williams, Oregon, with Daphne to build a nice life in the country. Seven years later they moved to Grants Pass, Oregon. His final move was to Meford, Oregon with his daughter/caregiver, Linda. He enjoyed fishing, boating, and woodworking with a special interest in turning bowls on his lathe. He had a special place in his heart for animals, especially birds and dogs.
He is survived by daughters, Linda Moran and Kay Zetlmaier, siblings, Walter Zetlmaier, Kathryn Feeny; five grandchildren, Colleen Shaver, Andrew Moran, Molly Moran, Katie Moran, Randy Martinez; and 4 great grandchildren. He was perceded in death by his wife of 60 years, Daphne.




Thank you, Gary. I have printed another heart-warmer during this Season's Greeting time. Each Christmas brings happy memories of my leading a younger brother into the woods to find a lovely holly tree, loaded with red berries, for him to cut down and carry home for our celebration of the birth of the Lord's son. We didn't have any additional decoration except the home-made ropes we kids had made - nor did we need any more. On Christmas Eve, our church group always gathered around our beautiful tree and sang the hymns that we knew "by heart" - we didn't need a printed copy of the hymns - they did truly come from the heart.

Neither church nor politics was talked about. But the joyful sounds were heard by Mother who was preparing hot chocolate and her cake for the young people who honored the Special Day in our home.

Thank you, Gary, for the 303rd memorial.

Jeanne Hand Henry
Sister of Victor Gilbert Hand

---

Hello,

My name is Evan Dennis. My grandfather was 2Lt Edward N. Goddard, Co-pilot on the Charlie Horse under pilot William R. Hartigan. I only know this only thanks to whomever has put so much time and effort into making this information available on this website.

He passed away 10 years before I was born. His time serving in WWII has always been limited to a few stories he told my mother when she was growing up. I would like to extend my most sincere gratitude. I feel like this is just the start of a journey of trying to learn more about my grandfather and what he went through during his time in the Army Air Corps.

This is a long shot, but if it would be possible to find out if anyone he served with is still around, I would be forever grateful to find out any or all information you had on Edward N. Goddard. He was a POW in Stalag Luft 1 Barth-Vogelsang Prussia 54-12 from October of 1943 to July of 1945. I can't thank you enough for what I have learned in the last few days, and I hope this is just the beginning.

Best,
Evan Dennis
Keeping the Legacy Alive,

Submissions of 303rd Bomb Group related stories and articles are most welcome.