Having trouble viewing this email? See the online version here. To unsubscribe, please reply and request removal.
Submissions of 303rd Bomb Group related stories and articles are most welcome.



December 14, 2013
Volume V, Issue 8
www.303rdBG.com
HAPPY CHRISTMAS !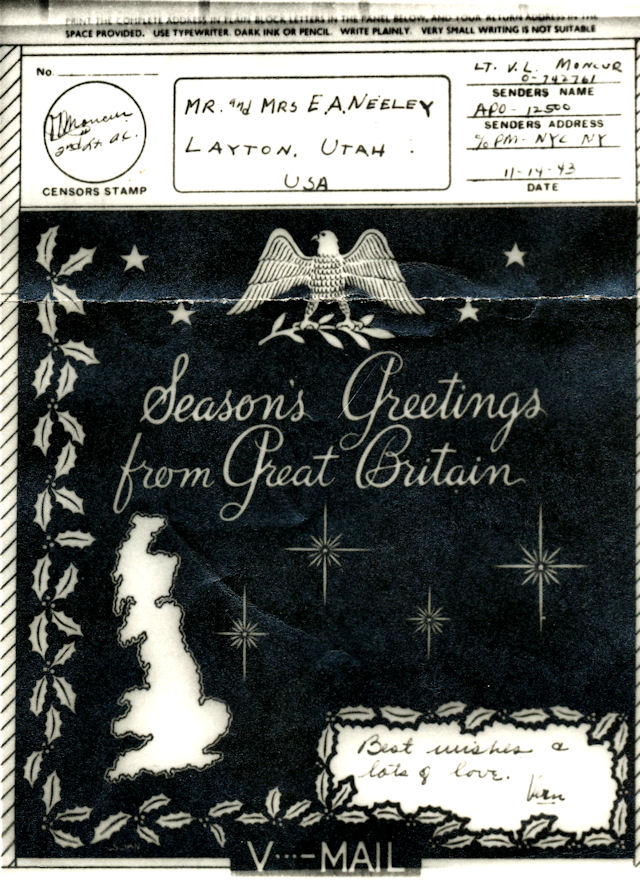 Christmas V-Mail from Molesworth - 1943

New 303rd Memorial Wall at Molesworth;
Today's Commanders Maintain the Legacy
By Peter G. Park, RAF Molesworth Historian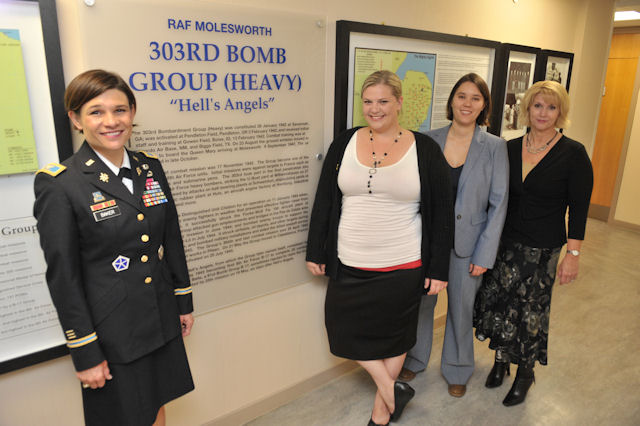 Colonel Kristin M. Baker, U.S. Army, Commander of the JIOCEUR Analytic Center joins (L-R) 303rd granddaughter Ms. Theodora Gobrecht, Ms. Jenny Cousins of the American Air Museum in Britain and 303rd daughter Ms. Suzanne Pool at the dedication of the new 303rd Memorial Wall at RAF Molesworth. USEUCOM Photo by Mr. Scott Tooley.
Maintaining the legacy of the 303rd Bomb Group (Heavy) for the American soldiers, sailors, airmen, marines and civilians assigned to the base in rural England today is a solemn commitment of the military and civilian leaders assigned to today's RAF Molesworth.
This dedication to keeping alive the memory of the brave men of the 303rd was recently demonstrated by Colonel Kristin M. Baker, U.S. Army, Commander of the United States European Command JIOCEUR Analytic Center along with a 303rd Bomb Group Daughter, a 303rd granddaughter, and a representative of the American Air Museum in Britain.
Following an invocation by Air Force Chaplain (Captain) Timothy Warf, USAF, COL Baker was joined in unveiling a beautiful new memorial wall by Ms. Suzanne Poole, daughter of Lt Col Edgar Miller (Pilot 360th Bomb Squadron); Ms. Theodora Gobrecht, granddaughter of Lt Col Harry Gobrecht (Pilot 358th Bomb Squadron); and Ms. Jenny Cousins, Project Manager at the American Air Museum in Britain (part of the Imperial War Museum-Duxford). After noting that she was particularly proud that the 303rd was part of the U.S. Army during World War Two, COL Baker drew the parallel between the intelligence analysis mission performed at today's Molesworth, and the importance of good intelligence during the war in preparing the 303rd for its missions over Nazi occupied Germany.
"My father would have been so proud to see this legacy brought to life by COL Baker and her team," noted Ms. Poole. Said Ms. Cousins, "This display, like the American Air Museum in Britain, highlights the special bond between the United States and the United Kingdom. "
The display has pride of place in the main analytical building at RAF Molesworth and is seen every day by people assigned here, and visitors to the organization.
[Editor's note: Visiting 303rd BG veterans and family members will be able to view the memorial wall. See below.]



Visiting Royal Air Force Molesworth:
Home of the 303rd Bomb Group (Heavy)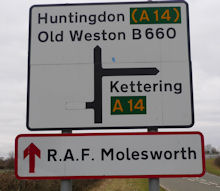 Veterans and family members of the 303rd Bomb Group are able to visit the home of the 303rd at RAF Molesworth located near Huntingdon, Cambridgeshire, England some 80 miles northwest of London.
As RAF Molesworth continues as an active U.S. Base today with an important mission, admission to the base is necessarily strictly controlled for security reasons. 303rd family members wishing to visit may contact the base historian Mr. Peter Park at peter.g.park.ctr@mail.mil who can advise on military entry procedures, information needed from potential visitors, and possible visit dates.
New Alresford Honors Captain Robert Cogswell
on the 70th Anniversary of the Crash of "Lady Luck"
By Eddie Deerfield
Captain Cogswell display in the front window of the Hampshire County Library
On September 26, 1943, the 8th Air Force mission to bomb Nazi submarine pens at Nantes, France, was scrubbed because cloud cover obscured the target. The bomber formations were about half way to Nantes when the recall order reached them. On the return to base, the 303rd Bomb Group's B-17 "Lady Luck," flying out of Molesworth, crashed near the town of Alresford in the south of England. I was the crew's radio operator. During the month of September, 2013, on the 70th anniversary of the crash, New Alresford again honored Captain Robert Cogswell, the pilot of "Lady Luck," for his heroism.
On the return, an engine on his aircraft malfunctioned and burst into flame over the south coast. The B-17 was still carrying ten 500-lb demolition bombs. Captain Cogswell ordered the crew to bail out and remained at the controls until he was sure the plane would not crash into a populated area. The town that escaped disaster was Alresford. The bomber came down in a field near the town and the only fatalities were several cows. The pilot, however, parachuted so near the ground that he suffered injuries which grounded him for the rest of the war.
On the 60th anniversary in September, 2003, the town held a ceremony to dedicate a bronze plaque which reads, "This honours Captain Robert Cogswell, 303 Bomb Group, US 8th AF, whose conduct saved Alresford from potential disaster. On September 26, 1943, his B-17 Flying Fortress Lady Luck with full bomb load crashed east of the pond, 1/4 mile from here. Nine crewmen had bailed out but the pilot ensured it would clear the town before he jumped to safety."
The 70th anniversary remembrance was highlighted by a monthlong display in the front window of the town's Hampshire County Library. The display, consisting of a scale model of the B-17 "Lady Luck," photos of the crew, artifacts from the crash site, and a large rendition of the original artwork on the tail of the aircraft, was put together by Tim Barnes, a resident with deep interest in the event.




HELL'S ANGELS NEWSLETTER
— Historic Issues Revisited —
This Month: June 1979


Eddie and Mary Lee Deerfield celebrate their 50th
Anniversary along with Eddie's 90th Birthday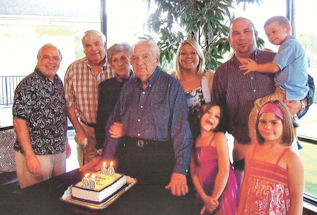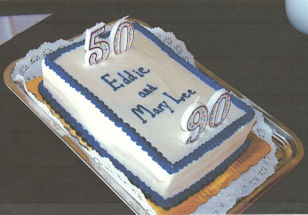 Eddie writes,
It was such a pleasure to be surrounded by family for Mary Lee's and my 50th wedding anniversary and my 90th birthday. They came into Florida from the Chicago area and from Boise, Idaho.
From left to right: son Rick, son Jim, Mary Lee, Eddie, granddaughter Cindy, her husband Mike holding great-grand son Collin, with granddaughter Samantha in front next to great-granddaughter Madison.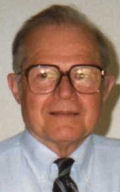 Michael E. Gerhardstein, age 90, a resident of Aurora and formerly longtime of Naperville, IL, passed away peacefully on December 10, 2013 at St. Patrick's Residence in Naperville, IL.
He was born on December 3, 1923 in Fort Thomas, KY. Michael is survived by his beloved wife of 66 years, Olga; his loving children, Mike (Kathleen) Gerhardstein, Patti (Bruce) DeVore, Kathy Gerhardstein, Tom (Debby) Gerhardstein, Sue (Joe) Maude, Jim Gerhardstein and Mary (Andy) Bazan; his cherished grandchildren, Michael, Andrew, Rachel, Joe, Justin, Jennifer, Brian, Tommy, Joelle, Max and Lee; his special great-grandchildren, Grace, Lindsey, Autumn, Reilly, Emma, Helen, Sam, Joey and Blake; and his dear sister, Winn Murnin. He was preceded in death by his daughter, Barbara Gerhardstein; and his siblings, Dan Gerhardstein and Marion Fey.
Michael attended Xavier University Cincinnati, distinguished service in the US Army Air Corps, 303rd Bomb Group as a B-17 Navigator completing 25 combat missions during WWII. Successful international business executive and entrepreneur serving as President of AJ Gerrard and Company and founder of Fromm AirPad Inc, dedicated supporter of the mentally ill serving on the Board of Directors of NAMI of DuPage.
For those who would like to leave a lasting tribute to Michael's life, memorials to the National Alliance on Mental Illness (NAMI) of DuPage, 2100 Manchester, Building B, suite 925, Wheaton, IL 60187 would be greatly appreciated. Visitation will be Thursday, December 12, 4:00 p.m. until 7:00 p.m. at the Friedrich-Jones Funeral Home & Cremation Services, Naperville. The Mass of Christian Burial will be celebrated on Friday, December 13, 10:00 a.m. at in the Chapel at St. Patrick's Residence, 1400 Brookdale Road, Naperville. Interment will be private.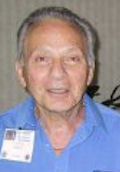 Walter J. Ferrari, Lt Col (Ret), 93, died on Wednesday, November 20th, 2013 in Peachtree City, Ga. He was preceded in death by his first wife of 50 years, Helen (Pat), in 1993. He was born in Brooklyn, NY to the late Paul and Clorinda Ferrari and was a 1938 graduate of Brooklyn Technical School.
Walter worked as an Apprentice Journeyman in the Brooklyn Naval Shipyard before being accepted in the Aviation Cadet program in September 1942. He met his future wife, Helen, in New York City and they married in March 1944. He served as a B17 Pilot with the 427th squadron of the 303rd Bombardment Group (The Hell's Angel's). While stationed at Molesworth, England, he flew 35 combat missions over Germany. He continued service to his country in the Air Force Reserves until October 1980. In December 1946, he returned to civilian life working for American Overseas Airlines. In 1948 he began working for Robinson Airlines (later Mohawk) as head dispatcher, eventually being promoted to Vice President of Flight Operations. In 1972, work brought Walter and Helen to the Atlanta, Georgia area when he started working for the Air Transport Association. He retired in 1992 as Regional Vice President of the ATA.
Walter was a member of the Rotary and Kiwanis clubs. After retirement, he enjoyed golfing and volunteering. Walter was a practicing Catholic and was active in Church duties including serving as a lector and in the RCIA ministry. He was also a 4th degree Knight of Columbus. Walter was involved in the 303rd Bomb Group Association, among his duties were President in 2003, VP in 2002 , VP of reunions 2001, member of past President's Committee.
Survivors include 3 daughters, Patricia (Gerald) Cook of Licking MO, Nancy Panara of McDonough, GA, Christine (Art) Ferrari-Dunn of Smithtown, NY. Also surviving are three grandchildren, Michelle Cook, David Panara, and Lori (Gary) Burnham and three great grandchildren, Emily, Adam and Matthew Burnham and a sister Marie Morse of NY. He was preceded in death by a second wife, Ruth and two sisters, Mary and Gloria. A funeral Mass was held at 11 am on Monday, November 25, 2013 at St. Mary Magdalene Church in Newnan, GA with the 4th Degree Knights of Columbus Honor Guard. He was buried next to his wife, Helen, at Forest Lawn Memorial Park in Newnan, GA with full Military honors.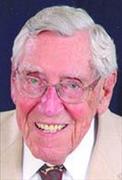 Raymond E. Haakonsen, age 90, of Fox River Grove, passed away November 22, 2013 at JourneyCare Hospice. Ray was born June 15, 1923 in Chicago.
The son of Halfdan and Gustava Haakonsen. He is survived by his wife, Rose M. (Nee Havens), whom he married November 8, 1946, in Midland, Texas; his son, Kevin (Sarah) Haakonsen; three grandchildren, Christy L. Haakonsen, Jade Haakonsen and Malia Haakonsen. He is preceded in death by a son, Ronald Haakonsen.
Ray worked for Oak Industries in Crystal Lake for 45 years. He was a Fox River Grove Village Trustee for 16 years, past-president of the Fox River Grove Recreation Council, past-president and treasurer of the Norge Ski Club, past-president of the Fox River Grove Chamber of Commerce, past-commander of the Frank H. Nagel Post #119 in Fox River Grove.
Ray served in 303rd Bomb Group and the 427 Squadron in the 8th Air Force during WWII. He was also a member of the Sons of Norway.
Visitation will be Monday, November 25, 2013, from 4:00 until 8:00 PM at the Kahle-Moore Funeral Home, 403 Silver Lake Rd., Cary. Funeral Service 10:00 AM November 26th at Cary United Methodist Church, 500 First St., Cary. Burial Windridge Memorial Park. Memorials appreciated to the Norge Ski Club or JourneyCare Hospice.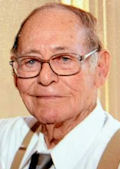 Alfonso Quevedo, longtime Pico Rivera, CA resident who helped found the Latin Business Association,and was a POW during World War II, has died. He was 91.
His family said he died on Nov. 11, Veterans Day. "It's very appropriate my dad died on Veterans Day," said his oldest son, Alfonso Quevedo Jr., a Whittier businessman.
He was glad that his father, an avid Dodgers fan, was able to enjoy the team's recent run in the playoffs. "He was really happy about that, watching every game and cheering for his team." It was the day after the Dodgers were eliminated from the playoffs by the St. Louis Cardinals when the elder Quevedo took a fall, and never recovered fully from it. "My dad had some health issues, like diabetes, that didn't help," Quevedo Jr. said.
Alfonso Quevedo was born on Feb. 2, 1922 in Juarez, Mexico. He moved to El Paso, Texas, and enlisted into the Air Force during World War II. Quevedo completed all but one of 11 bombing missions as a flight engineer in the Air Force's 303rd Bomber Group. "We were shot at all the time, and every day when you went up you never knew if you were coming back or not, but you had to go out and do your job," he told this newspaper in May 1999. Quevedo's plane went down in France, where all but the co-pilot survived. Quevedo suffered three caved-in ribs and shrapnel in his head.
According to stories Quevedo told his family, and written down for posterity, the crew was captured by the Germans and taken to Toulouse, France, where they were put in separate holding cells and interrogated. Quevedo was then placed into a POW camp, Stalag IV, in Poland.
"Our food consisted of a bucket of potatoes shared by 80 men twice a day," he told his family. On Feb. 6, 1945, the prisoners began a forced march and then put onto a ship to be transported to the German Port of Stettine. Upon arrival, they began another forced march across Germany in subzero temperatures.
"The march ended the day we came upon a magnificent sight — U.S. tanks positioned on the other side of the River Elbe," Quevedo told his family. "We were liberated and left to wander on our own." He weighed 96 pounds.
After the war, he returned to El Paso and married his wife Regina. They moved to Los Angeles, and then in 1950, moved to Pico Rivera. Quevedo owned and operated Eastside Typewriters in East Los Angeles, and then opened other offices in Maywood and Whittier under the name Eastside Allied Office Machines.
Up until six months ago, Quevedo came into the Whittier office, now called Allied Systems Corp., on a weekly basis. "People still asked for him," said Quevedo Jr., who is carrying on his father's legacy. In 1976, Quevedo helped establish the LBA, whose mission, according to its website, "is Building Economic Wealth And Opportunity For Latino Entrepreneurs by providing innovative programs and services that enhance the success, growth and advancement of Latino businesses, and the community at large."
Quevedo is survived by sons Alfonso Jr., and Michael; daughters Celeste, Elizabeth and Regina; two sisters and one brother; 11 grandchildren and 16 great-grandchildren.




Charles D. "Bud" Townsend passed away in Petaluma on July 28, 2013 at the age of 90 years.
Devoted husband of the late Bernice Townsend. Loving father of Tim Townsend (Kelly) of Cotati, Michael Townsend of Santa Rosa, Bruce Townsend (Lynne), and Benjamin Townsend (Debora) all of FL. Cherished grandfather of Shannon and Nicky Townsend of Eureka, Stefany and Chloe Townsend of Shalimar, FL, and Stuart Townsend of Rohnert Park. Dear uncle of Don Townsend (Alene) and Bob Townsend (Ruby) all of Napa.
Bud was born, reared, and educated in Napa. He was a Napa High graduate class of 1941 where he was recognized for his athletic and academic achievements. Bud was awarded a four year scholarship to St. Mary's College where he competed in Football as the Freshman team Captain and outstanding running back until he joined the Air Force in 1943.
Bud served as a First Lieutenant in the United States Air Force during World War II. He flew 34 missions over Europe as a Bombardier/Navigator. He was awarded the Distinguished Flying Cross, Air Medal with three clusters, and the Purple Heart. He was honorably discharged in 1945 after he was injured on a mission.
Bud married Bernice Dehn in 1945 and together they raised four sons, moving from Napa to Salinas and Novato before finally settling in Rohnert Park. Bud worked for 32 years for Atlantic Richfield as a District Manager, and retired for the first time in 1980. He then worked for Rinehart Oil for another four years before "officially" retiring in 1984.
Although retired he continued to work as a volunteer marshal at the FoxTail Golf Course in Rohnert Park for 26 years. Bud was active almost until the end; spending mornings with his friends at the Foxtail Golf Course and still occasionally golfing with his golf group "Loose Marbles." He leaves behind many friends and the family would like to thank Jack Purpose for his great friendship and help over the last years.
As per his wishes a "Celebration of Life" was held at his 90th birthday party in February where Bud entertained many friends and family with stories of growing up in Napa, World War II, and the many adventures of raising four sons. He will be missed.
---
Keeping the Legacy Alive,

Submissions of 303rd Bomb Group related stories and articles are most welcome.