Having trouble viewing this email? See the online version here. To unsubscribe, please reply and request removal.
Submissions of 303rd Bomb Group related stories and articles are most welcome.



June 2, 2013
Volume V, Issue 5
www.303rdBG.com
303rd BG Veteran Flies Again in a B-17
S/Sgt Paul Sersland honored at Memphis Belle Media Event
By Tom Wharton
The Salt Lake Tribune - May 14, 2013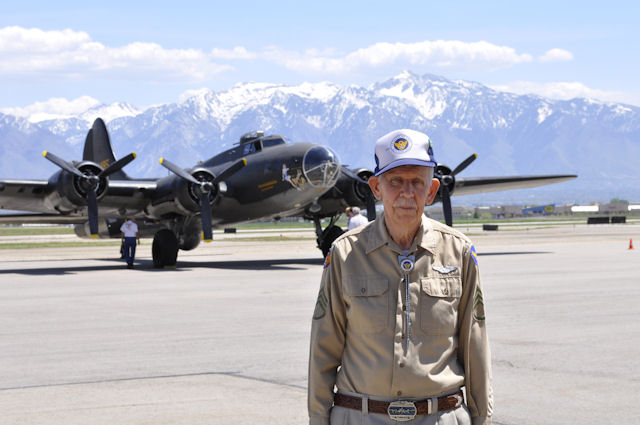 S/Sgt Paul Sersland, waist gunner of the 360th BS Tom Harden Crew, poses with the B-17F Memphis Belle and the beautiful Wasatch Mountains as a backdrop. Paul was the guest-of-honor on Media Day for the Liberty Foundation's Memphis Belle's visit to Salt Lake City, May 13, 2013.
As 88-year-old World War II veteran Paul Sersland got off the historic B-17 bomber Monday at the South Valley Regional Airport, he bent over and kissed the ground.
This was the first time the Layton resident had actually flown on an airplane since 1954. After surviving 35 missions over Germany as part of a 10-man bombing crew between October of 1944 and March of 1945, he simply wasn't comfortable flying. He admitted to being more than a little nervous on his last flight on a commercial plane that took him over the Grand Canyon.
"I prayed to the Lord, and I sensed that His answer was that I did not need to fly anymore," said Sersland.
One of the major reasons the Liberty Foundation brings its B-17 Flying Fortress to airports such as South Valley Regional is to help preserve the stories of veterans such as Sersland. This plane, called the Memphis Belle, was featured in the movie of the same name. It is one of only 13 B-17s that still fly today and one of only four that can carry passengers. Boeing produced 12,732 of the B-17s between 1935 and 1945, 4,735 of which were lost in combat.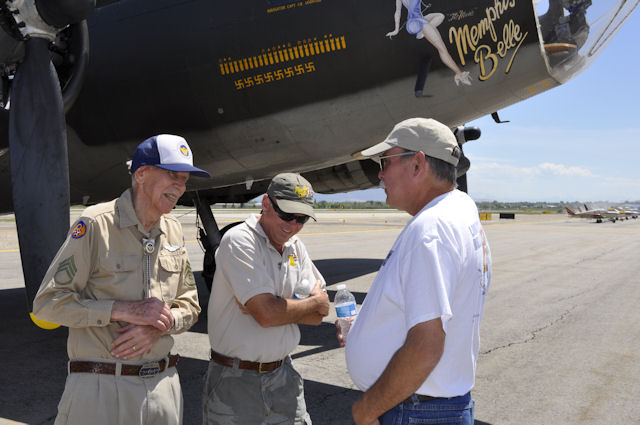 S/Sgt Paul Sersland regaled the Memphis Belle crew with his stories from the war.
Before Monday's flight, Sersland asked Tom Ward, a Sunday school teacher at the Layton Baptist Church he attends, to say a brief prayer.
"We never went on one bombing mission without the chaplain saying a prayer," explained Sersland, who was wearing his Army Air Corps Uniform that celebrated his unit's nickname, the Hell's Angels.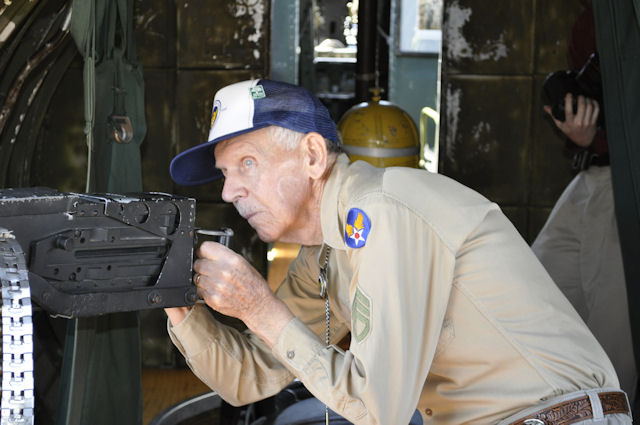 S/Sgt Sersland, back home in his crew position, demonstrates how the .50 caliber guns operated.
The World War II veteran said that on one of the 35 raids over Germany where he served as a waist and tail gunner for the machine guns shot through open windows, anti-aircraft fire hit the No. 1 engine. It started vibrating badly. Several feet of the plane's right wing were gone and gasoline was pouring off it. The plane dropped out of formation, becoming a "straggler" vulnerable to being shot down by the Germans.
After finishing his first flight in 59 years, Sersland's reaction wasn't that much different than when he completed his 35th final mission after World War II.
"This reminded me of who brought me back," he said. "The Lord brought me back. I had work still left to do. Not too many completed all 35 bombing missions. The odds are pretty slim to make it all the way. I was extremely fortunate. This brought back a lot of old memories of people I flew with."
The flights were difficult. Because the planes were open to the outside air, temperatures could drop to as low as 60 or 70 below zero. Crews had to wear heated suits and clothing and worry about frostbite.
Prior to his flight, Paul presented Gary Moncur with a beautiful B-17 clock that he had carved himself. Gary arranged the flight for Paul.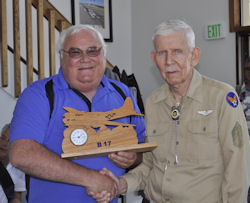 Chris Tuckfield, a United Airlines pilot who lives in Draper and has been flying this historic plane for about four years, said a veteran influenced him to be a pilot when he was growing up. He knew a man that had metal claws for hands, a metal nose and was missing an ear, who told him of his experiences in the B-17. That influenced his career.
He compared flying this plane to antique automobile lovers who restore old cars and then go out for a drive.
"This is much more pilot intensive," he said. "You have to do everything yourself."
Pilots such as Tuckfield and John Hess of Atlanta said flying this plane requires lots of upper body strength and a lot of labor, much more than on a modern aircraft.
Larry Hansen of Colorado Springs helps answer questions and do maintenance on the plane. He said there is nothing better in the world than being on this plane. He showed the ball turret where a machine gunner would operate the controls from a fetal position, his hands behind his head.
Those who would like to fly in the historic plane,which costs $4,500 per flight hour and over $1.5 million a year to maintain, can contact Scott Maher at smaher@libertyfoundation.org to make a reservation.




"I Walked in My Father's Footsteps:'
303rd BG Son Stands on Same Ground 67 Years On
by Peter G. Park
RAF Molesworth Historian
"After my son told me about you're planning for him when he visits Molesworth, the excitement took hold. He has always been interested in what went on in those days at Molesworth. The effort he displayed in starting the ball rolling [for the visit] indicates his remembrance in things long forgotten by others. I am here to say how much I appreciate giving my son [a welcome] by the people of Molesworth. Be assured that his thanks are as deep as my own."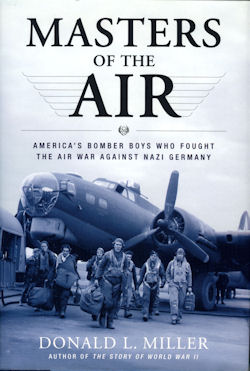 The immense pride in his son, Pediatric Surgeon Dr. Gary Birken's visit to his old base is clearly evident in the quote above from a 26 April 2013 letter to the author from former 360th Bomb Squadron Radioman Technical Sergeant Irving Birkenholz. I was handed the letter by Dr. Birken during his 8 May visit along with the very sad news that the day after writing to me, Irving Birken (the family shortened the name after the war), suffered a stroke and passed away.
It is as a confident appearing young radioman that TSgt Birkenholz is pictured on the cover of the book Masters of the Air by Donald L. Miller (soon to appear on TV as an HBO miniseries). As his son notes, however, his father deeply reflected later on the essence of his experience flying missions over Nazi occupied Europe with the 303rd: "Always weaved in his fascinating accounts was the stark reality of war as he understood it. He never saw one particle of glory in anything he and the men he flew with risked or accomplished. Their gallant actions were solely the product of a profound sense of duty and love of their country. I think it would please him enormously to know that message was perhaps his greatest legacy to me."
As Dr. Birken, Ms. Barbara Birken, and I stood on a crisp and bright Spring day at the beautiful 303rd Bomb Group (Heavy) Memorial, and later walked inside the old "J" type hangar - well maintained, and in still in use at Molesworth - you could see in Dr. Birken's eyes the realization that here, and in the air on his thirty-seven missions, his father had seven of the most important months of his life. Like many of his, the "greatest generation," the war experience shaped the rest of Irving Birken's life. That his son, Gary had an interest in this period obviously meant a lot to the former B-17 crew member. Dr. Birken further notes "Standing on the same ground my father did in 1944 will always come to mind when I remember him. For fifty years he and I had dozens of conversations about the time he spent in England."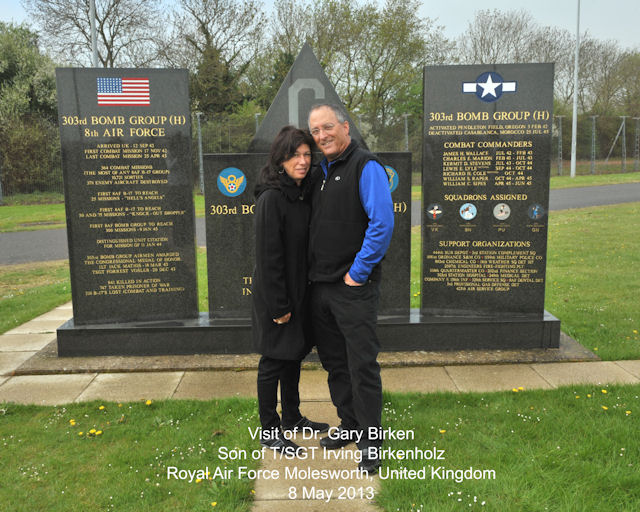 After their visit here, Dr. and Mrs. Birken visited Cambridge American Cemetery where many 303rd men who paid the ultimate price lie, or are memorialized on the 'wall of the missing,' Later the Birkens toured the American Air Museum in Britain co-located with the Imperial War Museum - Duxford where both a flying B-17 "Sally B" is based and where a static B-17 is displayed inside the museum.
Moved by Dr. Birken's visit and the recent death of TSgt Birkenholz, Navy Master Chief Michael McKay, the Senior Enlisted Leader at today's JIOCEUR Analytic Center (JAC) is working with Dr. Birken and today's enlisted corps at RAF Molesworth to select a day to fly the flag of our great nation over the base in honor of his father and conduct a formal retreat ceremony as the flags of the United States and the ensign of the Royal Air Force are lowered at the end of the day.




8th AIR FORCE HISTORICAL SOCIETY 2013 REUNION
SAVANNAH, GA - July 22 - 26, 2013
See the details here

HELL'S ANGELS NEWSLETTER
— Historic Issues Revisited —
This Month: April 1982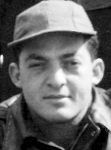 Irving Birken
died 4 May 2013. T/Sgt Birken, known as Birkenholz during the war, was the radio operator on the 360th Harry Nafius Crew. He was the last surviving member of the crew. At his request, no obituary was published. His son, Dr. Gary Birken, recently visited RAF Molesworth. See the story above.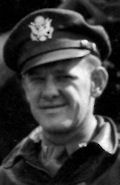 James Edmond Cummins
, 94, of London, Ohio, passed away at the Madison House on Monday, October 22, 2012. He was born November 1, 1917, in Columbus, Ohio, to James Michael and Ethel (Schooler) Cummins. Survived by loving wife of 71 years, Marian (Slattery) Cummins, Children Dr. Tom (Margaret) Cummins, Connie Daniels, and Chris (Alana) Cummins. Sisters-in-Law Nona Slattery, June Nelson, and Brother-in-Law, Bill Brock. Grandchildren: Don Daniels, Tim Cummins, Tammy Guinan, Carrie Mueller, Kelly Thigpen, and Jordan Cummins. He had 15 Great Grandchildren and many nieces and nephews.
He was preceded in death by his parents, brother, Lawrence, and sisters, Margaret Higgins, and Martha Brock. Jim graduated from London High School in 1936. He then served in the Army Air Corps during World War II as a bombardier on a B17 Flying Fortress.
He retired from Battelle Memorial Institute and Richard Lewis Travel after 36 years. Jim was a lifetime member of St Patrick's Catholic Church. He was a member of the American Legion Post 105, Amvets Post 19, Fraternal Order of Eagles, and Knights of Columbus. He was a London City Councilman. Jim was an avid golfer and a member of the London Country Club.
Family will receive friends at St. Patrick's Parish Center, on Saturday, October 27, 2012, from 9:30 until the service at 11:00 AM at St Patrick's Church, 62 South Union , London, Ohio. Father Mark Ghiloni will be officiating. Interment service will follow at St Patrick's Cemetery.
In lieu of flowers, memorial contributions may be made in Jim's name to St. Patrick's Building Fund or Heartland Hospice, 6500 Busch Blvd. Columbus, Ohio 43229.


John W. "Jack" Peters on Friday, April 19, 2013, age 87, of Bellevue. Husband of the late Patricia R. (Niehaus) Peters; loving father of Susan (David) Kremmel, and John (Joann) Peters; proud grandfather of Laura, Gregory, and Emily Kremmel, and Elizabeth and Catherine Peters.
Friends will be received Wednesday from 2-4pm and 6pm until time of blessing service at the funeral home at 7:30pm at Orion C. Pinkerton Funeral Home, Inc., 1014 California Ave, Avalon, 412-766-5600. Private family burial with full military honors will take place at a later date in St. Augustine Cemetery, where once again he will join his wife, Pat.
In lieu of flowers, family suggests memorials to the World War II Veterans of Southwestern Pennsylvania, PO Box 23143, Pittsburgh, PA 15222, www.swpawwii.org, given Jack's experience as a tail gunner on a B-17 during World War II. He served his country honorably as a Staff Sergeant, 8th Air Force, 303rd Bomb Group, where he flew 35 missions during active service. Jack will be dearly missed by his family and friends.



Lowell E. Bice, 87, of La Crosse passed away Thursday, April 11, 2013, at Gundersen Lutheran Medical Center.
He was born in La Crosse on April 21, 1925, to Edmund and Ada (Wiles) Bice. Lowell graduated from Logan High School in 1943 and enlisted in the U.S. Army on July 16, 1943. He served as a nose gunner in the 303rd Bombardment group, the original "Hells Angels" while stationed in Molsworth England. He received the Air Medal for meritorious achievement and five clusters, one for every sixth mission; a Presidential citation; and the European theater of operations with the Bronze Star. On Nov. 22, 1946, Lowell married Phyllis Hadgraft, and she preceded him in death on April 4, 2004.
Lowell worked for Allis-Chalmers until it closed in La Crosse. He worked his way up from a brakeman to an engineer on the Burlington Northern Railroad until his retirement. He enjoyed woodworking and became a skilled carpenter.
Lowell is survived by a daughter, Elizabeth (Jerry) Nelson of Brownsville, Minn.; a brother, Clesson (Florence) Bice; sister-in-law, Corinne Johnson; a special friend, Marilyn Roerig; and many nieces and nephews.
In addition to his wife, he was preceded in death by his parents; a sister, Ferol Saluzzi; and a brother, Robert Bice.
Funeral services will be held at 11 a.m. on Tuesday at North Presbyterian Church, 1327 N. Salem Road, La Crosse. Pastor Scott Skogen will officiate, and burial with military honors will be in Oak Grove Cemetery. Family and friends may call from 10 a.m. until time of service on Tuesday at the church.
The Dickinson Family Funeral Home is assisting the family with arrangements. In lieu of flowers, memorials may be given to North Presbyterian Church.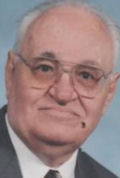 Vernon W. Morton, 92, of Ross Township, died Sunday morning, April 7, 2013, at Masonic Village, Sewickley. He was born April 3, 1921, in Blawnox, son of Irene (Kempes) Morton and Frank Morton.
He was an accountant for Gulf Oil Company and P.P.G. Industries for 40 years. He was a World War II Veteran, serving in the Army from 1942 to 1945 as a Staff Sergeant. He was part of the 303 Bomb Group in England of the European Theatre.
He was a member of Northmont Presbyterian Church. He was a graduate of Robert Morris University in 1948 with a degree in business administration and accounting. He was a Masonic member of the Free and Accepted Masons. He started March 19, 1947 and received a 50-year Mason emblem for service. He was a member of Syria Shrine. He received a service award in 1982 from P.P.G. Industries. He was an avid fan of the Pittsburgh Pirates, Steelers, the University of Pittsburgh sports teams and the Penguins. He was an ordained deacon and elder at Hoboken Presbyterian Church. He served as clerk of session and was a church treasurer. He later was a member of Memorial Park Presbyterian Church.
He was orphaned at age six and was raised by his grandmother, Emma Kempe. He is survived by his twin brother, Alvon L. Morton; his niece, Vivien K. (William) Downes; his great-nieces, Erin K. Martin, Ashley E. Jones and Amanda K. Laster; and many cousins. He was preceded in death by his parents. There will be no visitation. Arrangements are by the KYPER FUNERAL HOME, 2702 Mt. Royal Blvd., Glenshaw. There will be a private service at the Mausoleum Chapel at Allegheny County Memorial Park with the Rev. Kevin Gourley officiating. Entombment will be private at the Mausoleum at Allegheny County Memorial Park, McCandless. Memorials may be sent to Masonic Village, 1000 Masonic Drive, Sewickley, PA 15124.



Keeping the Legacy Alive,



Submissions of 303rd Bomb Group related stories and articles are most welcome.