Having trouble viewing this email? See the online version here. To unsubscribe, please reply and request removal.
Submissions of 303rd Bomb Group related stories and articles are most welcome.



November 25, 2012
Volume IV, Issue 11
www.303rdBG.com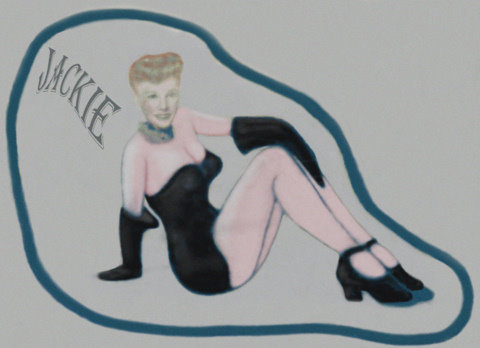 B-17G Jackie #43-38563 360BS (PU-H)

The "Jackie" Nose Art Story
by 1Lt Samuel (Sam) W. Smith
After searching for over fifty years for a photograph of the nose art on B-17G, serial number 43-38563 without success, I was surprised to receive a phone call from Bud Miller, who asked, "Are you the Samuel W. Smith who was a pilot attached to the 360th squadron of the 303rd Bomb Group, "Hells Angels"? I replied that I was that person.
He then told me that his best friend was Merrill Stiver who was also a pilot attached to the 360th. He and Merrill had determined that we had flown on four missions together.
Merrill had the nose art painted on "Jackie". I asked how to contact Merrill and was informed that he took his last flight the week of January 19, 2009. I asked if there was a photo of the nose art and learned that Bud had a photograph given to him by Merrill. He said he would send a copy as well as the story behind the photo.
Merrill Stiver's B-17G flying fortress was severely damaged over Euskirchen, Germany on December 27, 1944. Due to excessive damage to this plane it was retired to become a "Hanger Queen", to be used for spare parts. After flying several other planes, Stiver was assigned a new B-17G, serial number 43-38563, that had been flown a few hours as a command aircraft and had no name or nose art. Stiver hired one of the talented mechanics to copy a photograph of his wife, Jacqueline, and paint her on the nose of this plane; and the name "Jackie" was born. Many of the older planes had pinups, nudes and nose art that was unacceptable to Mrs. Roosevelt, so "Jackie's" picture was modestly clad in a swimsuit.
"Jackie" was assigned to Crew Chief M/Sgt Carl P. Tarr, from North Anson, Maine, who with his crew provided superior repair and maintenance. We were fortunate to have his crew in charge of our plane, and never could have completed our missions without them.
The first mission we flew in "Jackie" he asked my age and I replied that I was 20. He said, "Good Lord they get younger every day". He watched us very carefully and after a few missions invited us into his tent for coffee. He especially liked the way we handled the engines. He confessed that he was proud that each engine had over 200 combat hours since the last overhaul. "I said lets shoot for over 300" which put a grin on his face. We had flown "Jackie" on six or seven missions when one of the new replacement crews flew the plane. After the mission was over M/Sgt Tarr came to me and said, "Lt. you go tell Capt. Hatch that no other pilot can fly our plane." From that day my crew flew "Jackie" on our remaining missions. By the end of the War in Europe we had logged over 300 combat hours on each engine.
After Stiver completed his tour, "Jackie" was assigned to several other pilots who continued to fly her in combat, Logan Hatch and Samuel W. Smith to name a few. By the end of the War in Europe, B-17G, serial number 43-38563, had been flown on 83 combat missions. Jackie was returned to the States after WWII ended and was scrapped at Kingman, Arizona.




Recent 303rd Family Visits to Molesworth
Keeping the Legacy Alive
by Peter G. Park, RAF Molesworth Historian
As they stood before the beautiful 303rd Bomb Group (Heavy) Memorial, wrote in the visitors book, and walked in the WWII Hangar it was easy to see the moment when a light bulb came on for Chris and Marie Balzano and their son Nicholas, Tom and Corrine Janstrom, and most recently Jerry and Ceva Cottrell as they each realized they were quite literally walking in the footsteps of their respective 303rd members here at Molesworth.
RAF Molesworth with its critical mission today is a closed American military base not open to the public, and with a purposely low profile in the British community. But for 303rd veterans and their families Base Standing Order #1 dictates that the gate is open and the welcome is warm. Only when world events or an exercise puts the base off limits to all but those who work here is there a restriction on 303rd affiliated visitors.
For many of the young soldiers, sailors, airmen, and marines who serve at Molesworth today it was their great (yes great!) grandparents who lived and fought during World War II. As noted on the memorial it was 70 years ago in October when the first of the 303rd men arrived here.
Chris and Marie Balzano and their son Nicholas visit the 303rd Bomb Group (Heavy) memorial at today's RAF Molesworth hosted by U.S. Army Captain Frank L. Huffman of the JOCEUR Analytic Center (JAC). Balzano's father Technical Sgt. Christopher Balzano was a waist gunner with the 358th Bomb Squadron.
TSgt Chris Balzano (senior) flew with the 358th Bomb Squadron as a waist gunner then radio operator completing his 30 missions with the 27 August 1944 attack on Airfield at Esbjerg, Denmark (Mission 233). There were a few moments during Chris Balzano Junior's 31 August visit when I saw the emotion as Chris realized what his father had been through.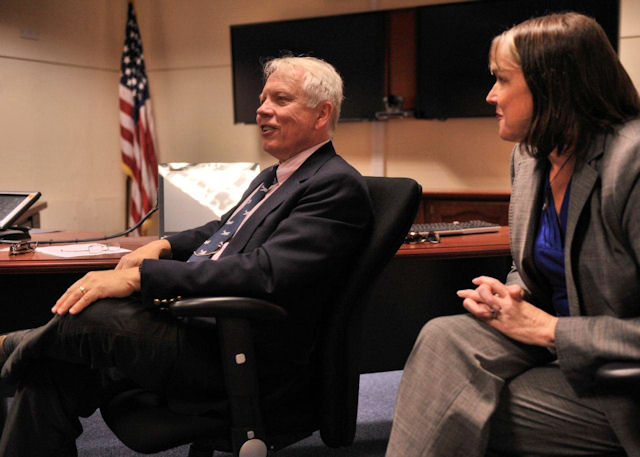 Tom and Corrine Janstrom recalled the life of 358th BS Co-Pilot and later Pilot Jack P. Rencher during their 1 October visit to Molesworth, and reviewed the new book HELL ABOVE EARTH recounting the amazing Werner Goering/Jack Rencher story, USAF photo by Staff Sgt. Javier Cruz.
Tom and Corrine Janstrom traced the legacy of famed 358th Bomb Squadron co-pilot Jack Rencher on 1 October, and spoke to a Molesworth audience on Rencher's role with Capt Werner Goering which led to the recent book "Hell Above Earth."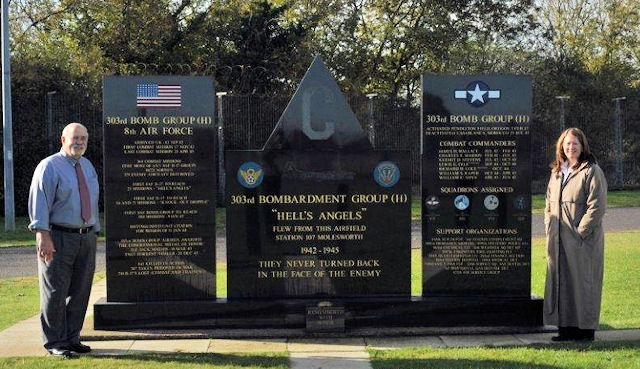 Jerry Cottrell, stepson of former waist gunner Sgt. Paul Sersland on the 360th Tom Hardin Crew, and his wife Ceva visit the 303rd Bomb Group (Heavy) Memorial at RAF Molesworth on 2 November before they were given a private tour of the American Cemetery, Cambridge by Superintendent Michael Green (U.S. Air Force photo by Staff Sgt. Javier Cruz)
Sgt. Paul Sersland was a gunner on the 360th 1Lt Thomas H. Hardin crew. On 2 November his stepson Jerry Cottrell and his wife Ceva walked the remaining WWII Hangar where according to Jerry, Sgt. Sersland often helped out the mechanics.
Visits to the base by 303rd family members continue to reinforce the proud legacy of the 303rd among the over 1100 soldiers, sailors, airmen, marines, civilians of the U.S. European Command, U.S. Africa Command and the members of the twenty-six nations at the NATO center here.



Visiting Royal Air Force Molesworth:
Home of the 303rd Bomb Group (Heavy)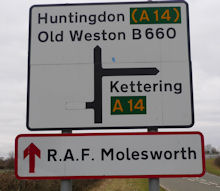 Veterans and family members of the 303rd Bomb Group are able to visit the home of the 303rd at RAF Molesworth located near Huntingdon, Cambridgeshire, England some 80 miles northwest of London.
As RAF Molesworth continues as an active U.S. Base today with an important mission, admission to the base is necessarily strictly controlled for security reasons. 303rd family members wishing to visit may contact the base historian Mr. Peter Park at peter.park@jac.eucom.mil who can advise on military entry procedures, information needed from potential visitors, and possible visit dates.

HELL'S ANGELS NEWSLETTER
— Historic Issues Revisited —
This Month: February 1980



Flying on the B-17 Flying Fortress 'the Memphis Belle'
with 303rd BG Veteran William Yepes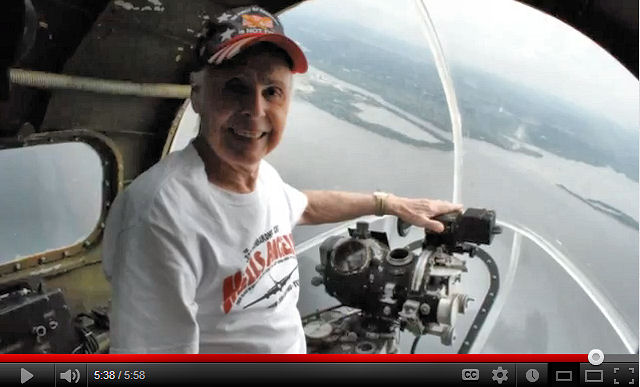 The Liberty Foundation B-17 Memphis Belle made a stop in Tampa, FL early this month. 303rd BG veteran William Yepes took an emotional ride back into history. You can see the video here.
By KEITH MORELLI | The Tampa Tribune
Published: November 06, 2012
There's nothing comfortable about a ride in a B-17 bomber built in 1945.
The fuselage shakes and the engines roar and a burning smell stings your nose. The windows are open and you knock knees with the person sitting across from you.
Steel cables run overhead, leading from the cockpit to the tail's elevators and rudder. The .50-caliber machine guns are at rest, stretching across the wide-open window.
Lumbering is the only word to describe the trip down the runway, as the four engines strain to get the airplane in the air.
Liftoff changes everything. Airborne is where this airplane wants to be. The ascent of the heap of metal and wood can only be described as graceful.
Crews who flew combat missions aboard the Flying Fortresses loved the planes because they were so durable under fire. The body bristled with machine guns: on either side, in the front and rear and in rotating turrets above and below.
The Memphis Belle, a vintage B-17 bomber built at the end of World War II that played the part of the famous aircraft in the 1990 movie, flew over Tampa this week and will make more flights this weekend.
William Yepes appreciated the bumpy, windblown flight on Monday afternoon.
"Does this bring back memories?" said the 90-year-old Tampa man. "Wow."
Yepes is among the dwindling number of World War II flyboys who dropped bombs over Nazi-occupied Europe and on far-flung islands in the Pacific in the early 1940s. He was a bombardier who sat in the glass-enclosed nose of the plane, finding targets and opening bomb bay doors as anti-aircraft flak exploded around him.
This Memphis Belle never made it to Europe but did fly combat missions over Korea. In more peaceful times it was refitted, repainted and starred in the movie "The Memphis Belle."
This weekend, Liberty Belle, an organization that operates vintage planes, including B-17s across the nation, is taking reservations for flights at Tampa Executive Airport.
A seat costs $450, said pilot John Shuttleworth. The reason: It costs about $5,700 an hour to keep the aging aircraft airborne.
The Memphis Belle will be available for flights and open for ground tours on Saturday and Sunday. Anyone who wants to schedule a flight can call (918) 340-0243.
Shuttleworth said crews are volunteers, as are all the mechanics and support people. "Everybody volunteers to keep this plane alive," he said.
"The B-17 is the iconic World War II bomber," he said. Between 1935 and 1945, nearly 13,000 B-17s were built.
"About 4,300 of them went down and each carried a 10-man crew," he said. "We are quite honored to fly this airplane."
He said flying the aging aircraft sometimes is a challenge, but once it gets up into the air, it flies pretty steady.
"It's not terribly complicated," he said. "Back then, you put 21-year-olds into the pilots' seats. It had to be simple to operate."
There are fewer than 20 left in the world capable of flight, he said, and of those only four or five fly regularly.
Passengers, including Yepes, were strapped in Monday and allowed to move around during the flight. Yepes sat near the rear of the plane, his mind filled with recollections, he said. "I couldn't control myself," he said after the plane landed. "I started crying."
He said his combat missions about 70 years ago were flown at 30,000 feet and sometimes lasted eight hours. Temperatures often dipped to 20 or 30 degrees below zero. It was cold, loud and not very comfortable, he said.
Yepes said he gets emotional when thinking of all the men who flew missions over Europe, and men he knew, who never made it home. He was lucky, he said.
He flew 28 combat missions, all aboard the same B-17, he said. On one mission, the airplane got shot up and was not going to make it back to England. It landed on a German-built airfield in northern France that was captured by the Allies after D-Day. There, the plane was repaired and the crew enjoyed a few days off before taking it over the English Channel.
"We were able to land and we had a little vacation," he said. "Those French girls … I wish it could have been longer."




DID YOU MARRY A BRITISH SPOUSE? DO YOU KNOW ANYONE WHO DID?
A research project on British War Brides, sponsored by The Imperial War Museum/American Air Museum, is just getting underway. More information will follow next month.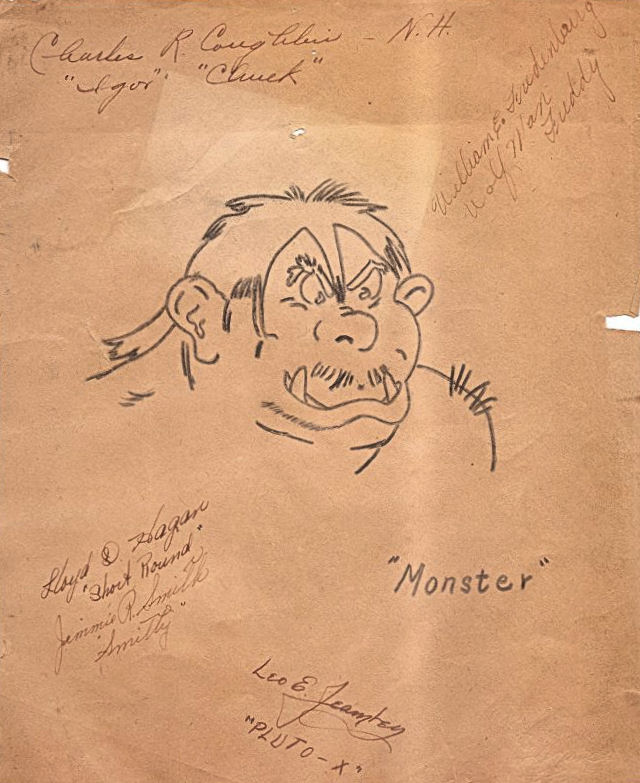 I found a drawing made by my father, Cpl. Edward W. Schaefer and signed by members of the John A. Matheson crew, 360th BS in August or September 1944. Signatures are by Sgt. Lloyd D. Hagan BTG, Sgt. Jimmie R. Smith E, Sgt. Leo E. Jeambey R, Sgt. William E. Fredenburg WG and Sgt. Charles R. Coughlin TG. Note the nicknames!
Jonathan Schaefer
---
TO ALL THE MEN OF THE 303RD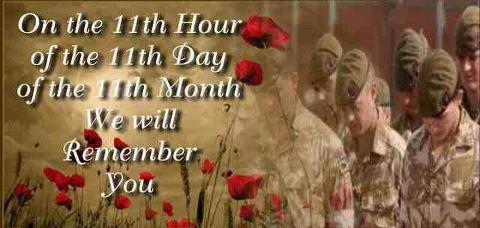 Bill and Jean Cox (and echoed by countless others)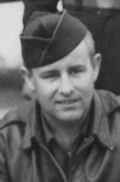 James J. Gross
passed away during his 95th year on Nov. 10, 2012. He was born on Oct. 26, 1918 on a Missouri River bottom farm in Howard County and grew up in the Victorian farm house on old Route 98 in Cooper County.
Visitation for Mr. Gross will be held at Davis Funeral Chapel on Tuesday evening, Nov. 13th, 2012 from 6:00 until 8:00 o'clock. Friends may call from noon until time of visitation. There will be a prayer service at 6:00 o'clock. The Mass of Christian Burial will be celebrated at SS Peter and Paul Catholic Church at 11:00 A.M. on Wednesday, Nov. 14th, with Father Bob Duesdieker officiating. Burial will follow in the church cemetery with full military honors.
Jim joined the Air Force during the Second World War and saw action in the European theater, flying some 40 bombing missions over Germany as part of a B17 crew. Three times his planes crash landed as a result of German fire, twice in the English Channel and once behind enemy lines in France. He was fished out of the freezing English Channel by Allied rescue vessels. When downed behind enemy lines the B17 crew jerry-rigged the plane and flew back to England the next night when they were almost shot down by Allied night fighters because they did not know the pass code for the day. Some fast talking convinced the fighters that the B17 was, in fact, manned by Americans. After each of these traumatic experiences Jim was debriefed after being served a shot of whiskey and then assigned to another B17 for more action.
After the war Jim returned to Boonville and took up the peaceful profession of farming, which he had learned as a farm boy at the hand of his father, Barney Jacob Gross. In 1952 he acquired his first farm, which was situated along the Missouri River not far from where he had been born. His younger brother, Paul, became his business partner. Over the ensuing years the Gross brothers built up a farming business. Jim worked at his chosen profession until he was 92 years of age.
Mr. Gross was preceded in death by his parents, Barney Jacob Gross and Marie Stoecklein Gross, a brother, Charles Gross and sisters Mildred Gross and Kathleen (Sister Neria) Gross. Jim is survived by his brother, Paul Gross, and his sister, Louise Usher of Austin, TX as well as by nephews, Steve Usher and Mike Usher and nieces Christine Lower and Carol Roman.
Memorials are suggested to SS Peter and Paul Catholic Church.




Dale Edwin Ragel, Sr., passed away peacefully on November 1, 2012, at his home surrounded by members of his family, after losing his battle with Alzheimer's disease at age 92.
Dale was born on August 20, 1920, in St. James, Ill., to Josephus and Myrtle Ragel. Dale suffered two tragedies in his early years; losing his mother to influenza at age 18 months and losing his right eye in an accident on the farm at age five.
He is preceded in death by his father Josephus Ragel; mother Myrtle Ragel; stepmother Edna; sisters Nola Fulfer and Vida Roser; brothers Virgil Ragel, Herbert Ragel and Eugene Ragel; first wife of fifty-one years Peggy Ragel; and youngest daughter Victoria Ragel Baker.
Dale did not let his handicap or the fact that he was raised on a farm in Central Illinois during the depression keep him from accomplishing whatever he desired to do in his life.
After WWII broke out he joined the Army Air Force and served in the 8th Air Force, 303rd Bomb Group, HQ 444th in Molesworth, England, and in North Africa after the war ended. In the military he learned the trade of aircraft mechanic which provided him with a career following his military service. He lived the mid part of his life in San Lorenzo, working and raising his family.
In 1962 he took a job as a civilian working for the DOD as a Quality Control Inspector which took him to Seville, Spain, Chataroux, France and London, England. He settled in Simi Valley with his family in 1967 upon his return from Europe.
He retired at age 55 as chief of Quality Control working for the DOD at Hughes Aircraft in Culver City. The love of automobiles he acquired in his childhood and skill as a mechanic and his hobby of sports cars led to his passion of racing his MG in the Sports Car Club of America which he did until his mid 60's. Later he had a Taurus SHO which he raced once a year at the SHO Registry Convention into his 80's. He also loved traveling, with his last vacation being a cruise around the Hawaiian Islands at age 89.
Dale leaves behind his loving second wife, Ann Ragel of Simi Valley; and his children, daughter Shirley Ragel Alexander, son-in-law Michael Alexander of Simi Valley; son Dale Edwin Ragel, Jr., daughter-in-law Cynthia Ragel of Palmdale; daughter Donna Ragel Arispe of Waco, Texas; stepdaughter, Rita Parker and husband Jim Parker of Valley View, Texas; stepdaughter Therese Neary of Simi Valley; twelve loving grandchildren and step-grandchildren; many wonderful great-grandchildren and step-great-grandchildren; as well as his loving nieces and nephews spread across the United States.
He was a faithful member of the United Pentecostal Church in Simi Valley. His pastor, Don Conner, will officiate at his funeral on November 8, 2012.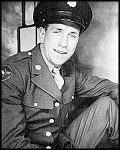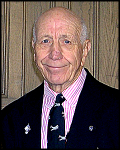 Walter J. Mayer, Lt. Col. USAF Retired. Another of America's Greatest Generation warriors took his last flight on October 24th at Four lakes, WA and finally got to touch the face of God.
Walter was born in Uniontown, Washington, to John V. and Cecilia Mayer at the family farm on January 22, 1921. He attended schools there and graduated in 1939. He completed one year of college at the University of California at Berkeley before joining the Army Air Corps in 1941 and became a pilot, where he used those skills to fly B-17s during WWII for the 8th Air Force, 303rd Bomb Group. He attests to the battle worthiness of the Flying Fortress as the finest aircraft ever built. Two Distinguished Flying Crosses and numerous other air medals were awarded to him for his service. While in the Air Force, he also served in the Korean War and the Vietnam War.
He married Beverly Swanbeck of Clarkston in 1947 and together they traveled the world and raised four daughters. In 1963, he was stationed at Fairchild Air Force Base and retired in 1966 after serving for 25 years. The family moved to the Four Lakes area and then he worked at Fairchild in Civil Service for 12 years-he loved being around those airplanes!
The next chapter of his life included traveling, real estate investments, a wholesale car and RV business and being a partner in an RV park in Arizona. He was always on the go, and lived a wonderful, long life! Walt also belonged to the Medical Lake Lions Club and St. Anne's Parish for many years.
His wife of 50 years passed away in 1997 and he has lived in the Spokane and Cheney area since that time. Survivors include his four daughters, Kathy Johnson-Glaesemann (Fred) of Cheney, Kristy Park (David) of Chewelah, Wendy Perry (Alan) of Medical Lake, and Amy Kirsch (Ken) of Chewelah, eight grandchildren and nine great-grandchildren.
A Rosary will be held on Sunday, Oct. 28th at 7:00 p.m. at St. Anne's Catholic Church in Medical Lake and the Mass of Christian Burial will be on Monday, October 29th at 11:00 a.m. A luncheon will follow in the parish hall and internment will be at Holy Cross Cemetery in Spokane at 2:00 p.m. Memorial donations in Walt's name can be made to the 303rd Bomb Group, c/o Kathy Johnson-Glaesemann, 15215 W. 3rd Addition Rd., Cheney, WA 99004 or to Hospice of Spokane. Cheney Funeral Home is entrusted with arrangements. "On wings of eagles, with Angel Guides; Through Heaven's gates, may you arrive."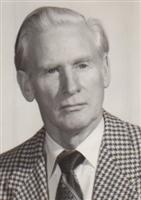 Raymond E. Hills, Sr., 96 of Winterport, passed away September 28, 2012 at Bangor. He was born in Belfast on October 22, 1915, son of Herbert and Mildred (Lamson) Hills. Raymond graduated from Crosby High School in 1933 where he was active in sports and excelled in history classes. Summers after graduating, he went to work with the CCC training program which helped to employ young adults to assist towns with various projects. After this, he became a tree surgeon and worked in New Hampshire and Virginia areas with the Bartlett Tree Surgeon Co.
Raymond was drafted into the service October 10, 1941 and was stationed in California where he was a link training instructor. After this he went to Europe near the end of WWII as a member of the 303rd Bomb Group's 359th Squadron – the original "Hell's Angels" – flying missions against the German targets from a base in England. He flew as a tail gunner on B-17 Flying Fortresses. During the last mission April 25, 1945, after the plane crew had completed the bombing run, they took a direct hit and after losing the engines, they were able to land at an emergency strip in England. He later wrote about "The Last Mission" in his memoirs for his family. After the war, he returned to Maine and joined the Maine Air National Guard at Dow Air Force Base. He served 32 years in the Army Air Force and Air National Guard. During this time in Bangor, he was again a link training instructor and trained many pilots during this service.
Raymond enjoyed his retirement years being with family and his many friends, visiting, playing cards, dancing, dining out and writing his life story, "A Farm Boy". He enjoyed gardening every year in his early retirement. He was always trying to be the first person in town to have the first crop of peas -- even if it meant using the roto-tiller to remove the snow for early planting! He participated in his community by being a member of the school board, attending and supporting Little League games, his church, his town and local politics.
Raymond is survived by his children, Jean Moulton of New Hampshire, Raymond Jr. and wife Deborah of Orono, Richard Hills of Houlton, Elizabeth Suitter and husband Jerry of North Carolina; brothers, Glenn of Belfast, Basil of Belmont, Carl and wife Barbara of Searsmont; his sisters, Evelyn Hills of Cape Cod, Marie Clark and Ann Bucklin of Belmont; 10 grandchildren; 22 great-grandchildren; 26 great-great grandchildren; 2 great-great-great grandchildren; many nieces and nephews; and special friend Sandy. Besides his parents, he was predeceased by his daughter, Patricia; granddaughters Michelle, Karan Ann; brother Herbert Richard Hills; his sisters Helen Clements and Frances Rumney; sisters-in-law, Jennie and Esther Hills.
Family and friends are invited to call from 6-8 p.m. Monday, October 1st at Riposta Funeral Home, Belfast where funeral services will be held 11 a.m. Tuesday. Interment with military honors will follow at Grove Cemetery, Belfast. On-line condolences may be offered at www.ripostafh.com.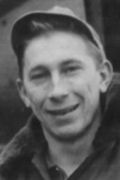 Joseph Monyok, 86, of Catlin, passed away at 12:50 p.m. Monday, Sept. 24, 2012, at Colonial Manor Nursing Home in Danville.
Joseph was born Nov. 12, 1925, in Westville, the son of Joseph A. and Catherine (Baco) Monyok.
He married Glenda Potter on May 7, 1954, in Westville. She survives.
He is survived by one son, Jeff (Rita) Monyok of Catlin; one daughter, Lisa (Nicholas) Badart of Elkridge, Md.; three grandchildren, Heidi (Andy) Newlin, Darcy (Nick) Sager and George (Annie) Monyok; four great-grandchildren, Pyper and Wyatt Newlin, and Quinn and Norah Sager. He was preceded in death by his parents and three sisters, Mary, Helen and Kathryn.
Joseph graduated from Westville High School. He served as a waist gunner in the 303rd Bomb Group of the 8th Air Force.
Joseph worked at the power plant as a control room operator. He was a member of the Westville American Legion Post 51 and the Masonic Lodge. He enjoyed hunting, fishing, golf, sailing and was a Chicago Cubs fan.
A graveside service will begin at 10 a.m. Friday, Sept. 28, at Sunset Memorial Park in Danville. There will be no visitation. Sunset Funeral Home and Cremation Center, A Life Celebration Home, Danville, is in charge of arrangements. Condolences can be left at www.sunsetfuneralhome.com.


Keeping the Legacy Alive,



Submissions of 303rd Bomb Group related stories and articles are most welcome.