Having trouble viewing this email? See the online version here. To unsubscribe, please reply and request removal.
Submissions of 303rd Bomb Group related stories and articles are most welcome.



October 21, 2012
Volume IV, Issue 10
www.303rdBG.com
2012 8th Air Force Historical Society Reunion
San Antonio, Texas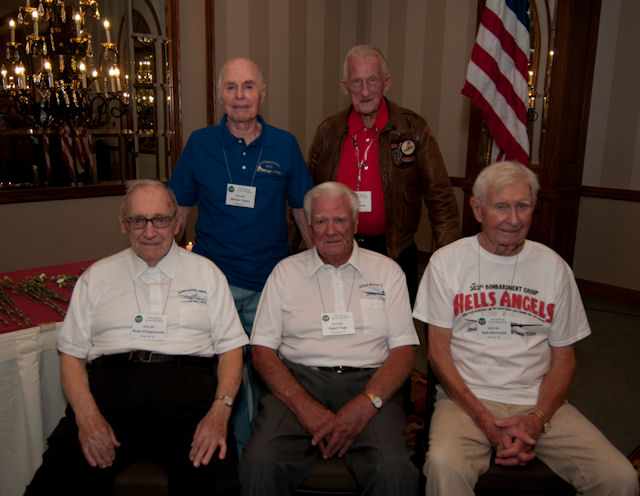 Five 303rd Veterans attended the 8th AF Reunion in October. Standing are William Yepes and Lee Faulkner. Sitting are Russ Klingensmith, Ralph Page and Bob Hitchcock.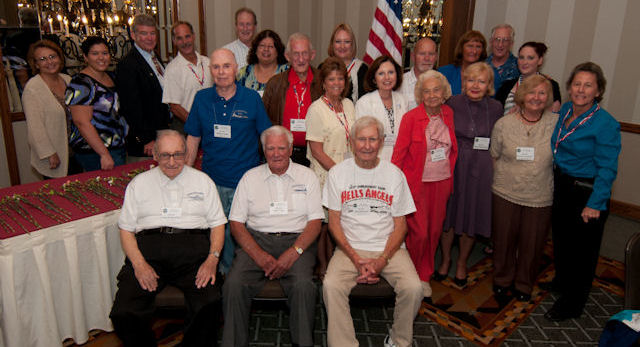 The supporting family and friends of our veterans join them for this group photo. You'll recognize many from previous 303rd BGA Reunions.
About 50 8th AF veteran's attended the reunion. A group photo can be seen on here. The 2013 reunion will be back in Savannah, GA in late July. Sincere thanks to Craig Dubishar for the photos.
A Grand Night at the (Air Force) Ball
By Eddie Deerfield
Proud veteran of the 303rd Bomb Group
Lt. Col. Eddie Deerfield, U.S. Army (Ret.) and his lady, Mary Lee, pose for a portrait at the U.S. Air Force Ball in Tampa, Florida on 29 September 2012.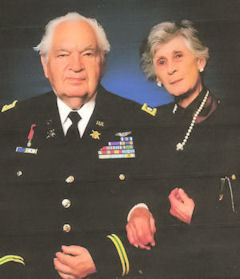 My wife and I don't go to dances any more. Rheumatic arthritis has kicked in and an MRI has detected spinal degeneration. Thinking back, the last time Mary Lee and I whirled around a dance floor was at the Sheraton National Hotel in Washington, DC in 2007. That's when 303rd Bomb Group Association veterans, family and friends gathered for a "last hurrah." The Association's Board, in painful deliberations, had concluded that with accelerating loss of 303rd veterans, declining attendance at reunions and other factors, it was time to "deactivate." The 303rd faded away that September weekend in grand style with a rousing farewell, ending 32 years as an Association.
Fast forward five years to September, 2012. A friend told me that the U.S. Air Force was celebrating its 65th anniversary with a Ball at the Civic Center in downtown Tampa, not far from our home in Florida. At first, I didn't think there was a fit because I'm retired Army, not Air Force. Then I read the literature. The invitation was extended to veterans of the old Army Air Corps as well as to the new Air Force. I mailed in our registrations, dusted off my Army dress blues, and on the evening of 29 September, Mary Lee and I went to the Ball.
Eddie Deerfield and General Schwartz exchange thoughts about the old Army Air Corps and the modern Air Force.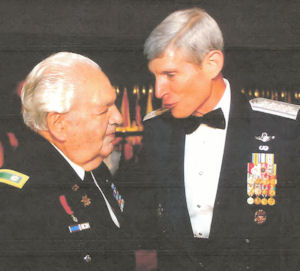 It proved to be an event beyond my imaginings. I don't know if it was the Army uniform with silver wings or my silver hair and aged face, but we were treated with great tenderness, concern and respect. Early on, we were introduced to General Norton Schwartz, U.S. Air Force Chief of Staff, the keynote speaker at the event, and had some time to chat. The evening began with a cocktail reception, followed by the "call to banquet." We were assigned to a nicely located table for dinner, joining several couples from nearby MacDill Air Force Base.
There were welcoming remarks from the podium, posting of the colors, National Anthem, an invocation and a number of celebratory toasts, including a toast "to the Airmen and fellow service members who are serving away from home, their families, and those who have served in the past keeping the bell of freedom ringing loud and clear." The room erupted with cheers of "Hear, hear."
After the dinner dishes had been cleared by the Civic Center's staff, General Schwartz came to the microphone against a colorful background of ceremonial flags. A few minutes into his talk, I wasn't sure but I thought I heard my name mentioned. The General was saying, "Lieutenant Colonel Eddie Deerfield is an Army Air Corps veteran of the 303rd Bomb Group. During World War II in the European Theater of Operations he flew thirty missions as radio operator and gunner on B-17 bombers against targets in Germany and Nazi-occupied Europe. Colonel Deerfield, stand and be recognized." I can't say I got up gracefully--it was more like staggering out of my chair. The audience of some 800 rose for a standing ovation. I was so numbed by the unexpected honor that I stood there waving at the crowd until I suddenly realized that no one would sit down until I did. I sank back to my seat, almost stumbling over my cane which had fallen to the floor under my chair.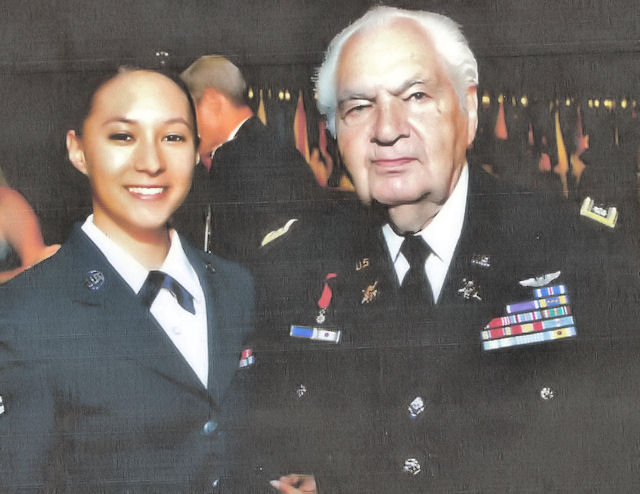 A1C Keara Bucek, age 18, the youngest military member assigned to MacDill Air Force Base in Tampa, FL, greets Lt. Col. Deerfield, age 89, at the U.S. Air Force Ball.
I was in a velvet fog for much of the remainder of the evening. I remember being introduced to the mayor of Tampa, other military and civilian dignitaries, and to a young lady in Air Force uniform who is the youngest among active duty personnel at MacDill Air Force Base. She's 18 and I'm 89. I felt positively prehistoric.
Oh, yes-Mary Lee and I did manage one dance together, making the entire evening an affair to remember.




HELL'S ANGELS NEWSLETTER
— Historic Issues Revisited —
This Month: October 1979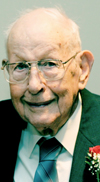 Howard J. Borchardt
, 94, of Cambridge, went home to be with the Lord on Oct. 14, 2012.
He was born Jan. 19, 1918, son of John and Wilhemenia Borchardt in Highland Park, Ill.
Howard grew up on the family farm and graduated from Fort Atkinson High School in 1935. He worked with his father as a carpenter until he was drafted in 1941.
He lived in the prime of the industrial age, and was so intrigued by planes, trains and automobiles that he traded his farm chores of milking cows to join the United States Air Force. Howard served our country in World War II in the Air Force with the 303rd Hells Angels Bombing Group in England as a base technical inspector, working with B-17s. He separated from the service on Dec. 24, 1945, as a second lieutenant. He remained in the Air Force Reserves and retired with the rank of major in 1978.
He would have loved continuing to travel the world, but chose rather the better life of dancing with his "Rockdale Sweetheart," his bride of 65 years. It all started with an uncollected $1 dance bet, and the rest is history. Howard married Norma Lund on Sept. 27, 1947.
Howard worked four years as an electrical apprentice in Cambridge with Wallace Electric Shop, then started his own business, Borchardt Electric. He later worked four years for Nichols Electric of Madison, and then worked 17 years at the University of Wisconsin-Madison Electric Shop, retiring in 1980 to apprentice his son into the electrical trade.
Howard enjoyed gardening and his time with ACRES. He loved his family and taught them by example the value of a good work ethic. He always looked forward to spending time with family at the annual Farm Progress Days, EAA and the State Fair (he loved the all-you-can eat pancakes, and cream puffs.)
Howard's life was forever changed the day he gave his heart to Jesus. He served the Lord by serving his community in several ways: the Cambridge Foundation, Town of Oakland supervisor, Boy Scout leader, church boards, Sunday School teacher, and as a leader of AWANA, a children's ministry.
He had the best personal cook and nurse anyone ever could hope to have - his wife, who lovingly and faithfully cared for him until the end. We are so grateful to friends who helped in times of need and provided meals for Howard. Some meals he liked so much, he insisted on getting the "prescription"!
Howard is survived by his loving wife of 65 years, Norma; daughter, Dianne (Tom) Wex of Omro; son, Jerry (Patricia) Borchardt of Cambridge; two grandsons, Toby Wex of Madison and Cory (Kayla) Wex of Oak Creek; and great-granddaughter, Vivian.
Howard was preceded by his parents and six siblings.
Services will be held at Willerup Methodist Church, 414 W. Water St. in Cambridge, on Saturday, Oct. 20, at 11 a.m. Burial, with military rites, will be in Lake Ripley Cemetery in the Town of Oakland. Visitation will be Friday, Oct. 19, from 4 to 8 p.m., at Nitardy Funeral Home, 208 N. Park St. in Cambridge, and at the church on Saturday from 10 a.m. until the service.




Loyd Coleman, 95, passed away Tuesday, October 9, 2012 at his home in Melba after a short illness. Loyd was born June 22, 1917. His parents, Jim and Eva Coleman, took out land under the reclaimation act in the Melmont/Melba community. Since there was no doctor in the area, his mother went to Loyd's paternal grandparents' home in Meridian, ID for the birth of her son. Mother and son returned to Melba when Loyd was 2 months old.
Loyd attended Melmont Grade School, and then Melba High School. He graduated in 1935. Along with his studies, he also participated in school sports, where he excelled in baseball and wrestling. Following high school, Loyd graduated from the University of Idaho College of Agriculture.
During World War II, Loyd saw active duty as a member of the U.S. Army Air Corps 8th Air Force 303rd Bombing squadron, serving in the European Theater. He flew over 30 missions as a tail gunner on B-17 bombers.
After the war, Loyd built a garage and service station in the center of town. In 1971, the garage and service station were sold, but he continued as an agent for Continental Oil Company. In 1976, he purchased the agency and formed the Coleman Oil Company. This business was sold in 1986. Along with his businesses, Loyd also farmed and ranched in the Melba and Wilson communities. Beginning in 1968, Loyd developed one of the first pure bred and full blooded Limousin Cattle herds west of the Rocky Mountains. Loyd was a founding member of the North American Limousin Foundation. He served as President of the Northwest Limousin Association and President of the Idaho Limousin Association.
Loyd was active in the Melba community on many levels. He served as city mayor, and chaired the Melba Business Association. Earlier this year, during Melba's centennial celebration, he was recognized for his contributions to the community, and as its oldest living resident. In 2003, Loyd was recognized and given the distinction of being one of the grand marshalls of the community's annual 4th of July Festivities and Parade. In the early 1960's, he was appointed as commissioner of the newly formed Melba Rural Fire Protection District by the Idaho State Governor. He also was a director of the Reynolds Irrigation District in the Wilson community. Loyd was a member of the American Legion, Post 126.
Loyd is survived by his wife of 55 years, Jerry (nee Chaffin), four sons; Jim I. Coleman (Middleton, ID), Steven C. Brandau (Lilburn, GA), Robert J. Brandau (Atlanta, GA), D. Lynn Coleman (Nampa, ID), four grandchildren, eight great-grandchildren, as well as many nieces and nephews. He was preceded in death by his first wife, Martha Bell (nee Fease), his parents, a elder brother and a sister. Funeral services will be held at 10 a.m. Monday, October 15 at the Melba First Ward LDS Chapel, 112 Randolph Ave, Melba. A viewing will be held at the church from 6 to 8 p.m. Sunday and again from 9 to 9:45 a.m. prior to the services. Arrangements are being provided by Zeyer Funeral Chapel, Nampa. 467-7300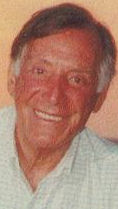 James G. Zaphiriou, age 94 , passed on September 26,2012 following a courageous 8 year battle with cancer, living his motto " Life is great-you just can't weaken."
Jim and his brother co-owned the legendary Diamond Jim's Steak House on Michigan Ave. in Dearborn for 38 years. He proudly served in the US Air Force as an aerial photo gunner during WWII in battles of Normandy and other European locations. Jim loved his family, his horses, hunting, piloting his plane, boating, tennis, scuba diving and traveling the world. He was a life member of the VFW, the Masons, and the Shriners.
Beloved husband of Betty Loving step- father of Lisa Johnson and Tina Ammons. Dear uncle of James Zaphiriou, Nicholas Vasiliou, Constance Davis and Mary Pannitto. Dearest grandfather of Haley, James and Jack. Visitation Friday, September 28, 2012 from 2- 9 p.m. with a Trisagon 7:00 p.m. at the Dearborn Chapel of Voran Funeral Home, 23701 Ford Road. (313) 278-5100. In state Saturday 9:30 a.m. with a 10:00 a.m. funeral service to follow at SS. Constantine and Helen Greek Orthodox, 36375 Joy Road, Westland. Interment Cadillac Memorial Gardens West.


George Arvanites was born of the late Louis and Irini Arvanites on September 29, 1920 in Ipswich, MA. He joined heaven on July, 14th 2012. Prior to his passing, George had been residing in Florence, OR.
George is survived by his loving daughter, Margherita Arvanites of Las Vegas, NV, his sisters, Doris Baer of Rowley, MA and Vera Bombardiere of Scarborough, ME and a brother Louis Arvanites of Danvers, MA., Sister in laws Helen Arvanites and Wanda Arvanites, Nephews Dr. Sideris Baer, Arthur Baer, Jimmy and Johnny Arvanites and Nieces' Tony Baer and Nicki McGrath.
George attended Ipswich High school and Northeastern University. He entered the Army Air Corps in 1943. During his service, he was based in England as a navigator on a B-17 from the 303rd bomb group(H) . In March of 1944 his B-17G was shot down and was taken prisoner by the Germans. He was held as a prisoner of war at Stalag Luft I until the end of the war. For his service and sacrifice he was awarded the Purple Heart and Prisoner of War medals.
George worked for General Electric Aircraft Engines which allowed him to live and travel the world which he so very much loved but no matter where he lived he would always look forward to coming back to Ipswich to see his family and have his favorite food - Ipswich fried clams. He was an avid animal lover and enjoyed the outdoors; kayaking, skilling and tennis which he often beat his daughter at.
He was a generous and kind man who loved his family and friends and he was his daughter's best friend and hero. He was the best father a daughter could have and is missed every day.
Funeral services were held at Willamette National Cemetery in Portland, OR, on Monday, July 23rd, 2012 with full military honors. A memorial service is planned for Oct 14th 2012 at the Greek Orthodox Church in Ipswich, Mass.
---
Keeping the Legacy Alive,

Submissions of 303rd Bomb Group related stories and articles are most welcome.