Having trouble viewing this email? See the online version here. To unsubscribe, please reply and request removal.
Submissions of 303rd Bomb Group related stories and articles are most welcome.



September 16, 2012
Volume IV, Issue 9
www.303rdBG.com
303rd BG Pilot Awarded Distinguished Flying Cross
360th BS Pilot Sam Smith Finally Recognized After 67 Years

by Staff Sgt. Clinton Atkins
Air Education and Training Command Public Affairs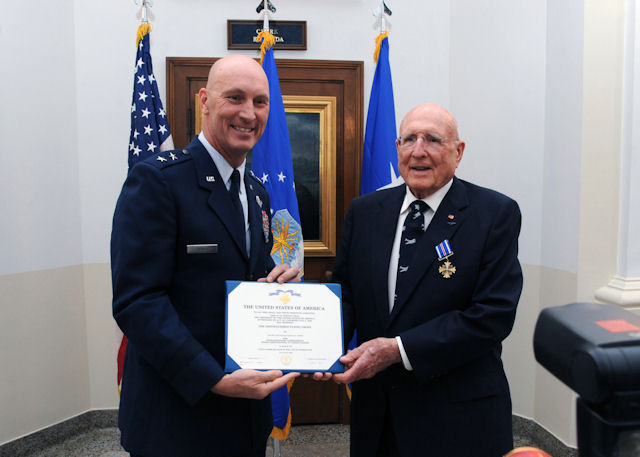 Maj. Gen. Timothy Zadalis (left), Air Education and Training Command director of Intelligence, Operations and Nuclear Integration, presents the Distinguished Flying Cross to former Army Air Corps 2nd Lt. Samuel W. Smith, 360th Bombardment Squadron B-17 aircraft commander, during a ceremony at Bldg. 100 at Joint Base San Antonio-Randolph Aug. 24, 2012. During WWII, Lieutenant Smith's display of exemplary knowledge and outstanding Airmanship under extreme and hazardous conditions culminated in the successful landing of his damaged aircraft upon a return from a mission to Hopston, Germany. (U.S. Air Force photo by Rich McFadden)
Family, friends, senior leaders and pilots gathered Aug. 24 to honor a World War II B-17 Flying Fortress pilot during an award ceremony at Randolph's famed Taj Mahal where he was award the Distinguished Flying Cross medal.
Second Lt. Samuel Smith was assigned to the 360th Bombardment Squadron at RAF Molesworth, England, during the Second World War. He flew 24 bombing missions over Nazi Germany during the war, one of which earned him the DFC nearly 70 years later.
"It's not often in one's career, and for most careers it never happens, where you have the opportunity to learn so much about a group of men and women who literally changed the world," said Maj. Gen. Timothy Zadalis, Air Education and Training Command Director of Intelligence, Operations and Nuclear Integration, during the ceremony.. "A group of men and women who became known as the world's greatest generation and today we're here to honor one of those tremendous giants, (Smith), for his airmanship..."
Smith was awarded for his piloting prowess while landing a crippled B-17 upon returning from a bombing mission to Hopston, Germany, March 1, 1945. The B-17's undercarriage and landing gear was damaged by anti-aircraft gunfire.
Somehow Smith was able to make a hard right turn upon landing in order to clear the runway for approaching aircraft, saving the lives of his crew members and fellow bombers in the process.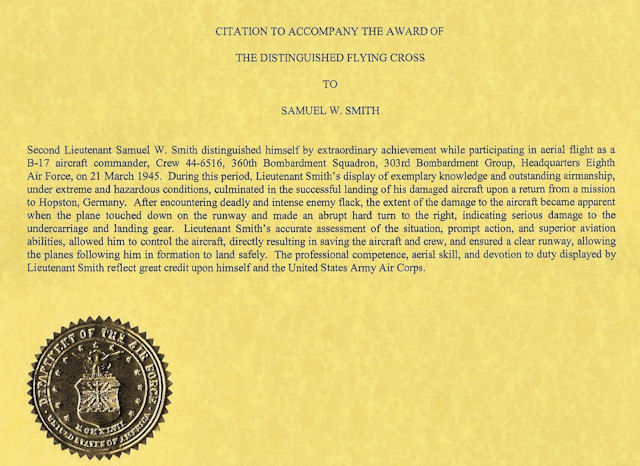 "If you could imagine the airfield, it's just a concrete runway; aircraft maybe 30 seconds in trail, all of them low on fuel because there was no extra weight on those aircraft to travel," said Zadalis. "So any problem on the runway probably meant aircraft ditching or trying to divert or significant problems for the aircraft behind."
Zadalis praised Smith's and his fellow war fighters' efforts for helping to make the U.S. Air Force the world's great airpower.
"I would share with you, in the 70 years since then...our Air Force has changed tremendously. We dominate the air, we dominate space and we're into all kinds of domain including cyberspace...but there is one thing not a single one of these young men and women up here or I or anybody in uniform will forget and that's we stand on the shoulders of giants, we stand on the shoulders of men and women who gave our freedom and to this day are an example of service and selflessness."
After his speech, Zaladis presented the award, which Smith humbly accepted. Smith went on thank his ground support crew for the maintenance of his airplane. "I owe them a tremendous amount," said the Texas native.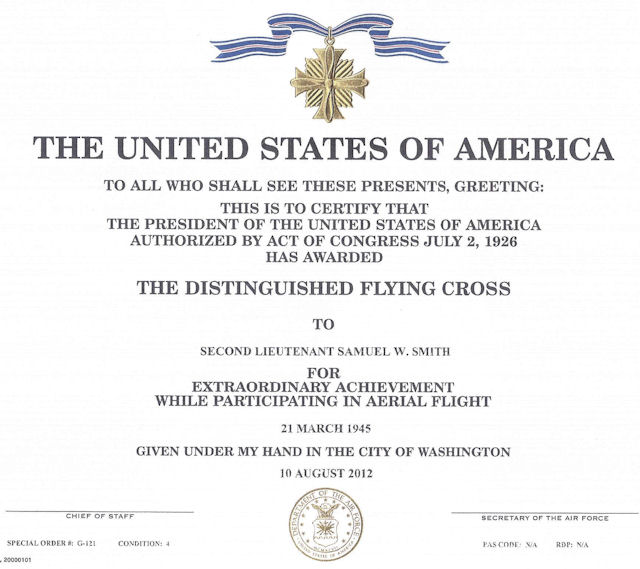 "It's amazing to me that you could have a bunch of teenage guys in their late teens and early 20s from all parts of this country and you could put them together and form an air force and a group of people that could be trained and they could actually go to Europe and we could whip the Luftwaffe...and I'm fortunate to be one of that group," said Smith.
To Smith, who will be 88 years old Sept. 11, the award was bittersweet. His crew wasn't able to see him get the award.
"In lots of respects I'm sad too, because none my crew members can be here and most of them have already passed away and they were with me when all of this action took place," he said. "We flew 24 combat missions together and I was fortunate in that I was able to bring the same crew back home after the war ended in Europe. I honor them also, because us pilots without the support of your crew and ground personnel you can't do all the things that you do."
WHAT'S SAM BEEN DOING SINCE THE WAR?

Samuel W. Smith, a fifth generation Texan, was born September 11, 1924 at Goldthwaite, Texas. He graduated from Goldthwaite high school in 1942 and joined the Air Corps as an aviation cadet. After graduation from twin engine pilot school he completed B-17 Transition, Combat Crew training, and was then assigned to the 303rd Bomb Group (Hell's Angels) in Molesworth, England as an aircraft commander. Sam and his crew completed 24 bombing missions over German targets including Hamburg, Leipzig, Cologne, Essen and Berlin. When the war in Europe ended, his crew was selected to fly a new B-17G from England to the States for participation in the formation of a new Air Force for the Invasion of Japan. The "A" bombs fell, and Japan surrendered ending WWII. Captain Smith then entered A&M College as a Chemical Engineering major. Upon graduation, he worked in industry for 5 years, then partnered in the formation of an engineering company, Pona Engineers, Inc., in Houston. During the 27 years that followed, 95 plants were constructed in the Hydrocarbon Processing industry in the U.S., Mexico, and South America.

Sam's professional engineer registrations include the states of Texas, Louisiana, New Mexico, Oklahoma, Utah, & West Virginia. In 2003 he received a certificate from Governor Perry recognizing his over 50 years as a Registered Professional Engineer in Texas. He is an emeritus member of the American Institute of Chemical Engineers.

Active in community affairs, Sam was a member of Westminster Methodist Church in Houston and served as President of Methodist Men, secretary of the Board of Stewards, and taught Sunday School to teenagers. He was president of the West Houston Little League, and taught NRA hunter safety course to the youths in his area.

He became a member of the Sons of the Republic of Texas in 1991, and as a founding member of the John O. Meusebach Chapter #48, spent 3 years researching and constructing a replica of the "Twin Sisters" cannons, the only artillery that Sam Houston had during the Battle of San Jacinto. The replica is named "The Other Sister". The "Other Sister" and crew have participated in countless parades, and ceremonies, including the San Jacinto Battle Ground Park. As a result of this research and work, he was elected to Knighthood in the Order of San Jacinto, an order established by Sam Houston in 1843, by the Sons of the Republic of Texas. Texas Independence Day programs are presented annually to the Fredericksburg, Ingram and Kerrville Middle Schools. He periodically teaches school children about Texas history as a combat pilot during WWII.

Sam's other organizations include Sons of the American Revolution, Sons of Confederate Veterans, 8th Air Force Association, Commemorative Air Force and Quiet Birdmen.

Sam is married to the former Mary Ann Miller (67 years), and is father to Tim Smith, a life member of SRT, and grandfather to Mary Ann Nielsen, a member of the DRT, and Samantha Smith, age 12, a future member of the DRT.

Return to Base: B-17 Flying Fortress Navigator
Back at Molesworth after 68 Years
by U.S. Army Capt. Frank L. Huffman
U.S. European Command JIOCEUR Analytic Center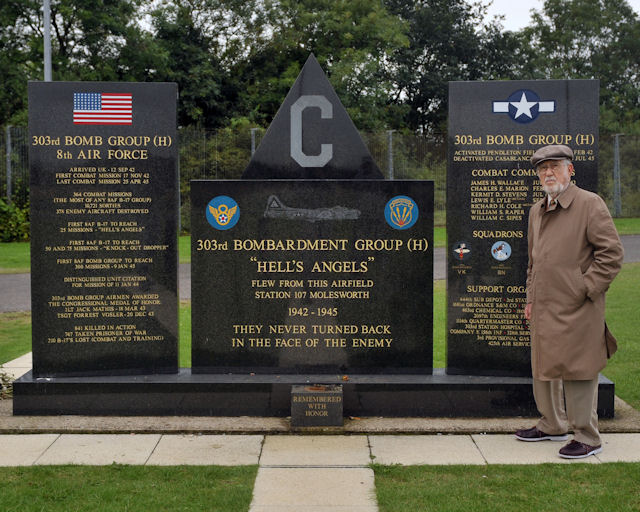 Lt. Col. Albert Levin returned to RAF Molesworth, United Kingdom, after 68 years. Then 2nd Lt. Levin flew 35 missions as a B-17 "Flying Fortress" navigator over Nazi occupied Germany from RAF Molesworth from 1944 - 1945. (U.S. Air Force photo by Staff Sgt. Javier Cruz)
"When we got close to the target, I wondered what all of those black clouds were - I soon found out."
Those are the words of retired Lt. Col. Albert Levin, Air Force Reserve , formerly 2nd Lt. Albert Levin, a Boeing B-17 "Flying Fortress" heavy bomber navigator from the 360th Bomb Squadron, 303rd Bomb Group (Heavy), RAF Molesworth during World War II.
Now a very spry 91 years of age, Levin returned to the base from where he completed his combat tour and reflected on the experiences of war.
"Merseburg. That was my very first mission and a heck of a way to enter combat," said Levin. "We didn't encounter many fighters that day, but the flak (anti-aircraft artillery) was unbelievable. Very heavy and sustained throughout the time we were in the target area and especially heavy once we hit the IP (Initial Point - from where the plane's controls were turned over to the bombardier and could not take evasive action)."
Merseburg was one of the most heavily defended targets in Nazi Germany. The factories produced synthetic fuel and other petroleum-based products and were protected by hundreds of the feared .88-millimeter all-purpose gun, the best such weapon by either side during World War II. Only targets such as Berlin, Schweinfurt, Cologne, Magdeburg, Munich or Regensberg produced the same level of consternation among bomb crews.
"We would be asleep in our Nissen hits (which can still be seen at various airfields across England, including Molesworth) and an operations sergeant would walk into the hut and would call out the name of the pilot, in my case (2nd Lt.) Ben Connelly, and then you knew you were flying that day," Levin said. "Then after breakfast, we would go into the operations building for our briefing.
"You walked in and there would be a curtain over the map and when they pulled it back, either a low-level sigh would be heard, indicating a 'milk-run' (a not so heavily defended target) or a loud groan would be heard when certain target cities were called out and Merseburg was definitely one of those," he said. "Being my first mission, I didn't appreciate it at the time, but I soon joined the others (in groaning), after I'd been a few times."
Levin came to Molesworth in July of 1944 and was assigned to the 360th Bomb Squadron, 303rd Bomb Group, known as the "Hell's Angels." Although maintenance issues and shortages of crewmembers occasionally had the crew split up and in a different plane, the majority of his flying time was spent in B-17 #42-97187, "Miss Umbriago."
"The B-17 was a wonderful plane and could take a lot of punishment, although we only had one crewman injured," he said. "Once, a flak round hit the side of the plane and put a huge dent only a few inches from my head. Luckily, it didn't explode."
Other members of his group weren't so lucky. The New York native vividly recalls the end of September of 1944.
"We flew to Cologne (in "Flak Hack," B-17G #42-97329) on Sept. 27 (Mission # 247) and had a successful trip, but the next day (Sept. 28) was the worst," Levin said. "Eleven of our planes didn't come back from a mission to Magdeburg (including "Flak Hack"). Do you know what it's like to see all of those empty hardstands (area where each plane was parked) and bunks, realizing how many of your friends would never make it back."
Wiping tears from his eyes and clearing a choked-up throat, Levin continued: "That was the worst day of the war for me and I wasn't even flying. To think of all of those men gone in one day was unbelievable."
The 303rd Bomb Group, and Levin, recovered from this tragic day and continued the fight against fierce German opposition throughout the remainder of the war. For Levin, however, his war ended in January of 1945, upon completing the mandatory 35 missions that indicated a completed tour of duty for bomber crews. Leaving the Molesworth base on a cold January morning, Levin hadn't returned to his old base until Aug. 30, 2012.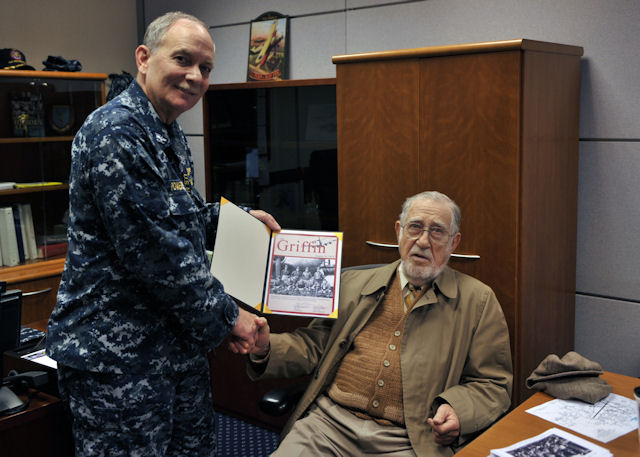 Navy Capt. Gary Powers, Joint Intelligence Operations Center - Europe Analytic Center deputy commander, presents a certificate to retired Air Force Lt. Col. Albert Levin honoring his return to his Word War II base at RAF Molesworth. Levin was a navigator on a B-17G "Flying Fortress." (U.S. Air Force photo by Staff Sgt. Javier Cruz)
"It's nice being back, but I honestly don't remember much," he said to Navy Capt. Gary Powers, JIOCEUR Analytic Center deputy commander who hosted the veteran. "The base is certainly much different than when I flew out of here. It's been a long time, but I'm glad I made the trip.
"I do remember the people locally, who we traded various things with, especially to get fresh eggs and an occasional chicken," said Levin. "The English people were great to us and we certainly appreciated everything they went through during the war."




8th AIR FORCE HISTORICAL SOCIETY ANNUAL REUNION
Crowne Plaza Hotel – San Antonio, Texas
OCTOBER 3 – 8, 2012

HELL'S ANGELS NEWSLETTER
— Historic Issues Revisited —
This Month: June 1979


---
DID YOUR TRAINING INCLUDE MACDILL FIELD?
We live about 25 miles from MacDill Air Force Base in the Tampa Bay area of Florida, and visit there several times a month. The Honorary Command Chief of the Sixth Air Mobility Wing is a friend who's writing a book about the base, going back to its origins before World War II. He has asked for my help in identifying the men of the 303rd Bomb Group who passed through what was then known as MacDill Field. He would like to interview those men, if any can be found. He's also interested in photos and relevant information family members might have about their kin serving at, training or just passing through MacDill Field during the war years.
If any in the Molesworth Pilot audience can help in this project, please contact me at ED303FSRA@aol.com.
Eddie Deerfield
LtCol, USArmy (Ret)
Proud Veteran of the 303rd Bomb Group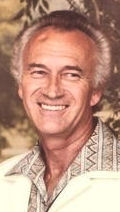 Robert Joseph Laubert 91, passed away September 4, 2012 in Orlando, Florida. Mr. Laubert was born July 31, 1921 in Egg Harbor City, New Jersey to Frank and Violet (Cressman) Laubert.
He was a veteran of the United States Air Force, serving during WWII. Mr. Laubert was the recipient of the Purple Heart and the Air Medal. He retired as a Clothing Designer for B and N Tailoring in Lexington, KY. Mr. Laubert had numerous hobbies, including Boating, Woodworking, Cars and Trap Shooting. He is survived by his wife, Nancy M. Laubert of Orlando, FL; son and daughter-in-law, Robert Joseph Laubert Jr. and Christina of Maxville, FL; grandchildren, Daniel James Laubert, Michael Lee Laubert, Scott Aaron Laubert, and Steven Ray Laubert; two great grandchildren, Alyssa R. and Allura K.
Custom tailor Robert Laubert overcame WWII injuries
By Henry Pierson Curtis, Orlando Sentinel

High over Germany, Robert Laubert began freezing to death in 1943 after already having survived World War II's deadliest air battle known as "Black Thursday."

Grievously wounded, the young Army Air Corps staff sergeant and flight engineer was knocked unconscious on a bombing raid as he manned twin machine guns inside his B-17's top turret. The impact of exploding glass and metal tore away his oxygen mask and heavy mittens and his fingers turned to ice in the sub-zero temperatures.

"If it wasn't for his buddy, he would have died up there," Nancy Laubert, the 91-year-old veteran's wife said Tuesday. "He spent eight months in British hospitals and they saved his hands for him. He made it with a lot of determination and will to live. He was the same way to the end."

Laubert died last week in Orlando from cancer.

Laubert overcame his injuries to become a clothing designer and custom tailor. His work included cutting, sewing and fitting a red suit for former First Lady Barbara Bush featured on the November 1989 cover of Good Housekeeping magazine, according to his family.

Despite a permanently disabled index finger, he held the tiniest needles in his right hand to bind cloth with invisible stitching.

"I've actually seen my father weave the edge of a cut in a pant leg to where you couldn't see it," said son Robbie Laubert of Maxville, Fl. "His hands were very well developed."

Records of the 359th Bombardment Squadron indicate Laubert flew at least 11 combat missions from a base in England against targets in Norway and Germany.

On "Black Thursday," he participated in an Oct. 14, 1943 bombing raid on a ball bearing plant in Schweinfurt, Germany, when 60 Allied bombers were shot down along with 186 German fighter planes. A month later, Laubert was aboard one of the 20 B-17 bombers attacking Bremen when he was injured, according to records and his Purple Heart citation.

"Fighter attacks from every direction became persistent…rockets were fired into the formation," an account states. "Enemy aircraft closed within in 50 yards and gunners were unable to see them due to frost."

Then 22, Laubert never forgot.

"He had a lot of nightmares after that," his wife of 32 years said. "He could still remember what happened."

A carpenter before the war, Laubert returned from England and worked as a mechanic on the first-generation of jet aircraft engines. But his family said that like many veterans he wasn't sure what he wanted to do with his life until a friend suggested clothing design.

After studying in New York and Philadelphia, Laubert spent decades in the garment industry as a designer and factory manager for Jonathan Logan, a nationwide clothing line, as well as owner with his wife of their own bespoke shop, B and N Tailoring of Lexington, Ky.

Into his early 80's, Laubert continued making his own clothing as well as sewing riding habits and designing horse blankets for Kentucky Derby contenders, his family said. A follower of fitness expert Jack LaLanne, Laubert kept a daily exercise regimen to keep his 5-feet, 10-inch frame lean and muscular.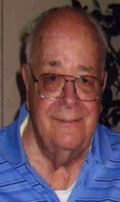 George P. Greene, Jr.
, 93, of Sun City West, AZ, Passed away September 7, 2012 in Sun City West.
He was born January 14, 1919 in Erie, PA. After retiring as a machinist, George and his wife Marge wintered in Arizona for many years before moving here permanently in 2000 from Colorado.
He served as a staff Sgt. In the Army Air Corp during WW II in the 303 bomb group; He was a Thirty-Second Degree Mason and a member of the Sun City Elks Club.
George is survived by his wife Marge, his daughters Kate Kopp and Jan Dennis, three grandchildren and five great grandchildren.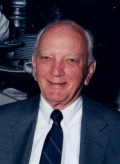 Thomas "Tom" E. Zenick, of Morristown, passed away on Saturday, September 1, 2012 at Morristown Medical Center after a short illness. He was 88 years old. Tom was born on September 7, 1923 in Manhattan, NY to Joseph and Olga Zenick. He moved to Cedar Knolls in 1925, and then to Morristown 56 years ago.
Tom attended Hanover Township Public School and then Morristown High School, where he graduated in the Class of 1941. Throughout his early life, Tom worked at various jobs, including: Chamberlain Aircraft, Wright Aeronautics, and Iorio Clothing.
Tom proudly served his country, entering into the U.S. Army/Aircorp in 1943. During his military service, he rose to the rank of Technical Sergeant. He was a machine gunner and flight engineer on a B-17. He served with the 8th Airforce, 303rd Bomb Group - The original Hells' Angels. Tom and his crew completed 25 missions over Germany and other European countries. He was awarded the Air Medal with 3 Oak Leaf Clusters, American Theatre Ribbon with 2 Bronze Stars, Europe-Africa-Middle East Medal WWII with two bronze battle stars, and the Good Conduct Medal.
Tom worked for the Singer Sewing Company from 1949-1976, serving as Store Manager and then District Manager. Then, he owned and operated the Singer Sewing Store as a Franchise in Morristown until 1983. Tom served as a Morristown Alderman, Councilman, and Council President from 1967-1979. He also served as Manager of the Morristown Airport for approximately 2 years. He then went to work for the New Jersey State Lottery Commission from 1982-2007.
Tom is survived by his loving wife of 64 years, Yolanda (nee Caporaso); and his devoted son Thomas R. Zenick and his wife Susan (Cillo) of Cedar Knolls; as well as many nieces and nephews. He was predeceased by his parents, Joseph and Olga Zenick.
A Mass of Christian Burial for Tom will be held on Friday, September 7, 2012 at 10:00am at St. Virgil's Church, 250 Speedwell Avenue, Morris Plains. Interment will follow at Gate of Heaven Cemetery, East Hanover. Visiting will be on Thursday, September 6, 2012 from 2-4 & 7-9pm at Dangler Funeral Home, 600 Speedwell Avenue, Morris Plains. In lieu of flowers, donations in memory of Tom can be made to: Morristown Ambulance Squad. Envelopes will be provided by the Funeral Home.
---
Keeping the Legacy Alive,

Submissions of 303rd Bomb Group related stories and articles are most welcome.