Having trouble viewing this email? See the online version here. To unsubscribe, please reply and request removal.
Submissions of 303rd Bomb Group related stories and articles are most welcome.



August 19, 2012
Volume IV, Issue 8
www.303rdBG.com
Congratulations Keith Ferris !
Long-time friend of the 303rd Bomb Group Enshrined In the
National Aviation Hall of Fame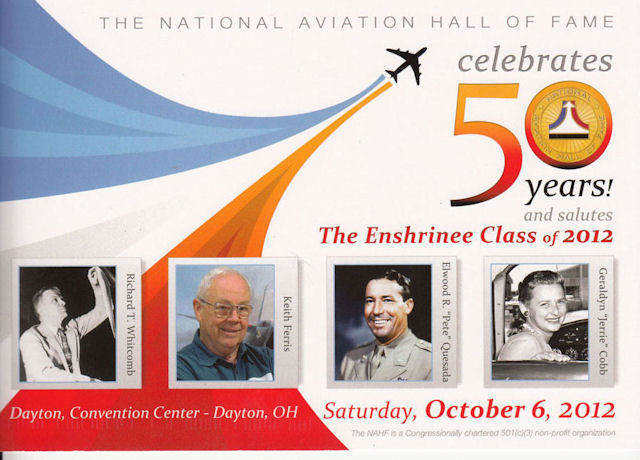 World renown Aviation Artist Keith Ferris is being enshrined in the National Aviation Hall of Fame. The ceremonies will be held October 6, 2012 at the Dayton Convention Center in Dayton, Ohio. Keith has painted several 303rd Bomb Group related paintings over the years, including the
Fortresses Under Fire
mural in the Smithsonian National Air and Space Museum,
Schweinfurt Again
,
Slow Timing Bonnie "B"
, and others.
Keith was named an honorary member of the 303rd Bomb Group Association many years ago and has been a staunch supporter of the 303rd BG for nearly 50 years.
Keith and Peggy, on behalf of hundreds of your 303rd BG friends, Congratulations on a well deserved honor!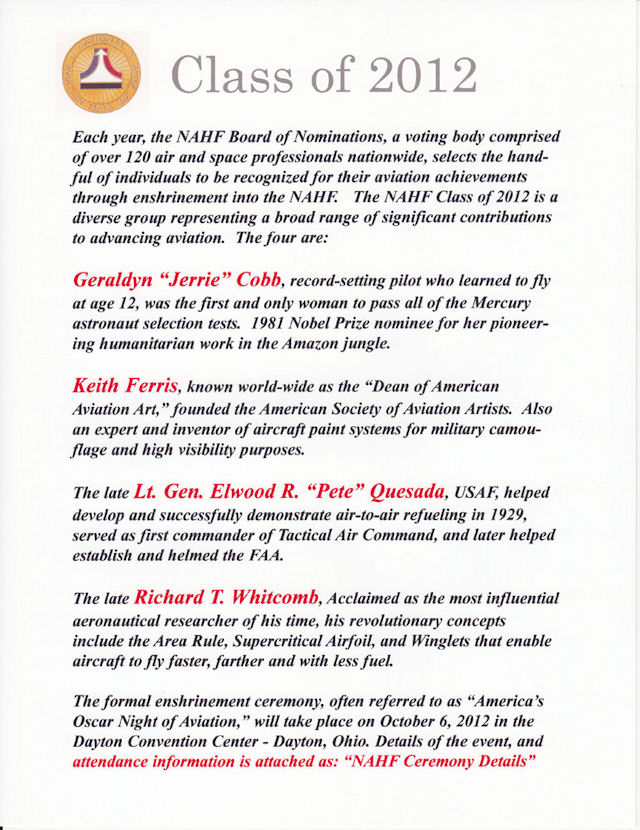 Two Fresh Eggs Sunny Side Up - Enjoyed at Molesworth 68 Years Later
Royal Air Force Molesworth, England
by Peter G. Park
At early morning breakfast in the darkness before takeoff, Technical Sergeant Samuel A. Rowlett was nervous about the upcoming 303rd Bomb Group (Heavy) mission to bomb the Leuna Synthetic Oil Plant at Merseburg, Germany. He had reason to be - Merseburg was a frequent target, and set for yet another attack on 24 August 1944 much to the dread of the assigned combat crews.
T/Sgt Rowlett, back row 3rd from the left. with the 359th BS 1Lt Truman K. Eldridge Crew. On 24 August 1944 (Mission 231) to Merseburg, Germany in PFF B-17G 42-97944, the Eldridge Crew was hit by flak before reaching target and dropping their bombs. They slid out of formation to the right with one engine burning, nosed over and went down and crashed near Merseburg, Germany. All crewmen made successful parachute jumps and became POWs.
In the enlisted aircrew mess he was served two beautiful fresh eggs cooked sunny side up - just the way he liked them. Rowlett was so nervous about the upcoming mission that he could not eat them. As now Pastor Rowlett told his protégé Jason Seay many years later, "Through the rest of the war [in a German prison camp] I thought about those two eggs and how beautiful they were and how good they would have tasted!"
Over Merseburg a few hours later his plane was hit by flak and with one engine ablaze went down. As his plane nosed over, and he bailed out, he made a promise to God that should he live, he would serve him for the rest of his life. As Bro. Seay notes, many of these promises are made but few kept. TSgt Rowlett did keep his promise. In June of 1953 he became the pastor of Central Baptist Church in Mansfield Texas. He is still the Pastor of that Church and Preaches regularly.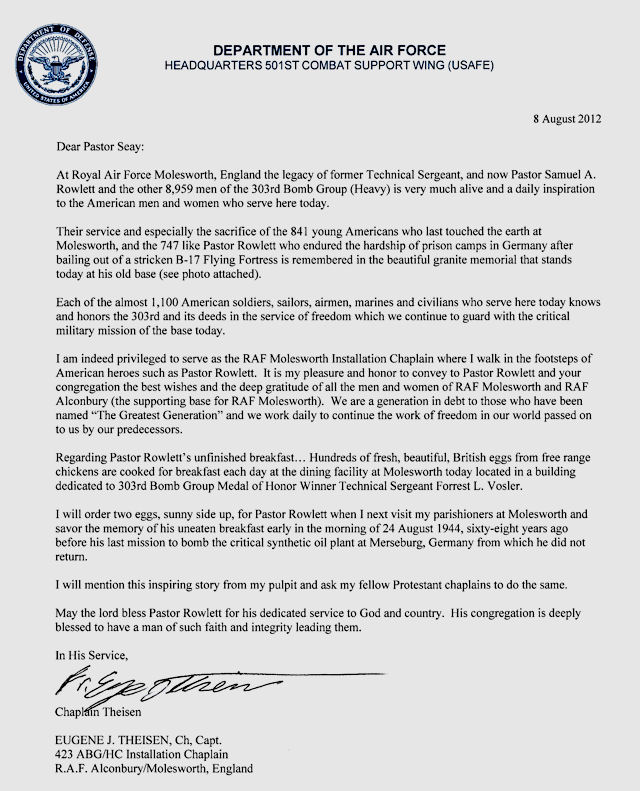 Every few years Bro. Seay in a sermon with a message of Duty, Honor, and Promises Kept shares the story of TSgt Rowlett and how he kept his promise. On Sunday 19 August 2012 he gave the same sermon, but this year he read a letter from the Installation Chaplain at Molesworth today, Chaplain (Captain) Eugene Theisen thanking Pastor Rowlett and the other 8,959 men of the 303rd Bomb Group (Heavy) who served at Molesworth for their service. Father Theisen remembered especially the sacrifice of the 841 young Americans who last touched the earth at Molesworth, and the 747 like Pastor Rowland who endured the hardship of prison camp in Germany after bailing out of a stricken B-17 Flying Fortress.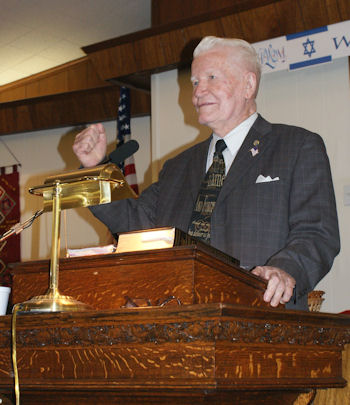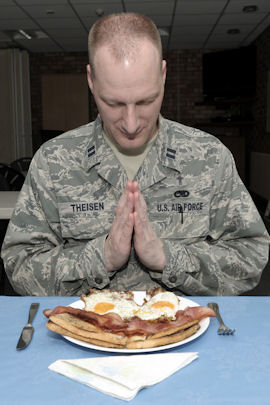 (left) Pastor Samuel A. Rowlett preaches today at the Central Baptist Church in Mansfield Texas (Photo courtesy of Bro. Jason Seay) ; (right) Chaplain (Captain) Eugene J. Theisen, USAF, Installation Chaplain and Catholic Chaplain for RAF Molesworth enjoys 2 eggs sunny side up in honor of former TSgt Rowlett (U.S. Air Force photo by Staff Sgt. Brian Stives)
Like Chaplain (Captain) Edmund Skoner, wartime Catholic chaplain of the 303rd, Father Theisen ministers today to his flock of Catholics among the over 1,000 soldiers, sailors, airmen, marines, and civilians serving at TSgt Rowland's old Molesworth base today.
Keeping his own promise in the letter, Father Theisen recently enjoyed two eggs sunny side up (The Chaplain likes them that way too!) in honor of Pastor Rowlett. The photo says it all.




8th AIR FORCE HISTORICAL SOCIETY ANNUAL REUNION
Crowne Plaza Hotel – San Antonio, Texas
OCTOBER 3 – 8, 2012

HELL'S ANGELS NEWSLETTER
— Historic Issues Revisited —
This Month: March 1979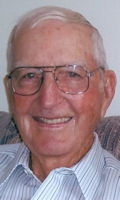 Gordon Adair Ballagh
, 91, of Burwell, Nebraska died July 31, 2012 at the Community Memorial Health Center in Burwell, Nebraska surrounded by his family.
Funeral services were held at 10:00 a.m. Friday, August 3, 2012 at the United Methodist Church in Burwell, Nebraska. Burial was in Cottonwood Cemetery in Burwell. Pastor Stan Gurney officiated. Visitation was from 5 – 8 p.m. Thursday at Hitchcock Funeral Home in Burwell. Memorials are suggested to the Burwell Fire Department or the Burwell Veteran's Park.
Gordon was born at home near Ballagh, Nebraska in northern Garfield County on January 19, 1921 to Robert A. and Harriet E. (Gumb) Ballagh, Jr.
Gordon grew up on a ranch with his parents and siblings in northern Garfield County.
After graduating from Burwell High School in 1938 he worked at home with his father. In the spring of 1941 he went to Buffalo, New York and began working at the Curtiss Wright airplane factory as a sheet metal Fitter, building 0-52 observation planes and P-40 fighter planes.
After the attack on Pearl Harbor, he enlisted in the Aviation Cadet branch of the United States Army in January of 1942 and received cadet training in Alabama, Florida, Texas and Louisiana being commissioned as 2nd Lieutenant and qualified as Bombardier Navigator, then on to Wall Walla, Washington for heavy bomber training. He and his crew on a B-17 bomber them arrived in England in October of 1943 and were soon making bombing raids over Germany and occupied counties. On December 1, 1943, his plane was shot down on a mission over the Ruhr Valley in Germany. After being taken prisoner by the German's. He was taken to Lille, France then to Stalag Luft 1 prison camp at Barth Germany where he remained for eighteen months until the close of the European Theater of World War II in 1945.
Gordon married Marjorie Ellen Rowse on August 22, 1945 at the United Methodist Church in Burwell. They began their married life on the Ballagh Homestead ranch north of Burwell, and he continued ranching there until poor health requiring him to move to the Community Memorial Health Center in October of 2010.
Gordon enjoyed the challenges and joys that ranching brings being one of the first in this area to have Angus cattle, buying his first in 1946. Most of all he enjoyed raising his five children on the ranch. As the children married and grandchildren began to come visit, it was Gordon's greatest delight to take them out to feed bucket calves, gather eggs from the chicken house, ride horseback, or ride a 4 wheeler and tractor. He would gather everyone together to make ice cream using the old hand crank maker. His favorite was peanut brittle. Throughout his life he gave evidence of his love for God, family and country. He was very active in his community, where he served in various positions. He was a Sunday School teacher, superintendent, and board member of his church. He was on the advisory council at Nebraska Christian School and served on various school boards. He was one of the original directors of the Rodeo Telephone Company and served in this capacity until it sold. He was a treasurer of the Garfield County Historical Society. He was on the election board for many years. He was a Red Cross Chairman and a member of the Garfield County planning commission and a many time 4-H leader. He enjoyed being a player on the Ballagh baseball team. Gordon had strong faith in God and set a good example to his family.
Gordon is survived by five children: Rowan and Phyllis Ballagh of Amelia, Nebraska, Janell and Paul Jochim of Chicago, Illinois, Lynn and Amy Ballagh of Burwell, Nebraska, Ronda and Tom Gunther of North Ogden, Utah and Eric and Debbie Ballagh of Burwell, Nebraska. Eleven grandchildren: Kaylnn and Chad Scoular of Rapid City, South Dakota, Adair Ballagh of Burwell, Nebraska, Jill Jochim of Chicago, Illinois, Jami & Matt Crow of Peoria, Illinois, Aaron and Cami Ballagh of Amelia, Nebraska, Ryan and Tesha Ballagh of Idaho Falls, Idaho, Devyn Ballagh of Burwell, Nebraska, Kellen Ballagh of Burwell, Nebraska, Brandon Ballagh of Lincoln, Nebraska, Heather and Justin Ratliff of Chandler, Arizona, Charissa Ballagh of Omaha, Nebraska and five great-grandchildren, Aliyah Scoular, Benny and Ella Crow, Nolan and Maclaine Ballagh, a sister Edith Weller of O'Neill, Nebraska and a brother-in-law, Everett Rowse of Burwell, Nebraska.
Gordon was preceded in death by his parents, his wife Marjorie on February 17, 1999 a brother, Glen Ballagh and a sister, Esther Knight.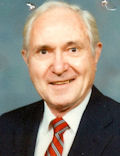 William P. "Bill" Zachar, Sr., 93, of Davenport, died Monday, July 3, 2012, at Genesis Medical Center, West Central Park, Davenport.
Memorial services in celebration of his life will be held at 10 a.m. Tuesday, July 17, at Koning Chapel, Ridgecrest Village, Davenport. Private burial will be in the National Cemetery, Rock Island.
In lieu of other expressions of sympathy, memorials may be made to the Mayo Clinic, Rochester, Minn.
Bill was born in 1919 in Philadelphia, Pa., to Paul and Anna Zachar. He married Jeanette Holden in Elmhurst, Long Island, N.Y., on June 23, 1956. She preceded him in death in February 2007. He received his B.S. degree from Drexel University, Philadelphia, Pa., and a master's degree from the Florida Institute of Technology. Bill was an industrial engineer employed as an instructor, consultant and researcher for the Army Management Engineering College, Rock Island. He retired in 1986 after 16 years of employment. His teaching assignments at military bases for the college took him to half of the states. He conducted a seminar at the Air Force Academy, Colorado Springs, taught at the U.S. Subic Bay Naval Base, Philippines, twice in 1975 during the fall of South Viet Nam, and at the Kennedy Space Center, Cape Canaveral, Fla. He also was employed as an Apollo program engineer by General Electric, Daytona Beach, Fla., on the Mercury, Gemini and Apollo space programs, supporting NASA headquarters, Washington, D.C. He was placed on the NASA Washington Operations Honor Roll for outstanding personal performance.
He was an Army Air Corps Veteran of World War II, serving in the European and African-Mediterranean Theatre of Operations. He was one of the youngest master sergeants in the 8th Air Force, serving as a crew chief on B-17 flying fortresses. He was awarded the Pre-Pearly Harbor American Defense Service Medal, the European African-Mediterranean Service Medal with six battle stars, the Presidential Unit citation, the Good Conduct Medal, World War II Victory Medal, the Cold War Medal and Certificate, and the Bronze Star Medal, earned but not received. Capt. Clark Gable, Hollywood movie star, flew as a waist gunner in Bill's 359th Bomb Squadron (H).
His scholastic achievements were many. He received the American Legion Medal from Post 332 for courage, honor, service, leadership and scholarship and awarded by the John Paul Jones Junior High School, Philadelphia, Pa. His brother, Paul, received the same medal six years later. From Northeast Public High School, Philadelphia, Pa., he was awarded the Isaac A. Sheppard Silver Medal for maintaining a good scholastic record and displaying a high degree of courage. It is one of the highest honors bestowed by the alumni, second only to the alumni Gold Medal; The Murrell Dobbins Prize awarded for the best work in the Industrial course; The Senate Award for his personal influence, character and individual achievements for making a distinct contribution to the student life and welfare of Northeast High School. He was a commencement speaker and was chosen to read the Declaration of Independence at Independence Hall, July 4, 1936, representing the Philadelphia Board of Public Education. He was an Honor Graduate, fourth in his class of 411 graduating students. Northeast was an all-boys school. He was a Life Member of Northeast High School Alumni Association. At Drexel University, he was awarded the Sigma Rho Wall Street Journal Silver Medal for writing the best financial analysis of a major corporation.
He was a 32 degree Mason and a life member of Richmond Masonic Lodge 230, Philadelphia, Scottish Rite Bodies and Bahia Temple Shrine, Florida. He was a member of the National Association of Retired Federal Employees; American Legion Post 26, Davenport, Iowa, a life member of the 303rd Bob Group Association, and the 8th Air Force Historical Society. A member of Trinity Church, Rock Island, he served as a Lay Eucharistic Minister. He had been a member of Trinity Cathedral, Davenport, for 25 years, having served on the vestry, was a lay reader and chalice server and usher. He also started men's prayer breakfasts. He was a life member of the confraternity of the Blessed Sacrament and the Guild of All Souls.
He had a passion for reading and was proud of his garden. He and his brother, Paul, attended many baseball games at Shibe Park, Philadelphia, then managed by the legendary Connie Mack. He continued to follow his Philadelphia Eagles football games and Phillies baseball team.
His survivors include a son, William P. Jr. (Sharon) Zachar of Escondido, Calif.; a younger brother, Paul, and his daughter, Lydia Dharia, of Ambler, Pa.; nephew, Warren Schloesser of Honesdale, Pa.; niece, Barbara Campanero of Camp Hill, Pa.; and brother-in-law, Ted Holden of Barefoot Bay, Fla.
In addition to his wife, he was preceded in death by his sisters, Adella Schloesser and Anna Kennedy.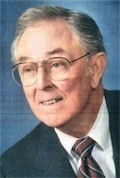 Rufus William Grisham was born on September 6, 1920 and died on July 15, 2012, a faithful Christian servant, devoted family man, war hero and generous and involved civic leader. He offered humor, humility, authenticity and compassion to those whose lives he touched; and they felt blessed by a relationship with him.
He was preceded in death by his loving wife Nancy Blankenship Grisham, his sister, Lillian Nichols, and his parents, Rufus W. and Lillian D. Grisham. This Godly father and grandfather, Grandy, has left a legacy in the life of his three sons, William Ray Grisham, John Robert Grisham and wife, Debbie, and Thomas James Grisham and wife, Julie and to his eight grandchildren, Kelli Grisham Goldston and husband Jeff, Ben, Matthew, Nicole and John Grisham, and Tyler, Caroline and Anna Grisham.
Rufus was born in Hillsboro, Texas and graduated from Abilene High School. He attended Hardin-Simmons University and Texas Tech University until he was called to service in the United States Army Air Corps. On November 24, 1945, he married the love of his life, Nancy Jeanne Blankenship.
Rufus served as a B-17 pilot in the 303rd Bomb Group, stationed in Molesworth, England, and flew 35 missions over Germany during World War II. Most of these missions over Germany were flown in a B-17G named Princess Pat II. Through his distinguished and heroic service, he was awarded the Air Medal 5 Oak Leaf Clusters Award, 3 Bronze Stars in the EAME Campaign, the Distinguished Flying Cross, and the Distinguished Service Award.
Returning from service, Rufus was employed by Anderson Clayton and Company for 44 years, retiring as the President of the Texas Oilseed Processing Division. He had been the corporate manager in Elk City, Oklahoma; Memphis, Texas; Osceola, Arkansas; Vicksburg, Mississippi; and finally returning to Lubbock, Texas where his life of service continued.
He gave his time, talents and resources to many civic, social and religious groups to help those in need. Among his offerings, he was the Charter President of the Southwest Lubbock Rotary Club, Chairman of the Board of Methodist Hospital, Chairman of the Board of the Lubbock Chamber of Commerce, President of the Texas Cottonseed Crushers Association, board member of the National Cottonseed Products Association, Administrative Board of the First United Methodist Church of Lubbock, South Plains Food Bank, First National Bank of Vicksburg Mississippi, First Federal Savings Bank of Lubbock, and President of the YMCA of Lubbock, Texas. The Southwest Lubbock Rotary Club, for his outstanding service to the community, awarded Rufus the Roy Bass Memorial Award. The Lubbock Chamber of Commerce honored him with the Business Person Hall of Fame. He was also an active member of the First United Methodist Church, where he was a Life Board Member, and member of the Rafters Sunday School Class, who will miss and treasure his faith, devotion, wit and wisdom. Rufus was a member of the Lake Ridge Country Club and Lubbock Country Club, where he was an enthusiastic and talented tennis player, golfer and friend.
A memorial service will be held at First United Methodist Church of Lubbock on Friday, July 20th, at 11 a.m. after which family will receive friends at the church's parlor. A visitation will be held from 5 to 7 p.m. Thursday at Resthaven Funeral Home. Arrangements are under the direction of Resthaven Funeral Home. In lieu of flowers, memorials may be made to South Plains Food Bank, 4612 Locust Avenue, Lubbock, Texas 79404.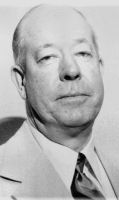 Robert "Bob" D. Willman, 88, of New Hartford, died Thursday (July 12, 2012) in his home.
He was born May 2, 1924, in Calhoun County, a son of Roy and Rena Higham Willman. He married Edna Heightman on July 1, 1950, in Summer Hill. She died Sept. 16, 2011.
Mr. Willman worked at Caterpillar Inc. in Peoria for 30 years and was a member of New Hartford Christian Church. He served with the U.S. Army Air Corps during World War II as a member of the 303rd Bombardment Group "Hell's Angels" Combat Team and received a Distinguished Service Award for his service.
Bob was an avid fisherman and hunter and enjoyed spending time on his farm.
He is survived by a sister, Burnetta Clark; several nieces and nephews; and a brother-in-law, Forrest Baughman.
He also was preceded in death by his parents; three brothers, Asa Willman, Elza Willman and Wardell "Bennie" Willman; and two sisters, Matilda "Tilly" Wienstein and Elsie Zubbieta.
---
Keeping the Legacy Alive,

Submissions of 303rd Bomb Group related stories and articles are most welcome.