Having trouble viewing this email? See the online version here. To unsubscribe, please reply and request removal.
Submissions of 303rd Bomb Group related stories and articles are most welcome.



May 17, 2012
Volume IV, Issue 5
www.303rdBG.com
SPIDER'S STORY
by Richard L. "Spider" Smith
Dick "Spider" Smith passed away April 11, 2012. His service in the 303rd BG was as copilot for the 360th V. Harry Nafius Crew. He was also an accomplished Radio Control airplane builder and pilot. Dick served for many years in the 303rd Bomb Group Association and had many close friends there. His obituary appears later in this newsletter.
I graduated from Aviation Cadet training as a pilot on Feb. 8, 1944. As with most pilots my only desire was to fly as a fighter pilot. They were the ones that we heard all the great stories about. Much to my disappointment, and to all who graduated with me, we were all assigned as heavy bomber co-pilots.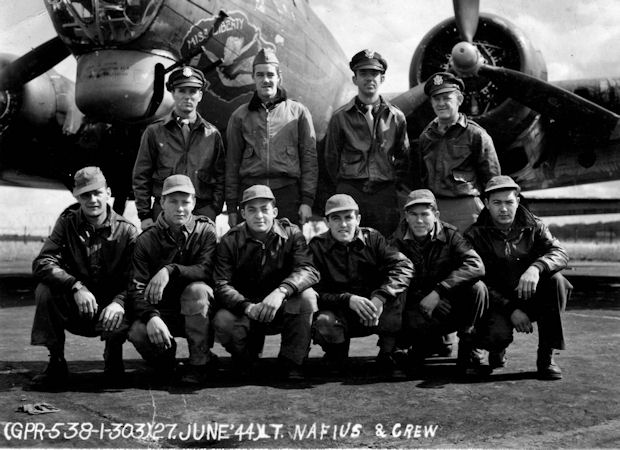 (Back L-R) 1Lt Verner Harry Nafius (P), 2Lt Richard L. "Spider" Smith (CP),
1Lt Sidney L. George (N), 1Lt James E. Cummins (B)
(Front L-R) Sgt Charles G. Davies (WG), Sgt Roy K. Rydquist (WG), T/Sgt Irving Birkenholz (R),
S/Sgt Richard R. Ellis (E), Sgt James E. McGinley (BT), Sgt Billy B. Jinkens (TG)
After a short training period I was assigned to a crew and we flew a B-17 across the Atlantic. We arrived in England in late May 1944 and were assigned to the 303rd Heavy Bomber Group stationed at Molesworth in the midlands of England.
We began flying combat in late June with our first combat mission to Leipzig, Germany on June 29. As France was under re-invasion, most of the B-17 missions were deep into the heart of Germany. On 15 August, I flew a mission to Wiesbaden which became the subject of Keith Ferris' famous painting in the World War II room of the Air and Space Museum in Washington, D.C.
We became a lead crew and I began to fly some missions, training new crews on their first combat missions when my seat on my crew's plane was taken by a "command pilot." I completed my bomber tour with my 35th mission on October 25, 1944. While I was waiting my transfer back to the States I was offered a chance to enter the most exciting time of my life.
An organization had been formed in July 1944 to scout ahead of the bombers to help the group and division leaders with target and weather information. Several missions had been badly torn up by bad weather and German action prior to the formation of the scouting forces. The idea was to assemble a unit with ex-bomber pilots with combat experience who would fly out ahead of the bomber formation to experience firsthand the conditions that the bombers would soon encounter. These scouts were very successful and soon became essential to the accomplishment of successful bombing raids. General Jimmy Doolittle mentions the scouts in his book. "I COULD NEVER BE SO LUCKY AGAIN."
I was assigned to the First Scouting Force under Colonel Bud Peasley in mid November and began my P-51 training immediately. I was given about four hours in a British Harvard (AT-6) and was asked one morning to fly Colonel Peasley to 8th Air Force Headquarters for a meeting with General Doolittle. As the Colonel got out of the airplane, he said I should take the aircraft and fly back to my old bomber base. "Be sure and give them a good buzz job," he said as he left.
After a pleasant visit, I returned to pick him up and flew him back to our base at Honnington. When we arrived and exited the airplane, he said, "You're a pretty good pilot; we will check you out in the P-51 tomorrow morning." I was so elated on my walk back from the flight line, I don't think my feet touched the ground.
The next day I was given a blindfold cockpit check in our trainer P-51B which had a bird cage cockpit. It was a tight fit as I was 6 ft 3 in tall. I diligently folded myself up and strapped on the most exciting plane I would ever fly, WOW!!
After taxing out to the end of the runway and completing all my checks, I opened the throttle and was pushed back against the seat by the most thrust I had ever experienced. My right leg was trembling as I applied all the right rudder I could to combat the terrific torque. I broke ground with my hands full of the most airplane I had ever felt beneath me. I didn't get the gear up until I had climbed to 4,800 ft. I was so busy just trying to fly the gorgeous aircraft. I flew around for about 2 hours, trying stalls and all the other maneuvers I would need to land. Then came the tough part-getting it on the ground. Actually it was one of the best landings I ever made. Much should be said in praise of the designers of the P-51. It was an easy airplane to fly and had no bad habits as far as I was concerned.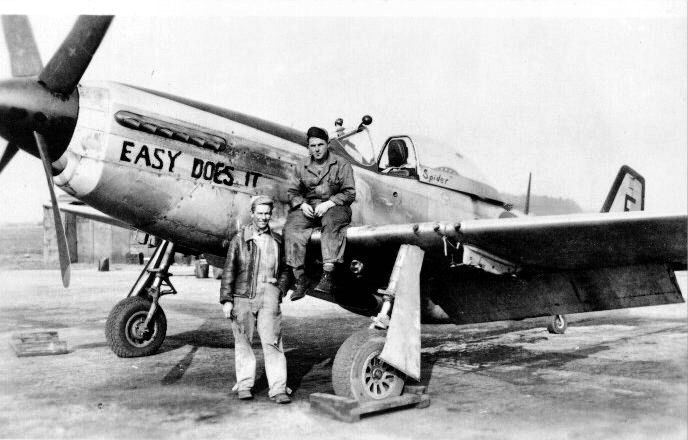 After about ten hours of training (not even including any gunnery training), the Colonel said I was ready to fly my first combat mission on which I was to fly his wing. I was assigned a P-51D5 which was a rejection from the 364th Fighter Group but was a dream ship to me. I was told that I could pick a name for the airplane, and as the identification letters were 5E-E, and the phonetic alphabet for E was Easy I decided on the name, "Easy Does It." On the left side of the canopy I painted my nickname "Spider" and on the right side I painted, "Betty" which served two purposes; I was going with a nurse named Betty, and writing to my future wife, Betty. They both thought their name was on the airplane and who was I to tell them different. The nickname Spider was given to me by my squadron mates because I was so tall and thin, like a Daddy Long legs.
On the morning of Dec. 6, 1944, I made my first formation takeoff on the wing of Colonel Bud Peasley, my hero. The flight was uneventful until I heard the command, "Break left," over the radio. I thought this meant me, so I broke left leaving my formation heading into Germany. When I came to my senses and realized that this command was from some other group, I was all alone and deep in the heart of Germany. I called the Colonel with my plight and he calmly said, "I wondered where you were going." He gave me a heading and I proceeded to fly back to England, all alone. Lucky for me, there were no German fighters around or I would have been another notch on their guns.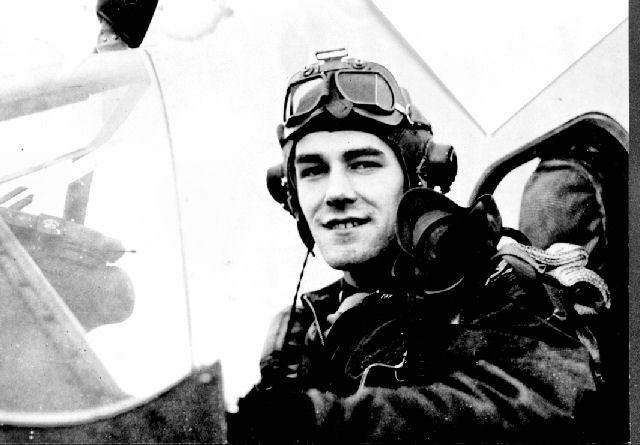 Dick Smith in his P-51
After the first mission was under my belt I proceeded to fly regularly on missions to many targets in Germany. Even some in support of our troops in the Battle of the Bulge. Most of the missions logged around 3-4 hours but a couple were over five hours long; that's a long time to be cramped up in such small quarters.
On my 26th mission on 1 April, 1945, I was picked to lead a mission to Leipzig. At about 14,000 ft, climbing out over the English Channel, my engine quit. I tried everything I knew how to restart but to no avail. On my "MAYDAY" call, I was vectored into Belgium to try and land the aircraft. I jettisoned the drop tanks and set up the most efficient glide I knew how. The radio man who was offering words of encouragement to me, told me that I didn't have far to go when there was a tremendous explosion and the cowl flew off and the airplane began to burn. Time to go, I thought. I told the guy on the radio I was bailing out. He said, "Oh! don't do that, you only have a short way to go."
When I told him I was burning he said, "You better bail out."
I was about 8,000 ft and I attempted to roll over and drop out. In my excitement, I forgot to wind in down trim to hold the nose up when I got inverted. As soon as I let go of the stick and released my seat belt, the airplane split- s'd into me and I was forced part-way back into the cockpit. I then slowed the airplane down and attempted to dive for the trailing edge of the left wing. My lengthy frame prevented me from clearing the cockpit and my foot caught in the canopy roller and I was suspended out the side of the aircraft with flames whipping past me. I was able to get my other foot up to the windshield and I gave a mighty push and I was free. Not knowing how high I was, I immediately began to think about pulling the rip cord. My right hand wouldn't respond. I tried to get the rip cord with my left hand but couldn't do it. I grabbed my right wrist with my left hand and hooked my fingers. The chute opened and I swung outward once and hit the ground on the downswing. The wind dragged me across a field and into a fence which stopped my slide. The next thing I was surrounded by wooden shoes, and being made comfortable by some wonderful Flemish people who couldn't understand my French or English. I was picked up by a Canadian ambulance and when I woke up in a hospital I found that I had a broken arm and severe contusions of the groin area.
When my jacket was returned, I discovered that the right arm was covered with red paint. The aircraft had a red spinner and red borders around the tail. I knew that I didn't go through the prop, so I must have hit the tail which explains why I couldn't pull the rip cord with my right hand.
Due to my injuries, I was sent home and was on the first ship to arrive in New York Harbor after the Germans surrendered. Strange my first and last mission were both to Leipzig. I arrived back in the States in late May 1945 and had my 21st birthday on June 3.
"Pretty good! 60 combat missions before I was 21."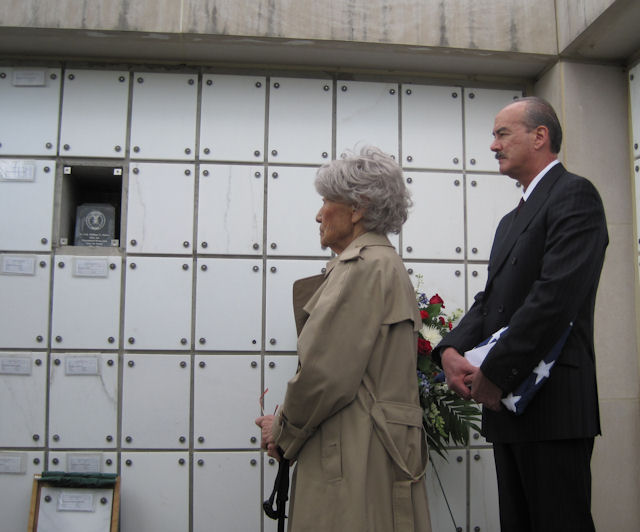 LtCol William C. "Bill" Heller was laid to rest at Arlington National Cemetery on April 10, 2012.
Bill's widow Ruth and son Carl say their final goodbyes.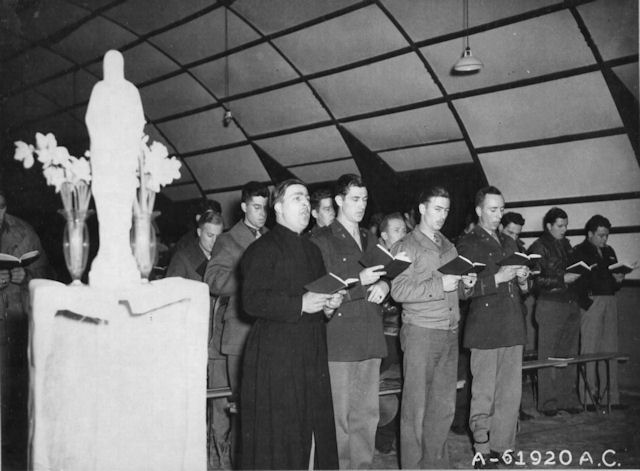 Father Edmund J. Skoner joins the congregation in singing during church services. - 21 March 1943
(photo courtesy of Daniel Bon)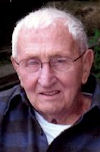 Earl W. Rankin
, 88, of Strasburg, died Tuesday, May 1, 2012 at Quarryville Presbyterian Retirement Community.
He and his wife, Ruth Weaver Rankin, married on June 7, 1953. The youngest of 11 siblings, he was born in Willow Street on February 15, 1924, a son of the late Chester and Amanda Rankin.
A self-employed general building contractor, he built and renovated many homes in the Lancaster County area. Earl was a veteran of World War II and served as a navigator in the Army Air Force, with the 303rd Bombardment Group. He flew numerous missions into France and Germany at the end of the war, from his base in England. He was honorably discharged on January 6, 1946. After WWII, he attended and graduated from Thaddeus Stevens Technical School to learn the building trade. He was involved with many civic and community organizations, including the Willow Street Lions Club, Willow Street United Church of Christ and renovating the Shroy House in Strasburg. He enjoyed spending time with his family. Earl demanded much and gave even more. He was a great American, husband, father, and grandfather.
Surviving besides his wife, Ruth, is a daughter, Pamela married to John Hults of Strasburg; two grandchildren, Kathryn and Ethan Hults; and a brother, Robert Rankin of Waynesboro, PA.
Services will be at the ­convenience of the family. Arrangements entrusted to Reynolds Funeral & Cremation Services, Inc., Quarryville, PA. To send an online note of condolence, please visit our website at: reynoldsfuneralhome.net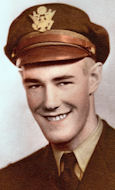 On April 11, 2012 Richard L. "Spider" Smith of Hemet, California was once again called to "flight" duty - this time from a higher power. Richard was born in Rochester, New York, June 3, 1924 to Leon and Marie (Visner) Smith. His father, a World War I veteran, was a pattern maker and draftsman for National Brass in Rochester. His mother, who had been raised on the White Earth Indian Reservation in Minnesota, worked in the shoe industry and was a well-known amateur horticulturist. In addition to raising Richard and his younger sister Joan, they were foster parents to a number of children during the 1930s and 40s.
When Richard was seven his father made him a model of Lindberg's "Spirit of St. Louis", sparking a passion for airplanes and flight that would stay with him his entire life. He collected and read everything about aviation that he could find. He started building his own model airplanes and competed in local contests. In junior High School he built a wind tunnel for an inner city science fair that earned him first prize for engineering and best of show. He graduated from Rochester's John Marshall High School in 1942. He excelled in his studies and was a stalwart on the school's swim team, medaling in numerous competitions.
Like so many of his generation, what transpired at the end of 1941 was his call to duty, and in December of 1942 at the age of 18, Richard enlisted in the U.S. Army Aviation Cadet program. He graduated from Cadets in February of 1944. In May of 1944 he left for England assigned to the 8th Air Force, 1st Air Division, 303rd Bomb Group, 360th Squadron as a B-17 pilot. In October of 1944, after completing 35 missions over German held continental Europe (25 as copilot and 10 as lead pilot) he volunteered for the 1st Scouting force, flying pre-bombing scouting missions in a P-51. He flew 25 of these missions before bailing out over Belgium when his aircraft developed engine trouble. Among the medals he was awarded during his service in the European theatre are the Distinguished Flying Cross, the Air Medal with 5 oak leaf clusters, the Purple Heart for the injuries sustained when he bailed out, the WW II Victory Medal and the American Theater Ribbon. He returned to the United States in May of 1945.
In February of 1944 while home on leave prior to leaving for Europe, his sister Joan introduced him to her friend Betty Engel. She gave them tickets to the Policemen's Valentine's Day Ball. It was their first date. They corresponded the entire time that he was stationed overseas. When he returned to the states in May of 1945, he told his father that he wanted to ask her to marry him. His dad told him that he wouldn't give him permission to do so until he turned 21. A few days later on June, 3rd, his 21st birthday, he proposed. They were married on June 16, 1945, the start of a loving journey shared until his passing. They raised six children, all boys - Daniel, David, Stephen, Glenn, Gregory and Lawrence.
He chose to remain in the service after the war, and, due in part to his technical skill became the Aircraft Maintenance officer at the bases where he was assigned. In 1948 he once again served overseas earning the German Occupation Medal for his active role in the Berlin Airlift, both as a pilot and an Aircraft Maintenance Officer. He remained in the Air Force until 1952. He left with the knowledge that he had served his country with honor and that now the needs of his family were his foremost responsibility.
After his discharge he relocated his family to Rochester, NY where he resumed working at Eastman Kodak. He had been employed as a tool engineer prior to entering the military, but realized that he needed to expand his education to better provide for his family. He enrolled in the night class program at the Rochester Institute of Technology. This allowed him to earn a degree in Manufacturing Engineering while working full time at Kodak. He would stay at Kodak for 30 years during which time he went from tool engineer to automation machinery designer. His name appeared on numerous patents and he played a key role in making Kodak one of the most technologically advanced manufacturing companies of the time. He retired from Kodak during the first part of 1982.
He didn't stay retired for long however, accepting an offer from CBS to become the manager of the tooling department at Fender Musical Instrument Corporation in Fullerton, CA joining his oldest son Dan in working for the company. As he had done at Kodak, Richard designed and constructed machinery for Fender that helped streamline operations, increased productivity and improved overall quality. Much of this equipment is still in use today. In mid-2004 CBS put Fender up for sale. Richard stayed on until the early part of 1985.
Not content to re-enter retirement, he found a job that seemed a perfect match for his love of aviation and his technical expertise. He accepted a position at Northrup as a Manufacturing Engineer, leading their precision drilling department working on the B2 project. As he had in the past, he developed specialized equipment for the project earning two more patents. In 1988 he decided that it was time to actually retire. He and Betty sold their house in Yorba Linda, CA and moved to Hemet where they've lived for over 20 years.
Throughout his life one thing remained constant - his love for building and flying model aircraft. In the mid-1930s he joined the then fledgling Academy of Model Aeronautics becoming member number 517. He was a loyal member of this organization up until his death. In 2010 he was awarded the membership grade of "Fellow" for his lifetime of outstanding contributions to the advancement of aero modeling. He was a founding member of three clubs, the KPAA Radio Controllers Club, the Radio Control Club of Rochester (both in Rochester, NY) and the Century Flyers of Southern California. He served as an officer, including president, for a variety of clubs over a more than 50 year span. He was an AMA contest director at over 40 local contests and the District II contest coordinator in the late '70s. Through his tireless work with private and governmental agencies he was able to procure permanent flying sites for his member clubs. He actively flew and medaled in countless competitions. In 1950, as a member of the U.S. Air Force team, he not only placed in the top ten in free flight at the Nationals, but also piloted the team to the event. Lastly, and perhaps what gave him the most satisfaction, was his participation in and dedication to the educational programs of the AMA - working with kids spreading his love for aviation all the way up to just a few months before he died.
Richard was also active in the both the 303rd "Hell's Angels" Bomb Group and Scouting Force Associations. He served for a time as the 360th Squadron's representative. He looked forward each year to both organizations' annual reunions, attending with his wife and other members of his family.
Surviving Richard are his loving wife of almost 67 years, Elizabeth; son Daniel and daughter-in-law Sylvia of Corona, CA; son Stephen and daughter-in-law Niki of Prescott, AZ; son Gregory of Rochester, NY; and son Lawrence and daughter-in-law Ann of Sudbury, MA. He loved spending time and sharing his stories with his eight grandchildren - grandsons, Stephen, Jason, Sean, Patrick and Evan; and granddaughters Erin, Marie and Stephanie; as well as with his new audience - his great grandson Phoenix and great granddaughters, Gentry, Naomi and Sullivan.
He was preceded in death by his sons David and Glenn.
Just as his parents passed on to him, through how he lived his life, he taught his children and grandchildren the value of hard work, honesty and integrity; how to love without question; how to stand up for what you believe in; how to be a friend; and, most importantly, how to accept the good and the bad in life with common sense wisdom, a generous heart and an extraordinary sense of humor.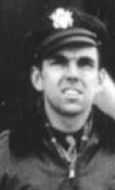 Grafton N. "Gar" Smith died March 31, 2012. Gar was born May 18, 1917 and was a long time resident of Atlantic Beach. A proud hero of World War II, Gar served in the Army Air Corps, later the Air Force, as a B-17 bomber pilot. During the war, he flew over Germany and occupied territory during WWII from U.S. airbases in England.
In 1945, he flew the "Buzz Blonde", as the plane was nicknamed, on a major mission to bomb Nazi installations near Bonn. But his aircraft was hit by another plane and had to crash land in Luxembourg, about 15 miles away from enemy lines.
Lt. Smith – "Smitty" as he was known -- managed to save many of his crew in that incident.
Because of his calm handling of that crash getting the plane down though the Buzz Blonde was badly damaged (the nose was almost gone and wing was torn), Lt. Smith was awarded the Distinguished Flying Cross by the U.S. Department of Defense.
He was part of the 303rd Bomb Group, and attended several reunions of fellow crew members.
His wife Fran, son Lewis and daughter Martha predeceased him.
In his later years, he traveled, reaching his beloved Nova Scotia-- ancestral home to his family. He was very proud of his Scottish ancestry and a voracious reader of Scottish history and mystery novels. He was also writing a children's book based on the life of his cat "Jingles" when he passed away. He wrote many poems to his friends and extended family.
His beloved companion, Marie "Bunny" Wilson, died in 2000. He memorialized her in a brief poem called "A Gentle Soul."
After cremation, Gar's ashes will be scattered in Switzerland with his daughter's ashes.
---
Keeping the Legacy Alive,



Submissions of 303rd Bomb Group related stories and articles are most welcome.