Having trouble viewing this email? See the online version here. To unsubscribe, please reply and request removal.
Submissions of 303rd Bomb Group related stories and articles are most welcome.



April 15, 2012
Volume IV, Issue 4
www.303rdBG.com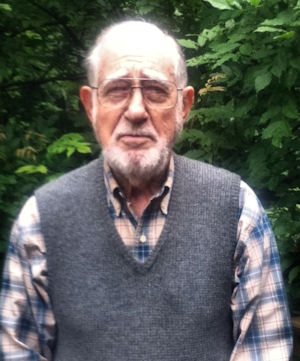 LtCol Albert Levin, former Navigator on the 360th BS Ben Connelly Crew, doing well at 91.
After the War, Albert Levin moved to Washington DC and began a career at the Defense Intelligence Agency, in Arlington Virginia, while continuing to serve in the Air Force Reserves. Lt. Col Levin retired from his position at DIA and from the Air Force Reserves in 1980, and since then has split his time between Silver Spring, Md and Coconut Creek, Florida. At 91, he still enjoys cooking and eating, a daily Sudoku challenge, and playing duplicate bridge. He looks forward to his flights to Boston to visit his daughter twice a year and his Thanksgiving train ride to his son's New York Hudson Valley home. This September, he hopes to cross the Atlantic to attend his granddaughter's wedding in London, with a side trip back back to Molesworth.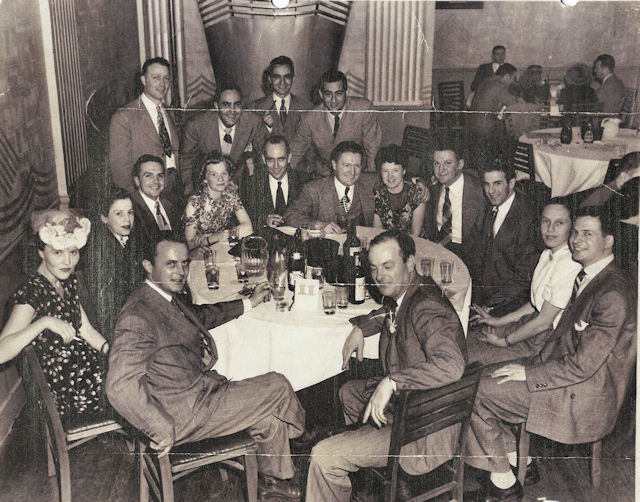 First 303rd Bomb Group Reunion, Henry Hudson Hotel, New York City, May 8, 1948
359th BS Pilot Bill Eisenhart, who provided this classic photo, is wearing the dark suit, seated in front of the first man standing. His wife Mary Shore Eisenhart is at his left. Mary was a nurse at the 303rd Station Hospital and they were married at Molesworth. To Mary's left is pilot John Tulloss, an unknown man, Mary Moreman, pilot Bob Moreman, and Mearle Eisenhart, Bill's brother. The rest in the party are unknown at this time. Do you recognize anyone? A full sized version of the photo can be
seen here
.

Grafton N. Smith
- 427th BS Pilot died 30 March 2012
Richard L. "Spider" Smith died April 11, 2012. Spider was a 360th BS copilot and later a P-51 pilot in the Scouting Force.
I hope to have obituaries for the above veterans next month.




Royal D. "Del" Cooley of Vancouver, WA, passed away on March 6, 2012. He was born in Roseburg, OR, Dec. 14, 1923 to R. Mead and Ella (Thompson) Cooley. Del graduated from Medford High School in 1941, where upon he entered Oregon State University that autumn.
Del enlisted in the U.S. Army Air Force cadet program in 1942, became a bombardier on B-17's flying out of England with the 8th Air Force, 1st Air Division, 303rd Bomb Group, 360th Squadron. After completing 35 missions over German held continent he was awarded the Air Medal with 5 oak leaf clusters and was eligible to wear the Presidential Group Citation Award.
In September of 1945 he reentered OSU, where he met Jean Kirkwood at the OSU-UO football game. They married on Nov. 3, 1946 and were together 65 years.
After graduating from OSU in 1948, Del worked in the oil and wood preserving industries for 37 years, retiring in 1985. An avid tennis player, he returned to competitive tennis and maintained a Pacific Northwest sectional ranking (Senior) for 10 years and was nationally ranked in 80-year- old Singles 2003-2004.
Memberships include: Royal Oaks Country Club for 40 years, BPOE #873 (lifetime), and the OSU Chapter of Delta Upsilon. Surviving are his wife, Jean; daughter, Dr. Pennie Cooley (Orwoll) and her husband, David Orwoll of Olympia, WA; as well as grandchildren, Nina Orwoll of Olympia, WA, Danielle de la Porte of New York, NY, Brian de la Porte of Ceres, CA; and son-in-law, Phil de la Porte of Ceres, CA.
He was preceded in death by three of his children, Kirkwood Cooley, Lorelee Cooley and Cassandra (Cooley) de la Porte. Interment will be private at Evergreen Memorial Gardens.




Donald P. Morin passed away on August 25, 2011. He was born September 7, 1919, in Northampton, Massachusetts to Armand H. and Cathryn (Carter) Morin. His son, (Donald) Peter Morin preceded him in death in 2001. He leaves his wife, Marjory, sons David and Dana, and daughter, Cynthia.
Don was a gunner on the 427th BS 2Lt James A. Drewry Crew.






Dear Gary and gentlemen of this group,

My name is Joel Coleman, son-in-law of a 303rd veteran, Kirk Price (Kirkland T. Price). I have not posted to your group since announcing the passing of my father-in-law in August of 2010, although I do still enjoy reading your posts and updates.

A couple of years prior to Kirk Price leaving for Heaven, I learned of this organization called "Witness to War". Fortunately about 2 years prior to his death, I contacted the organization and arranged for Kirk to tell his war experiences on video. You can go to the website www.witnesstowar.org then click on 'Video Combat Stories' then click 'Air Combat' then click 'Full Index'. At that point you will see hundreds of names in alphabetical order. Find Kirk Price and you can meet my father-in-law.

"Witness to War" is a great undertaking, and they have preserved much of the history of World War II, as told by the participants. I hope some of you can add to their archives.

Best Southern regards to you all and God bless each one of you for doing your duty.

Joel Coleman
Winston, Georgia

Many thanks for the link, Joel. In addition to Kirk Price, the website also has videos done by 303rd BG veterans Dr. Jonathan Swift, Bombardier, and Bob Saumsiegle, Prisoner of War.

---
Keeping the Legacy Alive,

Submissions of 303rd Bomb Group related stories and articles are most welcome.