Having trouble viewing this email? See the online version here. To unsubscribe, please reply and request removal.
Submissions of 303rd Bomb Group related stories and articles are most welcome.



November 20, 2011
Volume III, Issue 11
www.303rdBG.com
303rd Memorial at Molesworth Rededicated
Ribbon Cut by 303rd Granddaughter
by Peter G. Park, RAF Molesworth Historian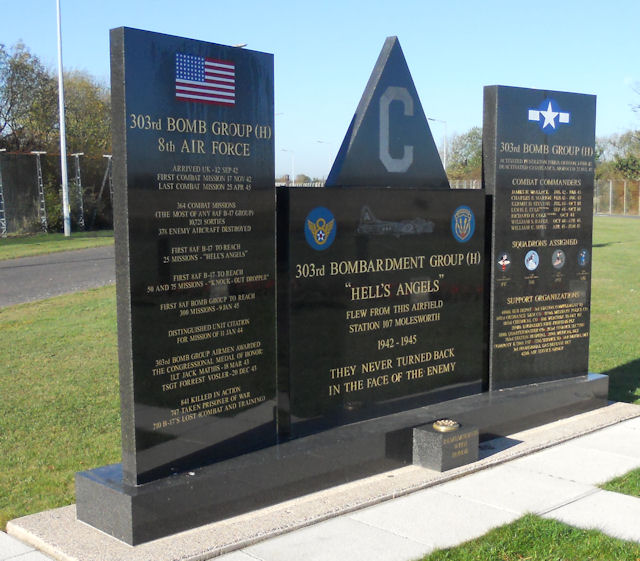 Newly Rededicated 303rd BG Memorial (photos courtesy of Chris Hughes and Peter Park)
RAF MOLESWORTH, England 21 October 2011
Honoring the 8,960 men of the 303rd Bomb Group (Heavy) whose B-17 Flying Fortresses flew 364 missions from this base, against Nazi-occupied Europe during World War II, the Commanders of the U.S. European Command, U.S. Africa Command, and NATO units at Royal Air Force Molesworth rededicated the recently restored memorial with Ms. Theodora "Teddi" Gobrecht, granddaughter of 303rd pilot Harry D. Gobrecht as honored guest.
"Being back on that base so soon after my grandfather's funeral seemed very fitting and was very hard at the same time," said Ms. Gobrecht. She added, "I know he was there at the original dedication and I actually got to speak to some people who met him there."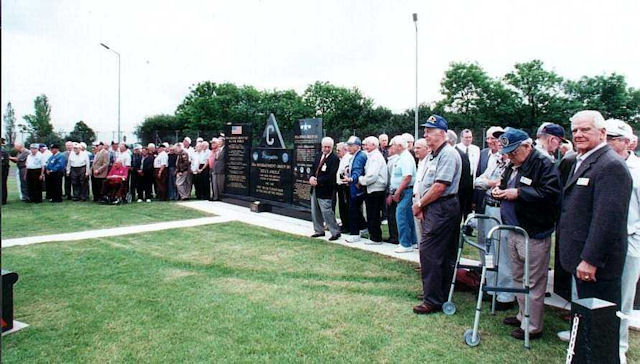 75 303rd BG Veterans gather at the 303rd BG Memorial for the original dedication on 2 June 2000
The beautiful monument to the WWII unit was originally dedicated on 2 June 2000 by Major General (Retired) Lewis E. Lyle, one of the wartime commanders of the 303rd, and over 75 original members of the 303rd Bomb Group. Many who stood there that day and signed the visitor's book have taken their own final flight.
By January this year, time and weather had taken its toll on the memorial and especially on the painted portions. The 423rd Civil Engineer Squadron of the U.S. Air Forces Europe 501st Combat Support Wing initiated a total refurbishment.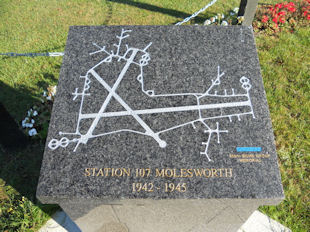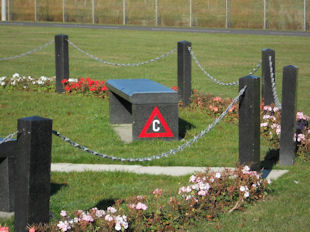 The nearly six-month project included replacement of the paving stones around the memorial, installation of a unique barbed wire replica chain fence symbolic of the 747 men who were shot down and suffered in German prison camps during the war, and the painstaking repainting of the intricate flag, logos and gold lettering of the structure.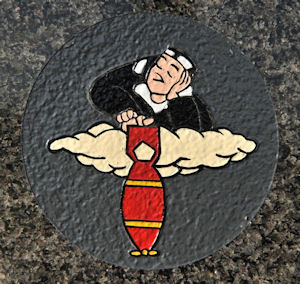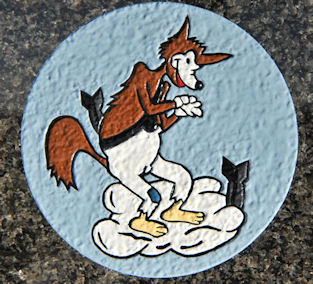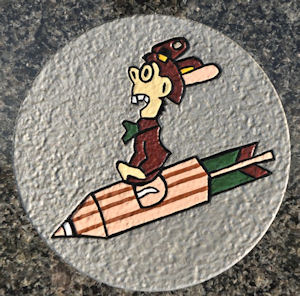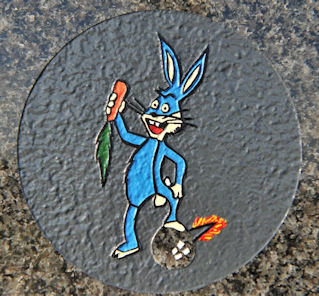 Squadron insignias on the Memorial. From the top left: 358th BS, 359th BS, 360th BS and 427th BS.
To get the colors correct and ensure a long lasting result, British artist Ralph Thompson, who works for the 423rd Civil Engineer Squadron and has studied the history of the 303rd, worked extensively with paint manufacturers to find and apply paints best formulated for outdoor use on granite. His quest for perfection in the detailed work on the memorial is obvious to the observer and will ensure its beauty for many years into the future.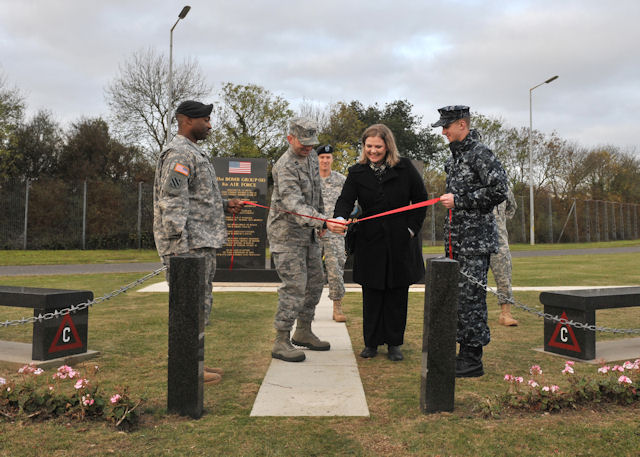 Teddi Gobrecht cuts the ribbon as the 303rd BG Memorial is rededicated.
Following an invocation from Chaplain (Captain) David Reedy, Ms. Gobrecht, joined with Air Force Captain Derek Gregory representing the 423rd CE in cutting the ribbon reopening the grounds of the memorial.
As JIOCEUR Analytic Center Commander, Army Colonel Matthew P. Glunz noted in his remarks: "The memorial especially honors the 841 young Americans who last trod the earth in this part of Cambridgeshire, England, and as we remember them today, we could not have a more perfect honored guest today than Ms. Gobrecht."
After the ceremony, Ms. Gobrecht noted: "I am extremely grateful that I was able to take part in the re-dedication and keep my grandfather's memory alive. He dedicated not only his younger years during the war to the 303rd but also most of his life acting as the historian and writing his book "Might in Flight." Being able to continue his life's work by representing him, my family, and the men of the 303rd Bomb Group at the event was quite the honor for me. I know he would be proud of me and I love the upgrades to the memorial."




"SHORT SNORTERS"
Two Unique 303rd Bomb Group "Short Snorter" Stories
There is a military tradition of "challenge coins" in which anyone who cannot show the unit's coin in a bar is required to buy a round of drinks for those who have the coin along.

"Short Snorters" are bank notes signed by air crews and support personnel that serve the same purpose as challenge coins, in addition to bringing luck in air travel and serving as mementos of comradeship. Every short snorter has its own story about the circumstances that brought particular servicemen and women together in a tour of duty, even if there is no way to know who got stuck with the tab on any given night.

Here are two 303rd BG Short Snorter Stories from early in the war.
An "Original Crew" Short Snorter
by Mark Shoup, son of 2Lt John R. Shoup, Jr.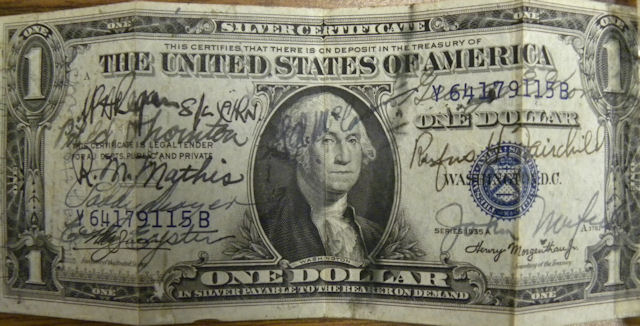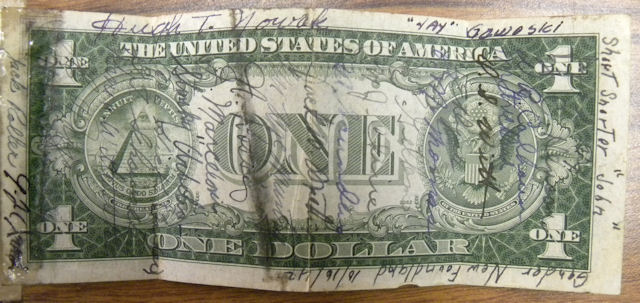 This is the U.S. Short Snorter bill saved by 2Lt John R. Shoup, Jr., bombardier on the 359th Jack Roller Crew. He also saved English, French and Icelandic Short Snorter bank notes, signed by various airmen. The Roller Crew was one of the 35 Original 303rd Bomb Group Crews and the Original crew of the famous B-17F "Knockout Dropper." "Knockout Dropper" was the first 303rd BG B-17 to fly 50 missions and 75 missions. The Shoup family recalls John telling them the crewmen threw suggested names for the plane in a hat to be voted on. John suggested "Knockout Dropper" and her incredible history began.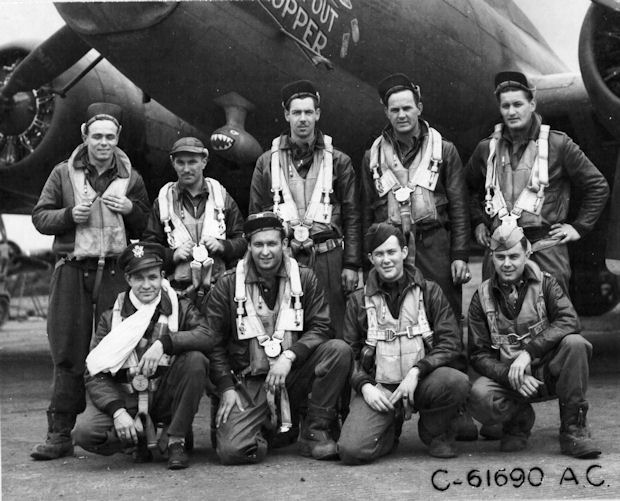 JACK ROLLER CREW - 359th BS
B-17F Knockout Dropper #41-24605 (BN-R) (photo: 22 June 1943)
(Back L-R) S/Sgt Arthur L. Burnham (TG), S/Sgt John D. Gonsalves (WG),
S/Sgt Frank M. Ketron (WG), T/Sgt Lemuel R. Williams (R), T/Sgt Joseph G. Marcelonis (E)
(Front L-R) 1Lt Walter C. Henson (N), 1Lt William J. Cline (CP/P),
2Lt John R. Shoup, Jr. (B), Capt Jack Roller (P)
This "Short Snorter" originated at Gander Field in Newfoundland on October 16, 1942, as the original crews were en route to England. It is signed by several of the men on the original crews, including Medal of Honor recipient Jack W. Mathis. Readers will recognize some of the names. They include: Jack W. Mathis, R. Mark Mathis, Jack Roller, Ercil F. Eyster, Paddy Dwyer, Rufus H. Fairchild, Hugh T. Nowak, Walter C. Henson, William R. Calhoun, Joseph M. Strickland, Orville S. Witt, Paul M. Thomas, Jackson P. Gilliam, William J. Cline, Frank A. Saunders, Edmund R. Thornton, Francis M. McMurtry, Norman Kossis, Joseph Marcelonis, (?) Hicks, Gene A. Wittersetter, Gilbert T. Schowalter, Jay E. Trojan and Jay Gowoski.
The photos are courtesy of John Mark Shoup, son of John R. Shoup, Jr. He was named after John R. Shoup, Jr., "Jack" Mathis, and Mark Mathis.
---
Short Snorters and the Names that "Filled the Bill"
by James Hargrove and Christine Brackenbury
"Either we live by accident and die by accident, or we live by plan and die by plan. Some say that we shall never know…and some say, on the contrary, that the very sparrows do not lose a feather that has not been brushed away by the finger of God."

— Thornton Wilder, "The Bridge of San Luis Rey"
Almost 40 years after a "short snorter" bill was signed by a group of 26 US airmen, British service personnel, and French Resistance fighters, former British commando and explosives expert James Coles pulled the Dutch 25 Gulden banknote from a faded wallet and showed it to his daughter, Christine Brackenbury of Ottawa, Canada.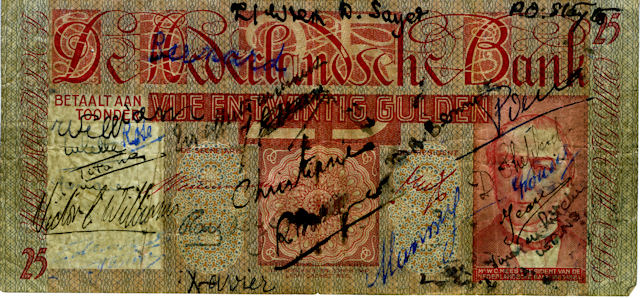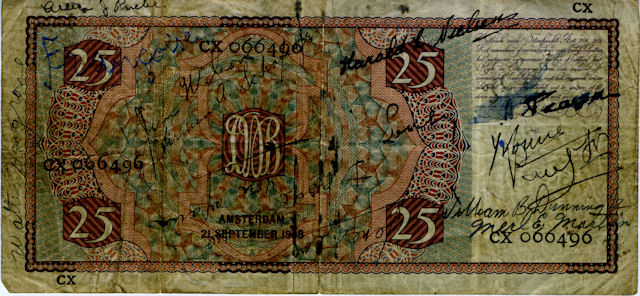 Short Snorter bill with 2nd Lt. Walter Hargrove's signature on back of bill in the left margin
Christine spotted my father, (2nd Lt.) Walter Hargrove's signature in the back margin and tracked me down through the 303rd BGA to ask what combination of luck, circumstance or fate had brought this unlikely group of people together?
Christine sent a copy of the signed banknote, and as I studied it, some of the names seemed familiar. Ten years ago, Mr. Laurent Viton had sent me a manifest of the people rescued on Christmas night, 1943, from a small island in Brittany on the north coast of France. Among the names were 11 US airmen, one daughter of Colonel William Scheidhauer and a nurse who was active in the French Resistance, and Petty Officer James Coles of the Royal Navy.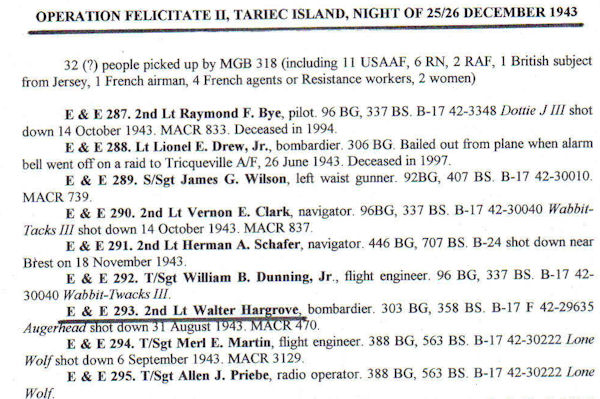 As I studied the bank note, one name after another turned up on the gunboat manifest. This short snorter was a manifest of a different kind, signifying the end of a dozen different air missions, commando raids, and guerrilla attacks on Nazi positions around Brest and the north coast of France almost a year before D-Day. The common thread was that each person there was evading capture by the Nazis or conducting clandestine raids against them.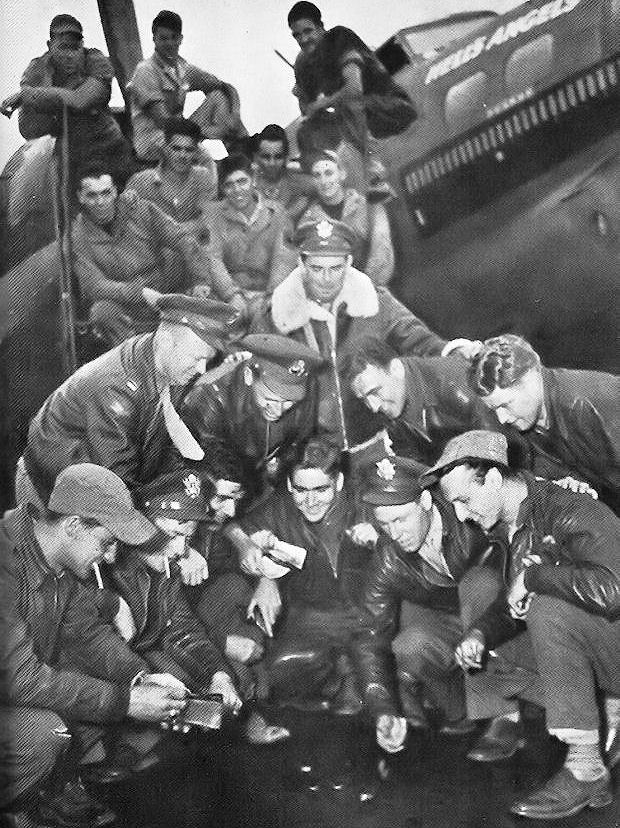 RIPLEY W. JOY / WILLIAM J. MONAHAN CREW — "Hell, It's All Luck"

The airman rolling the dice is 2nd Lt. Walter Hargrove (B). Pilot 2nd Lt. Ripley Joy (with tie) is leaning at left. Copilot/Pilot Lt. Monahan is front row, second from the left. Lt William P. Maher (N) is standing in the center of the photo. Crew Chief M/Sgt. Fabian Folmer is sitting behind the flight officers, smiling along with the ground crew. Note the 26 bombs signifying 26 missions for Hell's Angels.
In Lt. Walter Hargrove's case, the mission began at Molesworth RAFB 5 months earlier. "Hell, it's all luck" reads the caption to a photograph of the air and ground crews of the 303rd's B-17 called Hell's Angels taken in July, 1943. Lt. Hargrove, the bombardier, is throwing dice, surrounded by the officers and men who flew the plane, repaired it, or armed it. As shown by the 26 bombs on the nose art, this was the second crew for the bomber, who took over after Capt. Irl Baldwin's crew finished their 25th mission.
The grinning crew chief, M/Sgt. Fabian Folmer, knew it was not all luck that kept Hell's Angels airborne. His crew worked all night to prepare the plane for every mission. The bomber's pilot, 2nd Lt. Ripley Joy, watched the dice roll but also knew it was not all luck if he could keep the plane flying in the combat box led by Major Kirk Mitchell.
2Lt Walter Hargrove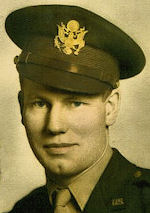 2nd Lt. Bill Monahan became captain of the crew after Lt. Rip Joy completed 25 missions. On their 13th raid, August 31, 1943, the crew was shot down in B-17F
AUGERHEAD
over Amiens in northern France. The men were separated. Lt. Walter Hargrove was rescued by the Resistance after three days of walking, and eventually made his way to Quimper and Brest in northwestern France. That December, he was sheltered along with several other US and British airmen by Col. William Scheidhauer and their family friends, Dr. and Mme. De la Marnierre.
As fortune would have it, an escape attempt in a storm on the night of December 2nd almost ended in disaster. Commandos in three rowboats picked up evaders who had waded into the surf inshore of Tariec Island, but strong gusts and waves stranded two boats on a small island. One of the stranded British men was almost certainly James Coles. His war record shows that he served on Motor Gun Boat 329 on the mission of Dec. 1/2, 1943. The record reports:
" …Coxswain and two hands left stranded when they could not find the MGBs in the rough weather and they landed, with their passengers, on a small island off Tariec."
As a Petty Officer, James Coles would have been a Coxswain. All the stranded men were taken to Colonel Scheidhauer, who helped them find quarters in Brest. Mme. T. Callau wrote a letter to Petty Officer Coles just after the war ended in Europe:
"I saw Colonel Scheidhauer, who was greatly moved by your memory of him. He had to hide for several months as he was wanted by the Gestapo and poor Mammie, died in the shelter Sodi Carnot, victim of the Germans. …If you meet John and Victor, tell them that I have not forgotten them and to think that all the pretty sentences that you wrote in my notebook as well as my dollar are all burnt… All of Brest has been destroyed."
At least seven airmen and two British sailors who signed the short snorter note had been rescued by MGB318 and had directly or indirectly been aided by Colonel Scheidhauer and his compatriots in Brest. Petty Officer James Coles and wireless operator Sgt. Harold Nielsen were both in the Royal Navy. 2nd Lt. Raymond Bye was a B17 pilot in the 96th Bomb Group's
Dottie J III
. T/Sgt Allen Priebe, radio officer and T/Sgt Merl Martin, flight engineer, were both on the 388th Bomb Group's B-17
Lone Wolf
. S/Sgt James Wilson (92nd BG) was a waist gunner. 2nd Lt. Herman Schafer (446th BG) was a navigator and T/Sgt William Dunning (96th BG) was a flight engineer. Mme. Maguy was Maguy Bonnes ("Maggie" to Lt. Hargrove), who was a nurse who brought a Red Cross ambulance used to transport the evaders.
Circumstances also made an evader of Colonel Scheidhauer's younger daughter. The Gestapo were hunting Ghislaine Niox, and it was decided that she would be safer in England. Ghislaine took part in raids on Nazi defenses in Brest. A rucksack she brought to the Colonel's apartment contained important information about German defenses, and later she was awarded the Order of the British Empire for work assisting the Allied causes.
The signature, Christiane, in the center of the note, is Colonel Scheidhauer's older daughter, who also sheltered evaders in her home south of Brest. This led to a clue about when and where the note was signed, because we realized that the evaders all signed their full names on the bank note, whereas several signers only used their first names. Then Christine realized that four names (Xavier, Francoise, Bernard and William) are Christiane Magne's children. Roger McKeon, a grandson of Dr. de la Marnierre, confirmed that Yvonne was his Grandmother (the doctor's wife, or Mme. De la Marnierre), and Titane is a short form of his aunt Christiane's name.
Because the only family member to leave on MGB318 was Ghislaine Niox, it is clear that this short snorter note was part of a farewell ceremony held that December, and possibly on Christmas Day just before the evaders departed. At that time, Colonel Scheidhauer gave James Coles a belt, and Walter Hargrove was given cuff links. There could be no more heartfelt sign of respect than the gift of a personal item.
There is one more possibility that must remain conjecture for now. Referring to the Colonel's wife Jeanne, Mme. Callaus wrote that Mammie had died in an explosion at the Sadi Carnot air raid shelter. One of the strongest signatures on the bill could be read "Mammy." And just above the name, Rose, is William, which could be Christiane's son or the Colonel himself. Perhaps this can be determined through future research, but it is well to leave a bit of mystery in this story
So, in the end, nearly every name on the bill can be recognized as a man or woman who repeatedly risked capture, torture and death at the hands of the German soldiers who occupied Brest. Together, the group had been given safe harbor by Colonel Scheidhauer and his family, and had waded in cold Atlantic surf on Christmas night to reach the last rescue boat that braved the shallows ridden with mines, underwater obstacles, and German fortifications off Ile Tariec. Together, they disembarked in England and rode a train to London for debriefing. Together, several of the airmen made their way to a pub on New Year's Eve and raised a toast to the French Resistance and the British Naval personnel who rescued them on Christmas night, 1943.
Some may say it was all luck, some that it was in God's plans, and some that we shall never know-but every last one agrees, none of us must ever forget the deeds of these men and women who "filled the bill" during the dark winter of 1943.




Honoring Judge Ben Smith
from the Mighty Eighth AF Museum News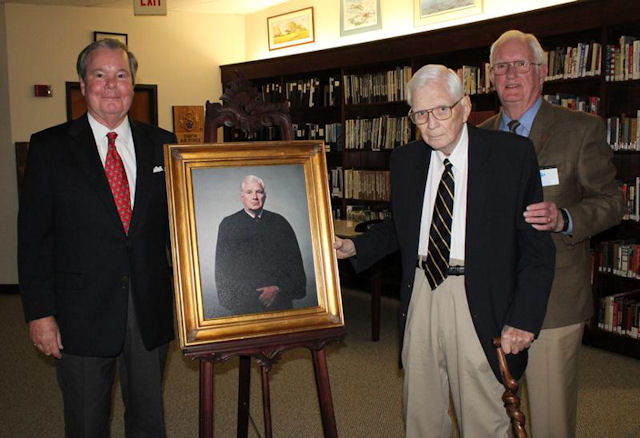 Judge Ben Smith was honored at the Mighty Eighth Air Force Museum on Thursday, October 13, 2011 for his dedication and countless contributions to the Museum.
A Trustee and Corporate Secretary of the Mighty Eighth Air Force Museum since 1990, Judge Ben has been a strong influence on the concept, development and construction of this museum. Together he and Major General Lewis E. Lyle wanted an appropriate memorial for the 8th Air Force and the museum idea began. From the beginning, his wisdom and wise counsel continue to be a constructive force in the day-to-day operation of this institution.
During World War II he served as a B-17 radio operator and gunner with the 303rd Bomb Group. As a returning veteran, he was elected to two terms as J. P. (Magistrate). Over the next four decades he served as Judge of the State Court of Ware County and as Judge of the Superior Court Ware County Judicial Circuit. He was instrumental in establishing the first addiction treatment center in Waycross, GA. He served two terms as President of the Eighth Air Force Historical Society and is acknowledged as an effective historian of the Eighth Air Force. An accomplished artist and author of events during that critical time in American History, in 1978 he published Chick's Crew chronicling the crew he served with in Europe. In his words, "This is a book about young Americans in the year 1944, how they fought, how they died, how they lived, how they were able to bring a measure of humanity into a desperate situation, and how they survived against all odds."
His decorations include the Distinguished Flying Cross, Purple Heart, Air Medal with Three Oak Leaf Clusters, American Campaign Medal, European-African-Middle Eastern Campaign Medal, and World War II Victory Medal.




303rd BG Award Ceremony
14 March 1944
Presented by Brigadier General Robert F. Travis
[photos courtesy of Daniel Bon]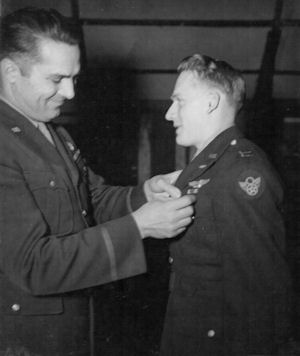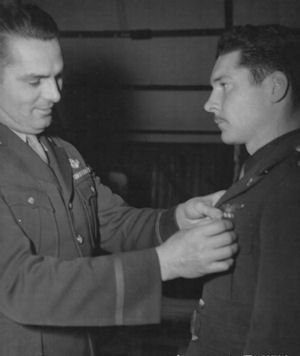 Captain Norman N. Jacobsen — Major Kirk R. Mitchell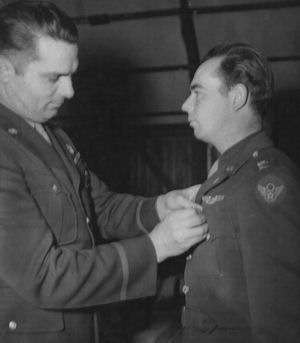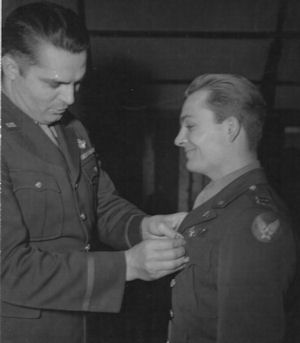 Captain Pharis C. Brinkley — Captain Jack B. Fawcett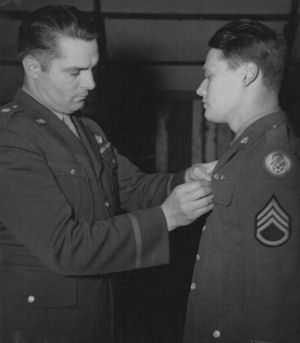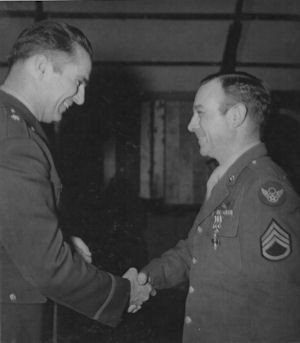 S/Sgt William E. Rein — S/Sgt Charles R. Ferguson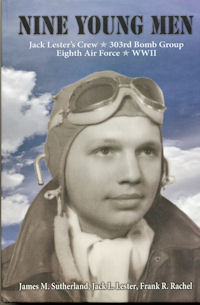 NINE YOUNG MEN
Jack Lester's Crew – 303rd Bomb Group – 8th Air Force
by James M. Sutherland, Jack L. Lester and Frank R. Rachel
After WWII, some members of the Jack Lester Boeing B-17 Flying Fortress crew repressed memories of their 8th Air Force Combat Missions over Europe. The crew had been assigned to the 303rd Bomb Group based at Molesworth in East Anglia. The 303rd was the first Bomb Group to complete 300 missions from the U.K. and by the end of the war it had flown more missions than any other B-17 Group in the 8th Air Force.
It was 60-65 years after the war that a few of the octogenarian crew survivors began to reminisce by telephone of their combat experiences and life on the East Anglia base in England. They made notes of their conversations and later organized the notes into this small book.
The crewmates had enlisted in the Army Air Force as potential Aviation Cadets because they thought life as a flyer would be glamorous, and because it allowed them to avoid the horrors of foxholes and trenches. Little did they know that the wartime losses of the 8th Air Force would be greater than the losses of the Marines in the South Pacific or that 40% of the 12,700 B-17 Flying Fortresses produced between 1935 and 1945 would be lost in combat.
On Lester's missions, there was a 30% chance of sustaining damage from German antiaircraft fire. On each mission there was a 7% chance of being unable to return to England in a timely fashion. The authors of this small volume describe memories of the planes, the missions, the flak, and the German jets they encountered as well as the primitive toilet facilities provided by Boeing.
They remembered the briefings, the debriefings eased by Calvados, life in Quonset huts, and meals in the mess halls. They comment on the ubiquitous "bully beef."
The authors hope to leave their descendants with a picture of the Air War as experienced by their fathers, grandfathers and great grandfathers.
The short 50-page narrative is an easy and enjoyable read. Copies can be purchased from: James Sutherland, 1960 Madison Road #334, Cincinnati, Ohio 45206-1928. The price is $30.00 plus $5.00 shipping.




VETERANS DAY 2011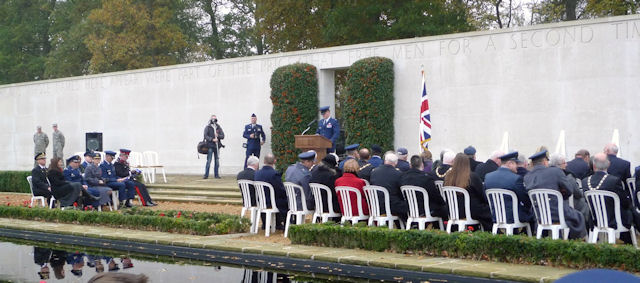 Veterans Day Ceremony at Cambridge American Cemetery
[photo courtesy of Peter G. Park]
---
Searching for Dick
A World War II Airman Eludes History

By Robert F. Dorr
Denise Gamino, a reporter for the Austin Texas Statesman has been trying for almost a decade to find a young man who isn't young and isn't related to anyone among her friends or family.
Dick, who has only a first name so far, remains elusive.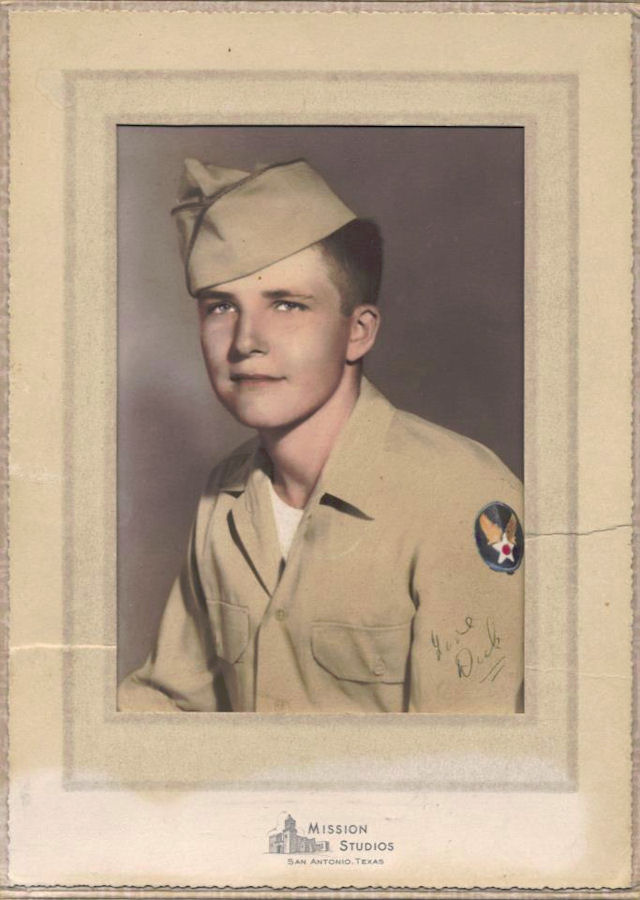 Do you recognize Dick?
Rummaging in a used furniture store in Austin in 2005, Gamino paid 50 cents for a colorized, uniformed, 8x10" portrait of Dick. The picture came with a frame bearing the name of a photo studio in San Antonio, Texas, that went out of business decades ago.
Gamino is a newspaper reporter, author, and historian. Among other achievements, she is co-author of an autobiography of presidential pilot Brig. Gen. James U. Cross "Around the World with LBJ" (Austin: University of Texas Press, 2008).
She is also something of a sleuth. When she invested "two quarters," she said, in a color-tinted photo from a bygone era bearing the signature "Love, Dick," Gamino resolved to use her investigative talents to identify Dick and learn his story.
"I am obsessed with a man I don't even know," Gamino wrote in the May 29, 2006 issue of her newspaper. Gamino described "a young man named Dick with hooded blue eyes, a smooth face and a little brown mole over his left eyebrow."
She knew him only from the photo, but felt she knew him nonetheless: "His almost-smile ends in dimples, and he has the look of a gentle soul, the kind of man who believes in the goodness of the Golden Rule," Gamino wrote.
She hasn't found him.
"For heaven's sake, if you have an old photo album in your attic, mark your snapshots properly," says Jim Sullivan, a photographer and archivist who fears that the nation is losing its pictorial heritage. "Get a soft pencil and write on the back of every snapshot what you remember about names, dates, times and locations. Don't assume you know who'll have that photo fifty years from now."
"You can learn a lot from an image," said former Air Force Sgt. John Gourley, another expert on photo archival. "You can learn more, though, if somebody who 'was there' has provided information."
So who is, or was, Dick?
The evidence is persuasive that he went through basic training at what today is called Lackland Air Force Base, Tex. But did he fly in the ball turret of a B-24 Liberator over Nazi Germany? Was he a radio operator on a C-46 Commando pulling cargo runs over the Himalaya mountain range?
Did he survive the war? Is he alive now?
Although Gamino conducted forensic research into the origin the photo and analyzed its content, neither her research nor her article produced anyone who recognized Dick.
If you recognize the young man with the Army Air Forces patch on his shoulder, contact the author of this article at (703) 264-8950 or robert.f.dorr@cox.net.
About the Author: Robert F. Dorr is an author, an Air Force veteran and a retired senior Foreign Service officer. He has written 70 books and thousands of magazine articles. His latest book is the outstanding "MISSION TO BERLIN." With help from 303rd veterans and others, "MISSION TO BERLIN" is a powerful narrative of bomber crews at war. Autographed copies can be ordered directly from the author: Robert F. Dorr, 3411 Valewood Drive, Oakton VA 22124, robert.f.dorr@cox.net, (703) 264-8950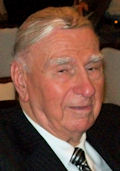 William D. Russo
of Berkeley Heights, N.J., passed away in Overlook Medical Center, Summit, N.J., on Friday, Oct. 14, 2011, at the age of 89.
The visitation will be held at Paul Ippolito Berkeley Memorial, 646 Springfield Ave., Berkeley Heights, on Monday, Oct. 17, from 4 to 8 p.m. The funeral will begin on Tuesday, Oct. 18, in the funeral home at 9 a.m., followed by the Funeral Mass in Church of the Little Flower at 10 a.m. Entombment will be in St. Mary Stony Hill Mausoleum. For directions or more information please visit www.ippolitofuneralhomes.com.
William was born and raised in Berkeley Heights. He was a U.S. Air Force veteran. As a graduate of the U.S. Air Force Navigation School in June of 1944, he became a navigator to the 8th Air Force based in England. He flew 35 combat missions over Germany and attained the rank of first lieutenant. Upon returning from overseas combat, he attended and graduated from U.S. Navigation Instruction School in Texas. Until the termination of the war he served as an instructor of navigation at Selman Field in Louisiana.
William graduated from Newark State College with a B.S. degree in education. In 1945, he began his education career in Warren Township, N.J., teaching 6th, 7th and 8th grade. In 1949 he received his master's degree in administration from Seton Hall University. In the same year he was appointed to the Eighteenth Avenue School in Newark, N.J. William was then appointed as vice principal of Bergen Street School in Newark in 1964 and held that position until his retirement in 1987.
He served on the Berkeley Heights Recreation Committee, and was chairman of the committee from 1952 through 1956. He also served as the president of the Newark State Teachers Association and the Berkeley Heights Parent Teacher Association from 1962 to 1964. He was the beloved husband of the late Claire (nee Booker) Russo; loving father of William B. (Martha) Russo, Robert C. Russo, Stacy T. (Toni) Russo, Christine M. O'Leary, and the late Richard A. Russo; dear brother of Dorothy Fornaro; cherished grandfather of Anne, Emily, Brian, Ryan, Kaitlin, Kevin, Jamie, Jonathan, Katie, Tara, Kelley, Patrick and two great-grandchildren, Patrick and Ryan. In lieu of flowers, please make donation in William's memory to the Church of the Little Flower 100 Roosevelt Ave., Berkeley Heights, N.J. 07922.


John F. "Jack" Gardner, age 92 of Oakland, passed away on Thursday November 3, 2011 at The Heritage Shadyside, Husband of 40 yrs. to Toni Gardner; Father of John F. Gardner, Jr., Shelley Pate and the late Karen Williams; Stepfather of Kate Harrison, Hugh Harrison and the late Steve Harrison; also survived by 6 grandchildren, 7 great grandchildren and 6 great great grandchildren.
Captain Gardner was an Armament Officer in the 303rd Bomb Group, 427th Bomb Squadron.
No Visitation, Service & Interment private. The family respectfully suggest memorial contributions to Library for the Blind and Physically Handicapped, 4724 Baum Blvd. Pgh., PA 15213 or to Planned Parenthood Federation of America, 1110 Vermont Ave. NW Suite 300, Washington, D.C. 20005.




Lt. Col Norman Nels Jacobsen, 89, of Lacey, WA died Saturday, Oct. 22, 2011. He was born March 16, 1922 in Idaho Spring, CO.
Norm had started college in Boulder when Pearl Harbor was attacked and he enlisted at that time. He was a navigator in the 303rd Bomb Group at Molesworth, England from 1942-1945, serving two combat tours. He flew 45 combat missions, many of them on Lead Crews.
Norm is survived by his wife of 33 years, Shirley, and his daughter Sheri Jacobsen.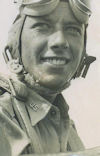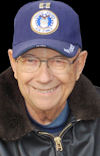 James (Jim) Warren O'Leary, Sr. (90) passed away peacefully October 28, 2011 of natural causes in Belgrade, Montana. He was born January 10, 1921 to Lois Swain O'Leary and James H. O'Leary in Newton, Iowa.
Jim was an artist, an avid reader and an amateur historian of the American Civil War. He loved flying and obtained his pilot's license when he was 16 years old. In his younger days he was a hunter and outdoorsman. He loved Montana and the West, and respected and admired Native American culture, counting Native Americans Jim Howarth and Dick Runyan among his closest friends.
Starting in his late 50's, Jim actively participated in the 303rd Bomb Group Association. He had great respect and love for his comrades in arms from World War II, and continued to stay in touch with his crew members and friends from the 303rd. He wrote extensively of his experiences and worked actively to share information he knew with the families of fellow veterans and families of friends who were killed in action during the war. Jim married Barbara Jane Boothroy on June 9, 1944 in Rapid City, South Dakota and soon thereafter went oversees to fight in World War II as a B-17 pilot with the 427th Squadron of the 303rd Bomb Group, 8th Air Force. He had a distinguished combat record and was awarded the Distinguished Flying Cross, the Air Medal and several unit citations, combat theater medals and battle stars. After the war, he continued to serve in the Air Force reserve, retiring as a Major.
He started a family in Des Moines, Iowa after the war, and then moved with his young family to Denver, Colorado in 1948 where he worked for the Ross Thomason Company.
In 1959, Jim, Barb and the 5 kids moved from Denver to a homestead in the Yaak Valley, Montana and later to Libby, Montana where he worked for the U.S. Forest Service as the Kootenai District Business Manager and Fire Dispatcher. In 1968 the family, now numbering 7 kids, left Montana for Houston, Texas where Jim had a 15 year career in Real Estate. In 1983 he and Barb moved back to Montana, planting roots in the farming community around Churchill, Montana. He and Barb loved their life there and their many friends and neighbors.
Jim will join his loving wife Barbara, who preceded him in death in 2002 after 58 years of marriage, his daughter Nancy Louise Nowell, who passed away earlier this year and his son Thomas Perry O'Leary, who died as a newborn. His brothers Richard Francis O'Leary (780th Sqdn/465th BG, 15th Air Force) Norman Swain O'Leary, and his sister Margorie O'Leary deRegnier also preceded him in death. He is survived by his children [Richard (Cindy), Kathy (Brad), James Jr. (Misty), Barbara Ellen (Michael), Patricia (Mark) and Michael (Heidi)] 16 grandchildren and 8 great-grandchildren. He also leaves for a time the dear friends of his youth, Mr. Robert Beeler of Urbandale, Iowa and Mrs. Betty Hiney Risolvata of Des Moines, Iowa.
Jim was laid to rest at Meadow View cemetery in Manhattan, Montana next to his wife Barbara.


Charles S. Klanian "Chuck", 87, of Singer Island, FL died Wednesday, September 7, 2011. He was laid to rest in Providence, RI.
He was the son of Armenian immigrants, Sarkis and Santoukd Klanian "Mary" who owned a small grocery store on Canal Street in New York City where he was born. Eventually they moved to the corner of Vermont Avenue and Naraganset Boulevard in Providence.
In 1942, after graduating from Hope High School, he enlisted in the United States Army Air Corps. He was ordered to the European Theater, 8th AF, 303rd Bomb Group H, 360th Bomb Squadron as a 1st Lt., navigator on a B-17G, heavy bomber. The aircraft he was assigned to was named "Aloha", and it was piloted by 1st Lt. Howard G. Gravrock and co-piloted by 1st Lt. Benjamin Losiewicz. Chuck flew on 33 missions out of Molesworth, England with his last tour ending in March 1945.
After World War II, Chuck was accepted to Brown University where he graduated in 1949 with a degree in Mechanical Engineering. Prior to graduating from college he married the love of his life, Alice. Together, over the years, and as they moved to various communities across the USA they raised four children; Paul, Chazz, Harry and Loree.
Most of his adult life Chuck lived in Pittsburgh, PA where for 36 years he worked for Westinghouse Electric Corporation. At Westinghouse he managed various projects in the area, of aeronautics, nuclear propulsion for the US Navy, power generation systems and nuclear waste management. In 1986 he was awarded the corporation's highest employee award, the "Order of Merit" for excellence in the field of engineering. Approximately, one hundred employees received the prestigious "Order of Merit" during the company's history.
While in Pittsburgh, and as testament to his Armenian heritage, Chuck played a leadership role, responsible for raising money and conceptual design as well as construction of the Armenian Nationality Classroom at the University of Pittsburgh. The classroom was designed by architect Torkom Khrimian after the 10th century library at the Monastery of Sanahin and was dedicated on August 28, 1988. The University's Nationality Room Program began in 1926 to create actual working classrooms to represent the various ethnic communities that have settled and lived in the greater Pittsburgh area. Members of churches, schools, and fraternal, labor and social organizations worked to finance the rooms and presented them as gifts to the University. Today, the Armenian Classroom, made of Indiana limestone, proudly stands with 27 other Nationality Rooms at the University's Cathedral of Learning.
Upon retirement, Chuck and Alice moved to Singer Island where they spent many years enjoying the company of friends and family in the Florida sunshine until her death in November 2002. After her passing, he remained an active member of St. David's Armenian Church in Boca Raton and enjoyed surf fishing as well as playing bridge.
Later in life, he enjoyed watching his favorite baseball team the NY Yankees and periodically, would reminisce about the time as a young boy he and his friends hitch hiked on a summer morning from Providence to New York to watch the Yankees play baseball. Chuck also loved professional football and his Pittsburgh Steelers. His most memorable moment in football that he liked to talk about was Franco Harris' "Immaculate Reception" against the Oakland Raiders on a cold and cloudy, winter day at Three Rivers Stadium.
Although his accomplishments were many and his life full, most important to him was his family. In addition to his four children, Chuck is survived by three sisters; Alice Arakelian, Margaret Koshgarian and Annette Topakian as well as five grandchildren, two great-grandchildren and many nieces and nephews. In his memory, donations may be made payable to the University of Pittsburgh and mailed to: University of Pittsburgh, Nationality Rooms Program, 1209 Cathedral of Learning, 4200 Fifth Avenue, Pittsburgh, PA 15260 Please note, for the benefit of The Charles Klanian Memorial - Armenian Scholarship Fund. Donations will help to defray the costs for US students who major in international studies at the University of Pittsburgh to travel and study in Armenia. To express condolences and/or make donations Visit PalmBeachPost.com/obituaries




Dear Gary,
This is to inform you of my husbands passing on October 22nd, Lt. Col Norman N. Jacobsen Retired Air Force. Your newsletters were such a delight to him and I am sure all the vets still out there, though those of the 303rd are dwindling. So many thanks to you and all you do. I will continue to enjoy everyone of your letters.

Shirley Jacobsen

---

On February 15th 2010 I took my wife and daughter (7) out for a drive thru our countryside in Limburg The Netherlands. It was snowing and it had been for some days, when I approached the American War cemetery of Margraten I decided to drive up to visit the memorial.

I thought it was time for me to explain to my daughter what had happened 70 years ago in Europe and the rest of the world, and because my parents explained me at the same memorial almost 40 years ago it felt the right thing to do.

Specially on a snowy winters day the site is very impressive and it was so quiet with the blanket of snow covering everything. I had my camera with me and started to take some photographs. Suddenly one grave was not as 'black and white' as the surroundings and there in front of the grave of S/Sgt Calvin G. Turkington two bouquets of tulips were standing out in the snow.

When I was reviewing my photographs a few weeks ago I came across the photo of that grave with the tulips, and decided to publish on my flickr account with the other photographs I took that day. Also I wanted to know a bit more about the man who was buried here and searched on the internet finding the story on your site.

After reading the story Calvin became a real person instead of an old hero from the war. As you can see on the photo he still gets the respect he and all other who gave their lives for our freedom deserve!

Thank you.
Warm regards,
Marcel van Leeuwen,
Geleen, The Netherlands

---

Dear Mr. Moncur hello!

I wonder if you can help me. I live in England, and come from a military family and have always been interested in the 303 Bomber squadron and it's fascinating history.

As you must know Cpl Samuel B Morse is buried over here in Cambridge American Cemetery in Cambridgeshire England. I have an old friend who is one of the gardeners there and looks after the graves, each year I place a cross and poppy and the American flag on one side and the Union Jack on the other side of Samuel's grave on Veterans Day, as he's a long way from home and I like to think he knows how much I appreciate what he did for our Freedom.

I wondered if any more is known about him, for instance what crew he was with or if there are any photos of him, I have scoured the internet but have found nothing. I am hoping you may be able to help. I am attaching a photo of Samuel's grave for you to see. I look forward to hearing from you.

Kind regards
Izzy Wildheart

---

Hi Gary,

Now that the new book, Clark Gable in Pictures, has finally been published (and is available through Amazon), I wanted to write and thank you personally for all your help with that project and for your photos which have been included. We also managed to include some of Bill Wylde's photos.

Your newsletter readers will probably be interested in the chapter in the book about his time in the Eighth as I believe it's the most detailed account to date and certainly includes photos not seen before.

My thanks once again,
Appreciatively,
Chrystopher Spicer

---


Gary,

A few days ago, I gave a talk to about 20 seven-year-olds about patriotism. My neighbor has a daughter in second grade, and she had invited me to speak to her class about World War II during the school's Veterans Day week-long activities. Impossible to refuse that young lady. She's right-center in the attached photo, wearing a red shirt and holding the 303rd poster with her right hand. Talking to those very bright youngsters and answering their intelligent questions was a learning experience for me, too.

Eddie Deerfield

---

Hi Gary:

I am sending a picture of Elmer L. Peterson age 91. He flew on 28 missions with the 303rd bomb group 360th bomb squadron. Initially he was mostly a left wing gunner, but went through bombardier school and was a bombardier for about 60% of his missions. He had a few other missions with another bomb group, which I will have to quiz him on at another time.

Elmer "Pete" Peterson wanted to say hello to his old buddy Eddie Deerfield and to all his former 303rd crewmembers. I am enclosing a picture of Pete for all to see.

From left to right in the picture are Elmer L. Peterson originally from Butte, Montana, currently residing in Beaverton, Oregon, Braeden Carter (grandson), Diane Peterson Carter (Pete's youngest daughter).

Regards,
Chris Carter

---

Dear Gary,

Although I was never with the big bombers, many of the 303rd pilots were my (43-D) cadet classmates and Capt. Jack W Watson was my cadet roommate. I felt a special bond with Jack since he helped get me through flying school and that enabled my later career with American Airlines.

Jack's role became essential when shortly after moving up to Basic Training I broke my right hand in a disagreement with a local citizen and I had to have my hand in a cast for about a month. Since I couldn't fly the airplane it looked like I'd be held back or washed out. It was finally worked out with the instructors that Jack would fly the airplane and I would log the time and I continued on with my class.

He was a great sightseeing pilot and took me up to the University of Oklahoma to buzz my brother who was in training with the Navy there. That may have been training for his later dropping into the Yankee Stadium with his B 17 to buzz the 1943 World Series. Early in January 1944 I took the train up to Molesworth to see Jack and learned about the terrible # 98 mission to Oschersleben. I still have the picture on my wall of Jack's burning ship when he got it singlehandedly back to England. While I was there they took me along with them on a local training flight. After hearing the stories of their missions and watching them handle those airplanes, I came away with an enormously increased respect for their courage and devotion which will never leave me.

May their memory live forever.
Bill Watson

---

Gary,
Attached is a photo of my dad's veteran's grave marker recently placed on his grave. He was very proud of his service with the 303rd and enjoyed my sharing the Molesworth Pilot newsletter with him before he passed away. Thanks for all you do to honor and memorialize the veterans.

God bless you,
Richard L. Connelly

---

GARY,

BORN 1940 I READ YOUR POSTS WITH INTEREST. MY BROTHER IN-LAW LEO E. DEGRAW WAS KIA/MIA 5DEC43 " THE FIGHTIN COCK B-17 42-3397 " GROUP 385 BOMB (H) AAF STATION 155 551 BB(H) 7 KILLED 3 POWs THE GOV. PERSON WHO CAME TO OUR HOME TOLD US THE WRONG STORY OF WHAT HAPPENED THAT DAY. AFTER 50 SOME YEARS I FOUND THE TAIL GUNNER, STEWART H. DAY JR. POW, WHO GAVE ME THE TRUE STORY.

I JUST WANT TO THANK YOU MEN FOR WHAT YOU DID!!
JAY HODSHON
Keeping the Legacy Alive,

Submissions of 303rd Bomb Group related stories and articles are most welcome.