Having trouble viewing this email? See the online version here. To unsubscribe, please reply and request removal.
Submissions of 303rd Bomb Group related stories and articles are most welcome.



April 17, 2011
Volume III, Issue 4
www.303rdBG.com
The Evasion of Sebastian L. Vogel
by Sebastian L. Vogel
Part II
Personal account of his experiences while evading the Germans in occupied France,
the assistance of the French underground, and his eventual return to England.
Copyright © Vogel Family, all rights reserved, used by permission.
This fascinating story was published in two parts. Part I appeared in the previous issue.
"I am writing this for those of you that would like to share with me a few months of my life, a very long time ago."

S/Sgt Sebastian L. Vogel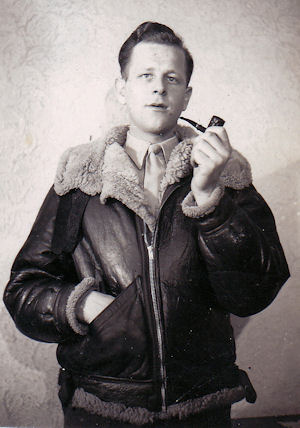 The cart and us, under the straw, left the town of Le Cloitre. The cart had no springs, so it was a rough ride over the cobblestones. I remember being scared as we rumbled along, because I expected the Krauts to pull us out from under the straw at any moment. We managed to get out of town without any trouble.
About a mile or so out of the town we met a truck. I thought it was strange that they took us out of the town under the straw in the cart at that time of the night. Who would be hauling straw at that time of the night? Perhaps they were mostly concerned that none of the towns people knew about us being there rather than concern for the Kraut Gestapo.
We crawled out from under the straw and transferred to the truck. The truck was a canvas covered type loaded with a lot of oyster baskets. These baskets were a 2' x 3' rectangle frame made of 2" x 6" lumber nailed together with a mesh screen nailed on the bottom. They had these baskets stacked across the rear of the truck bed so that they completely filled the back of the truck box. From the rear it looked like the truck was completely loaded with the baskets.
When they loaded the truck they left space in front of the truck box for us. They removed some of the baskets and Mac [2Lt Mark L. McDermott (CP)] and I crawled into the front part and laid down on the floor of the truck box. They then piled the baskets back so again the truck looked like it was completely loaded. After some conversation which I didn't understand, the driver took off down the road. We were headed for the coastal town of Carantec. We had not gone far when we were stopped by Kraut patrols.
The driver had a conversation with the guard, or whatever he was. My heart was hammering so loud I'm surprised the Kraut didn't hear it. After a few minutes we took off down the road. Apparently the driver knew what to tell the Kraut. Every few miles after that incident we were stopped and went through the same routine, and each time I thought we had had it. Once the Kraut walked around the truck and lifted up the canvas and shined his light in, but was far enough to the rear so that all he saw was oyster baskets. So, he let us continue on.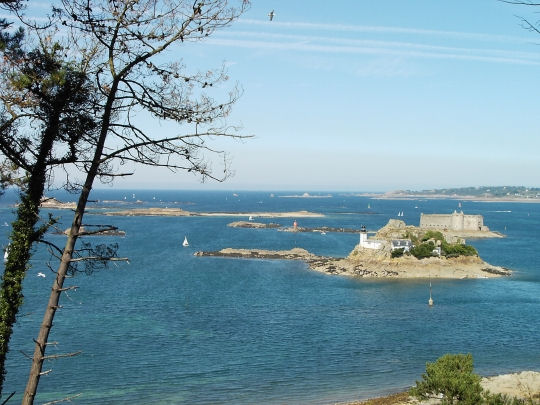 Carantec, France on the English Channel
We finally arrived at Carantec very cold and very scared. After the war I corresponded for a time with the French people that helped us escape. In one of the letters I received from Monsieur George Leustic, he made reference to that trip to Carantec quote: "Your journey from here to Carantec was surely extremely uncomfortable among those empty boxes, but it was necessary to throw enemy suspicion off the track. I hope you did not suffer too much from your wounds."
I didn't suffer too much from my bum leg, I was too scared to even remember it was bothering me. We stopped at a house in the town which seemed to be lived in but was empty when we got there. The door had a small window at the top just like we had at the old farm house at home. They stuffed some old clothes above the door in the window so that no one could climb up there and look in, nor could the light from inside be seen from outside. The shades were all pulled so that the house looked dark from the outside. I suspect black out was enforced there the same as in England.
When were inside we turned on the lights. The guy who seemed to be the owner was named George. He was a very good host. He gave us a small pile of shrimp that had been cooked, but were cold. Mac and I started to eat the shrimp, but I had a tough time getting them down. Mac did all right with them.
After George (pronounced Jorz Jay) gave us the shrimp he left the house by the back door. There was a bed on the second floor, so Mac and I finished the shrimp and went up there and were about to hit the sack when George came back with two bottles of champagne.
He talked with us a little, then left. We opened the champagne, it was really good stuff. No off flavors just plain good and smooth. We ended up drinking the two quarts before we hit the sack. I slept very good that night, but the next morning I got up and wanted very much for a drink of water. Boy I was thirsty, and the French do not drink very much water. In fact, I don't think I ever saw anyone over there take a drink of water.
George came back the next morning with his girlfriend, a very pretty blonde girl about 35 years old (that's a wild guess). She could speak English very well. In fact, she was the first person that could carry on a conversation.
She made some comment when she came into the room about me being just a boy. I was laying in the bed with my clothes on at the time she came in, so I expect maybe I did look a little young for my age, even at 25 years old. After some conversation we all went down to the kitchen and made some coffee and had some of their terrific bread which she had brought.
Vogel's Ceramic Doll Souvenir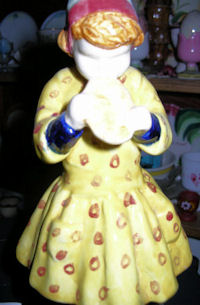 I don't recall how many days we stayed in this house. We saw a great deal of George and his girlfriend while we were there. We talked of many things; how the Krauts had taken most of the food, how they used up much of thier cattle, how hard it was to find such things as cigarettes and tobacco. She told how they saved their cigarette butts and would take them to a tobacconist and have them re-rolled into cigarettes and repackaged. She gave me one of these recycled cigarettes, I lighted it and one drag on it just about put me under. She also showed us a little pipe that she carried in her purse. She would save cigarette butts then put them in this little pipe and finish smoking them.
One day George and his girlfriend came in and told us it was time to leave, and that we were going to set sail for England. The girl asked if she might get something for us to take back as a souvenir. I gave her all of the French money that was left in my escape kit. I have no idea how much it was.
She left and when she came back she had purchased a ceramic doll. I accepted the gift even though a ceramic doll was about the last thing I needed at this time. I packed the thing in my electric suit which I had rolled up into a pack that I could carry. I had quit wearing the suit but I remembered how cold I got back under the hedges when I was hiding from the Krauts so I thought I just may need it again.
We still have the doll. It is sitting on the shelf in the living room. I am sure you have seen it many times. It is the one that looks like a maiden eating a large piece of bread.
I managed to get the thing all the way to England. Several times I had made up my mind to toss the thing in the channel, but I didn't get around to it. When I left England several weeks after getting out of France I still had the doll so I figured I might as well keep it after all it had been through. When I got home I gave it to your Mother and she has kept it on the shelf.
George was an oyster fisherman. He was going to sail us across the channel to England. He had obtained a 7-meter sail boat. I don't know where he got it or if somebody in the underground furnished it.
We left George's house in daylight and went to a house down very close to the sea. This was a two story structure that looked very much like one would expect an oyster fisherman's place to look. There was lots of sea-going gear and oyster baskets and other equipment in the back yard. Inside the house several men were sitting around a table drinking wine. As we came in, a lady came in the room from the kitchen with a big platter loaded with oysters in the shell. There were some sea weeds still hanging on the shells. I was very hungry, so when we were invited to sit down with them I thought I would try to eat some of the raw oysters. But I could not get them to go down, so I took a big gulp of wine and got rid of one of them.
I drank some of the wine and left the oysters alone, but I almost got tight drinking on a very empty stomach. The Frenchmen would pry the shells open with their jackknifes, then hold the half shell up to their mouth and scoop the oyster in and then drink the juice that was left in the shell. Mac did all right with the oysters, he seemed to be able to eat them and like them. One old Frenchman that could speak some English said to me when he saw that I was not eating the oysters, "Eat lots, the fish will be hungry tonight."
The tide was out and we were not going to be able to leave until the tide came back in, which would happen just before dark. They took Mac and I upstairs to a room where we were supposed to wait until it was time to leave.
I laid down for a while and was almost asleep when I heard some loud talking downstairs. The voice was loud and harsh like the Krauts, not like the French who seem to let the words slip out. I was sure the Krauts had found us and would soon be up the stairs to get us. I crawled under the bed, hoping on an outside chance they would not find me and would take off without me. When they came up to the room it turned out to be an RAF radio operator who had been shot down some months before and was going to go back to England with us. The two guys that sounded like Krauts turned out to be a couple of French ex-soldiers who were also trying to get out of France. They had served on the Maginot Line but managed to escape when the Krauts took over. I have no idea why they were trying to get to England.
The Englishman's name was Jerry Smith, he was a fellow about 25 years old. He went down in a raid about six or eight months before, and had been hiding out with the French for all that time. He was going to go back to England with us. The party now consisted of Mac and I, the two ex-soldiers, the RAF radio operator and George Costa. I am not sure of the spelling on George's last name.
Just about the time it was starting to get dark, a couple of guys came up to help Mac down the stairs and then to a small dock. The Englishman and the two French soldiers and I followed. There was a boat just about floating, the tide was coming in. As soon as the boat was completely floating, they pulled it up to the dock and put Mac in it. Then a big six foot three French guy with a crew hair cut picked me up and sat me down in the boat with Mac. My bum leg was still bad enough, so I had trouble hobbling along the dock. When the big guy saw me having trouble walking on the dock, he came to my aid. The boat was a seven meter long sail boat with a main sail and a jib. There was a small four cylinder gasoline engine hooked to a car transmission which was connected to the propeller. I think the engine was not a marine engine, but some kind of car or truck engine.
After everybody was on board (Mac and I, the two ex-soldiers, the Englishman George), another Frenchman fellow on the dock handed us several bottles of their homemade wine and some cognac. Also a couple of loaves of bread and some salt pork. We stashed these supplies up in the bow of the boat. The extra Frenchman that came aboard was a rather elderly fisherman. The ex-soldiers spoke fairly good English so they were able to explain that the old fisherman was going to sail us out of the harbor then he would return by the small row boat that he had tied behind the sail boat.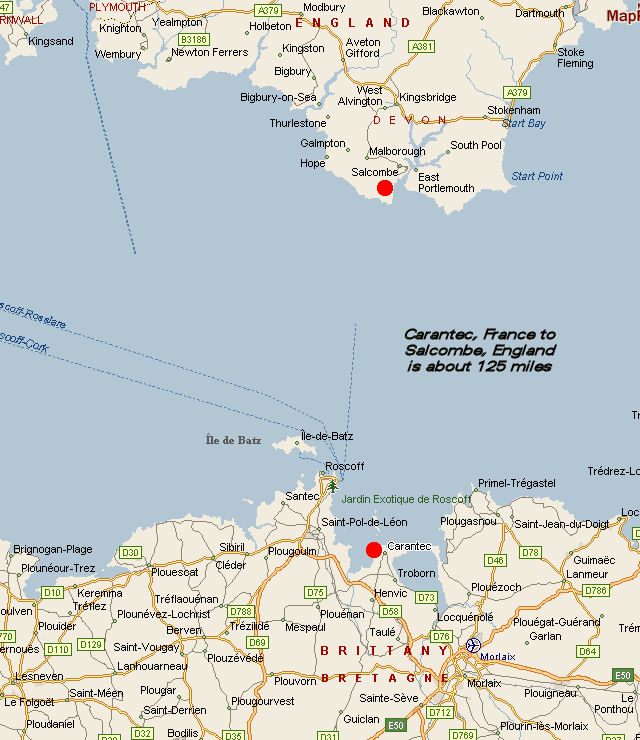 After a lot of goodbyes we took off with jib and the main sail for power. There were many huge rocks sticking out of the water in the harbor so the old fisherman had to pick our way through them. This is why we left just a little before dark.
The wind was beginning to pick up and the surf was rolling in. When we got past the rocks after about an hour of sailing the old fisherman got in the small boat and headed back through the rocks. The ex-soldier explained that he planned to spend the night on one of the big rocks and head into shore at daylight. The Krauts had ordered all boats to be in by dark, so the oyster fishermen would go out during the day then head back in before dark. If they were late getting in, the Krauts would take their boats away from them.
So it was a little hairy how we got away without being picked up. The ex-soldier explained about the Krauts and the boat curfew. He was nervous as we left the shore. As soon as we were at sea out of the harbor, George took over. He pulled the main sail down then asked me to start the engine, so we ran with the engine and the jib. The wind had picked up a lot by now and really getting rough.
I felt some sea sickness for a while, but it left me, which I was glad for. I stayed by the engine because it was warm there.
The Krauts must have found out that we were out there because they started to shoot up star shells that would light up the sky. It had started to rain fairly heavy, so I expect this offered some help to hide us from the shore. We pulled the jib down right after the first shell burst, this was done to give us a lower profile on the water. After the second burst we shut down engine on account of the noise which George thought they might pick up on the shore. It was raining a lot and the wind was blowing pretty hard, which is probably why the Krauts did not send a patrol boat out to find us. I think we might have been hard to find out there among those high waves and darkness. I don't recall just how long the search lights and star shells continued but it must not have been very long.
When things really got dark and the Krauts seemed to have given up on us we raised jib and I started to work on the engine to get it started again. The engine did not want to start. One of the ex-soldiers came over to help me get the engine to run.
The boat was taking a beating from the waves. The waves would hit the bow of the boat so hard that I thought it was going to be split in half. With all the bouncing around and water splashing in the boat we did manage to get engine going. Every so often a wave would splash over into the boat and we would bail her out. There was a long oar in the boat, which we laid on the top of the cockpit parallel to the keel. We nailed it down to the bow, then tied the other end back at the rear of the cockpit.
We laid the main sail, which we were not using, over the oar and nailed the side down to the sides of the boat. This made a kind of cable roof over the cockpit. Now we had mostly a closed sort of cabin,this really cut down the amount of water that would splash in. We still had to bail some but nothing like when the boat was wide open. It was pretty wet and cold but much better now.
The engine quit after about two hours of running. Some water had splashed over it cutting out the ignition and some got into the fuel. I took the spark plugs out and put them into a small can and poured some fuel over them and lighted it to dry the points. Then I tried to dry up the distributor with my scarf.
When I finally got the thing dried up a little and put back together the ex-soldier helped me crank her up again and it ran for about another hour. Another big wave hit the bow again sending a large amount of water back over the engine which shut her down again. I took the distributor off again and started to wipe it dry, but the center contact point in the distributor cap jumped out and fell into the engine cooling pit.
The contact point was a small round piece of carbon about a half inch long mounted so that it was spring loaded. I spent a long time feeling around the water in the cooling pit, but I could not find the thing and I knew the engine would not run without it.
We decided to forget the engine and depend on the jib to pull us along. There was a strong south wind doing its best to wreck our small boat on this big sea. The jib seemed to be moving us along at a pretty good rate.
It was a long night but daylight finally came and we had a look at the sea we were riding on. I couldn't believe what I saw -- the waves were so high and the troughs were so deep it was unreal. We kept busy bailing water out of the boat and watching for anything that might be out there on this big sea besides us.
The day was very cloudy and cold and often raining. Time seemed to stand still, and it seemed like we had been on this boat forever. My nerves were pretty much on edge and upset from the Krauts following us back in France and this boat and rough sea were not helping me to improve. George was hanging on to the tiller, it seemed to be most difficult to keep the bow into the waves and keep the compass on due north.
The sea water was creating a large black ulcer in his hand. His hands looked like they had been in soapy water for about week. I felt sorry for him until I looked at my own hands and they looked the same, the large black pockets (ulcers) were showing up between my fingers. They seemed to be going deep into the skin.
The first night on the water was a long one and the second night was just as long as the first with the endless sea banging away at the bow of the sail boat. None of us felt like eating anything and it was good we didn't because the bread was soaked up with sea water. The salt pork looked alright, but no one ate any of it. We did break out the wine and managed to get rid of most of it before the end of the trip. Most of the stuff was the real dry homemade kind.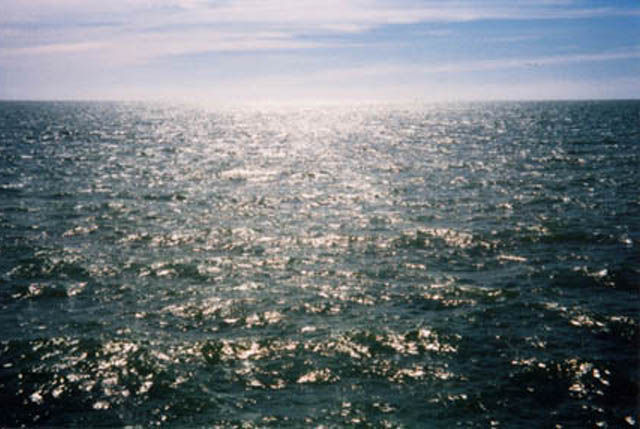 Rough waters of the English Channel
I guess the second night on the sea was even longer than the first night. I tried to lie down in the bow between bailings. That was the only dry spot on the boat. The guys must have let me sleep for an hour or two before waking me to help bail water.
All night the waves were banging away at the boat and some were big enough to get water into the boat under our make shift roof. During the night George and one of the ex-soldiers were talking. First one would say a few words which I did not understand, then the other would utter a verse or two then repeat this cycle over again, and kept on doing it. I was sure something had gone wrong until I figured out they were saying the rosary in French. Then I really got worried. I asked Mac if he knew what was going on. He thought they were just saying the Rosary. I was frightened enough so I joined in. I couldn't tell which one was leading, so I just chimed in with one of them. They were saying the prayers in French and I was answering in English.
We must have really shook up the RAF guy, because I heard him telling the guys about it when we were in England. Quote "the guys were saying one of those Catholic things half the night, boy was that weird."
The next morning, when we could see daylight, the sea had let up a little. The waves didn't seem quite as high as they were the day before but it was wet and very cold and the splashes of sea water didn't help. I think the worst thing about being cold and wet was that there was no place to go to get warm and no prospect of ever reaching a warm place again. I remember getting terrible chills that I couldn't shake . I would shiver a lot then seem to have needles going through my mouth. Even now when I happen to get into cold water and get chilled I experience that same chill feeling and it doesn't leave until I get warm.
I had a rubber bag in which I had put some French tobacco. I tried to smoke my pipe a few times but I had much difficulty getting it lighted up. The smoke made me somewhat sick to the stomach and when I leaned over the side to feed the fish, I dropped the pipe into the sea. That was the end of any more smoking for the rest of the trip.
Just about the time it started to get dark we could see land a way off in the distance. There were no lights on the shore because of the wartime blackouts, but we could make out the shoreline. There was an old electric sea lamp stashed in the bow of the boat. I got the light out. It was a very heavy thing, but I managed to get it out on the bow of the boat. I tried to send out SOS by turning the light off and on. I was the radio operator, so I knew Morse Code. I continued to send SOS's until I used up the batteries. I got no response from the shore. As soon as it got dark we lost sight of the land. The thought crossed my mind to jump out and swim for it.
Another long night passed. The sea was somewhat more calm, and we had less splashes coming in the boat, so when we got it bailed out it stayed that way for a while. The next morning as soon as we could see, the land that we saw the night before was no longer visible. There was nothing but sea as far as we could see. This was a very disappointing change in that I think I gave up hope of ever seeing land again.
It was still cloudy but not raining. Off in the distance we could see some blue sky which raised our moral about 100 degrees. If must have been about 10:00 o'clock AM when the sun finally came out, the warming effect of the sun on the cold body was a real delight.
Not long after the sun came out I thought I heard an engine, the others agreed that they also heard it. It wasn't long until we saw the fighter plane heading directly towards us. I could not tell what kind of plane it was (Kraut or friendly). I was sure it was a Folkwolf 190. I experienced the same total fright that I had when the Kraut flew by me when I was in the chute coming down. When the plane got really close I expected the pilot to start firing on us. He did not fire but just flew over us and disappeared into the horizon. I believe it was a British Spitfire.
I have no idea where he came from or where he was going. It took several minutes for me to settle down, the rest of the guys did not seem to be half as scared as I was. We talked about the incident and discussed the possibility of if he had opened fire on us. George thought we might have drifted off course and the land we saw the night before could have been one of the Guernsey Islands and not England.
About noon the sea had calmed down and we began to see land again. After about an hour we could make out houses and other structures on the shore. The coast line was cliff like with fairly high banks. I thought we should be seeing some rescue boats coming out to get us but we sailed for a very long time towards the shore. It seems the ebb was moving off shore and there was a fairly stiff current that would let our boat sail in only so far. It was a good thing that we were not able to sail into the harbor because except for sea lanes the harbor was mined and we might well have hit one if we had sailed in any closer than we did.
Cliffs of Salcombe, England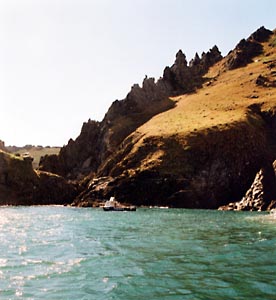 After sailing back and forth across the outside of the harbor we saw a motor launch heading our way. We were not sure that we were on the English coast or in friendly territory. When the launch approached our boat, there were three sailors aboard. One of them had a Louis gun pointed at us and the other two had rifles.
We identified ourselves hoping they were Englishmen and not Krauts. As the boat pulled up along side of us their stern swung around so that I could see the British flag on the back of their boat. That was a relief to say the least. As soon as their bow was next to our boat, I jumped, bum leg and all out of the sail boat into their boat.
It was equipped with a closed cabin. As I hit their deck one of the British sailors said, "You can't get on here." I was already on, so I asked, "Has one of you guys got a cigarette?" The sailor who told me I could not come on their boat dug out a cigarette and lighted it for me and told me to go into their cabin. The cigarette tasted good after not having a smoke for several days, even though it was one of those English jobs. I had not shaved for several days and the black pox in my hands were hard to keep from showing. I am sure I must have looked like some sort of refugee to them.
They threw a line over to George, he snubbed it to the bow and they took our boat in tow. The English RAF guy made some point of the fact that he was an airman, so the RAF Air Sea rescue boat which had come on the scene shortly after the launch should be taking us in. For some reason the Navy launch gave the line to the Air Sea rescue boat.
I stayed on the Navy launch, but the RAF Air Sea rescue boat towed the sail boat with the rest of the guys into port. We proceeded on into the shore. When we got closer to the shore I could see that the British Naval base we were heading for was some kind of fancy summer resort built into the cliff.
There were stairways and railings winding down the cliffs. The British Navy took over the place when the war started, according to the sailors on the launch. To see land so close was a most pleasant sight and the thought of getting off the sea was even more gratifying. When the launch got within a few yards of the shore they stopped. For some reason they were held up.
I was so anxious to get to land I jumped off the launch into the water and swam ashore. I was all wet anyway from the sail boat. When I crawled out on the bank there were two sailors with rifles with fixed bayonets right in my face. They were very nice, but were not about to let me go anywhere. I told them I was an American Airman. They assured me that they thought I was too, but there was no way they could take my word for it.
They escorted me up through the stairways leading up to the Navy Headquarters and into the orderly room. The commanding officer came out of his office to greet us. I saluted and he returned the salute and then talked to the guards and told them they were dismissed. By this time the rest of the guys were brought into the orderly room.
There was a little gas fireplace in the room so I headed for it and proceeded to thaw out. As soon as I got to feeling the warmth of the fire the salt water soaked clothes caused me to itch. The other guys were experiencing the same discomfort.
The Commander knew what we were experiencing, so he took us up to his own quarters and placed a guard at the door and apologized for doing so. We assured him that we understood. This was still war. As soon as the door was closed we took off all the itchy clothes. The Commander had told us that he would have someone bring us some dry clothes as soon as possible.
We were standing by the fireplace in the raw feeling much relieved from the itching when the door opened and in walked a WREN (a member of the British Women's Auxiliary Navy). She was carrying a tray with a tea pot and some chocolate bars on it. The four of us were standing next to the gas fireplace trying very hard to be less exposed.
She never batted an eye, just came in saying, "I have some tea and chocolate for you. This will warm you up." She turned around and left the room as nonchalantly as she came in. I suspect we were not the first guys that this navy outfit had fished out of the sea and brought up there to the commander's quarters. I noticed as the WREN went out the door that there were two guards with rifles and fixed bayonets standing by the door.
We drank the tea and ate the chocolate bars. They really hit the spot because by this time I was beginning to realize I had not eaten anything for about the better part of three days. Soon after the tea someone came in room with some clothing, a bathrobe for me.
The salt scum was beginning to get unbearable, so I was pleased when one of the medics lead me into a bathroom, where there was a bathtub big enough for a horse watering trough. It was about half full of very hot water. I got into the tub and stayed there for about a half hour. The salt that had soaked into my skin was coming out.
Two of the medics came in with large Turkish towels and asked me to get up on the examining table. They just about rubbed the hide off me. I felt much better after this treatment. They gave me some clothes and my old electric suit still rolled up with the ceramic doll inside. The Commander gave me a big heavy white sweater which I wore for a shirt. I still have the old sweater hanging up in the attic somewhere. You kids probably wondered where it came from.
Now it was about supper time. I was invited to eat in the non-commissioned officers mess. The men were given strict orders not to talk to me anymore than to say, "Pass the bread, etc." Security rules prevailed. They were having roast beef for dinner, English Style, that night. So, being very hungry, I piled on lots of beef. After I had eaten a few bites, I had a very filled up feeling and could eat no more.
With the war time shortage of food the English were more than a bit touchy about wasting food. It was a little embarrassing to turn in my plate with a lot of food on it, especially that good roast beef. They must have understood because no one said anything. After supper, one of the Navy guys loaned me his razor. I went into the bathroom to shave before going to bed. I could hardly believe how skinny I had become when I looked in the mirror. My hair, which was sort of reddish, had turned almost white. The Navy Medic said it was the sea water that bleached it out.
The next day I left the Navy base after a very hardy goodbye from the staff there. The Commander shook hands with me and wished me luck. He was a real nice sort of guy, regular fellow even if he was British brass. This place where we landed was near the town of Salcombe which was not far from Lands End.
We boarded a train with a British Intelligence Officer who was assigned to accompany us to the American Headquarters in London. I did not see Mac after we landed at the Naval base dock. Apparently they took him directly to a hospital.
When we arrived in London I was taken to a British Infantry outfit where I was to meet an American Counter Intelligence Officer by the name of Captain Nelson of the American 8th Air Force. Captain Nelson took me up to a large conference room type place with a large fireplace and all.
He started to write while I talked. He wanted to know every detail from the time we went down in France until right now. This took all day. During this conversation and interrogation I pulled the biggest boo boo of my life. The Captain, being the fatherly type, tried to break the news to me very gently that I would not be able to fly on raids over occupied France with the 8th Air Force again. It seems that the US Air Force had an agreement with the French that went something like this:
If an American Airmen went down in French Territory and escaped from the Krauts they would not send him over on a raid again. The reason being that he may get shot down again. If the Krauts got a hold of him, they would try to find out how he got out, assuming that they might know that he escaped the first time. This was a precaution to protect the French people that were so involved in helping soldiers escape. Captain Nelson did not know how happy I was to hear this but, I guess tried to make out like I was a little disappointed. I had a belly full of war by this time.
T/Sgt Sebastian L. Vogel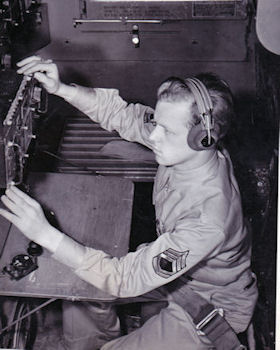 Now for my big Boo Boo. The Captain tried to soften the blow about the no flying routine by telling me that General Eaker, then Commander of the 8th Air Force, had ordered that I be increased one grade in rank. I was a Staff Sergeant. The Captain said, "Now let's see, your next rank will be Second Lieutenant." He is writing this down in his report. I said, "No, my next rank would be Tech Sergeant."
Just as I said this I knew I should have kept my big mouth shut and not said anything, or at least agreed with him. I would have gotten a field commission with about $100.00 increase in pay. The Captain would have put it in his report recommending me for a field commission, and since this was an intelligence report no one else except Intelligence personnel would have been allowed to read it or had an opportunity to see why I was recommended. Anyway I did get an increase in rank to Tech Sergeant with some increase in pay. That is the second highest non-commissioned officer's rank, the highest is Master Sergeant .
After leaving this headquarters I was sent over to US Army Headquarters where I was to re-enlist back into the Air Force and given a complete physical and issued a uniform. The Army guys treated me like a bum or deserter and I could not tell them otherwise, because I was told not to tell anybody that I had been over to the other side. I had strict orders not to tell anybody where I had been and why I was there.
They gave me a bunk in the barracks and I spent one night with these Army Headquarters guys. The next morning our Flight Adjutant from my outfit had come to London to identify me. Then a car with the General's flag on it drove up to the Army Headquarters. It seems General Eaker had heard that me, an Air Force guy, had been sent to the Army and he was not happy about it. He wanted Air Force personnel to be brought back to the Air Force directly. It was a moral victory for me to walk past these meat heads who had given me such a bad time with the General's Aide and then get into the General's car with the two star flag on the front.
I was taken to the 8th Air Force Headquarters just outside of London. The Air Force guys had figured out that I was a flier and had been shot down, and really treated me nice. They assigned me to one of the Non-com's Quonsets with four other Air Force guys. They had managed to shoot a deer in the King's Park which was called the Royal Hunting Grounds. They were cooking some of the venison in a helmet on the stove. We had a few snorts of their booze and some of the meat.
The next day a Major Lindquist, a fellow about fifty years old, came over to the Quonset and got me out of bed. He said I should put on a Class A uniform because we were going to see the General. I just about flipped. I had never even seen a General before, even at a distance, and now I was going to have to report to one.
I got together a Class A uniform with the help of the guys I was staying with. They were good about helping me get fixed up. I went over to the big office with the Major. Major Lindquist had been assigned to look after me while I was at the Headquarters and while I would be in London. I think they were afraid that I might talk too much about getting away from the Krauts. The Major and I waited in the front office for a few minutes. Then a General's Aide, a chicken colonel, came over and said the General would see me now. I gulped a couple of times and followed the Colonel into the big office.
General Eaker was a very personable guy, not at all like I had expected a General to be. He shook hands after returning my salute and told me to make myself at ease and asked me if there was anything he could get me. I said, "No sir, nothing, I am just fine." "That's ok," he said, "If we can get you anything, just say so." "Well," I said," it has been a long time since I had a good Scotch and soda." He said, "George, get us that bottle of Scotch." George was the Colonel who came to the outer office to usher me into the General's office. He was an elderly fellow about 60, I guess. He was part of the General's staff and personal friend. The colonel left and came back with a seltzer bottle and the bottle of Scotch, and we all had one drink.
The General asked me about many things in connection with getting out of the ship and what happened on the ground. I had been instructed to tell the General, if he asked, how I got out of France and to tell him that Intelligence had told me not to talk about it with anyone. I told the General how I had been instructed by the Intelligence people, he understood and did not press me on it.
He said,"Sergeant, you should be wearing silver wings on your blouse. Why haven't you got them on?" I explained that I had a mostly borrowed uniform, so he went and got me a set of the wings and pinned them on my borrowed blouse.
Then, with a few long and uneasy minutes with the General and his Aide, three Air Force officers were ushered into the office. They were fighter pilots that had been shot down and had come back through Spain. The General read off some Citations and pinned the Air Medal on each of us. Then he read off another Citation and pinned The Order of the Purple Heart on me.
These were very proud moments for me. When we walked out of the General's office, there were several high ranking officers standing around in the outer office. They all congratulated us, which left me feeling good and believing these guys were almost human, too.
Major Lindquist, whom I met shortly after the decorating, asked me where I wanted to go. He was assigned to ride herd on me while I was in London. I told him that I would just as soon stay at the Red Cross Club in London rather than at the quonset, because I knew some of the guys from the squadron who were on leave would be staying there. We all stayed there when we came to London on a three day pass. He agreed that it would be ok, so we went down to London and I got a room at the club.
The first night in the club three of the guys from my squadron came in. It was good seeing somebody I knew again. They had a million questions, most of which I had been coached not to answer and the guys understood.
The next few days were spent with Major Lindquist. We went to the American Embassy a few times for lunch. In the evenings we went to several stage plays and during the days I went with the Major wherever he went to take care of his own duties.
Several times we went to the 8th Air Force Headquarters and I finally got my orders to go back to the squadron at Molesworth. But first, I had go to the 2nd General American Army Hospital located at Oxford. I said goodbye to the Major. One of the General's young lady drivers drove me to Oxford in one of the General's cars with the two star flag on the front. It took most of the day to get from the headquarters to Oxford. The young lady and I went into the town of Oxford where all the Universities are located. We had lunch at one of the University's cafeterias.
When we arrived at the hospital and entered the orderly room, everybody was standing at attention. They received word from the gate MPs that a General was coming in. When I came in they were surprised and I guess somewhat relieved to find out it was just an enlisted man. They had a million questions about why I came in a General's car.
I spent about a week at the hospital where they worked on my bum leg. When I left I had a cast up to my knee and a walking iron on the bottom so I could walk without crutches.
The General and his staff made it clear that they wanted me to go back to the Squadron as soon as possible. It seems that of all the guys that went down over occupied territory, I was the first non-commissioned officer to get back, that is of the American Airmen. Three officers had come back before me. They were the guys who got decorated with me in the General's office.
The Major told me that they thought it would be good for the troops' moral if they saw that someone else besides officers could get back from the other side. So back to the 427 Heavy Bombardment Squadron I went with the cast on my leg. The guys back at the combat barracks were all very helpful in getting my bunk and clothes back.
The second morning that I was back they called a raid so I got up and went to the briefing with the crews and went out to the ships with them and watched them take off. I was glad that I didn't have to go with them. I stayed at the Squadron for about a week then I got orders to go to the states. The orders were marked secret, I really do not know why.
The orders read as follows:
T.Sgt. Sebastian L. Vogel, 17026583 will proceed by rail, surface vessel, belligerent vessel and /or air military or commercial aircraft from the United Kingdom to Washington, DC on temporary duty reporting upon arrival to the Commanding General Army Air Forces, for the purpose of training units. TDN. If travel is performed by commercial Aircraft, a maximum baggage allowance of 55 pounds is authorized. Upon completion of this temporary duty he will return to his proper station. FD 34 p434-02 03 a c425-23 QMT.
By order of Major General Eaker.
I took a train from Northampton to Glasgow, Scotland. At Glasgow I got on a small ship at the Glasgow harbor which took me out to sea. I was on this little tub for about two hours. I couldn't help but wonder how they were going to sail this little tub all the way to the United States. Then all at once, sitting in the fog, was the big hull of the Queen Elizabeth. I remember how big it looked sitting there hidden in the thick fog. What a huge ship it was.
I boarded the Queen and was assigned to a state room that would accommodate two people in ordinary times but now it was rigged for 17. The other 16 guys in this room were good guys, some of them were Canadians and some were Americans. The trip was uneventful most of the way. We were called up on the decks because of aircraft and sub sightings, but they never really resulted in any action. It took part of four days to make it from Glasgow to Halifax, where we landed.
I had not expected to ever get back to America again, the way the war was going, so it was quite a thrill for me to see the lights in the harbor as we approached Halifax. Even after I boarded the Queen at Glasgow, I was uneasy about the trip across the Atlantic. The Krauts had sunk an awful lot of ships, even up to our coast. When I saw the lights in Halifax Harbor, I knew I was going to make it.
We stayed on the ship several hours after they docked her. In fact, it took most of the next day to get processed off. I got on a train in Halifax and rode for three days to New York City. It was Saturday night when we arrived there, so I spent the weekend in New York before going to Washington DC.
After reporting to the Army Air Force Headquarters, I was assigned to a base in Ephrata, Washington. For travel they gave me a 30 day delay enroute so I could have some leave at home.
I left DC on the train headed for Washington State. On the train, somewhere around Baltimore, I made conversation with a pleasant lady. She happened to be acquainted with Fargo, when I told her that that was where I was going. During the conversation I learned that she was an Aunt of one of my college friends, Melvin Berg. Small World. About a day or so later I arrived home, a place I thought I would never see again.
S/Sgt Vogel passed away in April of 2007. His bride, Kathleen, passed away in March of 2010. The yellow doll is now in the possession of their daughter Beth. It will be treasured and passed down through the generations, along with the original transcript of S/Sgt Vogel's story.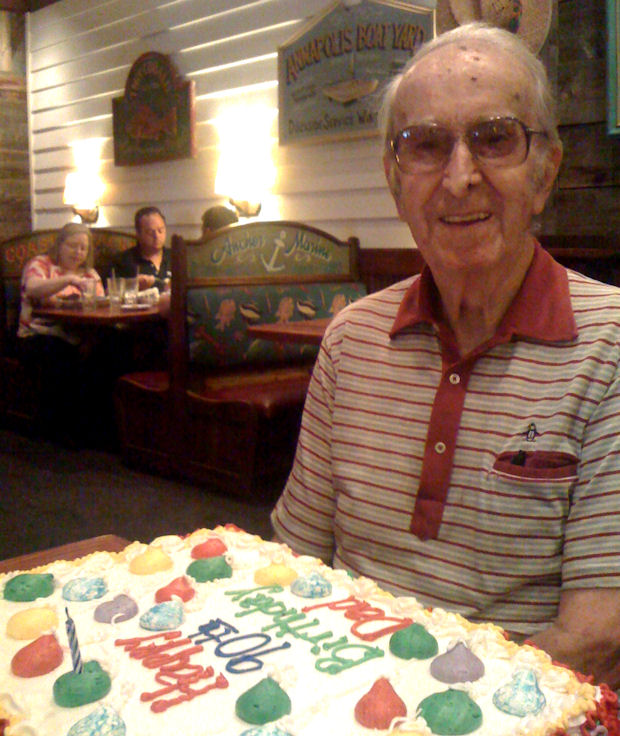 Donald P. Morin, gunner on the 427th James A. Drewry Crew, is still doing well at 91 years of age. He still speaks of Lt. Drewery's incredible flying and evasion techniques. This photo was taken on his 90th birthday.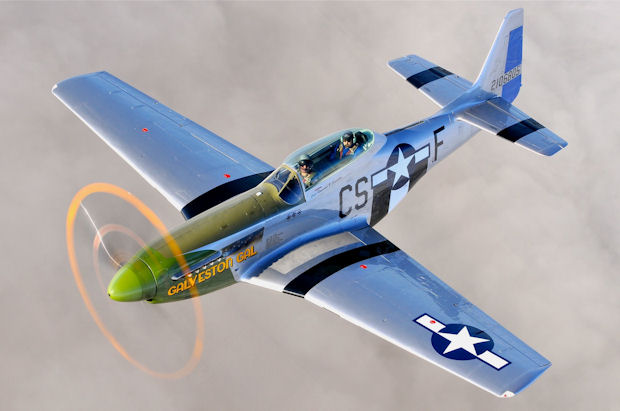 TF-51D Mustang "Galveston Gal" is now in her new home at the Lone Star Flight Museum in Galveston, Texas. This photo was taken by Scott Slocum prior to Galveston Gal's delivery to the LSFM. The rear seat passenger is Chad Ezell, who did the paint job. The Pilot in Command is Tommy Gregory, LSFM Chief Pilot.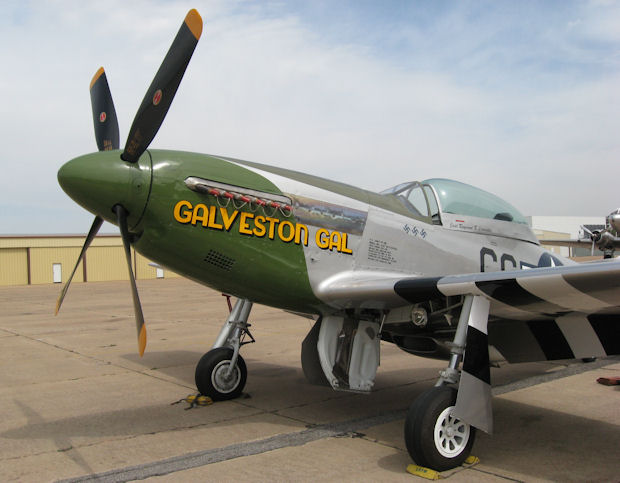 "Galveston Gal" is painted in the colors of the 359th Fighter Group, 370th Fighter Squadron, Code CS-F. The 359th Fighter Group escorted the B-17s from the 303rd Bomb Group on numerous combat missions. This photo and the two below were taken by John Sykes, Crew Chief of the Lone Star Flight Museum's B-17G "Thunderbird."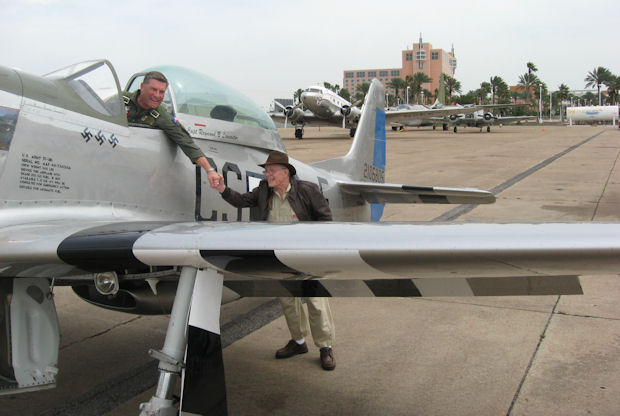 On arrival in Galveston, the Mustang was greeted by Ray Lancaster, the 359th FG Pilot that named and flew the original "Galveston Gal." Above, Ray greets Tommy Gregory, the Lone Star Flight Museum's Chief Pilot, who flew her home. Ray "Ace" Lancaster claims to have destroyed six fighters during the war — three of them belonged to the enemy.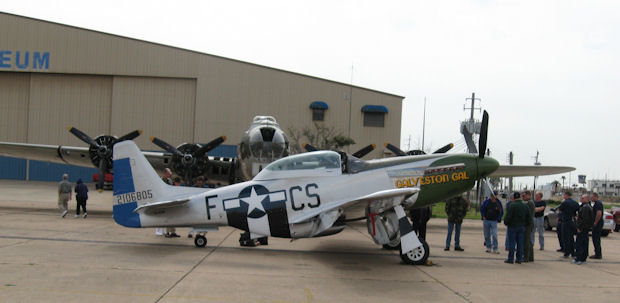 On at least 12 occasions, first as a P-47 then as a P-51, Ray Lancaster and "Galveston Gal" escorted 303rd BG B-17 formations that included "Thunderbird." In this photo, the Lone Star Flight Museum's "Thunderbird" is in the background. Once again, "Galveston Gal" will escort "Thunderbird" into history.
The LSFM Ride Experience Program, now includes their new TF-51D Mustang, in addition to the B-17, B-25, T-41, AT-6 and PT-17. If you would like to take a ride in one of these historic aircraft, contact the Lone Star Flight Museum here: http://www.lsfm.org/

Now Available !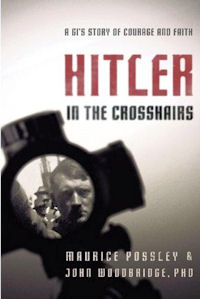 Hitler in the Crosshairs:
A GI's Story of Courage and Faith
by Maurice Possley and John Woodbridge
A Pulitzer Prize-winning journalist teams up with a university scholar in this compelling, untold historical tale of a young man's courage at a critical time in United States history, and the saga of a dictator's pistol that continues today.
The time is World War II. Young soldier Ira 'Teen' Palm and his men burst into a Munich apartment, hoping to capture Adolph Hitler. Instead, they find an empty apartment ... and a golden gun. As the authors trace the story of the man and the gun, they examine a time and place that shaped men like Palm and transformed them into heroes. They also follow the strange journey of Hitler's pistol.
The book also tells the story of 1Lt Bernard T. McNamara, navigator on the 358th BS 1Lt John W. Hendry Crew — how he was shot down, escaped from a Nazi prison camp, and went on to play an integral role in a revolt against the Nazis in Munich by German troops and German citizens.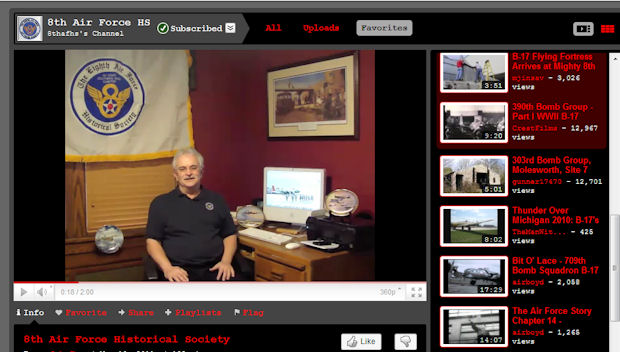 The 8th Air Force Historical Society now has a video page on YouTube. This introduction to the new video page is done by Joseph "Pat" Keeley, from the 8th AF Historical Society Board of Directors. There are numerous short videos available, including some related to the 303rd Bomb Group. We encourage anyone who has made YouTube videos related to the 303rd BG or the 8th AF to upload them to this page. Please take a look: http://www.youtube.com/user/8thafhs#p/f
---


James F. Brown was born on 1 January 1922 in Milwaukee, WI.
As a LT in the Army Air Force in 1943, he completed 35 combat missions (including D-Day) as a B-17 Navigator with the "HELLS ANGELS" 303rd Bomb Group, 8th Air Force. He was highly decorated, receiving 25 military decorations during his 32 yrs. of service in WWII, Korea and Vietnam. Brown was promoted to Permanent Full Colonel in 1968. He retired from the Air Force in 1974 as the Director of Accounting and Finance for the Aerospace Defense Command in Colorado Springs.
Brown graduated Marquette in '49 (BA) and Michigan State in '62 (MBA). He was an Adjunct Professor of Accounting at Regis for 20 years and a Business Consultant.
Brown's passion was singing and playing the piano, notorious for entertaining friends and family during gatherings. His zeal for life and his love for his family were the treasures of his heart and soul.
On 27 March 2011, at age 89, Col. Brown passed into glory and is now entertaining his Maker and heavenly family! He is a hero beyond measure and he has left a legacy to all who knew and loved him. Col. Brown is survived by his 5 children, James Brown, Thomas Brown, Debbie Mendiola, Peggy Lindemuth and Christine Jensen, their spouses, 12 grandchildren and 10 great-grandchildren.
The Funeral Service is being held at Holy Apostles Catholic Church in Colorado Springs on Friday, 8 April




James Patrick Johnson, 87, of McAlester, died Wednesday, March 30, 2011, at McAlester Regional Health Care Center.
Funeral services will be at 2 p.m. Saturday at Bishop Chapel of Memories with Dr. Tim Russell officiating. Burial will be at Memory Gardens Memorial Park Cemetery, McAlester, with military honors provided by the Robert B. Thomas, VFW Post No. 1098. Arrangements are under the direction of Bishop Funeral Service.
Born Feb. 7, 1924, in Krebs, to Columbus and Myrtle (Bishop) Johnson, he attended Haileyville public schools and graduated from Eastern Oklahoma State College. He served as a sergeant in the U.S. Army 8th Air Corp 303rd Bombardment Group's 358th Bombardment Squadron, serving as a flight engineer and Top Turret Gunner in various B-17-Gs completing 33 bombing missions during World War II. He received Silver Wings, Air Crew Wings, Distinguished Flying Cross, Air Campaign Medal, and European Campaign medal three times, and the Army Presidential Unit Citation.
He was a member of the Army Oklahoma National Guard 45th Division 180th Infantry Company and served in the Korean War. He married Oouida Jean "Woody" Davis April 20, 1946 in Hartshorne, and they were married almost 50 years before she preceded him in death on Sept. 22, 1995.
He was employed by the Army Ammunition Plant for 25 years where he worked as a crane operator and later as safety officer. He retired from the Federal Labor Department-OSHA as a Safety Engineer. He married Leona (Belcher) Palmer in 1996. He was a long-time member of Victory Park Baptist Church where he served as Sunday school superintendent, Sunday school teacher and in a variety of other capacities. He was a current long-time member of McAlester First Baptist Church.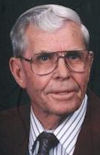 Dr. Harold Cleveland Reid, 87, died Wednesday, March 16, 2011, at Southwest Medical Center in Liberal. He was born July 2, 1923, to Albert C. and Ethel Pearl (Gross) Reid in Guymon, Okla. He married Alice M. Engel Aug. 26, 1950, in Aurora, Colo. She survives.
He graduated from Guymon High School in 1942. After serving in World War II, he attended Denver University and the University of Missouri-Kansas City Dental School receiving his doctorate degree in dentistry. He was a dentist in Liberal for many years.
He served in the US Air Force during World War II where he completed 27 missions with the 8th Air Force based in England, flying over Poland, Germany and France. He was wounded at Bremnen, Germany, in 1943. He received the Purple Heart, Distinguished Flying Cross and European Theatre Air Medal with five Clusters.
He was a member of the First United Methodist Church, Fargo Lodge No. 300, Midian Shrine, Royal Arch Masons and the Order of the Eastern Star. Life member of the American Dental Association, 8th Air Force Assoc, 303rd Bomb Group – Hell's Angels, Elks Lodge and was a past member of the board of directors of the First National Bank.
Other survivors include many nieces and nephews. He was preceded in death by his parents, two brothers, Andrew Irvin and Wilburn (Pete) Reid, and one sister, Katherine Lorene Burke.
Funeral service will be at 10:30 a.m. Monday at Brenneman Funeral Home Chapel with the Rev. Rex Petty presiding.Military honors will be given by the U. S. Air Force. A private graveside service will be at Restlawn Cemetery with Masonic Rites given by Fargo Lodge No. 300. Friends may call from 1 to 5 p.m. Sunday at Brenneman Funeral Home Chapel, Liberal. Memorials are suggested to charity of donor's choice in care of Brenneman Funeral Home, 1212 W. Second, Liberal, KS 67901.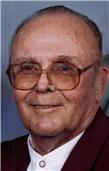 George F. 'Scotty" Parker, age 86, a lifelong Warren resident died Saturday, November 27, 2010, at his home. Mr. Parker was a Retired Inspector for the City of Warren Building and Planning Department.
He was an Army Air Corps veteran having served in WWII, and was a charter member of Redeemer Baptist Church in Warren. Interested in genealogy, he also was an avid collector of model cars, planes and trains.
Mr Parker is survived by his beloved wife Lillian, whom he was married to for 64 years. Dearest Father of Sue Winn, Linda Joost and Gregory (Margaret) Parker. Loving Grandfather of Kelly (Lew) Berg, Curt (Christina) Winn, Karl Joost, Ingrid (Steve) Todt, Scott and Christina Parker. Great-grandfather of Ashley, Heather, Ella, and Autumn. Visitation will be held on Tuesday, 2-9 p.m., at Rudy Funeral Home, 25650 Van Dyke (10 1/2 Mile). Funeral services Wednesday, 11a.m. at the funeral Home with full military honors.
---
Keeping the Legacy Alive,

Submissions of 303rd Bomb Group related stories and articles are most welcome.