Having trouble viewing this email? See the online version here. To unsubscribe, please reply and request removal.
Submissions of 303rd Bomb Group related stories and articles are most welcome.



February 20, 2011
Volume III, Issue 2
www.303rdBG.com

DELIVERING THE BOMBS TO GERMANY
AND THE B-17 TO RUSSIA
The 303rd Bomb Group's "RED STAR" B-17

Mission #324 on February 26, 1945 was, again, the once-dreaded Big "B". The Field Order specified a marshalling yard in Berlin as the target. This was the fourteenth time Berlin had been targeted by the 303rd Bomb Group and the twelfth time it had been bombed. By this time, the Luftwaffe was nearly crippled and Berlin was no longer the terrifying target it once was. Some crews even looked forward to a Berlin mission.
The secondary target was also Berlin, if PFF bombing was required. Suggested last resort targets were Brandenburg, Briest and Rathenow, Germany.
Thirty-nine aircraft dropped 379 bombs by PFF through a 10/10 undercast with tops at 12,000 to 14,000 feet. There were no contrails at flying altitudes. Results were unobserved, but all three PFF navigators believed their results were excellent.
There was no enemy air opposition, and once again, the Luftwaffe distinguished itself by remaining safely on the ground. Flak at the target was moderate to intense and generally inaccurate. No aircraft received battle damage, and there were no casualties. All aircraft returned safely to Molesworth – except one – and that one is our story.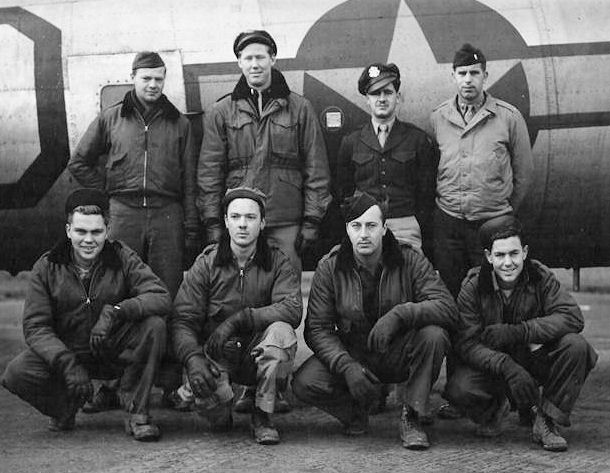 358th BS 2Lt MORTON C. PERKINS CREW
B-17G #44-6316 of the 360th Bomb Squadron was piloted by 2Lt Morton C. Perkins. Shortly before reaching the target, Lt. Perkins called the Group leader stating that he did not believe he had enough gas to make it back to England and would be heading to Russian territory.
A few hours later, they landed at Zolotonosha, L'viv, Ukraine, near the Poltava Headquarters of the Eastern Base Command, USSAFE. Tail Gunner S/Sgt Walter D. Beckwith, who passed away in 2001, related his story of the landing. It was originally published in the May 2002 issue of the Hell's Angel's Newsletter. S/Sgt Beckwith wrote:
On the 26th of February, 1945, we took off on a mission to Berlin to bomb the railroad marshalling yards. Lt. Perkins was the Pilot and I was the Tail Gunner on the crew. On the way to the target we began having trouble with one engine, which began using a lot of fuel. Lt. Perkins did not believe that aircraft, #44-6316 (No Name), could make it back to friendly territory, so just before we dropped our bombs he called the Group Leader and told him we were heading for the Russian lines. We were sort of sweating it out with the Russians, but the weather was so bad we couldn't see a thing so we kept going until we began running out of fuel.

We had a great Navigator, Lt. Robert Wallace, who was later to make another crash landing in Germany, flying with a lead crew and was taken prisoner. Lt. Wallace had no maps of that part of the country but he was pretty sure that we were over flat land. No one wanted to bail out so we let down until we broke out of the soup at about 400 feet, and sure enough, we were over real flat farm country.

We bellied in on a field covered with snow which enabled us to slide real good and we stopped near a small village with a river. We later found out that the place was Zolotonosha, USSR.

We weren't sure what our reception would be like when the people started heading towards the plane, but as soon as we made them understand that we were American, everything turned out OK.

With the help of a woman who spoke French, we went into the village and got everything sorted out. We ended up splitting up and staying with three or four different families that night. I still, to this day, don't know what kind of fat meat we ate that night, but we had the same for breakfast the next morning.

Later that day, we all gathered in the village hall where they gave us a banquet of fried chicken accompanied with a lot of wine and vodka, with which we had to drink one toast after another to Stalin, Roosevelt and Perkins. A couple of the younger guys got sick because their systems weren't used to that sort of thing.

That afternoon, they flew us out in five small ski planes. My plane was a one-passenger open cockpit, so I got down as low as I could to keep warm. The pilot must have thought I fell out because he stood up and looked back and I gave him the thumbs up, to let him know that all was OK. We landed at one of their bases and kept sort of isolated.

I ate a lot of Spam and eggs while I was there, which was what I believe to be about one week. We had a Russian woman who was a Lieutenant in their Army, as an interpreter. She really wanted my flying boots, so I let her wear them while we were there but I told her I had to have them back when we left. Finally, we were shipped to Poltava, Russia by train. The cars had shelves that pulled down from the walls to sleep on, but as soon as we laid down on them, the lice started to make meals out of us.

As soon as we got to Poltava, they had to delouse us and we stayed there for about three or four days. We were flown out by our Air Transport Command. Our first stop was Tehran, Iran, where we stayed overnight. From there on to Cairo, Egypt, where we stayed for two nights and got to see some of the sights.

We stopped at a British base at Tobruk, North Africa, for refueling and then on to Athens, Greece. From there we went to Naples, Italy, where we stayed overnight and then back to London. We finally got back to Molesworth on the twelfth day of March and then went back on duty.
While the Perkins Crew was being wined, dined and deloused, the Soviet Salvage Patrol staked their claim on B-17G 44-6316. After some major repairs, she was flown again — this time by the Russian Air Force.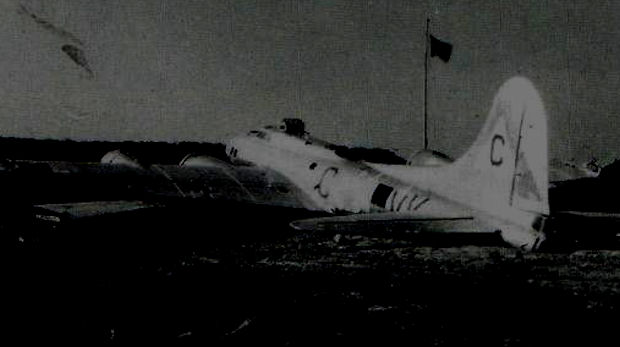 In this crash photo from February or March of 1945, you can faintly see the Red Star the Soviet Salvage Patrol had painted over the American National insignia on the fuselage of #44-6316. The aircraft was later repaired and used by the 890 AP, TBAD at Balbasovo in July 1945.
The photo above, and the title graphic image, came from an obscure Finnish/English book called "Red Stars 4: Lend Lease Aircraft in Russia" by C-F Guest and G. Petrov (Kustanyaja, Tampere, Finland, 2002). According to the book, this was one of 23 B-17s damaged, repaired and used by the Soviets during WWII, though perhaps not in combat. The book was recently located by Brian O'Neill, author of several books including, "303rd Bombardment Group" and "Half a Wing, Three Engines and a Prayer: B-17s over Germany." Thanks to Brian for his contribution to this most interesting story.



Captain Clark Gable Makes a 'Proposal'
While Serving with the 8AF
by Peter G. Park, RAF Molesworth Base Historian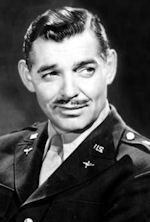 A slide on the history of the 303rd Bomb Group (Heavy) is part of every briefing to distinguished visitors to RAF Molesworth in keeping with the JIOCEUR Analytic Center Commander's commitment to keeping the legacy of the 303rd alive here. The slide contains statistics on the group, a photo of B-17F "Hells Angels," and a picture of the actor Clark Gable who as an Army Air Corps Captain flew with the 303rd to Antwerp on 4 May 1943. Gable was stationed at nearby Polebrook Airfield with the 351st Bomb Group, producing a training film on aerial gunnery.
The slide on the 303rd was shown in a recent briefing to a group of older British veterans touring Molesworth. During the briefing one gentleman raised his hand and said "I've heard that Mr. Gable proposed to a lady who still lives in my village." I spoke to the man after the briefing and said that in my role as base historian I would like to interview this lady. He thought that it might just be possible for me to meet with the now 88 year old lady.
Clark Gable had been seen in the 1939 film "Gone with the Wind" by young people both in the U.S. and in England who would later fight in World War II. Gable was surely idolized by young women on both sides of the Atlantic.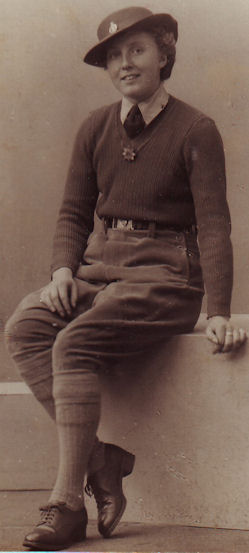 Two weeks after the veterans visit I had a call from the man I had met, who after exchanging pleasantries about how much his group enjoyed the visit, was hesitant before telling me "Mr. Park, I have found out a bit more information about Mr. Gable's proposal that you need to know: Mr. Gable's proposal to Miriam was NOT AN HONORABLE ONE." He added that he had seen a photo of Miriam from when she served later in the British Women's Land Army (a group of women who did hard physical labor on the farms to raise crops in this land, freeing the men to fight). He commented that in 1943 she "... was a bit of a looker."
Not deterred, I did indeed get to interview Miriam. A truly delightful lady who had apparently met Gable while she was working at Polebrook Airfield, before she joined the Land Army. In the photo on the right, Miriam is wearing the uniform of the British Women's Land Army, which she joined after working at Polebrook airfield with the 351st Bomb Group.
She had some amazing stories about her service helping produce food during the war and afterwards - we Americans often forget that Britain actually had tighter food rationing after the war and into the mid-1950's than during the conflict. In one story, Miriam told of a German bomb falling in a paddock of livestock. As a farm girl her immediate natural reaction was to call the local butcher "to tend to the wounded animals." As to Clark Gable? Not surprisingly, Miriam did not wish to talk very much about the handsome American actor.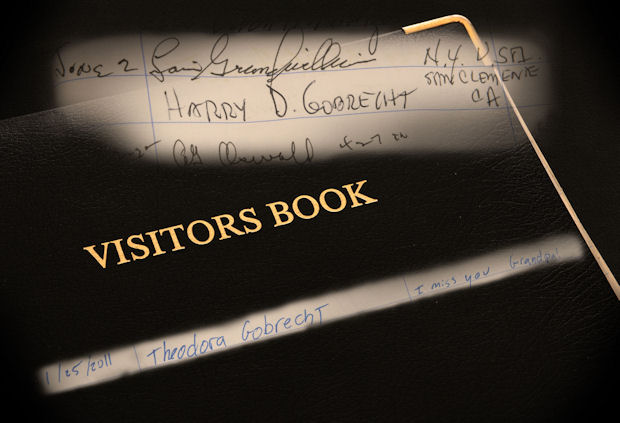 Ms. Theodora "Teddi" Gobrecht signed the same visitor book at the 303rd Bomb Group (Heavy) Memorial at RAF Molesworth on January 25, 2011 that her grandfather, Lt Col Harry D. Gobrecht (Ret), signed during the June 2, 2000 dedication of the memorial. (photo by Staff Sgt. Javier Cruz, USAF)
303rd Granddaughter at Molesworth:
"I Miss You Grandpa"
by Peter G. Park, RAF Molesworth Base Historian
Grandpa and Teddi, 20+ plus years ago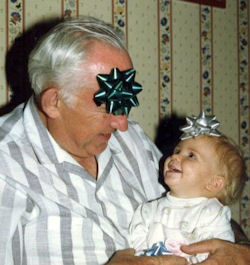 On January 22, 1945, 358th Bomb Squadron pilot 1Lt Harry D. Gobrecht flew to attack the Synthetic Oil Plant at Sterkrade, Germany winning the Distinguished Flying Cross which would be awarded to him fifty years later. Sixty five years and three days after the 303rd's 306th mission, his granddaughter Ms. Theodora "Teddi" Gobrecht visited RAF Molesworth.
Beginning her tour of Molesworth at the 303rd Bomb Group (Heavy) Memorial, Ms. Gobrecht found her grandfather, and former 303rd Bomb Group President's signature in the visitor book recorded when retired Lt. Col Gobrecht helped dedicate the memorial on June 3, 2000 along with Maj Gen Lewis E. Lyle and other veterans of the group. In an emotional moment while signing the guest book herself, Ms. Gobrecht penned "I Miss you grandpa!" (Lt. Col. Gobrecht passed away on August 10, 2010).
Teddi Gobrecht is only the second 303rd BG granddaughter to visit the B-17 unit's wartime base on her own. (Ms. Kelly Akens, granddaughter of Sergeant Thomas I. Akens of the 359th Bomb Squadron was the first grandchild to visit on November 7, 2008.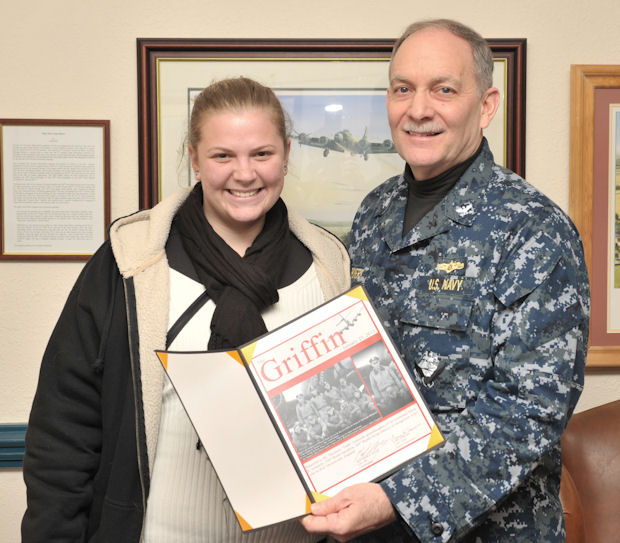 Navy Captain Gary S. Powers, Deputy Commander of the JIOCEUR Analytic Center at RAF Molesworth presents a special certificate to Ms. Theodora "Teddi" Gobrecht commemorating her January 25, 2011 visit to the wartime home of the 303rd Bomb Group (Heavy). (photo by Staff Sgt. Javier Cruz, USAF)
Navy Captain Gary S. Powers, Deputy Commander of the JIOCEUR Analytic Center at RAF Molesworth welcomed Ms. Gobrecht to the base and presented her with a commemorative certificate of the occasion. On the Captain's desk is a well-worn copy of Lt Col Gobrecht's book "Might in Flight," the seminal 303rd History of the Group often referred to when checking facts in maintaining the legacy of the group at the English base. As CAPT Powers noted, "We have a proud heritage here and are always deeply moved either by those who are a part of that legacy or by those like Ms. Gobrecht who pause to pay tribute to those brave Americans."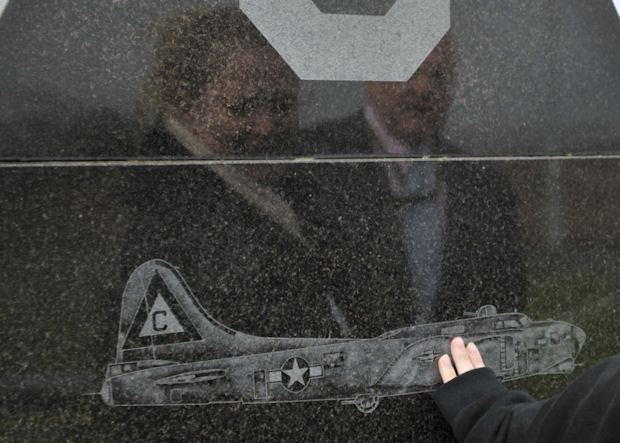 As Teddi Gobrecht touches the polished granite of the 303rd Bomb Group (Heavy) Memorial, the reflections of herself and JAC historian Peter Park are captured by USAF photographer Staff Sgt. Javier Cruz, during Ms. Gobrecht's January 25th visit to her grandfather's wartime base.
Ms. Gobrecht visited the WWII "J-type" hangar, still in use today, where heavy repairs were carried out on battle damaged B-17s. As she walked floor of the hangar, it was easy to imagine her grandfather there checking on repairs to his ship, "Neva - The Silver Lady," which was often in for flak and bullet hole repairs.
During a tour of the artwork and artifacts lining the hallways of the 303rd Bomb Group Memorial Building, Ms. Gobrecht noted a plaque by British wood carver Bill Adams depicting the nose art of "The Floose," the first Flying Fortress flown by 1Lt Gobrecht at Molesworth. She noted that a similar Bill Adams plaque was owned by her grandfather. Also in the hallways of the 303rd Memorial Building are two large frames with photos of her grandfather and his crew - some of which she had not previously seen in 1Lt Gobrecht's photo album, proudly held by her father.




1Lt Gordon Ballagh Receives Medals After 65 Years
360th BS Navigator and POW is Finally Recognized For His Service
February 9, 2011 – Burwell, Nebraska
1Lt Ballagh proudly displays his long-overdue medals.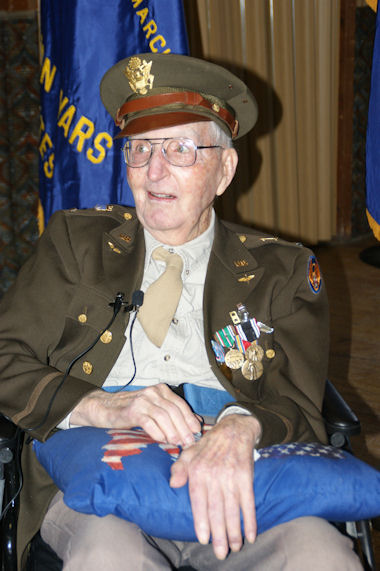 Mr. Gordon A. Ballagh remembers the American flag flying over his prison camp as he was liberated in 1945. He wrote about how he felt and what he was fed in a diary.
He also remembers being captured 18 months earlier on December 1, 1943. As Navigator on the 2Lt George W. Luke Crew, he recalls that flak hit his B-17 next to one of the inboard engines. Their Flying Fortress left the Group formation and was losing altitude when they were again hit by flak. This burst severed their control cables. Lt. Luke ordered the crew to bail out near Lille, France.
Lt. Ballagh was on his third mission over enemy territory when his plane was hit. One crew member was killed, and one managed to evade capture. Ballagh and the other seven crewmen were captured and made Prisoners of War.
"Interrogation was pretty severe," he said. "There was a man who said he lived in New York, but he was one of my interrogators. That was kind of interesting."
For his service, he earned four medals, but only received them over 65 years later in front of his family and community.
1Lt Gordon A. Ballagh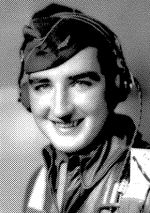 "It's just overwhelming. It just makes you want to cry out of happiness," said Ballagh's daughter, Ronda Gunther. "He's finally getting recognized. All these years he's never asked for anything. He's always said, 'Why would I want to take from my country?'"
It was U.S. Air Force T/Sgt Wayne Herold that would do the asking for him.
About 18 months ago, Mr. Ballagh learned that T/Sgt Herold, his pastor's son-in-law, was being deployed to Afghanistan. He wanted to write letters to him, remembering how much letters meant to him during his military days. During their correspondence, T/Sgt Herold discovered than Mr. Ballagh had only received one ribbon from his time in the USAAF and as a POW. T/Sgt Herold went to work on his own, unbeknownst to the family, to see that 1Lt Ballagh received what was due him.
"I saw that his record showed only one ribbon for everything he'd done and I said well, that's not right at all, so I worked to get that amended," he said. Much like Ballagh's deployment, it wasn't easy.
Major Darrin L. DeReus, who gave the keynote address at the ceremony said, "We had to do some phone calls and do a lot of research to see if we could even come up here and present. Regardless, we were going to come up here, whether we had to take leave or be on our own time we were going to do this. It's a great honor, and in my 20 years this is the greatest honor I will ever do in my career."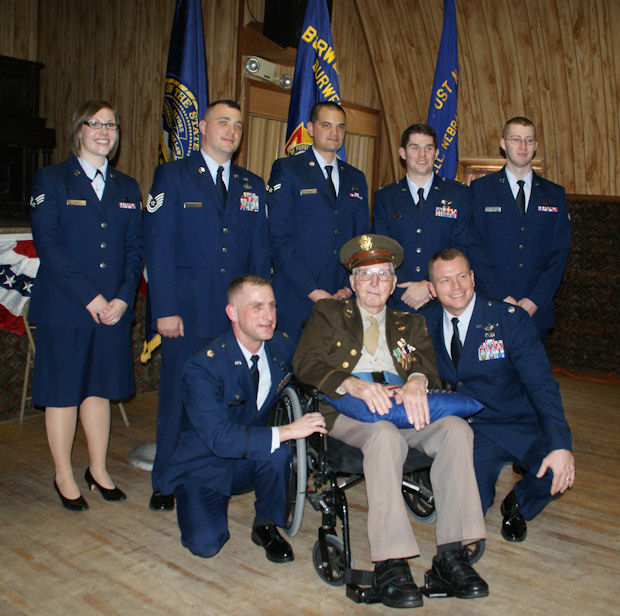 Major Darrin DeReus (left) and Lieutenant Colonel Stan Lawrie kneel with 1Lt Ballagh, surrounded by the delegation from the U.S. Air Force. T/Sgt Wayne Herold is standing, second from the left.
In the February 9, 2011 ceremony, 1Lt Gordon A. Ballagh received the Prisoner of War Medal, the World War II Victory Medal, the European - African - Middle Eastern Campaign Medal and the American Campaign Medal. Major Darrin L. DeReus presented the four medals to 1Lt Ballagh. Each medal was accompanied by a citation:
THE PRISONER OF WAR MEDAL
First Lieutenant Gordon A. Ballagh, Serial Number 0-671085, distinguished himself as Navigator and Nose Gunner, B-17G Bomber Aircrew, 303rd Bomber Group, 360th Bomber Squadron, 8th Air Force, United States Army Air Corps, Molesworth Air Station, United Kingdom. On 1 December 1943, while returning from a military industrial target near Sollingen, Germany, Lieutenant Ballagh and his crew had just delivered eight General Purpose Bombs and twenty Incendiaries. At minus 40 degrees the crew struggled against the cold and the thick anti-aircraft flak. Suddenly, Lt Ballagh's B-17G, Number 42-39781 was shattered by flak, knocking out three of four engines. As the crew bailed out, the aircraft was seen turning slowly back towards Germany, crashing about 10 kilometers outside of Lille, France. At his own peril, Lt Ballagh made a quick attempt at evasion only to be captured by German ground forces. He was soon interned at Stalag Luft 1, where he remained a prisoner of war until repatriation in May of 1945. Lt Gordon A. Ballagh is awarded the Prisoner of War Medal, having served honorably during his captivity. The distinctive accomplishments of Lieutenant Ballagh reflect great credit upon himself, his Nation, and the United States Air Force.
WORLD WAR II VICTORY MEDAL
First Lieutenant Gordon A. Ballagh distinguished himself in the performance of outstanding service to the United States of America while serving in the 303rd Bomber Group, 360th Bomber Squadron, 8th Air Force, United States Army Air Corps, from 28 January 1943 to 29 January 1946. During aerial combat missions and subsequently while a Prisoner of War, Lieutenant Gordon A. Ballagh served gallantly as a member of the United States of America Armed Forces during one of the most tumultuous conflicts the world has known. His dedication to duty and his strict adherence to the military code of conduct for actions during captivity represented the Nation with honor and dignity. As a key contributor to the cause of freedom and fight for liberty, the "Victory Ribbon" is hereby awarded in recognition of his service and sacrifice. The distinctive accomplishments of Lieutenant Ballagh reflect great credit upon himself and the United States Air Force.
EUROPEAN – AFRICAN – MIDDLE EASTERN CAMPAIGN MEDAL
With (One Bronze Service Star)
First Lieutenant Gordon A. Ballagh distinguished himself in the performance of outstanding service to the United States of America while serving in the 303rd Bomber Group, 360th Bomber Squadron, 8th Air Force, United States Army Air Corps, from 28 January 1943 to 29 January 1946. Lt Gordon A. Ballagh is awarded the European-African-Middle Eastern Campaign Medal, with one bronze service star, for having served with distinction and honor throughout multiple battle campaigns during World War II. Acting as a B-17G heavy bomber navigator, he participated in three harrowing daylight bombing missions on strategic targets over the German homeland and occupied territories. These missions included targets at the Knaben II Molybdenum Mine in Norway and industrial targets at Bremen and Sollingen Germany. After being shot down and subsequently captured, Lt Ballagh continued to serve honorably as a Prisoner of War for 18 months in German Stalag Luft 1 near Barth Germany. The distinctive accomplishments of Lieutenant Ballagh reflect great credit upon himself and the United States Air Force.
AMERICAN CAMPAIGN MEDAL
First Lieutenant Gordon A. Ballagh distinguished himself in the performance of outstanding service to the United States of America while serving in the 303rd Bomber Group, 360th Bomber Squadron, 8th Air Force, United States Army Air Corps, from 28 January 1943 to 29 January 1946. During this period, Lieutenant Ballagh served with distinction as a Commissioned Officer in the Army Air Corps throughout multiple engagements with enemy forces from the Axis Powers over Europe. As a B-17 Flying Fortress Navigator and Gunner, he formulated flight paths and targeting altitudes while maintaining the simultaneous responsibility of manning the left nose gun during aerial combat. During these engagements, Lieutenant Ballagh successfully directed his aircrew through thick anti-aircraft fire and enemy fighter defenses ultimately leading to the initial destruction of the German War Machine. Lieutenant Ballagh's airmanship, navigational skills and combat presence directly contributed to the successes of Allied Forces in the European Theater and the final defeat of Nazi Germany. The distinctive accomplishments of Lieutenant Ballagh reflect great credit upon himself and the United States Air Force.
Though being honored in front of more than 100 community members, Ballagh remains as humble as the day he returned from war.
"I feel like I don't deserve it all, but I appreciate it," he said. "It makes me love my country more."







Major William C. Heller:
I was a B17 First Pilot assigned with my crew to the 360th Squadron of the famed "Hell's Angels" 303rd Bomb Group. I flew combat for two years from Molesworth near Bedford in the UK.

My crew was a stellar crew and served well. The Radio Operator Gunner was a Felix Spoerri, German-Swiss born, living in a Parish near New Orleans as a Bee Keeper. He spoke perfect German and he helped me now and then with mine.

On a certain mission, we were leading the Squadron and our Bomb Load was Incendiaries. As we neared the Bombs Away Point, all was in readiness and we opened our Bomb Bay doors. After Bombs away, it was the Radio Operator Gunner's job (Spoerri) ... to clear the Bomb Bay. He would get up from his Radio seat and check into the Bomb Bay to assure all the load had been dropped. He would then shout "Bomb Bay clear!" and the Bombardier would close the Bomb Bay doors.

After Bombs Away on this mission, I noted our two wingmen pulled away from us, and I heard Spoerri on the Intercom shout ... "We have a hangup, WC, and it is burning!" I knew what this meant, and WHY the wingmen had moved. They did not want to be close to a B17 which blew up.

I shouted into the Intercom ... "Spoerri! Get that bomb OUT of there if you have to go with it!" All our crew monitored the Intercom and knew what was going on. George Payne, the Right Waist Gunner heard and saw all of this as he looked toward the Bomb Bay. He immediately grabbed a walk-around Oxygen Bottle, ran to the Radio Room and pulled Spoerri by his legs, OUT of the Bomb Bay. He then began to resuscitate him. He had NO gloves. NO Oxygen Mask and NO Parachute! What a brave man. George Payne saved his life. That was our crew ... every man knowing and doing his job.

Upon return to Base, we wrote up the incident and I recommended Spoerri for the Silver Star. It is the third highest award and is given for Gallantry In Action. The higher-ups awarded him the DFC. What his actions had to do with Distinguished Flying I will never know. I learned a lesson. Had I perhaps recommended him for the DSC (2nd highest) they may have then awarded him the Silver Star. (you know, if you want 10 order 15).

NBC did a 15 minute Radio Skit of his actions and the Mission. And, in the New Orleans Parish from which he came they put on a very wonderful Radio Skit praising his actions. I was able to chat with him about six months prior to his demise. He was a Hero.

Later in his tour, when I became Squadron Commander of the 360th Squadron, Felix did some special Intelligence work for the USAF. He would go on Missions, monitoring the Luftwaffe frequencies and if they gave locations of our Wings and Divisions, he would countermand those German orders, or, otherwise mix them up so as to attempt to fool the German Fighter planes.

The evening after the mission of his heroism, Spoerri came to my barracks to chat with me. He told me he understood how difficult it was for me to give him an order which may have meant his death. But, he understood, and as explained, carried out the order to the letter. A very brave man.
Your "Molesworth Memories" are most welcome. Please email to glm@303rdbg.com.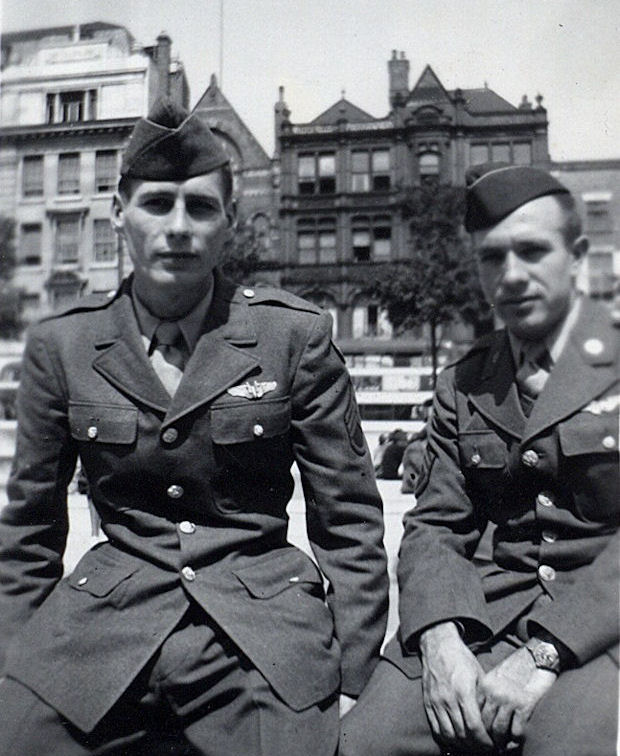 S/Sgts Gerald Groth and Don Conley, 360th Moselle Crew are "On the Town"
(photos courtesy of Gary J. Groth, son of Gerald Groth)
Capt Arnold P. Moselle prepares for take-off.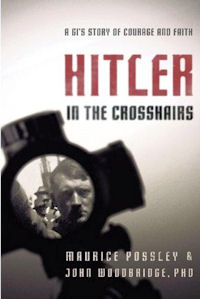 Hitler in the Crosshairs:
A GI's Story of Courage and Faith
by Maurice Possley and John Woodbridge
A Pulitzer Prize-winning journalist teams up with a university scholar in this compelling, untold historical tale of a young man's courage at a critical time in United States history, and the saga of a dictator's pistol that continues today.
The time is World War II. Young soldier Ira 'Teen' Palm and his men burst into a Munich apartment, hoping to capture Adolph Hitler. Instead, they find an empty apartment ... and a golden gun. As the authors trace the story of the man and the gun, they examine a time and place that shaped men like Palm and transformed them into heroes. They also follow the strange journey of Hitler's pistol.
The book also tells the story of 1Lt Bernard T. McNamara, navigator on the 358th BS 1Lt John W. Hendry Crew — how he was shot down, escaped from a Nazi prison camp, and went on to play an integral role in a revolt against the Nazis in Munich by German troops and German citizens.
Now available for pre-order on Amazon.com.




Visiting Royal Air Force Molesworth:
Home of the 303rd Bomb Group (Heavy)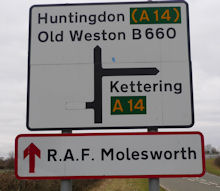 Veterans and family members of the 303rd Bomb Group are able to visit the home of the 303rd at RAF Molesworth located near Huntingdon, Cambridgeshire, England some 80 miles northwest of London.
As RAF Molesworth continues as an active U.S. Base today with an important mission, admission to the base is necessarily strictly controlled for security reasons. 303rd family members wishing to visit may contact the base historian Mr. Peter Park at peter.park@jac.eucom.mil who can advise on military entry procedures, information needed from potential visitors, and possible visit dates.
---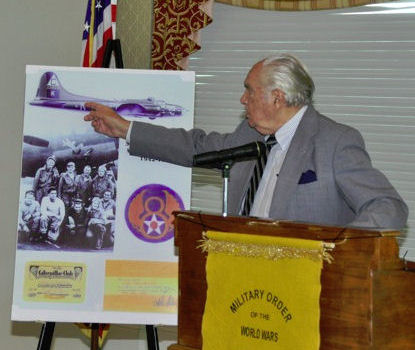 Eddie Deerfield, former 303rd BGA President and Hell's Angels Newsletter Editor, continues to be active giving speeches and lectures about the 303rd Bomb Group. His emphasis is on the 303rd's accomplishments in defeating Nazi Germany and helping bring the war to a successful conclusion many months earlier than would otherwise have been possible.
One of Eddie's most recent speeches was on January 4, 2011 at a luncheon meeting of The Military Order of The World Wars, Clearwater, Florida Chapter. He admits that he is slowing down a little and writes, "Don't know how many more of these I can manage. My vocal chords and my legs were feeling the strain on this last outing." We appreciate Eddie's service in the 303rd Bomb Group, the 303rd Bomb Group Association and his continuing efforts to keep the legacy of the 303rd BG alive.

---
Molesworth Memories
Starting with this issue, I have added a new section to newsletter called
Molesworth Memories
. Veterans and their families are invited and encouraged to send any true stories, unusual experiences, memories or journal entries from their days in the 303rd Bomb Group. They will be published as space permits and may be edited. Please email them to me at
glm@303rdbg.com
.
---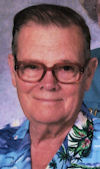 Elmo E. Clark
, Grove resident formerly of Colorado Springs, Colorado, died Wednesday February 9, 2011 at the age of 88 years. He was born on January 19, 1923 in Kansas City, Missouri to his parents, August E. and Winnefred (Newman) Clark.
Elmo joined the Army Air Corps on May 11, 1941 and started his 22+ year career serving his country, where he saw much combat. He was a WWII B-17 pilot flying 25 combat missions over Europe, as a member of the 303rd Bomb Group. He later performed Air Sea Rescue operations using PVY amphibious aircraft. Elmo was also a B-29 aircraft instructor. After serving for 22+ years he retired as a Major from the U.S. Air Force on October 31, 1962.
Upon entering the private sector, he sold insurance for Lincoln Colonial Insurance Company for over 30 years. Elmo married Ruth Cochrane in June of 1974 in Colorado Springs, Colorado. Elmo was active in the Lions Club and a member of the Colorado Pearl Harbor Association. Elmo loved the outdoors, hiking and climbing in the mountains, traveling the country with his wife in their RV; they were snowbirds wintering in Texas every year. His favorite animal was the buffalo, he enjoyed collecting coins, reading books and helping people in need.
He is preceded in death by his parents. Elmo leaves many loving memories with his family, wife, Ruth; sons, Nathan Bruce Clark and wife Dianna, daughters, Cindy Hart and Melody Keane and husband Bob; sisters, Betty McMillin and Alice Marsh; grandchildren Russell, Dennis, Brian and Derek; great-grandchildren, Jade, Jasmine, Michelle, Dalton, Dameon; many nieces and nephews as well as many other loving family members. Funeral Services will be held 1:00 PM Sunday February 13, 2011 at Worley Luginbuel Funeral Home Chapel with David Clark officiating. Military Honors will be provided by the Tinker Air Force Base Honor Guard. Services are entrusted to Worley Luginbuel Funeral Home of Grove. Family and Friends may view the obituary online and send condolences at www.honoringmemories.com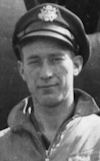 Joseph G. Andreasen of St. George, Utah, died Friday, Feb. 4, 2011, at his residence at the age of 87. Born in Soda Springs, Idaho, on Feb. 23, 1924, to Andrew Lorenzo Andreasen and Myrtle Estella Gibbs, he was the seventh of 11 children, including Lane, Grant, Helen, Randall, Donna, Willard, Natalia, Richard, Carol and Douglas.
He grew up in rural southern Idaho, graduated from Shoshone High School in 1942 and served for three years in the Army Air Corps in World War II as a bombardier in the European Theater. He also served as an Air Force logistics officer during the Korean War and attained the rank of captain. He was proud of his military service and enjoyed attending many veteran reunions over the years.
He was a graduate of Boise Junior College and the University of Utah and obtained several advanced credentials from the University of Utah, the University of Nevada and Chico State College. He had a long career in the field of education, serving serially as a teacher, counselor, vice principal and principal in school districts in Utah and California, and he had a midlife career in administration working at North American Aviation, Martin Marietta and Thiokol Chemical in California, Utah and Colorado.
He was a lifelong golf enthusiast who won many tournaments and taught the game diligently to three generations of his family. He loved and wrote cowboy poetry and published a book of historical fiction. His focus was always his family, and he never took a vacation that wasn't for the purpose of getting together with his parents, siblings or children.
He is survived by his brothers, Willard and Richard; his sisters, Natalia and Carol; his wife of many years and the mother of his children, Lucille White; his daughter, Chris; his son, Andy; and his nine grandchildren and 29 great-grandchildren. The funeral will be held at 11 a.m. Monday, Feb. 14, the LDS Church in Shoshone, Idaho. Viewing will be at 10 a.m. Burial will take place thereafter at the Shoshone Cemetery.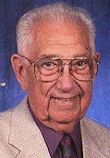 Calvin K. Hansen, 85, Manitowoc, died Monday afternoon, Jan. 31, 2011, at the Manitowoc Health and Rehabilitation Center.
Cal was born on Jan. 25, 1926, in Denmark, son of the late Jesse and Nellie (Marcussen). He graduated from Denmark High School with the class of 1943. Cal flew as a tail gunner on B-17s for the Army Air Corps during World War II. He was stationed in Molesworth, England, and flew in 15 missions as part of the 303rd bomb group known as "Hells Angels". He married Violet E. Jorgensen on May 8, 1946, in Denmark. Cal was in the insurance business his entire working lifetime, retiring in 1988.
Cal was a member of First Reformed United Church of Christ, past president of the church council, member of the church choir, and taught Sunday school. He was a past patron of the Eastern Star, member of the Manitowoc Lodge #65 Free and Accepted Masons, past president of Family Service Insurance Board of Manitowoc, and a member of Life Underwriters. He traveled to Air Force reunions all over the country. Cal was past president of the Insurance Center of Manitowoc. He loved playing cards, bowling, traveling, walking, and golfing. Cal enjoyed his 21 years of going to the cottage in Sand Bay and spending holidays with the family.
Survivors include his wife, Violet Hansen, Manitowoc; four children and their spouses, Sharon (Bob) Rudolph, Manitowoc; Sandi (Bob) Cisler, Pleasant Prairie; Scott (Lorraine) Hansen, Manitowoc; Sally Hansen, De Pere; six grandchildren, Kimberly (Jeff) Buck, Derek (Anne) Cisler, Jodie (Adam) Meier, Robyn Hansen, Tamra Hansen, Jessica (Brandon) Dewey; seven great-grandchildren, Adam Buck, Amanda Buck, Trey Meier, Aaron Cisler, Keegan Meier, Calvin Dewey, Chase Meier; one brother and three sisters-in-law, Vernon (Eunice) Hansen, Manitowoc; Vida Jorgensen, Denmark; La-Verne Jorgensen, Kellnersville; nieces, nephews, other relatives and friends.
Cal was preceded in death by his parents, two brothers and sisters-in-law, Lyman (Geraldine) Hansen, Marcus (Didgie) Hansen, and one grandson, Drew Hansen.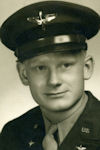 Howard Eugene (Gene) Reeves died suddenly at his home in Kansas City, Kan., of an apparent heart attack on January 23, 2011.
He is survived by his wife of 66 years and his seven children, Elaine Rasmus, Howard Reeves, Gerald Reeves, Nola Kroner, Clifford Reeves, Peter Reeves and Patricia Harper, his 18 grandchildren and 20 great grandchildren. He was predeceased by his parents, Nola and George Reeves, and brothers, Kenneth and Roger Reeves, and his sister, Carol Reeves. He is survived by his sister, Florene Smith of Blue Springs, Mo.
Gene was born in Leavenworth, Kan. He graduated from Wyandotte High School, Kansas City, Kan., in 1942. He attended Kansas City Community College before joining the pilot training program of the U.S. Army Air Corps. He served his country flying 35 missions over Germany, Belgium and France as a B-17 pilot in the 360th Bombardment Squadron of the 303rd Bomb Group of the 8th Air Force from September 1944 to March 1945.
After completing his combat tour, he spent his remaining time in the Air Corps ferrying bombers between bases in the United States. He finished his service as a 1st Lieutenant and received the Air Medal. Following his service he worked nine years for the Kansas City, Mo., Water Department as a draftsman. He finished his career as a senior draftsman for Colgate-Palmolive Company in Kansas City, Kan., retiring in 1984.
He was a long time member of the First Southern Baptist Church of Kansas City, Kan., where he served as an ordained deacon. He was a member of the American Legion. Visitation will be 5 to 7 p.m. Thursday, Jan. 27, with the funeral service at 1 p.m. Friday, Jan. 28, both at the Porter Funeral Home, 1835 Minnesota Ave., Kansas City, Kan. Interment at Chapel Hill Memorial Gardens following the service. In lieu of flowers, the family suggests donations in his memory to the First Southern Baptist Church of Kansas City, Kansas, 8127 Ella Ave., Kansas City, KS 66112.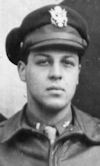 Cyril "Cy" Tilsen passed away on Sunday, Jan. 23, 2011, at his residence in Aliso Viejo, Calif.
Cy was born to Morris and Rebecca Tilsen on Dec. 2, 1923, in Milwaukee. Cy attended the University of Wisconsin-Madison on a pre-medical tract before volunteering for service in the Army Air Force during World War II.
Cy successfully trained as a pilot for the B-17 Flying Fortress. His crew, competing against 54 other teams in training at Biggs Field, Texas was named "Outstanding Combat Crew" and was the first 2nd Air Force crew to be recognized for outstanding work in training. Prior to assignment in Europe, Cy married the love of his life Shirley Goodman in Phoenix, Ariz. Cy would complete 29 missions flying out of Molesworth, England including a harrowing mission to Dresden where his Fortress at one time lost three of its four engines.
Cy returned following his service to his wife and daughter and established residency in Madison. To support his family Cy began selling roofing jobs for a local contractor beginning a long and distinguished career in the roofing industry. In 1953 Cy founded Tilsen Roofing Company a business that flourished as Madison grew.
Cy dedicated himself to the roofing industry serving on numerous association boards and ultimately received two of the highest service awards in the industry - the James Q. McCawley Award and the J.A. Piper Award.
Cy supported all of his children as each graduated from the University of Wisconsin-Madison. A longtime member of Blackhawk Country Club, Cy was a passionate golfer and thoroughly enjoyed living and recreating in Madison. He and Shirley ultimately retired to Southern California where they were able to enjoy many visits with their family.
Cy is survived by his loving wife of 67 years, Shirley; daughter, Lynne Tilsen of Berkeley, Calif.; son, Dr. Ronald Tilsen of Corona del Mar, Calif.; daughter, Robin (Dr. Robert) Murray of San Rafael, Calif.; and son, David (Sara) of Madison. He is further survived by four grandchildren, Alexis, Benjamin, Rachel and Jacob. He was preceded in death by his parents; a sister, Marion; and a brother, Richard.
Memorials in Cy's name can be made to The Smile Train or Doctors Without Borders. A private, family memorial will be held at a future date.


Vern Leonard English, age 102, of Sacramento, California passed away July 4, 2010. S/Sgt English was an aircraft sheet metal worker and Team Leader in the 444th Sub Depot at Molesworth, England. Private inurnment services were held in Hoxie, Kansas.




Gary,

Our hearts are filled with appreciation for all the work that you put into this tribute to Victor and others. This Pilot is being forwarded to a large number of friends. May God continue to bless you.

Jeanne Hand Henry

---

My sister, Jeanne Hand Henry, has forwarded your outstanding and very moving "The Molesworth Pilot" to me this evening. Here we are on the weekend/anniversary of the fateful and horrendous mission which ended the lives of so many including my beloved, handsome brother Victor.

I am grateful to you for the endless research and committed effort you give to "The Molesworth Pilot." Jeanne had previously related the communication ongoing with you and told me of your ongoing dedication. I want to extend my personal gratitude to you for keeping alive the memory of the 303rd's bravery in action and for featuring the Memorial Chapel, my sister and my brother. This has touched me deeply at this time.

God bless you.
Gwen Hand Gollotte, Biloxi, Mississippi

---

Greetings,
Thank you again and again for the Molesworth Pilot newsletter. It is always a welcomed sight in my mailbox. I especially loved the you tube video of David Clifton.

Also, another word of gratitude for Galveston reunion, it was such a tremendous experience. It truly gave me an insight to my Dad's life as a young military man and is something I will forever hold dear in my heart. The many pictures and memorabilia were lovingly assembled in a scrapbook that I created for him and is such a wonderful way for me to tell about his amazing dedication and service to our great country.

Thank you again and again for all your hard work and dedication!

Fondly,
Donna Crocker
daughter of S/Sgt. Richard K. Baer

---

Gary, Thanks for sending me the newsletter and please keep me on your list. I just wish I could have been able to communicate with you before Dad passed away. He would have Loved this. Thanks for all you do to keep it alive.
Best Regards, Mervyn L Terrell

---

I just received the latest edition of the Molesworth Pilot and saw the article on the January 23,1943 raid to Lorient. T/Sgt Miles Benton Jones (Green Hornet) evaded with my father along with several others as described below. As mentioned, I was looking for any information on his fellow travellers but other than finding the final resting place of T/Sgt Jones have been unsuccessful.

I am doing some research on my father's Escape and Evasion from France in early 1943. In his debriefing after returning to England in May 1943, he mentions travelling with two Americans and several Europeans from France to Spain. One of the evaders is shown as a Lt. Roper USAAF. My research has found that a Grady W. Roper (Lt) 92 Bomb Group 327 Bomber Squadron was shot down on October 9, 1942 in B-17 #41-19018, piloted by Francis Chorak. It also appears he returned to England around the same time as my father so may be the Lt. Roper mentioned in the evasion report.

They evaded with a Sgt Jones. The 303 Bomb Group 359 Bomb Squadron website shows that a T/Sgt Miles B. Jones and was shot down in B-17 41-24603 "Green Hornet" on the same day as my father January 23, 1943 on a daylight raid to Lorient. Sgt Jones also returned to England in May 1943 so is most likely the other evader.

My father Sgt Robert M. Kidd RNZAF was shot down that night while piloting a 75 Squadron RNZAF Short Stirling on a night raid to Lorient. He was the only survivor and his crew is buried in the Town of St. Thegonnec.

Ideally I would like to contact either of these gentlemen or their families but after 67 years, like my father they probably have flown their last missions. If you have any information that could aid my research on the two Americans or if I can provide any information that I posess on their evasion through France to Spain, please feel free to contact me.

The following information was sent to me by a researcher in Brussels who was contacted by the author of Conscript Heros on my behalf.

2nd Lt Grady W. ROPER, navigator on 41-9018 :
Enlisted 2 October 1941 at Fort Benning, GA as an Aviation Cadet in the Air Corps. He was from Albany, Dougherty County, GA. Born in Georgia in 1919. The SSDI has him as born 2 July 1919; died 15 June 1988 in 71105 Shreveport, Louisiana (death certificate issued in Georgia.)


T/Sgt Miles Benton JONES - radio operator on 41-24603 : He re-enlisted as a S/Sgt at Fort Knox, Kentucky on 27 August 1946. He is listed as living then in Ohio County, Kentucky and born in that State in 1923. So he's the one born 15 May 1923 who died 14 November 2000 in 40143 Hardingsburg, Beckinridge County, KY and buried at the Camp Nelson Cemetery.


T/Sgt Arthur B. COX Jr :
Top Turret Gunner on 41-23678 - Serial 14063517 - enlisted 24 September 1941 at Fort Oglethorpe, Georgia. Was from Knox County, Tennessee. Born Tennessee 1920. The SSDI has one A.B. Cox, born 22 January 1920 who died on 29 June 1991 (death certificate issued in Tennessee)

If you or your readers have any further information on these three please feel free to contact me.

Robert M. Kidd, Toronto Ontario
email: bkidd6@sympatico.ca

---

Dear Gary,

Your 12/5/10 Pilot interested me, particularly the piece "George Kyle's Final Return to the Cheviot Hills" by Carol Kyle Sage. I have become acquainted with Carol and Jay and Jeri Hardy through the last few reunions of the 303rd and the 8th AFHS. I had written expressing my regret that I could not attend the 2010 reunion in Tucson. Imagine my surprise when Carol and Jay called me to wish me well during the reunion. What a nice thing to do! They have done their best to keep alive the men of the 303rd.

I also saw that Hal Susskind had passed away. We were fellow navigators in the 359th and were on many missions together. In fact, on 2/11/44 both Art Hybert's and Howard Dahleen's planes both landed at RAF Shoreham, each with only two engines running – we were the navigators on those two planes. Of course, with no brakes, we crashed "Scorchy," which is another story!

Altogether, I flew 27 missions and one other we aborted because of mechanical troubles. We flew those 27 missions in 12 different planes.

My daughter Kim Lewis prints the "Pilots" and mails them to me. I thank you for what you do for all the men of the 303rd on your website.

Kindest Regards,
Russ Klingensmith

---
Keeping the Legacy Alive,

Submissions of 303rd Bomb Group related stories and articles are most welcome.