Having trouble viewing this email? See the online version here. To unsubscribe, please reply and request removal.
Submissions of 303rd Bomb Group related stories and articles are most welcome.



December 5, 2010
Volume II, Issue 17
www.303rdBG.com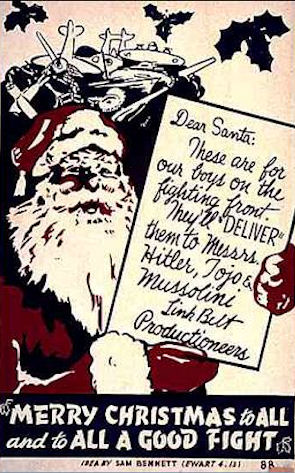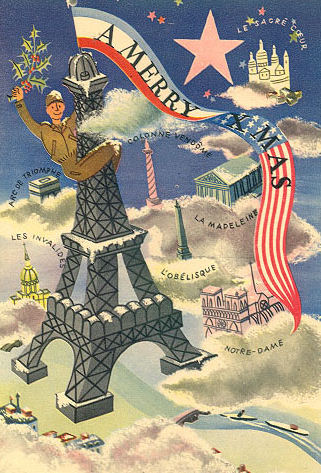 George Kyle's Final Return to The Cheviot Hills
by Carol Kyle Sage
Carol Kyle Sage, George Kyle, Jay Hardy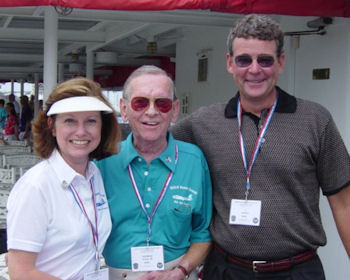 Last month,
The Molesworth Pilot
featured an article describing the recovery of a .50 caliber machine gun found at the crash site of B17 #44-6504 in the Cheviot Hills in northern England. My father, George Kyle, was pilot of that B17. Details of the crash can be found on the 303rd website
here
.
The significance of this latest discovery, culminated in the gun's celebratory return to Molesworth, where it will be prominently displayed for future generations. As this December 16th marks the 66th anniversary of that crash, I am reminded of our responsibility to honor and preserve the legacy of our Veterans.
My first encounter with the 303rd Bomb Group Association was at the 1998 reunion. I quickly realized two things. First, that Hollywood's celebrities cannot hold a candle to any of our veterans…you are the real celebrities…and you are the true heroes. The second thing I realized…is that I should have attended the previous reunions…I missed out on a lot by not being there and getting to know you, our members of the Greatest Generation.
I attended many subsequent reunions with my father, including the very memorable "Last Mission to Molesworth" in June, 2000. This was both a reunion and an unveiling of the beautiful 303rd Memorial. Following our weekend at Molesworth, we continued on another Mission, a personal one to Newcastle where Dad had spent almost four months in the hospital, recuperating from injuries he suffered in the crash.
My second Mission was to visit the crash site outside of Newcastle. With the help of local WWII enthusiast and researcher, Jim Corbett and his father Jim Sr., I was able to make the torturous trek up to the 2000' summit. There debris from the crash still remains on the peat and heather covered hilltop. While I visited the crash site, Dad remained at a farmhouse at the base of the hill, the very place where he and crew members Ernest "Dutch" Schieferstein and James Hardy had sought refuge after the crash.
Fast forward to the 2004 Reunion where Jay Hardy, son of co-pilot, James Hardy, joined us for his first experience with the 303rd. Although James passed away in 1971, Jay said, "I always wanted to get to know some of the men my dad flew with. Through my association with the men of the 303rd Bomb Group, I have come to truly know the sacrifices they made to preserve the freedom of our country. Helping to preserve the legacy of those men has become a passion. Meeting Dad's pilot, George Kyle certainly has been a highlight in my life."
Carol Sage returns her father's ashes to the Cheviot Hills, as Jeri and Jay Hardy look on.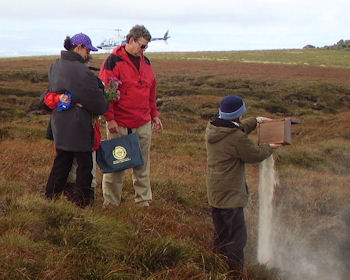 Thus began a strong friendship between the two that continued until Dad's death in 2005. Dad's final wish was to have his ashes returned to England at the crash site in the Cheviot Hills. Accompanied by Jay, his wife Jeri, and our friend Kitty Van Sickler, we were able to honor his wish in 2006.
It took a great deal of careful planning to arrange for our trip up to the Cheviots. We could not have done it all without the unceasing assistance from the British people. They all knew the story of the crash and were eager to help us. Most of these people were the next generation children and grandchildren who are carrying forth the legacy too. The British are still extremely appreciative for what our American veterans did in WWII. We witnessed firsthand how this same appreciation is being carried down through the generations.
Even though our fathers are not alive to join us, Jay and I will continue be involved with the 303rd. In 2011, we will once again coordinate the 303rd's association with the 8th Air Force Historical Society's Reunion, which is tentatively scheduled to be held in St. Louis, MO in October 2011.
We owe a great debt to our veterans, both living and departed: Each of us has a responsibility to educate our future generations, to instill in them an appreciation for everything these brave men did so that they too may grow up to be free and honorable citizens of this great country.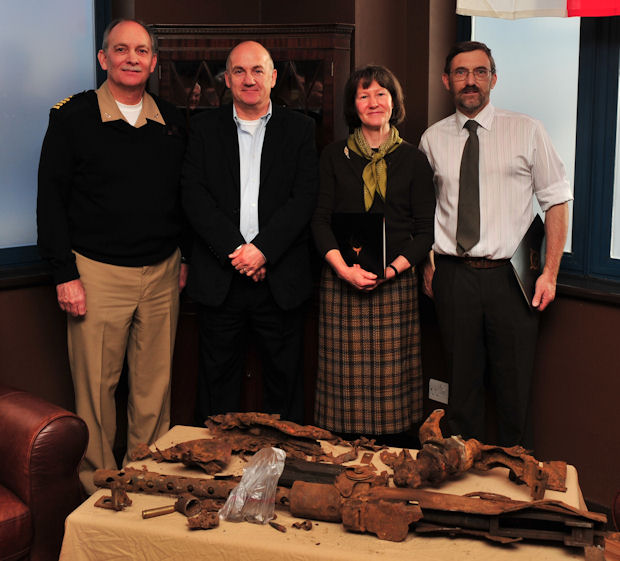 Kevin and Carole Ryder (right) at Royal Air Force Molesworth on 3 December 2010 with JIOCEUR Analytic Center Deputy Commander U.S. Navy Captain Gary S. Powers (left), and Mr. Chris Knapp, Conservationist from the Imperial War Museum Duxford. The Ryders discovered the machine gun from the B-17G Flying Fortress of the 2LT George A. Kyle crew while hiking the Cheviot Hills. Mr. Knapp is advising the JAC on pre-display conservation of the weapon. The gun is from the chin turret of B-17G #44-6504.
---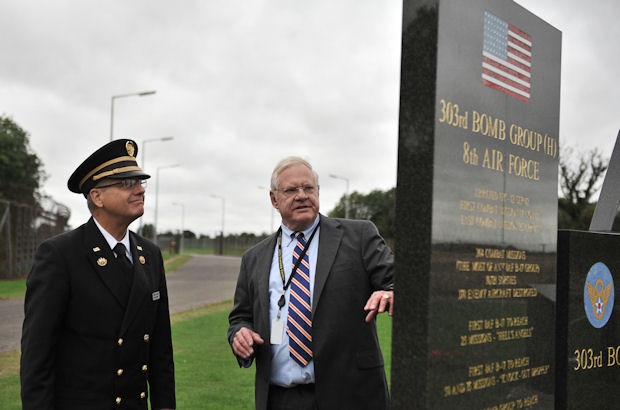 DIA's Peter Park, right, explains the significance of an inscription on the back of the 303rd Bomb Group (Heavy) Memorial at Royal Air Force Molesworth in England to Michael Green, superintendent of the Cambridge American Cemetery and Memorial. (U.S. Air Force photo by SSgt Javier Cruz)
Commission Honors Fallen Soldiers Overseas
By Margan C. Kerwin
Public Affairs Officer, Defense Intelligence Agency
The superintendent of the Cambridge American Cemetery and Memorial visited the JIOCEUR Analysis Center (JAC) at Royal Air Force Molesworth in England Tuesday, Sept. 14.
Michael Green spoke about the American Battle Monument Commission (ABMC), the organization that maintains 24 cemeteries and 25 memorials overseas, as well as three memorials within the United States.
"Every cemetery tells its own story," Green explained. Whether it's nine Medal of Honor recipients buried at one particular cemetery, or the 39 pairs of brothers and one father and son buried at the American cemetery in Normandy, each cemetery and memorial reminds visitors of the sacrifices Americans have made on foreign soil.
American cemeteries and monuments can be found scattered across Europe in the fields and villages where major battles were fought. These cemeteries and monuments are visited by locals, school groups and American visitors and tourists, though the commission is always encouraging more people to come and pay their respects.
"The visitors validate the sacrifice," said Green.
The ABMC came into existence in 1923 when GEN John Pershing urged Congress to create an organization to honor American service members who were killed or missing overseas after World War I. Families were given the option to have their loved ones brought home or to be buried in one of the designated American cemeteries abroad. While 60 percent of the families decided to have their loved ones returned to the U.S., 40 percent chose to have their family member interred overseas to be buried with their fallen comrades in arms.
Today 124,909 war dead are buried overseas in France, England, Belgium, Panama, Italy, Luxembourg, Philippines, Mexico, Netherlands and Tunisia. The names of the 94,135 service members that remain missing or buried at sea are inscribed on tablets at each location.
These cemeteries and monuments are open to the public. Many were designed and built by famous architects, and many contain sculptures and mosaics that would be at home in the Louvre. Sculptures depicting youth, mourning and peace stand tall amongst the hundreds or thousands of white headstones that dot the French countryside and throughout Europe.
Even in World War II, the American cemeteries in France were maintained. During the German occupation of France, the American flag had to be lowered and the American superintendents had to flee the country. Instead of allowing the cemeteries to fall into disrepair, the local French nationals took exemplary care of the grounds and maintained the cemeteries.
This dedication to the Americans who fought and died in World Wars I and II remains strong even today. Local families and villages adopt a fallen soldier, visiting the cemetery and honoring their soldier on significant dates.





HERO REMEMBERED: HARRY F. JENKINS
by Michele Brabant Roberts
Harry Jenkins and Michele Roberts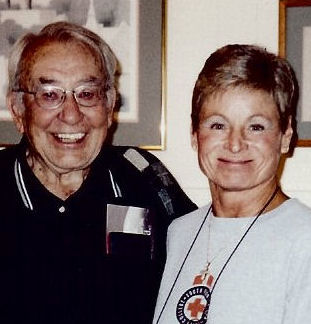 My wonderful friend –
Harry F. Jenkins
, USAF Ret. Col. passed away March 18, 2010. He was 84. He left behind one daughter, Jackie, a grandson, Taylor and one great-granddaughter.
Harry and I became friends in late 2000, when I received a call from a friend to tell me that Col. Jenkins had been trying to locate my father, Lt. Patrick H. Brabant through my brother. My friend said my brother had not been responsive, and ask me to get in touch with Col. Jenkins, who was then living about 100 miles away from me in Florida. I did so that night, and so began a long and meaningful kinship.
Harry had been trying to locate my father in Florida since that was the last known address for him. I told Harry my dad had been killed April of 1956 in the crash of a Swift Airplane he had been piloting. Our family was living in Venezuela at the time of his death. Of course, Harry was devastated and we then proceeded to have a three hour phone conversation about how they had been acquainted. In time, Harry and I would find we had much in common, including a career in law enforcement.
Harry and my dad had met in Molesworth on July 5, 1944. It was Harry's first mission and my dad's second, when they flew to Gilze-Rijen, Holland on the first of 25 more missions (of their 35 each) that they would fly together. They were both a part of the 359th Bomb Squadron, 303rd Bomb Group. Harry told me that they had become fast friends and that they were always beside each other in formation. They had nicknames for each other – Harry was "Green Hornet" and my dad was "Red Rider." Harry told me how they always talked about each mission.
Fast friends: Harry Jenkins & Patrick Brabant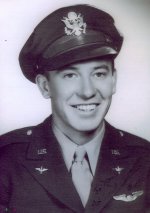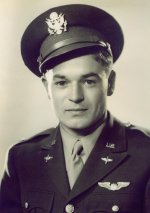 During many personal visits between homes and hundreds of phone conversations over the years, Harry would tell me stories of their missions together. One mission in particular, to Peenemunde, had unfortunately resulted in some "friendly-fire" casualties.
After the war, they had gone their separate ways, but Harry remained in the reserves.
Harry became the second Editor of the 303rd Bomb Group Association's Hell's Angel's Newsletter, publishing 12 issues from November 1977 to July 1981. He remained an avid fan of the 303rd until the day he died. He would tell me that his daughter, Jackie, would type up the Newsletter for the group. I would be so grateful if he could be recognized for his pioneering efforts, along with some of the others.
After his call in 2000, I immediately joined the 303rd BGA, which I didn't even know existed at the time. I had become a pilot myself in 1976 and my mom had given me all of dad's military memorabilia including his burial flag, his medals and ribbons as well as his flight log books and mission list.
Over the years, Harry gave me much of his collection of books, models, posters, and even a huge scale model of one of the B-17s that they had both flown. It was named "Marie," which is where I like to think I got my middle name. The model hangs in my garage over my Jeep.
Among the items given to me by Harry was a map of all of his missions plotted on a 3 x 4 foot map of Molesworth and Northeastern Europe. I have since plotted my dad's additional missions onto the board with pins and string. It is so cool to see the overlap of the two pilots' time and effort. Harry's missions were more compact in time than my dad's and Harry was always upset that he had been whisked away from Molesworth without having a chance to say "goodbye" to his friend.
I have always felt that somehow my dad was proud that Harry and I became such great friends and now I know that they are still rehashing their old times together.
I would also like to thank you so very much for keeping the spirit alive. I know some days you may feel like no one cares, but believe me there are very, very many who do care and thank you.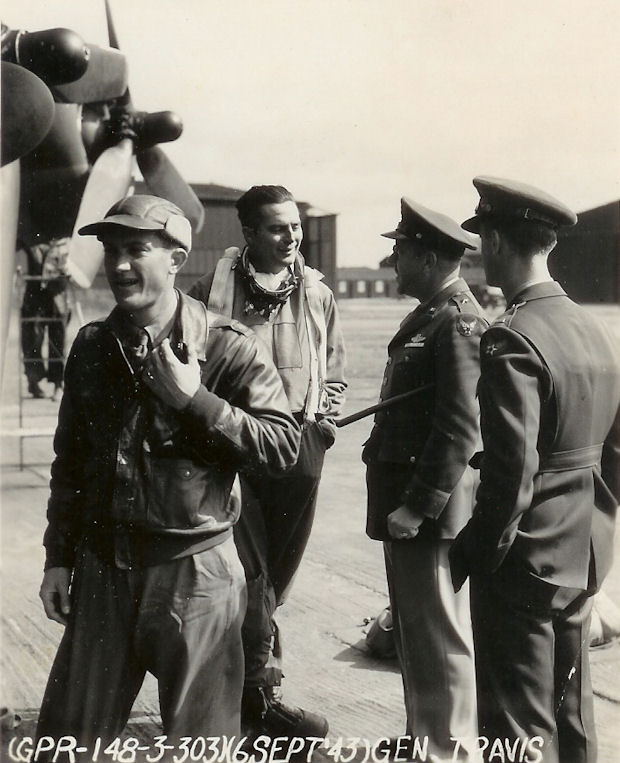 M/Sgt Brian Stamper, left in flight cap, with BGen Robert F. Travis following Mission #67 to Stuttgart, Germany on September 6, 1943. (photo courtesy of Cliff Stamper)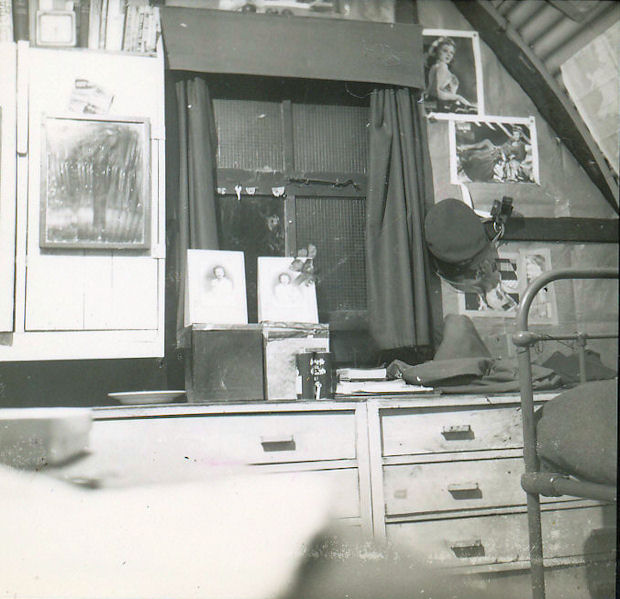 Inside the Quonset Hut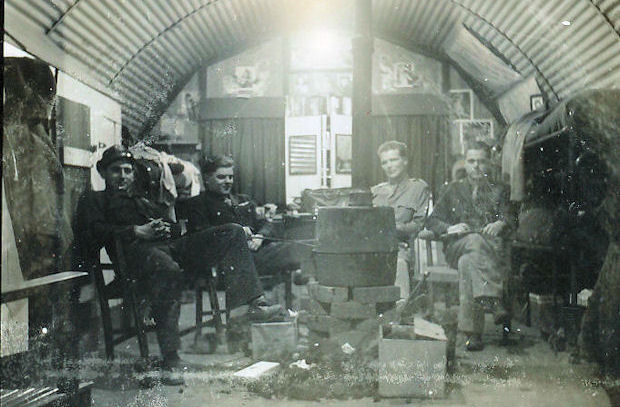 Inside the Quonset Hut
L-R Capt Lawrence Lifshus, 1Lt William C. Koran, 1Lt Thomas E. Quinlan, 1Lt Keith E. Estes
(photos are courtesy of the 1Lt Louis T. Gennaro family)

Merry Christmas !!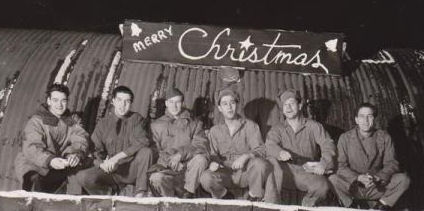 Merry Christmas from our home to yours!
It is an honor for us to be doing this work for the Greatest Generation and some of the finest people we have ever known. We sincerely thank you for your service to our country, your friendship, and your unwavering support of this priceless legacy.
May we all have a happy, healthy, peaceful and wonderful Christmas season and may God bless us all.
— Gary and Susan Moncur
---

The Eighth Air Force Historical Society 2011 Reunion will be in St. Louis, Missouri rather than Omaha, as originally planned. Mark your calendars for October 11-16, 2011. More details will be available in the Spring.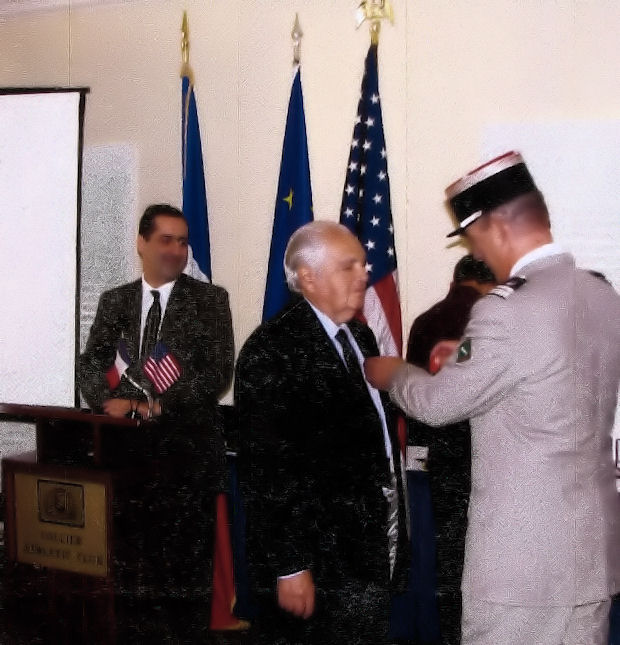 Eddie Deerfield, retired US Army Lieutenant Colonel, receives the French Legion of Honor medal from Colonel Thierry Mottart as France's Consul General in Miami, Monsieur Gael de Maisonneuve, looks on. The medal presentation ceremony took place in Naples, Florida, on Veterans Day, November 11, 2010.
303rd BG Veteran Receives French Legion of Honor
By Dominick Tao, Times Staff Writer
Copyright © St. Petersburg Times, November 11, 2010
The sacrifices of the men and women of the "Greatest Generation," called to duty in what many call the last Great War, have not gone unacknowledged. Even now — more than 60 years after the fact.
Two Pinellas County residents, each a bomber crewman during World War II who flew missions where survival odds were at times worse than a coin flip, will be honored today — and not just by their own countrymen on Veterans Day, but by those who they aided so many decades ago.
Eddie Deerfield, 87, who retired as a lieutenant colonel in the U.S. Army, and Jack Caravello, 86, who left the Army Air Corps as a staff sergeant and worked in sales before his wartime injuries forced him to retire, were selected to receive the French Legion of Honor.
"It's the highest military distinction in France," said Fernando Fornaris, a representative of the French consulate in Miami.
According to a consulate statement about why the awards are only now being presented to Americans who fought for French liberation from Nazi rule: "France cannot, and will not forget them. Their memory will live forever in the heart of the French people."
Deerfield recalls the war with passion, and despite its tragedy, the friends lost and his own combat wounds, a fondness for a time when uncommon bravery, by necessity, was a daily occurrence.
He flew 30 missions as a radio operator-gunner aboard a B-17 Flying Fortress, the workhorse bomber that helped cripple the German war machine.
On his 14th mission, a raid on German submarine pens near Nantes, France, an engine caught fire and forced the crew to bail out just as the plane returned to England. He exited backward, and blacked out when he hit the ground.
When Deerfield regained consciousness in a field somewhere outside Southampton — in friendly territory, after surviving his second plane crash of the war so far — he faced death yet again, this time by pitchfork. After fending off waves of Luftwaffe fighters and flak in Europe, the dazed Chicagoan faced an end he hadn't exactly anticipated: Skewering by a scared English farmer.
"When I came to, he had his pitchfork pressed against my chest," Deerfield said. "He thought we were Nazis."
What convinced the old farmer to relent was the then-20-year-old's American accent. The Army Air Corps tech sergeant went on to fly 16 more sorties over France and Germany.
"I look at it as the highlight of my life," Deerfield said of the war.





Two Former Editors of the 303rd Bomb Group Association's Hell's Angels Newsletter have made their final flight. Harry Jenkins was the Editor from 1977-1981. Hal Susskind was the Editor from 1985-1998.
Harry F. Jenkins
, 359th BS Pilot, passed away March 18, 2010. Please see the article above under "Friends and Heroes."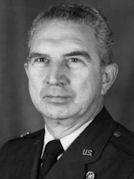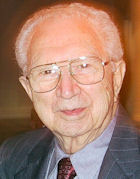 Harold Susskind
passed away Tuesday, November 16, 2010 at his home in Austin, Texas.
Harold Aloysius Susskind was born August 31, 1915, in New York, NY to Arthur and Mary Susskind. He was preceded in death by his parents and his older brother Arthur Susskind Jr.
He is survived by his wife of 62 years, the former Rachel Romano of Brooklyn, NY, and his five children: Harold A. Susskind Jr. of Austin, Michael H. Susskind and his partner Debra Reinders of Phoenix, AZ, Dr. Susan Wilkinson and husband Dr. Joe Wilkinson of San Angelo, TX, Christine Susskind and husband Michael Cicero of Atlanta, GA, and John J. Susskind of Austin. He is also survived by his three grandchildren: Tracy Wilkinson of Chevy Chase, MD, Matthew Wilkinson of Austin, Claire Cicero of Atlanta, GA, and his boxer PeeWee.
Harold attended NYU and was employed at a Wall Street brokerage before the start of his military career which began in 1942. He received his Bombardier Wings and Navigator Wings in 1943 and was commissioned a 2nd Lt. in the U.S. Army Air Corps.
He flew his first mission in the 359th Squadron, 303rd Bomb Group on December 24th, 1943. He completed his first tour of duty in 1944, but signed on for a second tour in September of 1944. By the end of the second World War in May 1945, he had completed 41 combat missions and was the 359th Squadron Navigator. He was awarded the Distinguished Flying Cross. He was then assigned to the Air Transport Command and was stationed in Dakar, Africa. He separated from the service in February 1946 but was recalled to active duty in August of 1949 and was assigned to the Navigation School at Ellington AFB, Houston, TX in 1950.
In 1962, he was the Air Force Information Officer during the nuclear test series off Christmas Island. In 1963, he was assigned to South Vietnam as Director of Information for Second Air Division. In May 1964, he was awarded the Orville Wright Award by the Aviation Space Writer's Association for his work in Vietnam. He also received the Bronze Star for his performance of duty. He retired from the Air Force in 1973. He moved his family to Austin, TX where he joined the Austin Chamber of Commerce as Director of Communications and Editor of Austin Magazine.
In 1984, he joined the 303rd Bomb Group Association. He was appointed editor of the Hell's Angels Newsletter, the Association's quarterly publication in 1985. In 1997, he was elected president of the 2,000 member Association.
My "hero", my Poppy, served in WWII. He was a navigator for bomber planes that flew over enemy territory and helped us. He was in the Air Force for over thirty years and that makes him a hero in every aspect of the word to me, and he's still alive. He's 95 and he's still going and that's why I love him so much-he risked everything when he enlisted in the Air Force so I want to do something special for him so he knows just how much he means to me. My mom even followed his example and joined the Air Force herself and I know that's just one thing that makes me and my family special. And I'm very grateful for the fact that my Grandfather was just that brave and maybe he'll be my inspiration for the years to come. I love him because he's courageous, he's brave, and he's my role model. So I think that he's definitely a hero. By Claire Cicero (age 13).
Visitation will be at Weed-Corley-Fish Funeral Home, 3125 North Lamar Boulevard on Sunday, November 21, 2010, from 3pm to 5pm. Funeral Mass will be celebrated at St. Austin's Catholic Church, 2026 Guadalupe on Monday, November 22 at 10am. Interment will be at Fort Sam Houston National Cemetery, San Antonio, TX on Wednesday, November 24 at 11:30am.


Emil M. Bryson, Flight Engineer on the 360th BS 2Lt Robert R. Fowler Crew passed away April 21, 1999.




Gary,
I met with Hal Susskind's family today [November 21, 2010] and had the opportunity to tell Mrs. Susskind and each of her children how much the members of The 303rd Bomb Group Association appreciated his service as a Navigator in the 303rd Bomb Group, and also his dedication to the 303rd Bomb Group Association where he served as our President and Editor of our newsletter. I told each of the family that Hal was one of our lead ramrods in organizing and maintaining an Association second to none. The family is aware of our respect of Hal, and they are proud of his many accomplishments.

Walt Swanson, 360th BS Pilot, Austin, TX

---

Dear Gary,
How does one even begin to Thank you for all your tremendous reporting and writing of OUR history? GOD BLESS YOU AND YOUR FAMILY.
MEL SCHULSTAD, COL USAF RET

---

Gary and Susan,
What a beautiful edition of the Molesworth Pilot - I am quite sure that mine will not be the only kudos for you for this issue.

The lead photo of Susan and yourself strolling amongst the graves at the Cambridge American Cemetery and Memorial on a typical rainy English day is very moving. I was standing by the Chapel and saw you and just knew that would be a shot worth taking. Young Margan was also very moved that day by the wreath dedication and the tour of Madingley. I will forward the 'Pilot" to her.

Everything Jeff Bauer and I said about your presentation and your larger stewardship of the BGA is so true. Thank you for all that you do.

Warm regards from Cold, wet England,
Peter Park

---

Dear Gary
Thanks so much for the newsletter of the flyover. Today the "909" B-17 bomber, is doing fly overs in Orange County and the beach and it bring smiles and tears at the same time. Thank you so very much for your patriotism, heart and love of the greatest generation, it is wonderful. I am a very proud son.

Sincerely, Billy Bergeron

---

Another great job, and a great issue. I have walked those steps you took, in England, and it sure gives a person a new outlook on life. Thanks for putting these stories and pics out there for us each and every month.

Gordy Alton

---

Gary, you are the best thing that has happened to and for the 303rd BG by your sincere, in depth dedication and commitment to keeping the story before a population so uninterested in how they today are able to live the good life. Our aging members, their families and that segment of our changing population are fast departing. Our youngsters / boomers and more have no measurably appreciative understanding of the history of our country. Your able, meaningful, creative editing, publishing and visitations keep our cherished 303rdbg's reputation of exploits for victory alive.

My sincere thanks for you grand efforts.
"SPEC"Campen, 427th LONSKI Crew


Keeping the Legacy Alive,

Submissions of 303rd Bomb Group related stories and articles are most welcome.