Having trouble viewing this email? See the online version here. To unsubscribe, please reply and request removal.
Submissions of 303rd Bomb Group related stories and articles are most welcome.



November 12, 2010
Volume II, Issue 16
www.303rdBG.com
VETERANS DAY 2010
Remembering Those Who Preserve Our Freedom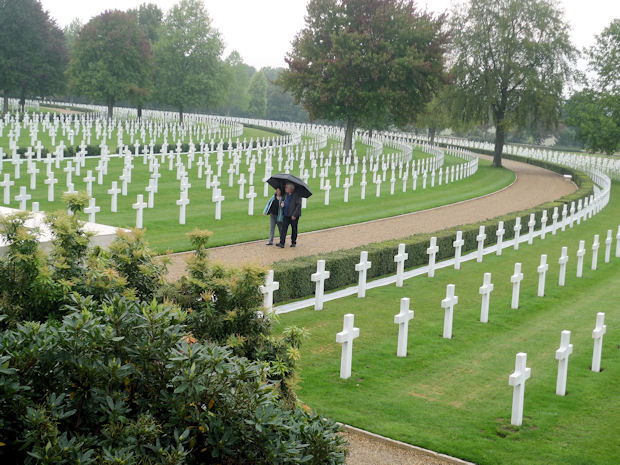 On a typical September morning in England, Gary and Susan Moncur stroll silently
amongst the fallen American heroes at the Cambridge American Cemetery.

JAC Welcomes 303rd Bomb Group Historian
Gary and Susan Moncur Return to RAF Molesworth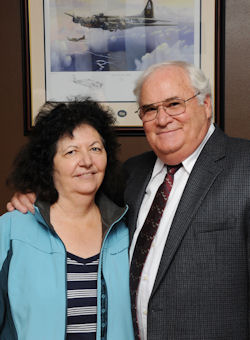 Gary and Susan Moncur were honored to be invited back to RAF Molesworth on September 23-24, 2010. As the Historian and Webmaster of the 303rd Bomb Group, Gary had been asked to speak to the men and women of the JIOCEUR Analytic Center (JAC) as part of their ongoing Distinguished Speakers Program.
Gary's father, 1Lt Vern L. Moncur, was a pilot in the 359th Bomb Squadron, flying 28 combat missions from November 1943 to April 1944. Fascinated by the incredible history of the 303rd Bomb Group, Gary and Susan have worked totally as volunteers for the past 14 years to make the accomplishments of the Hell's Angels better known to the world. Gary developed, designed and still maintains the 303rd Bomb Group Website at www.303rdBG.com, and is the Editor of The Molesworth Pilot newsletter.
The Moncurs were escorted to the Cambridge American Cemetery by Mr. Jeffrey L. Bauer and Mr. Peter G. Park, of the JIOCEUR Analytic Center Commander's Action Group. Joining them were Dr. Peter Martland, Professor of History at the University of Cambridge, and Margan C. Kerwin, a Public Affairs Officer of the Defense Intelligence Agency.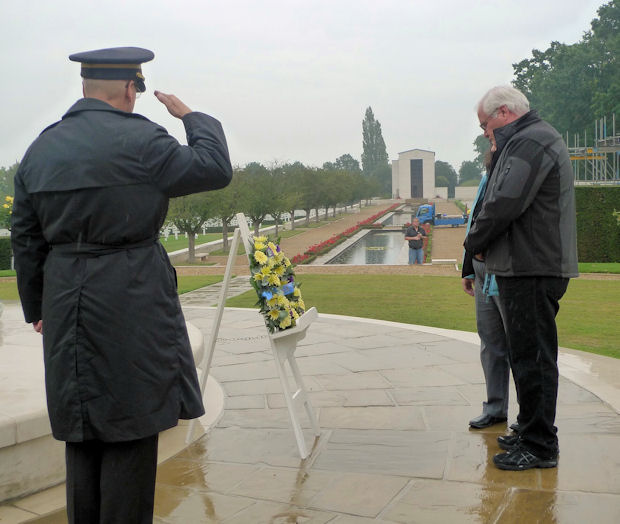 Gary and Susan Moncur lay a wreath honoring the men of the 303rd Bomb Group at Cambridge
American Cemetery. Cemetery Superintendent Michael Green salutes as Taps is played.

At Cambridge American Cemetery, Superintendent Michael Green had arranged a wreath laying ceremony, honoring the 303rd Bomb Group members who rest in the Cambridge Cemetery, and elsewhere around the world.
"Seeing Gary and Susan laying the beautiful 303rd Bomb Group (Heavy) wreath at The American Cemetery at Cambridge, England; and later watching the Moncurs walking among the graves of the 145 303rd members buried there and carved in the Wall of the Missing was a poignant vision. This man has dedicated his life to the legacy of these brave men." — Peter Park, JAC Historian
The group was then taken on a guided tour of the Cemetery by Superintendent Green and his knowledgeable staff.
The event at the Cambridge American Cemetery was followed by lunch at a local pub and a guided tour of the Imperial War Museum at Duxford.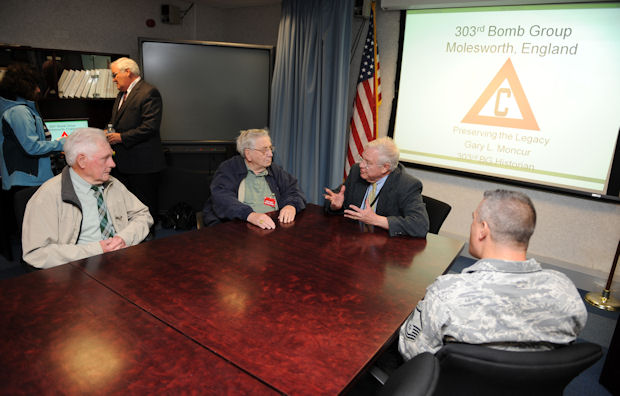 Gary Moncur and his wife Susan prepare for his presentation at RAF Molesworth. Clockwise around the table are Eric Goodwin, John Sivils, Peter Park and MSgt Steven Miller. Mr. Goodwin lives in the village of Hamerton where, as a young boy, he witnessed some amazing sights from the nearby base. Mr. Sivils was stationed at RAF Molesworth in the 1950s and now lives in Kettering.

On September 24th, Gary Moncur gave a 60 minute presentation in the JAC Major General Lewis E. Lyle Conference Room. The presentation, featuring over 50 historic photographs, included the history of the 303rd Bomb Group, highlights of the 1Lt Vern L. Moncur Crew's combat missions, and other notable and interesting events from the 303rd Bomb Group's legacy.
"Mr. Gary Moncur's presentation was an inspiration for those serving at RAF Molesworth today. Gary's encyclopedic knowledge of the 303rd and his deep personal commitment to the legacy of those brave men who served on this base, especially the 841 for whom Molesworth was the last place they trod the earth is clearly evident. You only had to look at the faces of the soldiers, sailors, airmen, marines and civilians in the audience to see the power of Gary's message." — Peter Park, JAC Historian
"When making my way through the daily grind, it is easy to forget that here at RAF Molesworth, I am walking on hallowed ground, paid for by sacrifices which are hard for me to imagine. Although I have the opportunity to brief the history of RAF Molesworth to many visitors, listening to Gary brought the message home. When he speaks, it is with complete sincerity and conviction. For him, it's personal. He has a gift for making it personal for all of us. What the 303rd accomplished here between 1942 and 1945 should never be taken for granted or forgotten. Gary is a compelling spokesman for that message." — Jeffrey Bauer, JAC Professional Education Director
Following his presentation, Gary was presented with a Commander's Coin by Army Colonel Matthew P. Glunz, Commander of the JIOCEUR Analytic Center.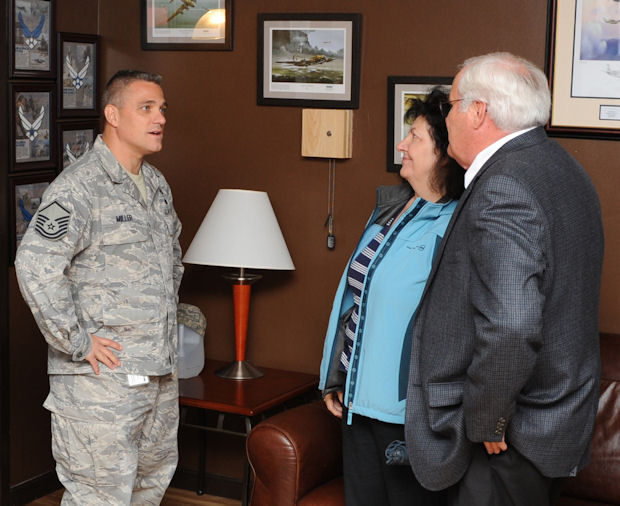 M/Sgt Steven J. Miller greets the Moncurs in the RAF Molesworth Enlisted Heritage Lounge

The Moncurs then visited the Enlisted Heritage Lounge with M/Sgt Steven J. Miller, Vice President of the Molesworth Joint Senior Enlisted Association (MJSEA). The Enlisted Heritage Lounge, which honors 303rd BG Medal of Honor recipient T/Sgt Forrest Vosler, will soon be home to the Kyle Crew's .50 Caliber Machine Gun.
Jeff Bauer and Peter Park escorted the Moncurs on a tour of the base, including the remaining WWII hangars, the old Main Gate and runway locations, plus the cold war era cruise missile bunkers. The two-day event ended with a delicious lunch at a nearby pub.
Susan and Gary were very touched by the warm welcome and royal treatment and hope to be invited back in the future.




.50 Caliber Machine Gun from B-17 Crash
Returns to Molesworth
Kyle Crew Machine Gun Discovered After Nearly 64 Years
by Gary L. Moncur
2Lt George A. Kyle Crew, three weeks before the Cheviot Hills crash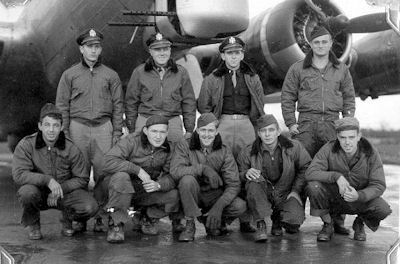 Extremely adverse weather forced a recall of the December 16, 1944 bombing mission to Ulm, Germany. To avoid collisions, the 39 Flying Fortresses from the 303rd Bomb Group were ordered to break formation and land separately at various allied bases. 2Lt George A. Kyle, flying B-17G #44-6504, executed a 180 degree turn back towards England and began his descent. He requested headings to the base, only to discover that they were coming from German transmitters. Twice he found himself heading toward France.
Kyle descended to 3,000 feet and attempted to find a hole in the clouds. He retained his bombs not knowing where they might fall. At 1315 hours and 2,600 feet altitude, the Cheviot Hills suddenly loomed out of the snow. Kyle's B-17 struck the mountainside and skidded across a bog, with the peat absorbing some of the impact.
Carole and Kevin Ryder in the Cheviots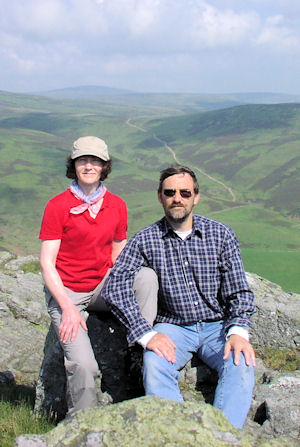 The two crewmen in the nose, F/O Fred Holcombe (navigator) and Sgt Frank R. Turner (togglier), were killed on impact. Fires erupted from the leaking hydraulic and fuel lines, but the RDX bombs did not immediately explode. Kyle, dazed and with a broken jaw, was pulled from the cockpit by copilot F/O James H. Hardy. Miraculously, the rest of the crew survived with minor injuries. (For additional information, see:
http://www.303rdbg.com/360kyle.html
)
The Cheviot Hills are a range of rolling hills straddling the England–Scotland border, between Northumberland and the Scottish Borders. The Kyle Crew's main crash site in the Cheviots has been excavated many times for over 60 years. Some small pieces of metal and debris still remain.
On Saturday, June 7, 2008, Kevin Ryder and his wife Carole of South Loftus, England, were hiking in the Cheviot Hills. Kevin wrote:
We have been walking all the mountains in England and we have only three left to climb and consequently we have come across several wartime sites, often with little or no remains to be seen. However, last Saturday when we were crossing the moor from one hill to the other, my wife saw a small piece of metal sticking out of the peat. After a bit of pulling it was obvious that it was a heavy calibre machine gun. We have covered it and left it where it was, marking the spot with our GPS, and continued on our way only to find further wreckage, which apparently is well known.

On my return home I spent some time trying to work out just exactly what we had found. That is when we came across the fantastic 303rd site and learned of the George Kyle Crew's crash at that location. I researched through the site and saw that it came from B-17G 44-6504, which crashed 16 December 1944. I have reburied the gun as it is not right to remove items such as this, but I am attempting to find out what needs to happen to this weapon. It looks to be in good condition.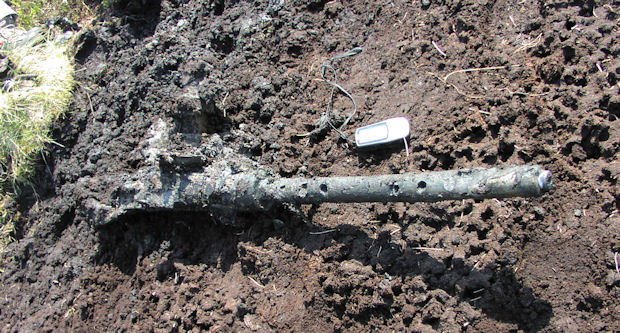 .50 Caliber Browning Machine Gun from B-17G #44-6504 unearthed after 64 years

Kevin contacted Deborah Morgan of the UK Ministry of Defence. It was decided that the gun would remain where it was until they were more certain about how to properly recover it. Arrangements were soon made for Kevin to return to the site with a local policeman from Wooler Police Station, "to pick it up and leave it in the custody of the police," Kevin said, "at least that way it should be safe."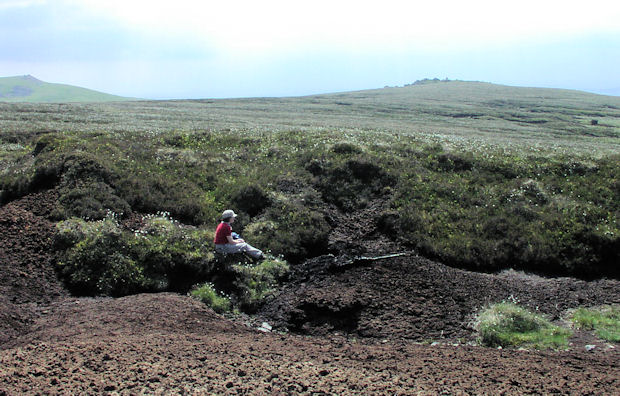 Carole Ryder relaxes near their new discovery in the beautiful Cheviot Hills, 250 yards from
the main crash site. The photo was taken looking southwest from Braydon Crag.

A few days later, Kevin Ryder and Police Constable Shaun Scott returned to the site and recovered the machine gun. The weapon was taken into the possession of Northumbria Constabulary while the UK and US authorities tried to come up with a suitable plan for its disposition..
Kevin then contacted Gary Moncur, 303rd Bomb Group Historian, with the news of their discovery. Gary put him in touch with Carol Kyle Sage, daughter of pilot George Kyle. Carol took charge and began working with Deborah Morgan and Dr. Vivian Rogers-Price, Research Center Director at the Mighty Eighth Air Force Museum in Pooler, Georgia.. The goal was to find a way to get the machine gun back in the USA, preferably to the Mighty Eighth Air Force Museum, where the 303rd BG archives are housed.
Carol, Deborah and Vivian worked for over two years to find a way to get the machine gun to the United States. As the gun is still officially US Army property, and is still considered a weapon, it became an insurmountable task. Regulations of the U.S. Bureau of Alcohol, Tobacco and Firearms prohibit importation of weapons such as this, and all attempts to have it returned to the USA failed. Through all this time, the weapon remained at the Northumbria Police Armoury, where they were considering destroying it.
As a last resort, which perhaps should have been the first resort, the JIOCEUR Analytic Center at RAF Molesworth was contacted to see if they would be interested in the machine gun for display. The response was a fast, resounding "YES!" With full approval of JAC Commander, COL Matthew P. Glunz, U.S. Army, and JAC historian Peter G. Park, arrangements were quickly made to return the machine gun to the base from which it departed.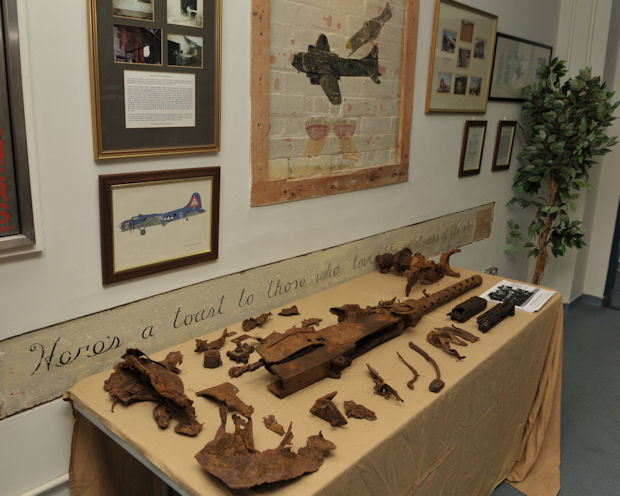 Recovered from the crash site after being buried for 64 years, a .50 Caliber Machine Gun from B-17G #44-6504 is home again at Molesworth, on temporary display in the historic Thunderbird Lounge. The rich heritage of the 303rd Bomb Group is evident in the background photographs. U.S. Air Force photo by Staff Sgt. Javier Cruz.

On November 9th, 2010, one of the Kyle Crew's .50 caliber Browning machine guns finally returned home from its December 16, 1944 combat mission — nearly 66 years late. This time it arrived in a police vehicle escorted by Northumbria Police firearms expert Sergeant Kevin Smith. Sgt. Smith had been the custodian of the machine gun since its recovery, and was responsible for the removal of a chambered round found in the weapon.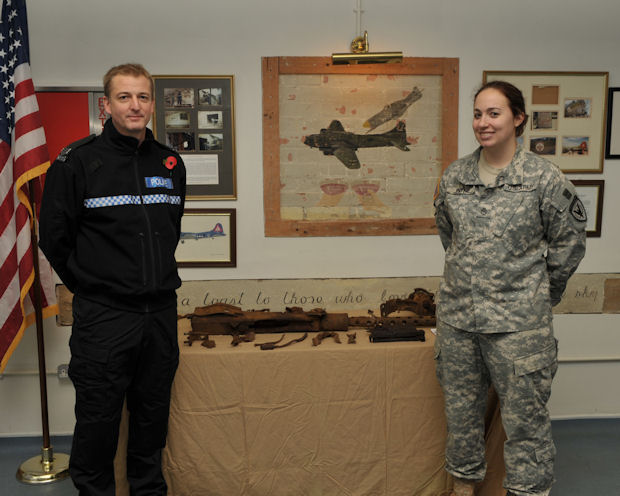 Northumbria Police Firearms Support Unit Sergeant Kevin Smith, is pictured with U.S. Army Staff Sgt. Elizabeth Payne during the ceremony 9 November 2010. Staff Sgt. Payne, a member of the RAF Molesworth History Team dedicated to preserving the legacy of the 303rd BG at RAF Molesworth today, set up the ceremony. SSgt. Payne is the granddaughter of a B-17 navigator from the 379th Bomb Group at Kimbolton airfield 5 miles from Molesworth. U.S. Air Force photo by Staff Sgt. Javier Cruz.

In a brief ceremony, appropriately held in the Thunderbird Lounge at RAF Molesworth, the gun was received into US custody. It will be stored in the RAF Molesworth Armoury until it can be officially demilitarized and restored. It will then be placed on display in the Enlisted Heritage Lounge.
Northumbria Police Firearms Support Unit Sergeant Kevin Smith is presented a Certificate of Appreciation by United States Navy Captain Gary Powers, Deputy Commander of the U.S. European Command Analytic Center, during the ceremony. U.S. Air Force photo by Staff Sgt. Javier Cruz.

We are grateful to everyone involved in bringing this piece of 303rd Bomb Group (H) history back home again. We are especially indebted to Kevin and Carole Ryder for finding, preserving and recovering the weapon in the proper manner, and to Sgt. Kevin Smith and the Northumbria Police for their care and keeping of this treasure for the past two years.
For the men and women of the Armed Forces from around the world who are fortunate enough to be stationed at RAF Molesworth, the Kyle machine gun is certain to be a constant reminder of those who came before them — the men of the 303rd Bomb Group, the famous Hell's Angels — at the base once known as USAAF Station 107.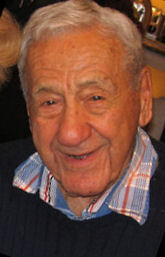 Looking much younger than his 93 years, Al Farrah poses with Jeanne, his bride of 62 years.
Giving Back To The Red Cross
2Lt Albert L. Farrah, 0727561
by his daughter, Melissa Bouzianis
427th Alexander Crew. Al Farrah is back row, far right.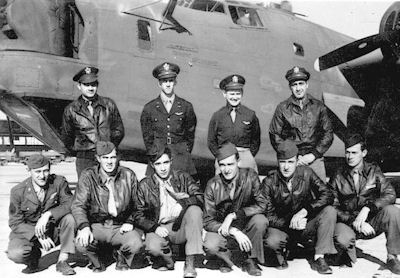 The combat tour did not start well for 2Lt Albert L. Farrah, bombardier on the 427th Alex Crew. On December 20, 1943, 427th BS pilot 2Lt Alexander Alex and his new crew were on their first combat mission flying B-17G #42-39764
Santa Ana
. Anti-aircraft knocked out one engine and a subsequent fighter attack resulted in the crew bailing out, and the plane crashing near their target of Bremen, Germany. The copilot 2Lt Lon E. Jackman (on his 6th mission) was killed. Sgt Stewart G. Hall and Sgt Robert J. Newcomb were badly wounded and were repatriated after their capture. Al Farrah and the rest of the crew spent the next eighteen months as Prisoners of War.
Liberated by the Russians in May of 1945, "Honest Al Farrah," as he was known in Stalag Luft 1 prison camp, returned to his family in Lawrence, Massachusetts. Prior to the war, Al was a pre-med student at Syracuse University. Circumstances dictated that he join his father in the family businesses instead of returning to complete his undergraduate degree.
On August 31, 1947, Al married Jeanne LeClerc . They raised seven children while running the family businesses which included a funeral home and flower shop.
In the early 1950's, Al was involved in the start of the New England Patriots franchise, known at the time as the Boston Patriots. He was given the rights to the promotion and organization of the first six pre-season games. The first game took place in Marblehead, MA. The second was scheduled for New York City, but slow ticket sales resulted in the game's cancellation.
Over the ensuing years, Al's businesses branched out to include real estate holdings in the Lawrence, MA area. He owned property rented by Sears Roebuck and held other real estate, including office buildings. He was an avid member and President of the Exchange Club in Lawrence and a leader in his church.
In appreciation for all they did for him during his time as a POW, Al has given back to the Red Cross by serving as a member of the Red Cross Board of Directors in both Lawrence, Massachusetts and in Portsmouth, New Hampshire. He has also been a guest speaker at several colleges and on local radio shows, educating the public about his time in World War II and as a POW.
Al and Jeanne currently live on Gerrish Island in Kittery Point, Maine. In addition to their seven children, their family has grown to include 17 grandchildren and 4 great grandchildren. Al continues to be physically active and maintains good health through daily workouts. He would like to reach out and make contact with any members of his crew.




303rd Memorial Moved to New Gowen Field Memorial Park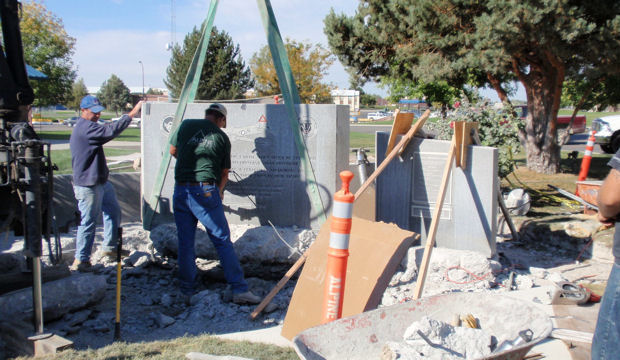 Alpine Construction workers lifting the 303rd BG Memorial from it old foundation.
The new Gowen Field Memorial Park in Boise, Idaho was dedicated on May 27, 2010. At that time plans were underway to move the 303rd Bomb Group Memorial from its current location to the new Memorial Park, about a block away. The move has now been completed.
Alpine Construction was contracted to relocate the Memorial. They took great care to protect it from damage during all aspects of the move. Meridian Memorial cleaned and polished the granite monument and plaques.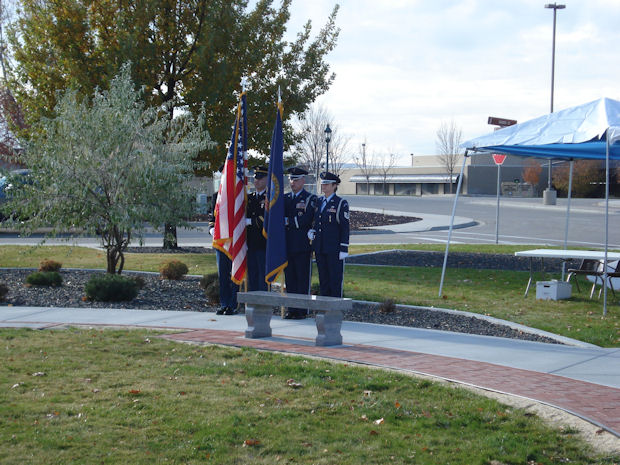 New WWII Area and 303rd BG Monument Dedicated on November 12, 2010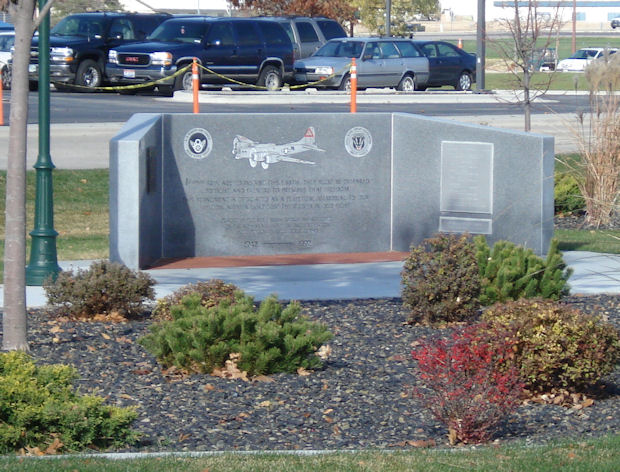 Newly Completed 303rd Bomb Group Memorial
A brief rededication service was held on November 12, 2010 for the 303rd Bomb Group Memorial and the newly placed Memorial Bricks and Benches. Representing the 303rd Bomb Group was Brian Rencher, son of 358th BS pilot Jack Rencher, who passed away last August.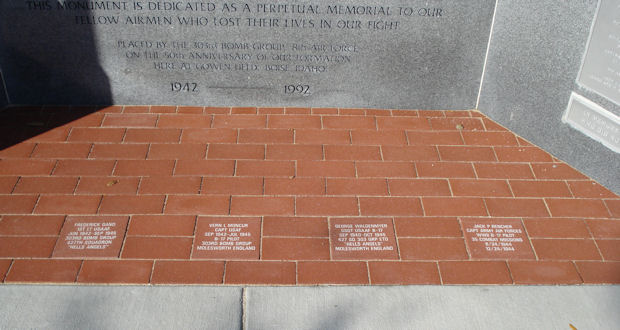 New Memorial Bricks at the base of the 303rd BG Monument
Previously purchased Memorial Bricks are now in place around the memorial, with room for more to be added in the future. The 303rd Memorial is the first item in the WWII part of the Gowen Field Memorial Park and is now much more visible to everyone entering Gowen Field.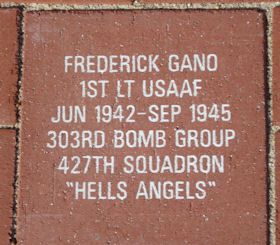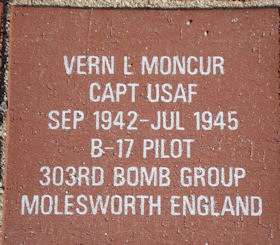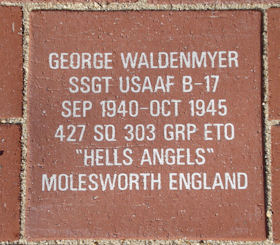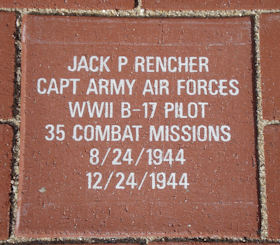 Sincere thanks to CMSgt Pete L. Glick, State Command Chief for the Idaho Air National Guard, and his team for their tireless work and support, and for their deep respect for the heritage of the 303rd Bomb Group at Gowen Field. Memorial Bricks and numbered coins are still available for purchase. Proceeds are used to fund the completion of the Park. For more information, see: http://museum.mil.idaho.gov/gfmemorial/




Purely Personal: An Unforgettable Weekend in San Antonio
by Gary L. Moncur
B-17 Thunderbird Dips Her Wing to Salute "Bergie" Bergeron
In Early November, Susan and I took a weekend trip to San Antonio, Texas to attend the Lackland AFB Air Fest 2010 and explore the city where we had lived nearly 40 years earlier, while serving in the US Air Force. A third purpose of our get-away was to finally meet 303rd BG veteran and San Antonio resident Willard H. "Bill" Bergeron. Bill was an old friend I had known for many years, but had never had the privilege to meet in person. Sadly, as is the case far too often now, Bill passed away before our planned meeting could take place.
My thoughts were of Bill as I spoke with the B-17 Thunderbird crew at the Air Fest. At my request, on Sunday, November 7, 2010, Thunderbird dipped her wing in the clear, blue skies over historic Kelly Field in honor of our friend, and brother-in-arms, "Bergie" Bergeron. Thanks to Lone Star Flight Museum pilots Paul Evangelista and Skip Bonner, and Crew Chief John Sykes for their thoughtfulness. "Bergie, we salute you. Shaking your hand will have to wait for another time."
---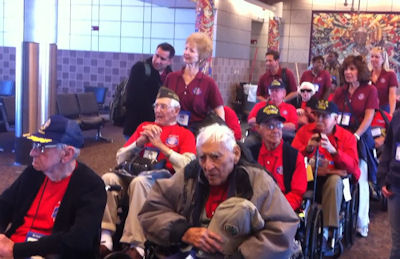 While awaiting our flight home at the San Antonio International Airport, we had a most unexpected treat. An announcement was made that a group of WWII veterans were arriving at Gate 8, just down the concourse. They were returning from an "Honor Flight" visit to the WWII Memorial in Washington DC.
About 200 strangers met the plane and applauded as the veterans entered the terminal. Someone in the crowd began singing "God Bless America" and the rest joined in. There were tears in everyone's eyes as we shared a very special moment.
I shook a few hands as they passed, some in wheelchairs and some walking. Some were smiling and some were crying. I didn't know anyone in the group —and yet, in a way— I knew every one of them. Thank you Veterans, thank you so much.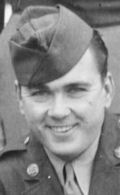 Mr. O.Z. Rowe, Jr., currently of Gainesville, Georgia, passed away on November 8, 2010. Graveside services for Mr. Rowe will be held on Saturday, November 13 at 3:00 P.M. at Oak Grove Cemetery in Americus, Georgia.
A memorial service for Mr. Rowe will be held on Wednesday, November 17, at 2:00 P.M. in the chapel of the First Baptist Church in Gainesville, Georgia. Visitation will be at 1:00 P.M. immediately preceding the service. Mr. Rowe was the son of the late Lottie Mae Brown Rowe and O.Z. Rowe, Sr. of Hilliard, Florida.
Mr. Rowe served in the Air Force as a radio operator in B-17s during World War II. During his almost 3 years of active duty, he was stationed in Molesworth, England and completed twenty-nine flight missions.
In 1985, Mr. Rowe retired from his management position with Bell South after 44 years of employment. Mr. Rowe was an active member of the First Baptist Church of Gainesville, Georgia and volunteered there in the Family Life Center. He also volunteered at the Gainesville History Center and was a member of the Telephone Pioneers and the Lanier Men's Garden Club.
O.Z. Rowe was preceded in death by his sister, Nora Imogene Rowe Jackson, his brother, Harold E. Rowe, and his grandson, Richard Carl Houck. Loving survivors of Mr. Rowe include his wife, Annette Suggs Rowe, his daughter, Angela (John) Hewitt, his brother Clark H. Rowe, two grandsons, Blaine and Tyler (Elizabeth) Hewitt, three great granddaughters, Ansley Marie, Avery Patricia and Anna Elizabeth Hewitt, and many nieces and nephews. In lieu of flowers, the family requests donations to the First Baptist Church of Gainesville, Georgia Ministry of Caring. Those wishing to make online condolences may do so at Littledavenport.com Little and Davenport Funeral Home, 355 Dawsonville Hwy, Gainesville, Georgia is in charge of arrangements.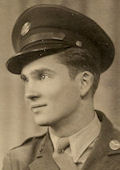 Martin A. Semonick, 88, of Scammon, Kansas died at 4:25 am November 6, 2010 at Maude Norton Hospital following a long illness.
He was born January 5, 1922 at Cherokee, Kansas, the son of Martin and Catherine (Sedusak) Semonick. He lived in Scammon, Kansas since February 5, 1949 when he was married to Rosalie Knight. She preceded him in death on February 24, 2002.
He attended Cherokee schools and was a 1939 graduate of Cherokee High School. He attended Kansas State Teacher's College, graduating in May of 1949. Mr. Semonick worked for the Commercial Fuel Coal Company before volunteering to join the U.S. Army Air Corp in December 1941. He was a member of the US 303rd Bomb Group, known as the Hell's Angels that flew the first B-17 bomber air raids from England to France and Germany. Martin was twice shot down in combat, the second time becoming a prisoner of war for two years at Stalag 17-B in Austria.
He received numerous medals including the Flying Cross, two Purple Hearts, four air medals and a presidential citation. He was a member of the Columbus American Legion and the Veterans of Foreign Wars.
After his graduation from college in May of 1949, he became an advanced salesman for the Jewel Tea Company. He began employment at the Cherokee County Courthouse as a social worker in 1950. He became supervisor in 1960, director in 1968 and manager for both Cherokee and Labette County Social and Rehabilitation Services at Parsons, Kansas where the main office was located. He retired in 1986.
Mr. Semonick was an active fisherman and hunter. He belonged to the Cherokee Gun Club since 1950 and was secretary and treasurer for the first 40 years. He also was a taxidermist since 1965. He was a member of the St. Bridget's Catholic Church in Scammon.
Survivors include a Ed Semonick and Anita Davolt of Columbus and a sister Jane Custer of Scammon, 2 grandchildren Eric and Aron Davolt and 3 great grandchildren Kristina, Alexis and Gracie Davolt. In addition to his wife he was preceded in death by two brothers, Robert A. and August Semonick; three sisters, Katie Semonick, Amelia O'Hara and Annie Semonick.
Graveside services will be 2 pm, Wednesday, November 10, 2010 at Hosey Hill Cemetery with Fr. Chrysostom Ah Maung officiating. Friends are requested to meet at the Cemetery for the services. Informal viewing will be from 1-5 pm Tuesday and from 8 am until 12 noon Wednesday at the Bath-Naylor Funeral Home in Columbus. The Columbus American Legion will provide flag folding rites at the graveside.
Condolences may be left at www.bathnaylor.com. Memorials may be made to the Veterans of Foreign Wars and/or The Alzheimer's Association. Services by Bath-Naylor Funeral Home 611 S. East Ave Columbus, KS.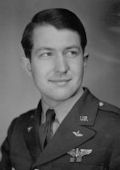 Capt. Frank E. Kulesa (USAFR), Born January 8, 1919, passed away peacefully at his home in San Jose on October 30, 2010. He is survived by his daughter, Pamela Kulesa of Mountain View and by his son, Dr. Jon Kulesa of Gardnerville, Nevada.
Frank was a resident of the Bay Area for over 60 years where he worked and raised his family. He was a counselor at Santa Clara High School for 30 years, where he worked with his wife, Ruth, of 50 years, before retiring in 1983.
Frank was a decorated veteran of WWII. He was a bombardier on a B-17 and flew 25 unescorted missions over Germany in the early 1940's. Frank was awarded the Silver Star and Purple Heart. He was very proud of his service to this country.
Frank will be interred at Mission City Memorial Park in Santa Clara, Ca.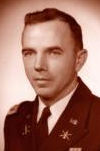 William Hershel "Bill" Rhodes, LTCOL Retired, was born in Crossett Arkansas on 9/17/1924 and died peacefully surrounded and held by his family on 10/25/2010. He was in the Army Air Corps, 8th Air Force, 303rd Bomb Group and flew 36 missions in WWII in B-17's. He was the top Turret Gunner, Flight Engineer and Crew Chief and only 20 years old. On his 4th mission, just after releasing their bombs they lost 8 feet of their tail, their tail gunner was killed and they crash landed in France.
After returning from the war in 1945, he met and married the love of his life, Lydia Gorman(Fern) who preceded him in death. He graduated from Arkansas State College with honors, went back in the Army and off he went. He was stationed in Germany, taught military science at Texas A&M while receiving his masters degree, was stationed in Iraq for 1 year in a remote outpost while his wife and 3 daughters, Lynda, Charlotte and Rosemary remained in the U.S. One year after returning his son William Jr. was born. Shortly after he attended and graduated Command General Staff College in Leavenworth, KS. We were off to the Panama Canal Zone. He ended his military career as the Deputy to the Commander at NORAD in Colorado Springs. While stationed there he shot skeet for the Army team and in 1967 he won the Military World Champion Individual Title and his team won the Team Title.
He retired from the military in 1968 and began his Civil Service career back in Panama. He ended up at Fort Bliss for the third time in 1980, where he was the head of TASC until he retired in 1986. There is so much more to his incredible story and life. He was a quiet unassuming man until you put him in front of a crowd with his fiddle, boy could he play.
Thank you to all those who have served and serving our country as our Father did. And thank you Dad for your devotion to our family for showing us how to live a life full of laughter, adventure, integrity, and most of all love. You and your music will live in our hearts forever. We love you! P.S. Say hi to Mom. Visitation will be Monday, November 1, 2010 at 12:00 pm with a Funeral Service at 12:45 pm at Sunset Funeral Home- Northeast, 4631 Hondo Pass, El Paso, TX. 79904. Committal Service will follow at Fort Bliss National Cemetery. Celebration of life will follow interment at approximately 3:00 pm at 3316 Gabel.




Hi Gary... I hope you are well.
Tomorrow will be a big day for all of "the guys"; those who are with us and those who are not. I just sent you a little support for the 303rd website, in memory of Ralph C. Brehl, Jr., who flew to his reunion with his crew on Veterans Day 2009. I continue to love the connection of your newsletter and I thank you for all that you do.

I don't know if I told you that I had planned to give Ralph a B-17 ride for Christmas last year but he didn't live to see Christmas. A good friend and I took that ride for him in the spring. It was a beautiful day and they had the canopy open so I was able to stick my head out the top of the plane while in flight. WOW!!! We circled the entire San Francisco Bay including all of the bridges... what a ride! I was so happy to do that for him.

As an aside, I think I had mentioned to you that my own Dad was in the Navy on a Net Tender in the South Pacific. On September 29th, Dad turned 100 and we had a royal blow-out for him. Although he's in a wheelchair, he still can have fun and is mentally O.K. The Greatest Generation is awesome.

Ending where I began... I hope you are well,
Jan Madding

---

Dear Gary,
Regarding your "Tail of Two Airplanes" in the September 10, Molesworth Pilot . . . I flew missions in both Wallaroo and Wallaroo Mark II. On 12/13/43, our original Howard Dahleen crew flew our first mission in the Wallaroo over Bremen, Germany. Then on 3/29/44, as navigator on the Newell Crew, we flew in the Wallaroo Mark II over Stedorf, Germany. To be honest, I don't know which half we flew in on the latter mission!

In late 1943, several replacement crews were assigned to the 359th Squadron, including the crews of Dahleen, Moncur, Goolsby, Hybert and Newell. Some, or all, of these crews flew many missions together in late 1943 and early 1944. I was privileged to fly with these men.

My daughter, Kim, mails me the various issues of the Pilot, so I keep abreast of the 303rd news. Thanks so much for your great work!

Kindest regards, Russ Klingensmith

---

Gary,
This was an awesome newsletter!!! I love reading all the stories, especially those including visits back to the area where relatives' planes landed, etc. Amazing stuff. Thank you for hunting and gathering all of these amazing stories and compiling them in a newsletter!

Emily McGowan, Lone Star Flight Museum Volunteer

---

Hello again Gary...
I cannot tell you how good these 'issues' of your newsletter have become, -and they just keep getting better at telling the stories of so many great men every month. Every one is better than the last. Thank you so much.

Though my dad spent the war from D-Day on 'looking up' from a Sherman Tank at the boys in the air, he was always enamored of airplanes. I know he always wanted to fly... And as a boy he made many beautiful models of them from scratch from 'found' materials... I cherish the only one that remains

In again reviewing his things recently I came across a manifest for a C-47 flown off a base in England with his name on it,.. so I know he -at least once- got to experience flight, -and I was pleased. He left this world way to early due to the dreaded cancer, but I know he is looking down at us all -and smiling...

God Bless America,
Douglas Anderson, proud son

---

Hi Gary,
Thank you to put our little country Belgium in the spotlights with the ARGD who doing a great job. Its a small offer that we can give back to all the brave Airmen who have fight for our freedom, We never can give back to those boys for what they did for us.

Albert "Bereke" Demuyer

---
Keeping the Legacy Alive,

Submissions of 303rd Bomb Group related stories and articles are most welcome.