October 30, 2010
Volume II, Issue 15
www.303rdBG.com

Son of 303rd Pilot Visits Father's Crash Site in Belgium
By Jim Morrin
For a long time Jim Morrin knew that his father, the late John R. Morrin, had been a B-17 pilot with the 360 BS out of Molesworth; that his father had been shot down during "Big Week" on his 4th mission on February 22, 1944 (303rd Mission #111); and that he had been captured and spent 15 months at Stalag Luft I in Barth, Germany, until being liberated in 1945 by the Russian Army.
But Jim had somehow missed information that at some point was published on the 303rd web page about his father's crew - that a monument had been erected in the town of Duffel, Belgium, commemorating the crash and paying tribute to the men of Pluto's Avenger who had perished during that mission. (See http://www.303rdbg.com/360morrin.html).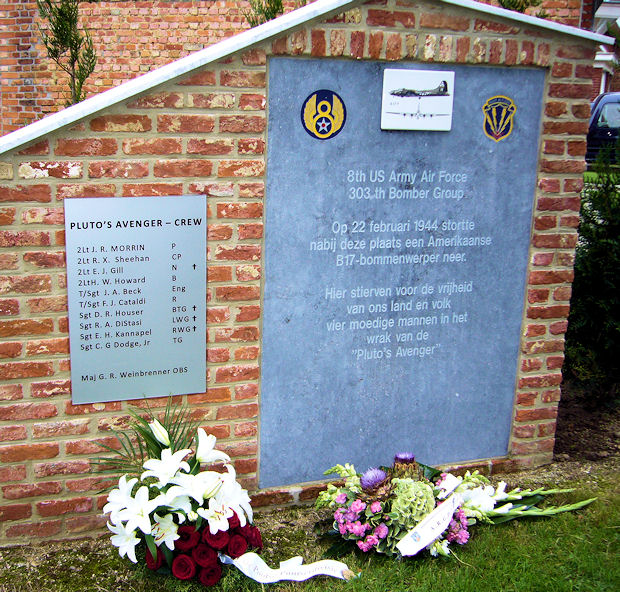 Memorial to the Morrin Crew in Duffel, Belgium
Jim actually learned of the monument when he was researching a book he was editing for Candy Brown, the daughter of a former ball turret gunner with the 92nd BG. Morrin spotted the monument on a web site about World War II monuments, and could not believe his eyes. "Here was this monument with my father's name on it. Of course I had to find out who was responsible for it."
Morrin eventually was put in touch with Wim Bernaerts, the president of the Allied Remembrance Group Duffel (ARGD), a not-for-profit group that had raised the money and obtained the property rights to construct the monument, which stands about 400 feet from where The Pluto's Avenger came to rest after all of the surviving crew had bailed out. (Three crew members died in the ship, and a fourth member died in a Belgian hospital of flak wounds a few days later.) "I felt that this Belgian organization deserved the thanks of the families of the crew," Morrin said. So, he made efforts to notify crew members' families, commissioned the design of a plaque thanking the ARGD for its efforts, and arranged to fly to Belgium to present the plaque to Mr. Bernaerts and the ARGD members.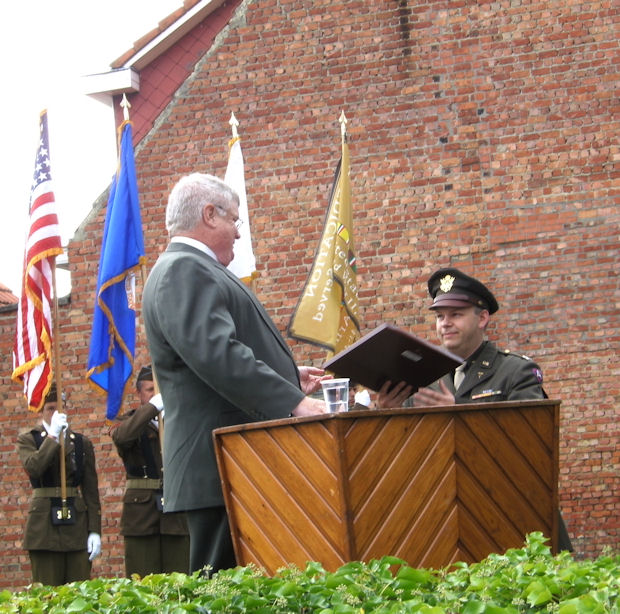 Jim Morrin presents the plaque to Wim Bernaerts, President of the
Allied Remembrance Group Duffel
Morrin and his wife Deb made the trip to Duffel (a town about 20 miles south of Antwerp) on September 19, 2010. The town had cordoned off the streets near the monument, which was located in a residential district of Duffel. Also, the ARGD had reached out to the Band of Brothers organization (a joint Netherlands-Belgium remembrance group) and to the U.S. Air Force, both of which sent contingents of men to form honor guards for the ceremony.
For the occasion, Morrin prepared a plaque bearing a likeness of the aircraft, the symbol used by the ARGD (the 9th Air Force patch), and the thanks of the families of the crew. "I also wanted to give a speech to the ARGD thanking them from the bottom of my heart for what they had done," said Morrin. But out of respect for the audience - whose native tongue is Flemish, a variant of Dutch - Jim wanted to give his presentation in Dutch. "So…I wrote the speech in English, then hired a Dutch translator who lives near me in Chicago." And by pure coincidence the translator, Ms. Diane Van Hoof, who Jim had found using the Internet, had been born and raised in Lint, Belgium, about 4 kilometers from where Pluto's Avenger crashed!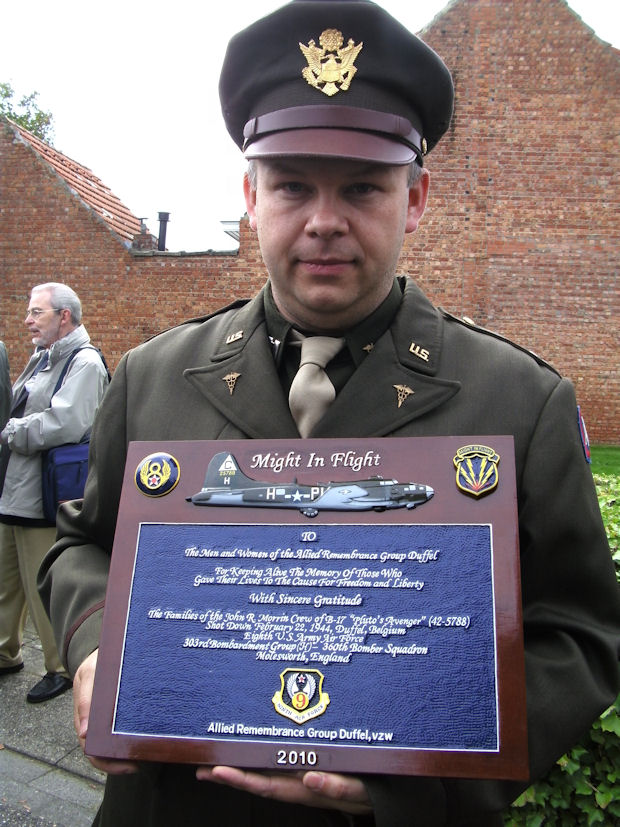 Wim Bernaerts shows the plaque
It took months of rehearsal before Morrin could give the speech with the correct accent and pronunciation, but by September he was ready. "I had to get it right - my translator's parents actually attended the ceremony to see if I had been a good student!" And the speech went well; the Mayor of Duffel and other people present were pleasantly surprised and pleased that the speech was delivered in their native tongue.
"I can't adequately express how moving the whole ceremony was," said Morrin. The honor guard, the neighbors, and the men of the ARGD made the day really special." Before the ceremony, Morrin and his wife walked to the crash site and met several people (who had been youngsters in 1944) who had watched while the plane circled, looking for a landing spot, and then finding none, gained altitude to allow the surviving crew to bail out. One resident showed Morrin a crucifix she had worn as a girl - the cross had been carved from the plexiglas windshield of the aircraft. And Morrin was told that a child born the day of the crash was named after the woman's name (Etta Marie) that had been painted near the tail gunner's position on the fuselage.
"I will never forget that day," said Morrin, "Nor will my wife. We were truly blessed to have experienced it." Coincidentally, since that day, Morrin has managed to contact the families of two additional crew members; prior to this, he had been able to contact only two families and simply could not locate the others. "I owe the contacts to a Belgian historian, Edouard Reniere," Morrin said. "Mr. Reniere has superb research skills, and he continues to help me with historical information on the crew members." Morrin was able to meet Reniere personally at the ceremony.
A bonus of the whole experience was the making of new friends, both in the U.S. and in Belgium. Morrin now communicates regularly with Wim Bernaerts of the ARGD, who resides in Duffel, and also with Mr. Reniere. Stateside, he has a new friend in Diane Van Hoof, who he says, "Is a superb translator, a great teacher, and a historian in her own right."




New Enlisted Heritage Room at Royal Air Force Molesworth
Honors 303rd BG Medal of Honor Recipient T/Sgt Forrest L. Vosler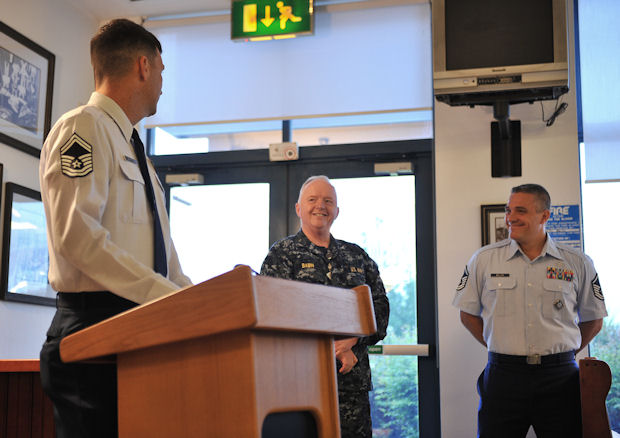 Navy Captain Henry J. "Harry" Babin (center) and Air Force Master Sergeant Steven J. Miller (right) look on as Air Force Senior Master Sergeant Patrick M. Mantell (left) officiates at the August 26, 2010 dedication of the Enlisted Heritage Room at Royal Air Force Molesworth. The Heritage Room honors the World War II service of members of the 303rd Bomb Group (Heavy), and the service of enlisted Army, Navy, Air Force, and Marines serving at RAF Molesworth today. The paintings – including artwork donated by noted painter Keith Hill – and other memorabilia in the room depict the enlisted heritage of this base which has been a U.S. base almost continuously since October 1942. (USAF photo by S/Sgt Javier Cruz)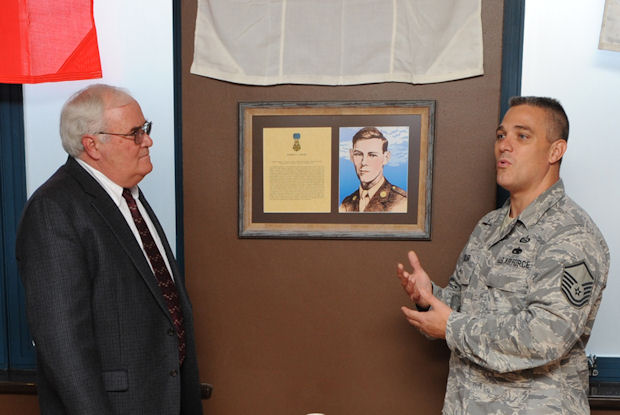 M/Sgt Steven M. Miller (right) shows the plaque honoring 303rd BG Medal of Honor recipient T/Sgt Forrest L. Vosler to 303rd BG Historian Gary L. Moncur during the Moncur's September 24, 2010 visit to RAF Molesworth. The plaque is the centerpiece of the Enlisted Heritage Room at RAF Molesworth. (USAF photo by Mr. Scott Tooley)
More on the Moncur's visit to Molesworth will be in the next issue.

1Lt Preston W. McKeon
A Tragic Transition From B-17s to P-51s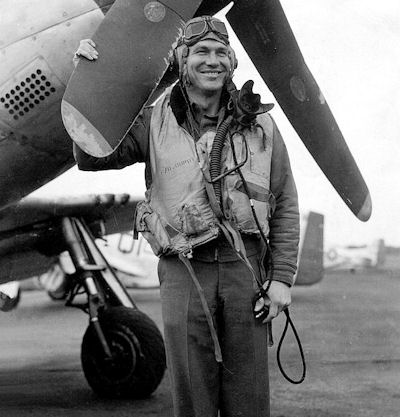 Preston W. McKeon was one of 12 children, raised on a dairy farm in Texas. During the early part of the war he worked in bomber plants, first in Texas then in California. He was older than most pilots in WWII, but he enlisted and volunteered to fly. He felt that by doing so he could do something for the war effort that his brothers, who all had at least two children by then, could not. At one point, he was offered the chance to leave the Army and return to the bomber plant. Because of his superb eye/hand coordination he was able to do precision work that many others couldn't. However, he preferred to keep flying.
1Lt Preston W. McKeon flew 30 missions with the 303rd Bomb Group. He was assigned as the copilot on the 427th 1Lt Donald C. Aageson Crew. He flew 13 missions with the Aageson Crew, seven missions as copilot with other pilots and five as the tail gunner / observer on Lead Crews. On Mission 311, February 3, 1945, he was wounded on an arm and leg by flak. On February 5, 1945 he was upgraded to Pilot and flew five missions as First Pilot. His final mission was April 20, 1945, the second to last mission of the air war.
As the air war ended, 1Lt McKeon transferred to the 356th Fighter Group / 361st Fighter Squadron to fly P-51 Mustangs. On a training flight from Martlesham Heath on June 18, 1945, he encountered the 96th BG B-17, piloted by Lt Walter O. Lowrie, returning to Snetterton Heath after a practice bombing flight over the Orford Ness Ranges. Although an experienced pilot, Preston McKeon had less than forty hours in Mustangs. Lowrie was a veteran Fortress pilot with over half his 900 hours accumulated on the four engine Boeing aircraft.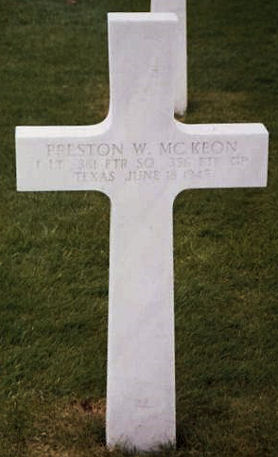 The weather that morning was ideal for gunnery, bombing or formation with a light wind and no cloud below 20,000 feet. In his account of the accident, Lt Lowrie stated that the P-51 pilot had made simulated attacks on his plane and then had pulled up along side and flown on the left wing. McKeon then attempted to cross underneath the Fortress from left to right. When he pulled up, he had not completely cleared the B-17. His vertical stabilizer and rudder clipped the nose and Number 2 propeller of the B-17 and were broken off by the impact.
With the Plexiglas nose shattered and the Number 2 engine damaged, the Fortress was still able to continue. It landed at Snetterton Heath, about 15 minutes away, with only minor injuries to the bombardier. The Mustang, however, was doomed. 1Lt McKeon jettisoned his canopy but was unable to leave the spinning aircraft as it nosed into '14 Acre Field' on Chapel Hill at Cretingham. He was thrown clear on impact, but died instantly.
1Lt Preston W. McKeon was to have received his promotion to Captain following the fatal flight. He is buried in the Cambridge American Cemetery at Madingley, England.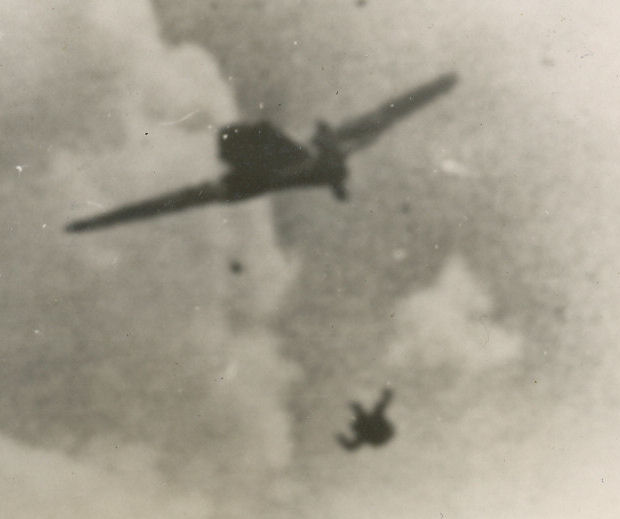 An FW-190 with its pilot "hitting the silk" in late January 1945.
This rare photo, and the two below, were taken by 1Lt Louis T. Gennaro. Gennaro was the navigator on the 2Lt James F. Green Crew and later flew 21 missions as a PFF Navigator on 359th Lead Crews. The photos are courtesy of the Gennaro family.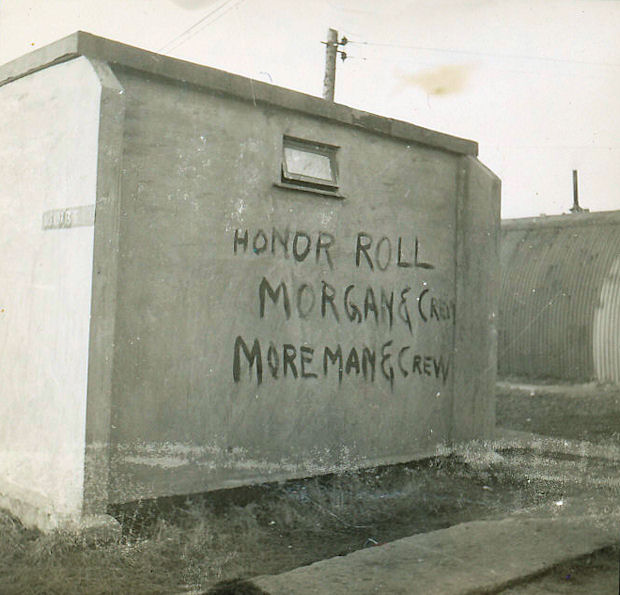 359th Latrine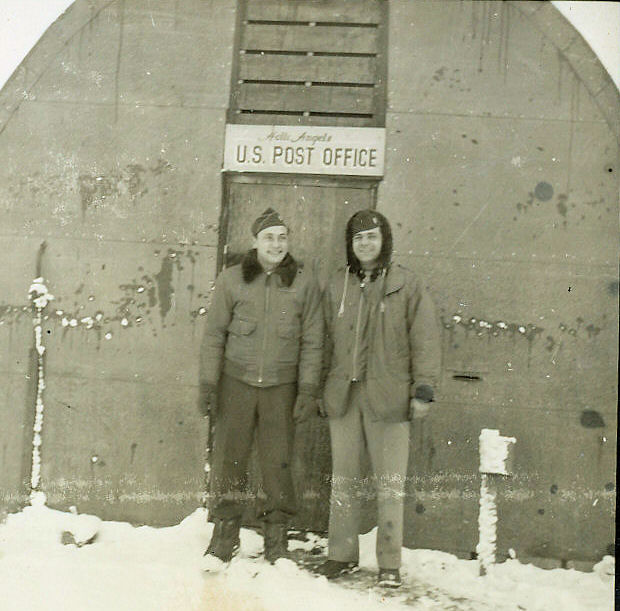 1Lt Louis T. Gennaro and 1Lt Frank P. Weil at the Hell's Angels Post Office

THE AIR WAR
Premieres Wednesday, November 10 at 9-11pm EST on The HISTORY® CHANNEL
THE WAR AS IT HAS NEVER BEEN SEEN BEFORE
FOUGHT 25,000 FEET ABOVE THE EARTH

NARRATED BY ROB LOWE AND FEATURING THE STORY OF FOUR VETERANS, INCLUDING RENOWNED JOURNALIST ANDY ROONEY
New York, NY, October 15, 2010 - HISTORY is announcing today the latest installment of its visually astonishing Emmy® award-winning series. WWII in HD: The Air War premiering on HISTORY on Wednesday, November 10 at 9pm EST presents the untold story of the American 8th Air Force's bloody battle to defeat the German Luftwaffe in the months leading up to D-Day.
Told through the gripping, first person accounts of three American airmen and Stars & Stripes reporter Andy Rooney, The Air War showcases breathtaking aerial combat - original, color footage, never before seen by most Americans - of the B-17s "Flying Fortresses", P-47 "Thunderbolts" and P-51 "Mustangs" on missions such as Regensburg, Schweinfurt and Berlin. Never-before-seen 8mm footage of the airmen on the bases, the devastation in Germany, and the Luftwaffe perspective is also highlighted.
Flying 25,000 feet above the earth in oxygen-devoid air, and temperatures as low as 50 below zero, the 8th Air Force fought a war unlike anything ever before experienced. By the end, they would suffer more than 26,000 combat deaths - more than the US Marines lost in all of World War II.
---
VETERANS DAY: November 11, 2010 — Don't miss the opportunity to honor our veterans, both past and present. To those veterans reading this, from the bottom of our hearts we thank you for your sacrifice and your service.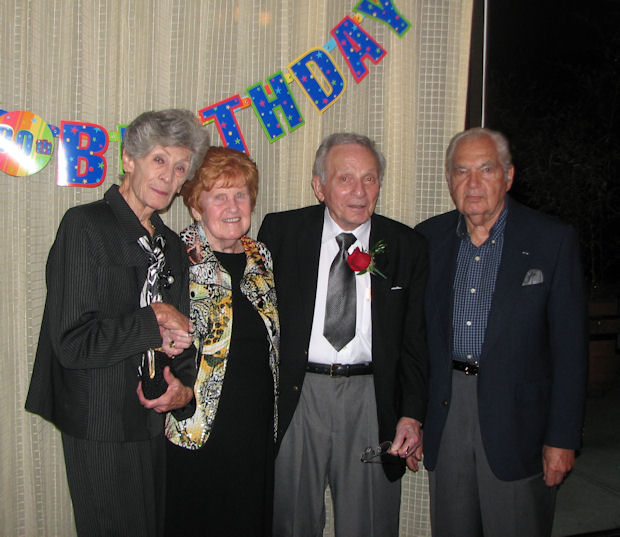 Happy 90th Birthday, Walt !
Walter J. Ferrari was honored on his 90th birthday at a surprise dinner party hosted by three daughters, Christine, Patricia and Nancy. About 30 guests attended the event on October 13, 2010 in the Terrace Room of the Wyndham Conference Center in Peachtree City, Georgia. Eddie and Mary Lee Deerfield were pleased to join in the festivities. In remembrance of the 303rd Bomb Group, Eddie presented Walt with a scale model B-17 with the Triangle-C marking and the name "Hell's Angels" on the nose, mounted on a walnut base. The inscription read, "To Walt Ferrari on his 90th. Keep 'em flying!" Ferrari was a pilot in the 427th Squadron while Deerfield flew as radio operator and gunner in the 360th Squadron. Although they never flew together in World War II, they became friends while serving in the 303rd Bomb Group Association for many years. Walt was president of the Association in 2002 and Eddie served in that same capacity in 1996. Left to right are Mary Lee Deerfield, Ruth Ferrari, Walter Ferrari and Eddie Deerfield.
---
Two New Books Published . . .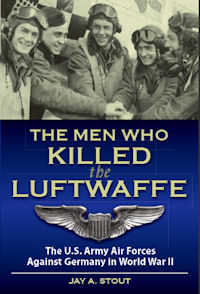 The Men Who Killed the Luftwaffe
by Jay A. Stout
available on Amazon.com
Written by award-winning author and former fighter pilot Jay A. Stout, The Men Who Killed the Luftwaffe is filled with stirring firsthand accounts and anecdotes that are used to underscore the strategies and tactics that the USAAF's leaders used to win the air war over Europe. The book is a balanced blend of fighter and bomber operations that is supported by descriptions of the work that the maintainers and logisticians performed to make the victory possible. A combat veteran himself, Stout's experience is evident in his descriptions and analyses; the book has real import and credibility and is enhanced by more than 70 photographs.
The book includes material from interviews with several 303rd Bomb Group veterans.
---
Poetry of Flight
by David L. Roberts
http://www.davidrobertspoetry.com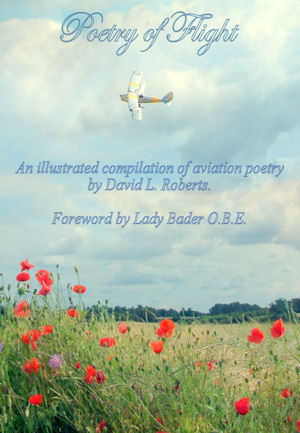 The Five-Point Star
Dedicated to all who served in Europe with the USAAF
You came from the land of the movie and band, with Hershey's and gum to chew,
Your Flying Fortress was built to impress
Your foe, as well as your crew.

You found the old pub - no scotch and no grub - only some warm bitter beer,
No way to pay thanks to you lovable Yanks,
Overpaid, oversexed; - over here.

In the cruel light of day you were up and away, in box formations of power,
For Uncle Sam's might, had joined the fight,
In England's neediest hour.

Keeping eyes peeled, you fought and you reeled, reaping the wrath of the Hun,
With Mustang, some colt! And fat Thunderbolt,
Little Friends rode along - shotgun.

As the unlucky fell, from that sub-zero hell, to the hell on earth far below,
Through splintering flak, you held her on track,
Whilst keeping her steady and slow.

Retaining your grip, you willed on your ship, through battle brutal and bloody,
For the sake of the ten, boys - who were men -
Or the loss of a fallen old buddy.

Still coaxing her on, with number four gone, cheating death's snare as you flew,
Blasted and battered with Plexiglas shattered,
With dread as a member of crew.

You scanned low and high, in the hostile sky as you set course for base way afar,
On the homebound run you followed the sun,
On wings with a five-point star.

Suppressing the fear, with no flaps or gear, you limped to your field once more,
Where faces were few of those you once knew;
For that was a burden you bore.

Thanks! To you guys, who chalked up our skies, - giving for freedom your teens.
For you paid; and we know, the high price we owe;
To your contrailing B 17s.

Relic of WWII
Former B-17 pilot drops off bomb casing at Oklahoma museum
By Magdalena Wegrzyn
© 2010 Longmont Times-Call
World War II bomber pilot James "Jim" Force of Longmont, CO recently donated a WWII-era bomb casing to Boise City, Okla., which was accidentally hit by a practice bombing run during the war. Force is reflected in a photo of a B-17, the type of plane he piloted, at his home in Longmont.
(photo: Richard M. Hackett/Times-Call)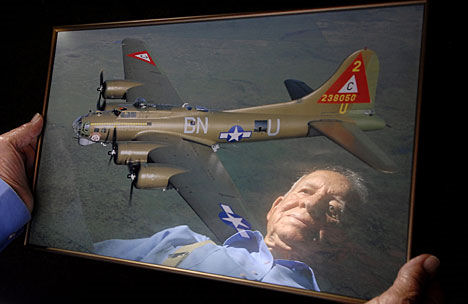 When James Force spotted a 4-foot-long olive drab pipe lying in a junkyard, he immediately recognized it as the casing from a 500-pound World War II bomb.
"In my heart, I knew what it was," said Force, a retired Air Force captain who served during World War II and the Korean War. "It was a bomb. It had fins on it and everything." Force paid $10 for the casing in the early 1960s.
He planned to polish the shell, give it a new coat of paint and restore its yellow tip as part of a WWII monument he wanted to create. But he never found time to do it, and the shell sat in his garage — covered by a blanket — for nearly 50 years.
Now 90 years old, Force said he has finally found a home for it. Last month, he donated the casing to Boise City, Okla., where it will be part of a military display at the city's museum. Force wrote a letter to the mayor of Boise City, and his note eventually made its way to the Cimarron Heritage Center there.
James Force poses with the 500-pound World War II bomb casing he donated to the Cimarron Heritage Center in Boise City, OK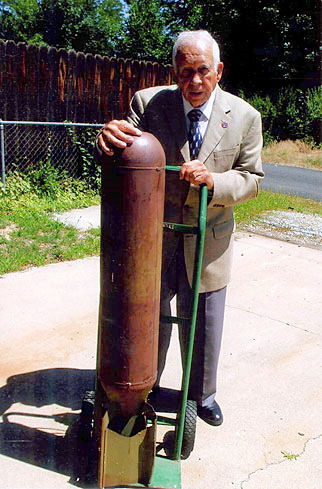 "We thought it would be an addition to our extensive veterans' display that we have in the display building," museum director Jody Risley said.
Boise City, about 100 miles south of Lamar, was the only city in the continental U.S. bombed during World War II. Shortly after midnight July 5, 1943, an American B-17 pilot accidentally dropped six 100-pound bombs on the sleeping city. Although no one was hurt and no structures were damaged, the bombing became part of the city's legacy, Risley said.
At 4 feet long and 8 inches in diameter, Force's casing is a little larger than the bombs dropped on Boise City, Risley said.
But how do you get a bomb — even a harmless, defused one — across state lines? "The railroad wouldn't take it. UPS wouldn't take it. Postal Service wouldn't deliver it. So what did I have to do? Drive it there myself," Force said. On Sept. 21, he and his wife, Mary Force, 85, drove about 350 miles to Boise City to visit Mary's sister, Vivian Hughes, and drop off the casing.
"It was a relic to me, just like a picture hanging on the wall," he said. "It's a reminder of where I've been and the way I am today."
Force was a B-17 bomber pilot who flew 42 missions — 35 accredited and 7 aborted — over Europe from November 1944 to March 1945. "I dropped many of those kinds of bombs on targets in Germany, and that made it a relic for me," he said.
The Wyoming native flew with the 359th squadron of the 303rd bomb group of the 8th Army Air Corps, a unit dubbed "Hell's Angels" that was stationed at Molesworth, England.
After returning to the U.S., Force served in a weather reconnaissance squadron before deploying in February 1952 on a 14-month mission to Korea, where he served as a staff engineer. He was honorably discharged from military service in 1954 and worked as an electric engineer, eventually joining Rocky Flats, where he worked for 20 years before retiring in 1986.
Force said he is glad the bomb casing is finally where it belongs. "It's found its place at the museum," he said.
---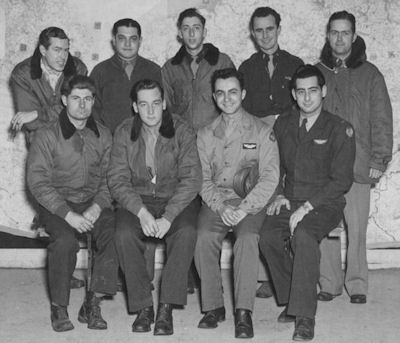 303rd BG "Pathfinders"

Thanks to Daniel Bon for identifying the 303rd BG's PFF Navigators from the photo in the last issue. We're not absolutely certain this is correct and still welcome your input.
(Back L-R) 1Lt Thomas E. Wilson (360th)(KIA), 1Lt William C. Koran (359th), 2Lt Irving Weinstein (359th), 1Lt Rufus S. Charlton (359th), 1Lt Keith E Estes (359th),
(Front) F/O Walter D. Caldwell (427th), 1Lt Earl R. Beyeler (358th), 1Lt Earl D. Metko (358th), Capt Lawrence J. Lifshus (358th)


John Jacob Van Geyten, 86 died Friday, October 22, 2010 at Clifton Springs Hospital with his family by his side. There will be no prior calling hours. Family and friends may attend a Memorial Service on Sunday (Oct. 31) at 2 p.m. at Park Presbyterian Church, Maple Court, Newark.

In memory of Mr. VanGeyten please consider donations to Mighty Eighth Air Force Museum, PO Box 1992, Savannah, GA. 31402.

Mr. VanGeyten was born the son of the late Jacob and Ruth (Peglow) VanGeyten on January 1, 1924 in Rochester, NY. After graduation from high school he joined the U.S. Army-Air Force. There he piloted a B-17 completing three combat missions in European Theatre. He completed 750 flying hours in which 29 of them under combat conditions. The funeral home proudly flies the Air Force flag in honor of his service during WWII.

Mr. VanGeyten was a life member of 303rd Bomb Group (Hell's Angels) and the Mighty 8th Heritage Museum; charter member of the Webster VFW.

Mr. VanGeyten will be remembered by his wife Shirley (Wignall) Osterling-VanGeyten; sons John (Elaine) VanGeyten Jr. and David (Dawn) VanGeyten; step-children William Osterling and Peter (Daine) Osterling, Jean Osterling, Terri (Larry) Mykins, Lynn (Don) Johnson and Dawn (Doug) Tucker; five grandchildren and one great grandson; sister Marie R. VanGeyten; several nieces and nephews.Mr. VanGeyten was predeceased by his first wife Florence A. VanGeyten in 1987.




Julian E. Dennis, 87, a longtime resident of Montgomery, AL and a veteran of World War II, passed away on Wednesday, October 13, 2010. Funeral services will be held on Sunday, October 17, 2010 at 2:00 P.M. at White Chapel-Greenwood Funeral Home with Pastor Greg Murks officiating. Interment will follow in Greenwood Cemetery. Visitation will be one hour prior to the services. He was preceded in death by his wife, Jennie Dennis. Mr. Dennis is survived by his children; Julian Wayne Dennis, Cynthia Dennis Weber, Stephen Gregory Dennis (Luci); grandchildren, Ashley Weber Paschall (Jason), Shannon Dennis Smith (Chris), Joseph Wayne Dennis (Audrey), Lori Angelique Dennis; and six great- grandchildren. White Chapel Directing.




Patrick Charles Dooley, age 84, passed away on September 28, 2010 in Prescott, Arizona. He was born on December 8, 1925 in Bellevue, Kentucky to John Stephen and Bertha (Eckert) Dooley. Patrick served in the US Army as a ball turret gunner on the B-17 over England and Europe. Afterward, he worked as an airline captain, and retired from Northwest (now Delta) Airlines. He enjoyed golf, photography, oil painting, travelling and anything related to WWII. Patrick is survived by his wife, Mary; daughters: Mary Teresa and Kathleen; son-in-law, Philip; granddaughters: Rachel, Katy, and Grace. He has one surviving brother, Richard.
A Celebration of Life (wake) will be from 6pm-9pm on Friday, October 1, 2010 at the Prescott Resort in Prescott, Arizona. A Funeral Service will be at 11am on Saturday, October 2, 2010 at the Sacred Heart Catholic Church, 150 N. Fleury Rd., Prescott, Az. More detailed information is available at Caringbridge.org (Patrick Dooley). Donations may be made to the Salvation Army, 237 S. Montezuma St., Prescott, AZ 86303 in Patrick's name, in lieu of flowers. Hampton Funeral Home entrusted with the arrangements.


Eldridge Charles Oberly, 87, of Orlando, went home to the Lord on August 15, 2010. Born in Bethlehem, PA on October 23, 1922, he fought a long and valiant battle against Parkinson's Disease. After high school he worked as a Payroll Clerk at the Bethlehem Steel Co.
During WWII he served in the Army Air Corps as a Ball Turret Gunner in a B-17. He flew 38 combat missions. After the war he worked as a Master Plumber in his father's business. After moving to Orlando in 1968, he was a Supervisor in Construction Plumbing. He then worked as Maintenance Engineer for Quality Inn and retired in October 1987.
Eldridge is survived by Bessie Evans Oberly, his loving wife of 65 years; daughters, Patricia Easterday and her husband Kenneth of Exton, PA, Gail Oberly and Lisa Jane Oberly of Orlando, and Cindy Barger of Humboldt, TN.; three grandchildren, Kenneth Easterday of VA, Jennifer Girod of VA and Kristen Easterday of PA; nine great-grandchildren; foster granddaughter, Elizabeth Wright and her two children. Eldridge is survived by brother, John H. Oberly, Jr. of Bethlehem, PA. He was preceded in death by parents, John and Lizzie Oberly and sisters, Marjorie Steager and Leona Fiedler.
Memorial Service will held at University Congregational Church U.C.C., located at 9300 University Blvd., Orlando, FL on Saturday, August 21 at 1 p.m. In lieu of flowers, donations may be sent to either University Congregational Church U.C.C. or Hospice of the Comforter.


Coster R. Vateckas, 86, of Cape Coral, Florida, died March 2, 2008. He was the tail gunner on the 427th Captain David P. Shelhamer Crew. Arrangements by the Metz Chapel of Harvey-Engelhardt-Metz Funeral Homes and Crematory, Cape Coral.




Only my brother, William B. Stamper, would appreciate more what you are doing in keeping the memory of this alive. I love to hear the stories, it brings back memories of Bryan as we sat together in about 1947 and he told me these same kind of things. One funny story was in our local paper was about him getting a medal for bombing submarine pens(sp) off the coast of France. He told me, ''What a joke, I missed that target!" Thanks for the memories, You are doing a great job in remembering these great heroes.

Cliff Stamper

---

Hello,
My grandfather Don J. Schwarzenbach received a Bronze Star. He was in the 303rd BG and 358th BS. Can anyone tell me why he got this medal? I can not find any detailed information about this medal. What specifically was his job? He is not here for me to ask and no one in the family knows very much about this.

Thank-you, Todd Schwarzenbach

---

Hi, Gary,
I have written you on earlier occasions. I am writing the memoirs of Jonathan Swift, a bombardier from the 303rd. He is not much into computers, so I always provide him with a copy of your outstanding newsletter. In recent issues I have encountered a problem....the first several pages will print and then I get a series of blank pages. Then the final pages print. Do you have any idea as to what is causing this problem?

Your newsletter has provided me so much information! I was a bit young for WWII....born in 1933. My military service was from 1955-1997....stationed in Germany at one time and saw so much of the rubble form WWII that had not been cleared up when I got to Germany. I was in the Army, so you provide me with and aerial view! I do not know of a website anywhere that is better than yours. An unbelievable job! Thanks for your help.

Best wishes, Lowell Lawson

This issue is formatted a little narrower, the same as the website. Hopefully, it will print better. The website is deliberately formatted to print fairly accurately. With so many different email programs and browsers, it is difficult to make it work well for everyone, without resorting to PDF documents. — Gary

---

Thank you Gary for this update. How fortunate that these good men lived to an advanced age. My uncle SGT. Robert A. DiStasi would have been 86 on October 15, 2010. We share the same birthday.

Thanks again, Bob DiStasi

---

Hi Gary,
I wanted to drop a line and tell you how much I enjoy the Molesworth Pilot. I stand in awe of ordinary men who did the extraordinary. Thank you for keeping their stories alive and their legacy. I do not know what effort it takes to make it all come together, but I hope God blesses you for it.

I came across your site a few years ago when I had booked a hop on the 17 Thunderbird out of Galveston. I subscribed and the stories sometimes bring me to tears as I read. Thanks for helping me to remember what those who came before me have done for me and our country. I come from a military family, and I have been a correctional officer in Texas for 21 years now. The ideas of honor and depending on your fellow officer mean so much to me. I only pray that we live in such a way as to pass it to the next generations, the way the greatest generation did for us.

I'll not keep you long. But when you wonder if it's worth it sometimes, I just wanted to remind you that it is of the utmost importance. Without the work of people like you, their stories may go to the grave with them. That would be a tremendous loss to all of us.

Just thanks, Gary. Your doing a great job !!

Jack Cope, Huntsville, Tx

---
Keeping the Legacy Alive,

Submissions of 303rd Bomb Group related stories and articles are most welcome.