August 10, 2010
Volume II, Issue 12
www.303rdBG.com

GOOD TIMES WITH GOOD FRIENDS !
8th Air Force Historical Society 2010 Tucson Reunion
July 21-25, 2010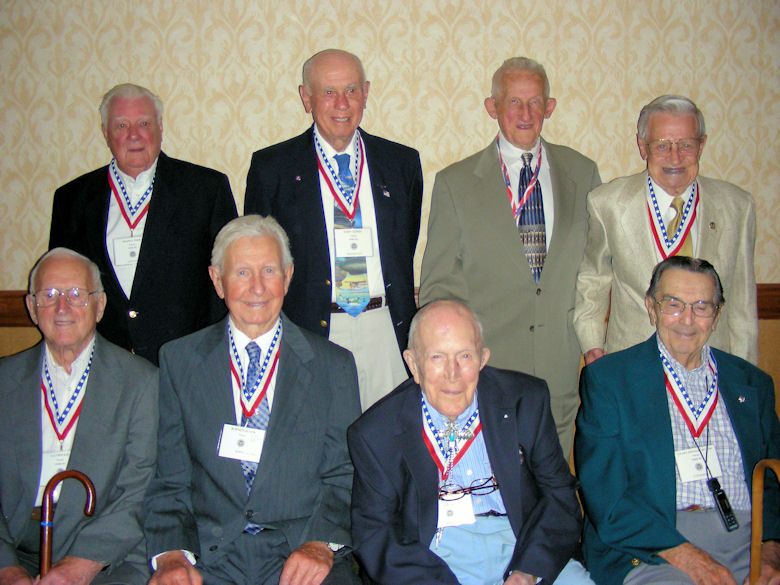 Eight sharp looking 303rd Bomb Group veterans enjoyed the 8th AFHS Tucson Reunion.
Standing, from the left, are Ralph Page, John Cathey, Lee Faulkner and Van White.
Seated are Al Oswald, Bob Hitchcock, Gene McCutchan and Bill Eisenhart.
The Eighth Air Force Historical Society held its 36th Annual Reunion in Tucson, Arizona on July 21-25, 2010. Nearly 300 attendees enjoyed trips to the Pima Air and Space Museum, Old Tucson Studios, and the Arizona-Sonora Desert Museum. The 303rd Bomb Group was represented by 34 people, including the eight veterans above, their families and friends.
This marks the third time the 303rd Bomb Group community has joined with the 8th AFHS since the 303rd Bomb Group Association dissolved at the end of 2007. The 303rd Bomb Group attendees met together for our Rendezvous Dinner on Friday evening. The dinner concluded with a short Memorial Service honoring our veterans who had passed away since we last met.
On Saturday, the 2010 Gala Banquet featured Brigadier General Mark MacCarley as guest speaker. His distinguished career has been inspired by his father, John, who served in the Eighth Air Force, 379th Bomb Group.
Omaha, Nebraska will likely be the location for the 2011 reunion. The dates are not yet firm, but will be announced here as soon as they are set. For those who have avoided meeting with the 8th AFHS saying, "It won't be the same," you're right, it is not the same — but it's pretty darn close and is MUCH better than nothing. Ask anyone who was there and please consider joining us in 2011. You'll be glad you did.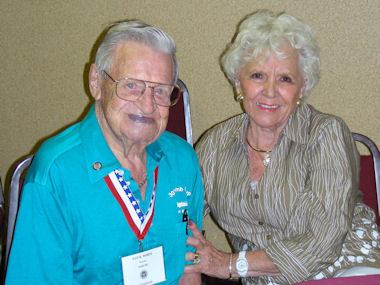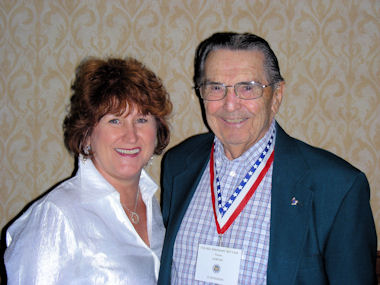 Van and Lore White — Penny and Bill Eisenhart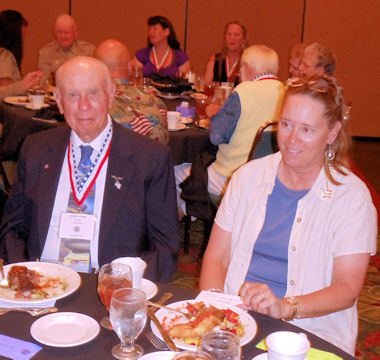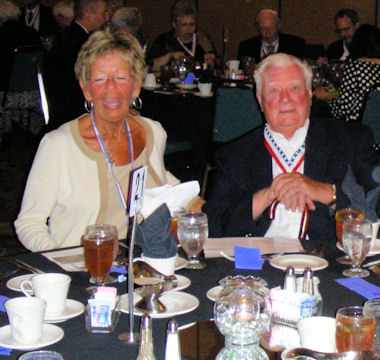 John Cathey and daughter Deb Mattman — Ruth Collins and Ralph Page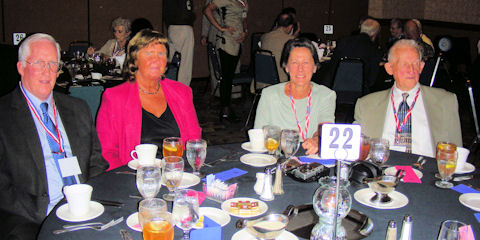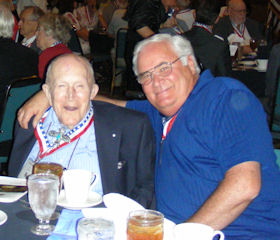 Mike and Marsha Faulkner, daughter Eleesa and Lee Faulkner — Gene McCutchan and Gary Moncur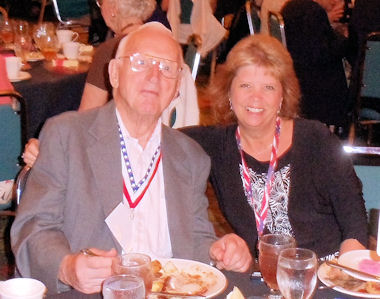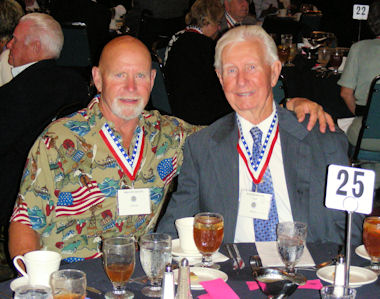 Al Oswald and Melanie Page — Mike and Bob Hitchcock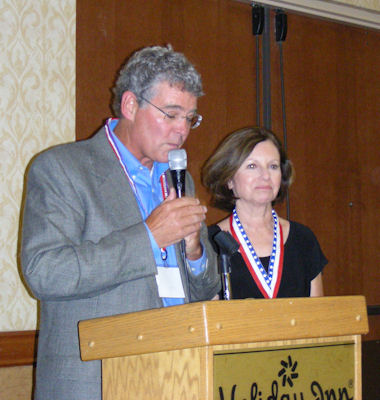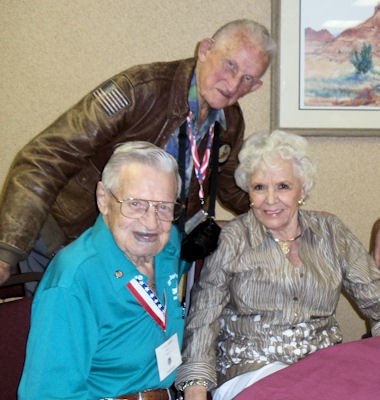 Jay Hardy and Carol Sage reading the TAPS names at the Memorial Service — Lee Faulkner with Van and Lore White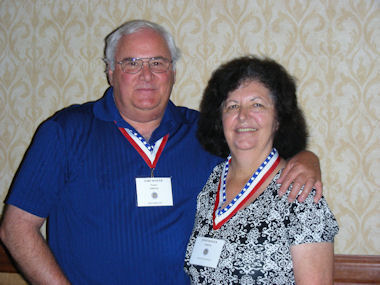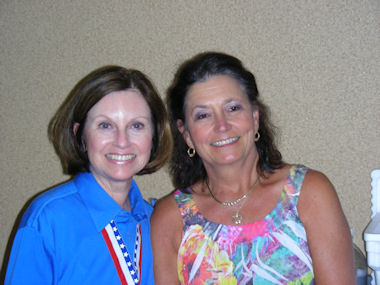 Gary and Susan Moncur — Carol Sage and Jeri Hardy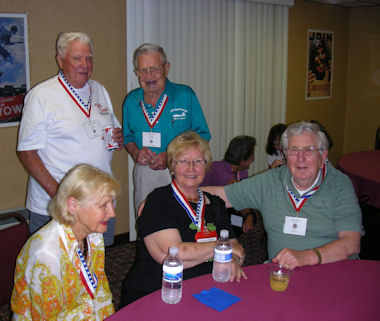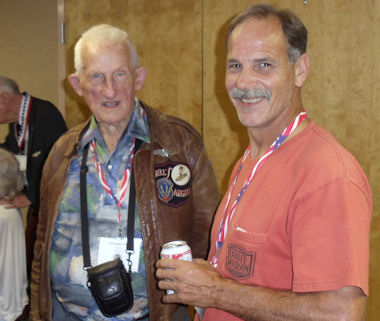 Ralph Page, Van White, Helen Weathersby, Genevieve Losiewicz, John Sivils — Lee Faulkner and Rocky Page

303rd BG (H) Combat Mission No. 207
19 July 1944 to Hollriegelskreuth, Germany
The 8th Air Force concentrated its attacks on strategic industrial targets in Germany. The 303rd BG(H) furnished three formations as the lead, low and high Groups of the 41st CBW-C Group. Operations Officer, Maj. Louis M. Schulstad led the Combat Wing.
Weather over the target was 2/10 low clouds with some medium and high clouds. Visibility was 15 miles. The primary target was bombed visually from 26,000, 25,000 and 24,000 feet utilizing 350 500-lb. G.P. M43 bombs. Good results were reported. One aircraft jettisoned its bombs twelve miles northeast of Strasburg and another at an undetermined target of opportunity.
Sgt Traver Sgt Seitz


From five to fifteen enemy aircraft attacked the high Group in the target area. Moderate to intense and accurate anti-aircraft fire was encountered at the target. Chaff had little beneficial effect. Ten aircraft sustained major and six, minor damage.
Two 360th BS tail gunners were killed by flak fragments in the target area. Sgt. Leslie F. Traver, #42-97853 Lucky Linda, was killed by flak that went through his flak suit and hit him in the back. Sgt. Carl W. Seitz, #43-37930 (No Name), was hit in the neck.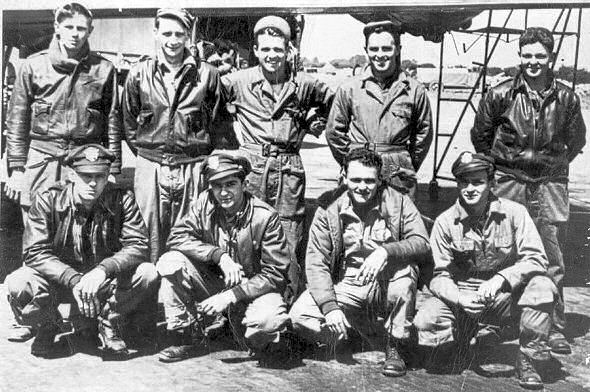 (Back L-R) Sgt Robert L. Baker (BT)(KIA), S/Sgt Hobart L. Byrne (E)(POW),
S/Sgt James L. Jones (R)(KIA), Sgt William V. Shokal (WG)(KIA), Sgt Sidney N. Chambers (TG)(KIA)
(Front L-R) 2Lt Lawrence M."Larry" Wolf (B), 2Lt Melvin A. Brown (N)(POW),
2Lt Robert G. Taylor (CP)(POW), 2Lt Marvin S. Boyce (P)(POW)
B-17 #42-31583 Clover Leaf, 358th BS, piloted by 1Lt.
Marvin S. Boyce
, was shot down by enemy fighters. 1Lt
Clinton A. Moser
, Low Group pilot, gave the following account of this loss:
On the turn away from the target, Clover Leaf, was straggling from her position in the high Group, evidently from flak damage acquired on the bomb run, as one of the port engines was smoking. An ME-109 came in on the left from six o'clock high and gave the B-17 a long burst. The ME-109 peeled away, turned back, and gave another short squirt, peeled away below in a split-S, zoomed up, and looked as though it was going to make another pass. At this time the ME-109 was engaged by a P-51. After one long pass by the P-51, both fighters were seen diving below in a dog fight. The damaged Fort came across to the right and above our Group and at that time I saw four men come out. None of them opened their 'chutes that I could see from my position in the aircraft.
Lt. Boyce reported the P-51 shot down the ME-109, then came up and flew alongside Clover Leaf, wiggled his wings, saluted, and flew away to hunt another German fighter. Five crewmen made successful parachute jumps, landing in the vicinity of Munich. Lt.
Boyce
, 2Lt.
Robert G. Taylor
, 2Lt.
Melvin A. Brown
, 1Lt.
Stanley E. Moody
, and S/Sgt.
Hobart L. Byrne
were captured and became prisoners of war. Lt. Taylor suffered wounds in his leg and foot and was treated by German doctors. The aircraft crashed at Stutzing.
S/Sgt. James L. Jones, Sgt. Robert L. Baker, Sgt. William V. Shokal, and Sgt. Sidney N. Chambers were all killed. S/Sgt. Jones is buried in Ardennes American Cemetery near Liege, Belgium. Sgt. Chambers is buried in Lorraine American Cemetery near Moselle, France.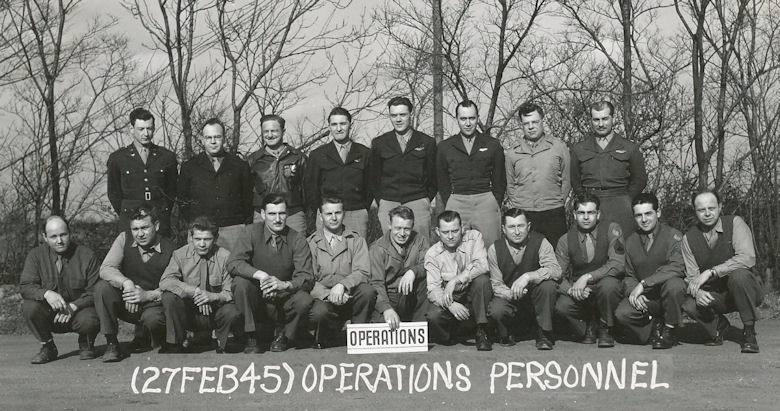 303rd Bomb Group Operations Personnel - February 27, 1945
(Back L-R) 1Lt Ralph D. Schnabel, Capt Oliver F. Blank, 1Lt David Schwartz, Maj Louis "Mel" Schulstad,
LtCol Edgar E. Snyder, Capt John W. Tulloss, Capt John Faustini, Capt James F. McNamara

(Front L-R) S/Sgt Wilbur E. Mooring, Sgt James G. "Jimmie" Johnson, T/Sgt Frank J. Mikus, Sgt John E. "Jack" Urban,
Sgt Joseph B. "Joe Bob" Johnston, T/Sgt "Rip" Van White, Sgt Arthur P. "Red" Frymark, T/Sgt Edward A. "Eddie" Deresienski,
T/Sgt Hugh J. Parkhurst, Sgt Joseph "Joe" Caroff, Sgt Lancy F. "Freddie" Althar
(photo courtesy of Van White)
These three 303rd BG veterans seem to be enjoying life. From the left are 360th BS gunner and bombardier Elmer "Pete" Peterson (age 90), 358th BS ball-turret gunner William J. "Bill" Carter (85), and 358th BS bombardier and former POW Philip A. Peed (88) with his bride of 64 years.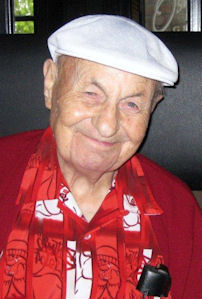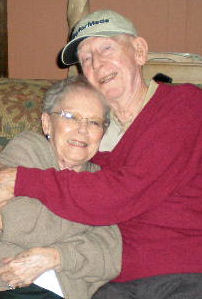 B-17G "Thunderbird" soars over the Willow Run Airport at the 2010 "Thunder Over Michigan" air show on August 8, 2010. "Thunderbird," painted with the markings of the 303rd Bomb Group's B-17G #42-38050, is owned and operated by the Lone Star Flight Museum in Galveston, Texas. (photo courtesy of Ronald S. Smith)

Gary L. Moncur
, 303rd Bomb Group Historian, will be speaking to the men and woman currently serving in the Joint Analysis Center at RAF Molesworth on September 24, 2010. His topic will be, "The 303rd Bomb Group - Preserving the Legacy."


Facebook's membership has grown to an astounding 500 million members. In a effort to encourage young, and the young-at-heart, generations to learn of the legacy of the 303rd Bomb Group, we have joined with them and now have a Facebook page. It is a very easy place to upload your 303rd BG photos to share. We hope you will
join our Group on Facebook
and enjoy an interactive experience with others who have the same interests.

Many museums and historical organizations now have a Facebook presence, including The Eighth Air Force Historical Society. We encourage you to join them on Facebook, also.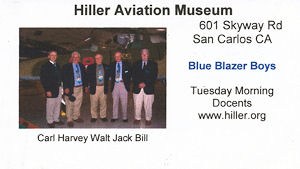 "Blue Blazer Boys"

Business Card for the Tuesday Morning Docents, volunteering at the Hiller Aviation Museum in San Carlos, California. 358th BS Pilot John L. Cathey is one of their "Blue Blazer Boys." John and his crew were shot down on their seventh mission, August 15, 1944, to Wiesbaden, Germany. During a fighter attack, an ME-109 shot their ship's number 3 engine, setting it and the gas tank on fire. The crew bailed out and the plane exploded. Tail Gunner Arie Moerman was killed. Two crewmen evaded capture. John and five others from his crew spent the rest of the war as POWs. If you're in San Carlos, stop in and look for John. Information on the Hiller Aviation Museum is here: http://www.hiller.org/


---
I FLEW
by Brad Baker
Art by 2Lt Robert A. "Bob" Hand (360th BS Bombardier)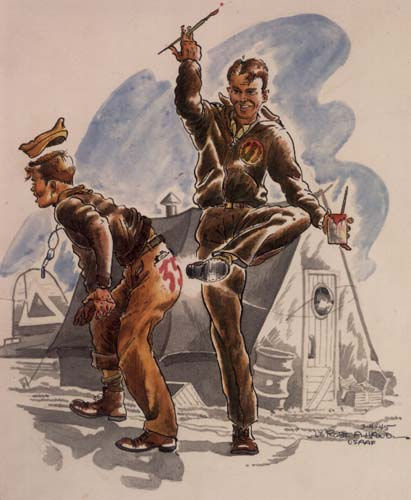 When the last checklist's run and the bag drag is done,
I'll reminisce on the days I once knew,
I won't remember the oh-three-hundred alerts,
But only that I flew!

I will not remember the crew rest in tents,
Nor recall how cold Arctic winds blew,
And I'll try not to remember the times I got sick,
But only that I flew!

I will never forget when nature became angry,
To challenge my intrepid crew,
I'll always remember the fear I felt,
And the pride in knowing I flew.

I'll remember the sights my mortal eyes saw,
All colored in multiple hues,
Those beautiful lights on cold winter lights,
Seen only by those who flew.

God was extremely good to me,
He let me touch his face,
He saw my crew through war and peace,
And blessed us with His grace.

So when I stand at St. Peter's Gate,
And tell him that I'm new,
I know he'll smile and welcome me,
Because he knows
I FLEW!



(submitted by Colonel William H. Cox, former 358th BS Pilot and President of the 303rd BGA)
---
2nd ANNUAL WEBSITE and NEWSLETTER FUND DRIVE



Our sincere thanks goes to those who supported this fund drive. Your help takes the financial worries out of keeping this history free and available to the world. If you would still like to help with this effort, your contributions would be most appreciated.


---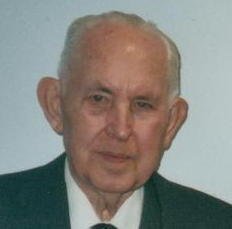 Harry Dana Gobrecht
, 85, died on August 10, 2010 at 7:55: A.M, at home, in San Clemente, California with family and trusted and loved caretakers by his side, from a courageous, heroic and prolonged, battle with prostate cancer. He fought, an honorable and noble battle. He is survived by his wife, Barbara Jean Goertz Gobrecht, 84; his son, Thomas Dana Gobrecht 58, with grandchildren, Harry Dana, 24 and Theodora (Teddi), 22; his daughter, Sandra Gobrecht Sanders, with, grandchildren Devin, 26, Derek, 26, and David, 25; his son, Richard Karl Gobrecht, with grandchildren, Brian, 24, Thomas, 18; his daughter, Debra Gobrecht Lange, 52, with grandchildren Kelsey, 23 and Andrew, 21; and numerous lifelong friends, colleagues, trusted and loved nurses, Liz Evans, Dana Point, California, and Stacy Head, Dana Point, California. Harry was born on September 25, 1924 in Waukegan, Illinois. He married the love of his life, Barbara Jean Goertz, on June 13, 1948 in Fontana, California. They were married for 62 years.
Harry D. Gobrecht enlisted as an Army Air Force Flying Cadet, was classified at the Santa Ana AAB, California, had pilot flight training at King City and Chico, California and Ft. Sumner, New Mexico and graduated as a 2Lt in March 1944 with Class 44-C. His combat crew was obtained at Dyersburg, Tennessee. Shortly after he had completed the B-17 Pilot Training School at Hobbs, New Mexico. The Gobrecht crew was assigned to the 358th BS(H)/303 BG(H). Their first combat mission was in The Floose, on November 26, 1944. Thirty-Five additional missions were flown, twenty in Neva-The Silver Lady. The crew's last mission was completed on March 12, 1945.
He was awarded the Distinguished Flying Cross in March 1999 for a mission flown on January 22, 1945, on mission #306 to Sterkrade, Germany. The target was one of the most heavily defended in Germany. The #2 engine was hit and feathered and the electrical system was knocked out. The plane could not keep up with formation and they flew back to England, in and out of clouds, to avoid enemy fighters. The Navigator, Lt. McDonald, located our position, through a break in clouds, over Holland. They made a successful three engine landing, at Molesworth. The Crew Chief counted over 100 holes in his B-17 after landing.
Returning to the United States, 1Lt Gobrecht flew with the Air Transport Command Ferry Division. After completing the ATC Four-engine Transport School, he was assigned to their Pacific Division where he made trips to Hawaii, Guam, Saipan, Okinawa, Japan, China, New Zealand and Australia. He was discharged from active duty in January 1946 and remained in the USAF Reserves, retiring as a Lieutenant Colonel in 1965. Was licensed as a Commercial single and multi engine Pilot.
After graduating from the University of Southern California in 1948 ("Go Trojans"), he married his wife Barbara on June 13, 1948 in Fontana, California and was employed by the United States Gypsum Company in Los Angeles. He was transferred to the corporate offices in Chicago in 1957 where he became a corporate Vice President, directing the USG Corporation transportation and physical distribution activities throughout the United States, Canada and Mexico. Was a frequent speaker, lecturer and advisor before numerous transportation and logistic organizations, associations, universities, government agencies and other groups. He was: President of the Traffic Club of Chicago and the National Industrial Transportation League; Certified member and President of the Illinois Chapter of the American Society of Traffic and Transportation; Board of Directors member of National Freight Traffic Association and Association of Transportation Practitioners ; President Chicago Chapter Delta Nu Alpha Transportation Fraternity; Chairman of the Traffic Committee of the Gypsum Association; Member of the Union League Club of Chicago and Chairman of the Transportation Group; Chairman Transportation Policy Committee of the Chicago Association Of Commerce and Industry. Was licensed to practice law before the bars of the Interstate Commerce Commission and Federal Maritime Commission. Made frequent trips to testify before and consult with Congressional and White House Committees, the Interstate Commerce Commission, Department of Transportation and other organizations to deregulate the transportation industry. Was author of several books and magazine articles on transportation subject. Compiled the 75th Anniversary History of the Traffic Club of Chicago (1982). Received the two most prestigious national transportation "Man of the Year" leadership awards: Distribution Magazine/National Industrial Transportation League (1982); American Society of Transportation and Logistics (1984). Was recognized in "Who's Who" listings in World, USA, Midwest, Finance & Industry and Railroading & Rail Finance books.
The Gobrecht's have four children - Thomas in Yorba Linda, CA, Sandra in Erie, CO, Richard in Streamwood, IL and Debra in Arlington Heights, IL and nine grandchildren. Harry Gobrecht enjoyed being very active in civic affairs and youth activities during his 30 years living in Mount Prospect, IL. He assisted coaching in Little League football and baseball. Was President of his Boy Scout District, Chairman of the District and Council Camping Committees and Council Order of the Arrow Lodge Advisor. He was honored with the Boy Scout Silver Beaver Award and his wife, Barbara, with the Silver Fawn Award. His two sons became Eagle Scouts and daughter Sandra received the Girl Scout First Class award.
Harry and Barbara returned to California following his 1987 retirement, after 40 years service with USG Corporation, and settled in San Clemente, CA. Harry was an avid gardener and a member of the Camellia Society. Harry is a Past President of the 303rd Bomb Group Association, Inc. (1998-1999) and served as Group Historian and Unit Contact (1991-2003) and developed the 303rd BG(H) Archive collection. He was author of the 926 page 303rd BG(H) history book Might in Flight (1993 & 1997 Editions) that was acclaimed as the most complete and "best" of all 8th AF Group histories and has contributed to the development of the 303rdbg.com website which is now the "best" of any military organization. Became Chairman of Past President's Committee on 11 October 1998 followed by three years as a member of the Past President's Committee. Named the 303rd BGA "Historian Emeritus" - September 2004.
Harry also is a member of the following military related organizations: The 8th Air Force Museum at Pooler, GA (Member of the Board of Trustees since 1994 and contributor to its development); The Military Order of the World Wars (San Clemente Chapter Commander 2000, 2001 & 2002); Eighth Air Force Historical Society (Active member); San Diego Flight Order of Daedalians; National Fraternity of Military Pilots; The Military Officers Association of America; Reserve Officers Association; Veterans of Foreign Wars; Distinguished Flying Cross Society; Presented with the annual Mighty Eighth Air Force Museum "Lt Gen. E.G. Shuler, Jr. Award" for outstanding accomplishments, primarily in the field of aviation and in support of Aviation Activities - 9 October 2004. On 20 January 2005, the Mighty 8th AF Museum named and dedicated its Research Center the "Lt. Col. Harry D. Gobrecht Family, 303rd Bombardment Group (H) Research Center." He will be interred in the Columbarium, at the Mighty Eighth Air Force Museum, located in Pooler, Georgia, with full Military Honors, at a date to be determined. The family requests, in lieu of flowers, that donations be made to the Mighty Eighth Air Force Museum, 175 Bourne Ave. Pooler, Georgia, 31322 Phone: 912-748-8888, http://www.mightyeighth.org/ in his honor.




Frederick Jack Norman was born on January 25, 1924 in Vancouver, British Columbia. He was the son of Violet Gladys and Ernest Leslie Norman. He died Thursday, August 5, 2010, in Oklahoma City at the age of 86. He grew up in San Francisco, Hawaii, and Seattle. On July 25, 1953, he married Gwinn Pattee Allenberg, and together they had seven children. Later in life he married Suzy Case.
At age 18 he became a naturalized American citizen and joined the US Army Air Corps. He navigated 35 missions in a B-17 in WWII. He also flew numerous search and rescue missions during the Korean conflict, was a chief meteorologist for the Strategic Air Command, and was awarded the Bronze Star and Purple Heart.
He graduated with a meteorology degree from Texas A&M in 1962. While working for the National Weather Service in Tampa, Florida, he became a television meteorologist. He worked as the chief meteorologist for KOCO channel 5 from 1972 to 1987. He was preceded in death by Gwinn; Suzy; daughter, Kathleen; and grandsons, Roger Flippo Jr. and Benjamin Gray. He is survived by daughters: Maryanne Flippo of Broken Arrow, OK; Nancy Gray of Duncan, OK; sons: Dr. Charles Norman of Williamsburg, VA; Lloyd Norman of Edmond, OK; Bryan Norman PHD of Pittsburgh, PA; Dale Norman of Houston, TX; 16 grandchildren; and his dog, Snoopy. A memorial service with full military honors will be held at Vondel L. Smith & Sons Funeral Home (13125 N. MacArthur) at 2:00 p.m., Saturday, August 7, 2010. Viewing will begin at 1:00 p.m.




Ramiro (R.M.) M. Gonzalez, 92 years old, went home to be with the Lord on Sunday, August 1, 2010. As a member of the 360th Bomb Squadron, 303rd Bomb Group, Army Air Corp, he epitomized the spirit of the Greatest Generation.
Mr. Gonzalez was preceded in death by his beloved wife of 65 years, Nicolasa, as well as his son, Louis Anthony. He is survived by daughters, Diana Contreras and husband Jesse, Mary Kelly, and Flora Gonzalez-Knox and husband Col (Dr.) Blaine L. Knox. He also leaves behind grandchildren Louis Gonzalez Jr. (Martha), Rick Gallegos (Erica), Melissa Narum (Travis),Christopher Contreras (Marci), Krysta Henry (Brian), Vanessa Contreras and Alex Knox. He is also survived by 7 great-grandchildren, Louis Gonzalez, Reagan, Ian and Rylan Henry, Mya and Isabella Contreras, and Alicia and Natalie Narum.
Mr. Gonzalez was born on April 11, 1918 to Daniel and Teodula Gonzalez in Santa Margarita, Texas. He was the eldest of 8 children. His three brothers preceded him in death, and is survived by four sisters. He married the girl of his dreams, "Nicky" on Feb 18, 1942. Shortly thereafter, he left to serve his country. Mr. Gonzalez enlisted in the Army Air Corp on 2 March 1942 and was honorably discharged on 31 Aug 1945 having achieved the rank of SGT. He was an aircraft and engine mechanic and served in the following battles and campaigns: Rhineland, Ardennes Central Europe, Air Offensive Europe, Normandy, and Northern France. He was awarded the EAME Campaign Medal with 6 Bronze stars, a Good Conduct Medal, and a Distinguished Unit Badge. Mr. Gonzalez was a Master Mason for 57 years and belonged to Harlandale Masonic Lodge #1213. He was a Life member as well as an Endowed member. He served as a Worshipful Master from 1980-1981 and in 2001, he received the Golden Trowel award. Mr. Gonzalez was also a member of the Eastern Stars, Chapter 750. Before moving to San Antonio in 1959, he belonged to a Masonic Lodge in Corpus Christi for over 10 years.
The family would like to acknowledge and give special thanks to Dr. William T. Gonzaba (Gonzaba Clinic) and Dr. Jessica Murphy (Audy Murphy VA) for the respect and compassion they demonstrated while providing him with exceptional medical care. Mr. Gonzalez was a great, honorable and humble man. His sense of humor never left him, even during his last hours. He loved and was loved by all, and will be sorely missed. Say not in grief he is no more but in thankfulness that he was.
Visitation will be held on Sunday, August 8 from 3 p.m. until 8 p.m. with a service from 6-8 p.m. at Southside Funeral Home. Funeral services will be held on Monday, August 9 at 10 a.m. at Holy Cross Episcopal Church. Interment will follow at Ft. Sam Houston National Cemetery at 11:00 with full Military honors. Masonic grave side services under the auspice of Harlandale Lodge #1213 will also be part of the service.


Martin J. McGuire Jr. Passed away peacefully July 7, 2010, in Scottsdale, AZ. Marty was the second of five children born to Martin J. McGuire Sr. and Katherine Wilhelm August 15, 1923 in Chicago, IL.
He served his country during WWII as a Gunnery Sergeant with the 303rd Bomb Group (Hells Angels), 8th Air Force, stationed in Molesworth, England. After discharge he graduated from Roosevelt University and John Marshall School of Law in Chicago, Ill. He was an outstanding litigator in Chicago for over thirty years.
Marty is survived by his wife of 62 years, Ethel Erickson McGuire of Scottsdale, AZ. They have three children, Sandra McGuire Doubet (Charles) of Scottsdale; M. David McGuire (Carla) of Omaha, Neb., Jeffrey McGuire (Kim) of Plano, IL. They have six grand children, Jennifer Doubet Carmichael (Joe), Chas Doubet Jr. (Kacey), Megan McGuire, Marty McGuire (Quinn), Sean McGuire, Garett McGuire. They have six great grand children, Ashley and Justin Carmichael, Kamryn, Kendall and Kayla Doubet, Maggie McGuire. Martin is survived by his brother Jack McGuire and sister Gerri Nettleton. A family gathering will be held in Scottsdale to celebrate his life. Donations can be made to Hospice of the Valley or Veterans of Foreign Wars.




Francis B. LaFramboise, 91, of Thompson Hill Road, died Saturday, July 24, 2010 in Day Kimball Hospital. He was the loving husband of Pauline (LaVigne) LaFramboise. He was the son of the late Adelard and Angelina (Penelle) LaFramboise.
Born and raised on a family farm in Canterbury Connecticut, he was one of twelve children. He graduated from the first graduating class of Griswold High School and worked in an office for a short time before beginning a career in construction trades. He served for four years in World War II, and was stationed in England in the Army Air Corps as a bombardier. Upon his return, he worked in the construction trades for several years and in 1955, he founded LaFramboise Well Drilling. In 1969, he was named to the first statewide board that regulated well drilling and he served as its chairman. After his retirement in 1984, he served as an advisor to the company. Frank, as he was known to friends and family, was an avid gardener and enjoyed working in his garden and sharing his vegetables with friends and family. He read extensively and with his wife, Pauline, he traveled internationally and visited almost all 50 states. He was a great storyteller and especially enjoyed his role as Péperè, hosting family gatherings at his home in North Grosvenordale as recently as the Fourth of July.
In addition to his wife, Francis is survived by his son, Paul LaFramboise and his wife Nancy; his daughters, Elizabeth (Libby) Allison and her husband Robert, Suzanne Kline and her husband Gregory, Jean Degan and her husband William, and Claire LaFramboise and her companion, Larry Piers; his brother, Edward LaFramboise; his sisters, Helene Busher, and Alice Raymond; his grandchildren, James Allison, Francis Allison, Anne Kline, John Kline, Thomas Degan, Theresa Degan, Andrew Degan, Jeffrey LaFramboise, Eric LaFramboise, and Troy LaFramboise; and many nieces and nephews. He was predeceased by his infant son, Bernard LaFramboise.
Relatives and friends are invited to visit with Francis's family from 6:00 pm to 8:00 pm Tuesday, July 27, 2010 in the Valade Funeral Home, 23 Main St., N. Grosvenordale CT. A gathering will begin at 10:00 am on Wednesday, July 28, 2010 followed by a Mass of Christian Burial at 11:00 am in St. Joseph Church, 20 Main St., N. Grosvenordale. Burial will follow in St. Joseph Cemetery.
Memorial donations may be made to Hospice and Palliative Care of Northeast Connecticut, P.O. Box 632, Putnam, CT 06260, or a charity of your choice.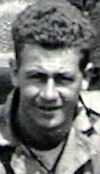 Vincent W. "Bud" Hesler passed away Friday, June 18, 2010, at Aria Hospital Bucks Campus. He was 86. Born in Philadelphia, he was a resident of Levittown for 44 years. Bud retired from Maguire Air Force Base in 1984 after 22 years of service, where he was employed as an aircraft mechanic. He then worked for 84 Lumber for several years. Bud loved animals and enjoyed spending time with his family.
He was preceded in death by his loving wife, Marian Elizabeth, of 54 years. He is survived by three sons, Vincent "Buddy" and his wife, Jean, of Renova, Carl M. and his wife, Janet P., of New Egypt, N.J., and Eric of Newtown; a sister, Marie Grafenstine; and three grandchildren, Carl J. Hesler and his wife, Sarah, Andrea L. Hesler and Kathryn Hesler.
A memorial service will be conducted at 2 p.m. Thursday at James O. Bradley Funeral Home, 260 Bellevue Ave., Penndel, where friends will be received from 1 p.m. until the time of the service. Interment will be held privately. Contributions in Bud's name may be made to Morrisville Veterinary Hospital, 822 W. Trenton Ave., Morrisville, PA 19067.




Orphus "Smitty" Smith, Jr. 90, originally of Boonville, Indiana passed away October 7, 2009. He was a retired machinist from Allison Division and was a UAW Local 933 member. He was employed with Allison's for 42 years. He was member of the "Greatest Generation" and a member of a B17 bomber crew in the Army Air Corps of World War II. In retirement, he enjoyed gardening, rock collecting, painting, wood carving, and stained glass and won many awards with them. He is survived by his wife of 66 years, Dorothy A. Steinbuch Smith; and three children, Keith (Cindy) Smith, Kenton (Beverly) Smith, and Karen (Don) Anderson. Also surviving are four grandchildren and nine great-grandchildren. He is also survived by two brothers, Fred (Martha) Smith of Indianapolis and John L. (Sue) Smith of Newburgh. A private service has been planned with Forest Lawn Memory Gardens and Funeral Home handling the arrangements.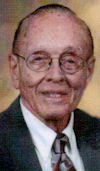 William "Bill" J. Dallas, Major USAF (Ret) – Bill Dallas passed away on Friday, April 25, 2008 at the age of 85, surrounded by his loving family. He was born on June 7,1922 in Muskogee, OK.
He was called into active duty in 1940 and to the Army Air Corps in 1942. After flying 10 missions, he was shot down over France and was held as a POW until the end of the war. He retired as a Major on November 30, 1960.
After retirement, he attended Texas A&M University, earning a Civil Engineering degree in 1964. He worked for the Texas Highway Administration and retired after 20 years of service.
He is survived by his loving wife. Allyne; 1 sister, Mary Smith; 4 children, Suzanne, Cathy, Ric and Carye; 4 grandchildren, Diana, Sylvia, Stephen and Ashlye; 3 great-grandchildren, numerous other relatives and a host of friends.
Visitation will be held from 6-8 PM Tuesday, April 29th, 2008 at Cook-Walden/Capital Parks Funeral Home in Pflugerville, TX with services on Wednesday, April 30th at 10:00 AM in the chapel. Interment with full military honors will follow.




Hey, this is Milton's son. What a pleasant surprise to see my Dad in the newsletter. I thoroughly enjoy getting these. I do have tons of shots that I have to scan and send in to you all. I am so sorry that I am slow at this. Life's been happening. Please know I will get them to you.

Andrew Cantor


---

Thank you for the honoring article on Guy Dority. He was one of the greatest and we will miss him. So many of the heroes are leaving us and going to be with our Lord. They served our country well and their job here on earth is done. God Bless, Lou Beard


---

Great newsletter Gary. It is a fantastic tribute to the men of the 303rd Bomb Group and a perfect compliment to the 303rd BG website. Michael Faley

---
Keeping the Legacy Alive,

Submissions of 303rd Bomb Group related stories and articles are most welcome.