May 26, 2010
Volume II, Issue 8
www.303rdBG.com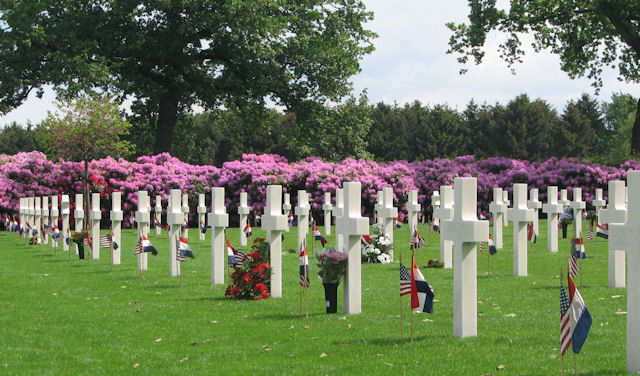 The Beautiful Netherlands American Cemetery at Margraten
COMING UP: MEMORIAL DAY
The beautiful photograph above is courtesy of Jan-Willem van de Griendt. Mr. van de Griendt regularly visits Margraten, as well as Henri-Chapelle American Cemetery and Ardennes American Cemetery in Belgium, to honor our 303rd BG comrades who rest there.
This weekend we will honor our veterans all over the world in Memorial Day Ceremonies. As you visit the graves of our veterans, or attend any of the hundreds of Memorial Day Ceremonies, please take some photographs and send them to me. I'll include them in a future issue of "The Molesworth Pilot."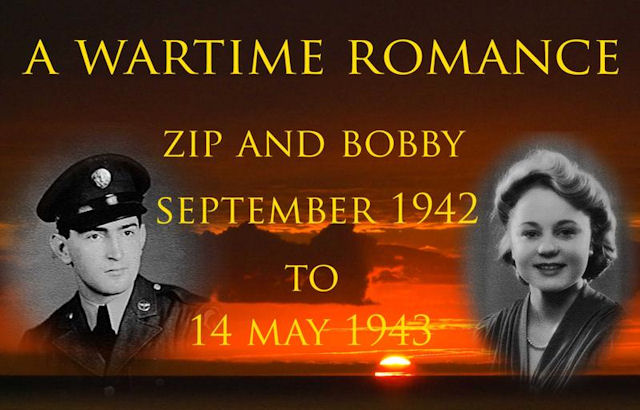 S/Sgt Joseph "Zip" Zsampar and Pauline "Bobby" Roberts

Written by Louise Smedley-Hampson, in remembrance of all "our Yanks",
who sacrificed their lives in pursuit of freedom from tyranny and who never returned home.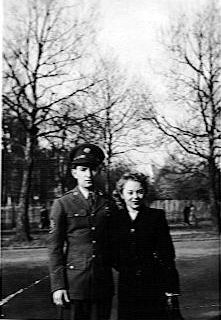 It came to me as a bequest through a last will and testament: a battered, bedraggled black photo album, three inches thick, Victorian gold lettering announcing its purpose - photographs. Whisper soft velvety paper pages were laced together with strong black cord, each sheet being mounted with formal portraits taken in the elegant studios of long forgotten society photographers. Generations of my English family appear, most of whom I never knew, as they had died many long years before I was born. There were also more than half a dozen pictures of a young American flyer, which my mother treasured until her death and, who, had he not been shot out of the sky and killed during WWII, would have become a branch in our family tree.
My late mother was born Pauline Lillian Roberts on 20 September 1924 in Northampton. Her father, Wilf paid for his daughter to be educated at Notre Dame Roman Catholic High School, Northampton, where she soon picked up the nickname "Bobby", a diminutive of Roberts. Impressed by the kindness and wisdom of the Holy Sisters, Bobby too wanted to become a nun, but Reverend Mother suggested that she go out into the world for a few years, to return at 21 only if the vocation proved sound.
On 3 September 1939, war broke out and the world was changed forever. The actions of psychotic Nazi leader, Adolf Hitler and his army of fascist bully boys altered the course of global history, causing uncounted millions of completely unconnected lives to be caught up in a web of fate from which there was no escape. For many, death's skeletal hand beckoned, cutting short young lives only partly lived. For those who survived, some went on to live with bitter memories and grief for a future that never arrived. Others, for whom conscription into the forces had been their finest hour, were never able again to settle down afterwards into a dull civilian existence and lived their whole lives with an abiding sense of disappointment. The violent maelstrom of World War swept across the planet, far too complicated to be comprehended as merely a list of dates, generals and battles. All humanity was dragged inexorably into its grasp and it is the witness of individual personal stories that allows people living in this era, some understanding of an extraordinary period.
Half a world away from England, across the Atlantic Ocean, Antal Zsampar (born 27.1.1852) and his wife Anna Kozo from Csorotnek, Vas, in Hungary had immigrated to the US in the 1900's and settled in Fairfield, Connecticut. Their son, Jozsef (born 31.8.1886), married Karolina Tackacs (born 8.8.1890) and they had a family of 10 children, amongst who were "Aunty" Helen, "Aunty" Caroline (born on 18.2.1920), Joseph G Zsampar known as "Zip" (born on 21 February 1922) and "Uncle" Steve (born 1926). To this day, Steve says that Zip "was the best brother in the world." The family were devout practising Roman Catholics.
Following the infamous Japanese attack on Pearl Harbour which destroyed the US Fleet on 7 December 1941, there was no shortage of men enlisting for the armed forces. However, on 7 October 1940 (more than a year beforehand) in Bridgeport, Connecticut, Zip had already enlisted in the USAAF (Service No 11019777) as a private in the Air Corps. At just 18 years old, his civilian occupation was listed as "actor". In fact, he was a talented artist and sculptor, so perhaps the enlistment papers did not have an appropriate box to tick. Zip joined as an "aerial photographer."
Initially, the incoming Americans had a shaky start. In smart new uniforms, plentifully nourished on good food, with the confidence of believing they belonged to the greatest nation on earth, they gave the unfortunate impression to the English of "turning up in the nick of time to win the war for you". By 1942, England had already been ground into a state of exhaustion by the catastrophe at Dunkirk, the Battle of Britain, the Blitz, the blackout, food, fuel and clothing rationing. All fit young men of marriageable age were overseas fighting, so to girls like my mother, the soldiers of the US Army must have seemed like Hollywood matinee idols descending from the silver screen. No wonder they earned the reputation "Over paid, over sexed and over here!" A mixture of informal charm, direct friendliness, and unparalleled generosity with silk stockings, tinned food and a strange fizzy drink named Coca Cola, won over the population. When the bomber crews also began sustaining heavy losses, the USAAF incomers became "Our Yanks", to be cherished, honoured and respected for ever more.
Bobby turned 18 on 20 September 1942. She loved competitive swimming, drama and going out with her friends, dancing at local RAF bases. A gentle flirtation with a Free Frenchman called Pierre had drawn to a close. Bobby, pert and petite and Zip with his dark eyed Hungarian 'tzigane' features were instantly attracted to each other. She may also have attracted his attention with a favourite story, told frequently over later years, claiming kinship with George Washington, first president of the United States, who was born in Northamptonshire. (The link went through Grandad Brewer, a younger son of the family who had lived in Sulgrave Manor, near Banbury, since the times of King Henry Tudor.)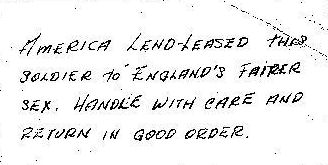 During war time, when people expected to be invaded by the Nazi horde or bombed to oblivion or shot down by the enemy, courtships progressed at a whirlwind pace. By January 1943, Bobby and Zip had become engaged to be married and photographs show them together, seeing the sights of wartime London. Zip gave her a photographic portrait of himself, on the rear of which he had poignantly printed in neat capitals: "America lend-leased this soldier to England's fairer sex. Handle with care and return in good order."
One night, they went out to a dinner and dance at the Trocadero, a glamorous and glitzy venue in central London. A falling bomb was heard outside, so everyone dived for cover under the tables. The bomb exploded several streets away, but the blast blew out the windows of the Trocadero. Apart from cuts, dust and debris, the guests were largely uninjured.
In those same winter months Zip was involved in flying dangerous bombing missions as Ball Turret Gunner on Captain Ross C Bales' crew. On 23 January 1943, the object of bombing raid Mission 11 was to destroy the port area and U-boat pens at Lorient and Brest in occupied France. The Idaho Potato Peeler was badly damaged and crash landed outside the small village of Chipping Warden near Banbury, with a miraculously uninjured crew. A new B17 Flying Fortress was commissioned and the nose art was changed to "FDR's Idaho Potato Peeler Kids."
Their good luck was not to last. On the night of 14 May 1943, Zip had a date with Bobby in Northampton. At the last moment, he sent a friend into town to tell her that he had agreed to substitute for a sick crew member and would meet her instead the next evening. Mission 35 was being sent to bomb Germania Werft A.G., a ship yard and U-boat pen at Kiel in Germany. Zip allegedly flew Tail End Charlie that night, instead of Ball Turret Gunner, his usual position. The story was that they came under attack from Luftwaffe fighters who blasted the rear end of the plane, which was last seen out of control and dizzily spinning into a nose dive, crashing at sea. Six parachutes were seen by witnesses to open.



Zip's Name on the Wall of Missing at Cambridge American Cemetery
S/Sgt Joseph G. Zsampar rests in an unknown grave, but is listed on the Wall of the Missing, at Madingley American National Cemetery, Cambridge. Of the other "Potato Peeler Kids", Daniel McColl, and Walter Dooley are memorialized at Cambridge. Capt Ross C Bales and the rest of the crew are memorialized in the Netherlands. Only one body was recovered: S/Sgt O'Reilly was washed up on the western beach of Sylt Island and was buried in cemetery of Westerland/Sylt on 10 August 1943. His remains were returned to Arkansas for final interment after the war.
The tragedy of this great loss can only be imagined. In accordance with strict military rules, the effects of the deceased flyers were collected up and dispatched to next of kin within hours. They were not spoken of or referred to directly again. Two photos exist of Mum, puffy faced from crying, with Zip's air force wings pinned to her pink polka dot dress. She was obviously so distressed that, in spite of being a cradle Catholic, she committed the unpardonable sin of visiting a spiritualist church. Unsurprisingly, the medium was unable to make contact with Zip "on the other side," although she dispensed a bland directive along the lines of "When one door closes in your life, a window opens"! The consequence of this bizarre interview was that, in later years, after drinking one too many glasses of sherry, Mum would declare that Zip had not died, but swum ashore and was living in France with amnesia.
In the 1940's bereavement counselling was of the restrained, repressive English variety: "Steady on, old girl. Don't take on so. Remember your stiff upper lip eh?" This would probably have done a deal more harm than good, and indeed, Mum spent the rest of her life, bitter and angry, but still speaking of Zip in tones of adulation that were never used when talking about anyone else.
Bobby kept in touch with Zip's sister, Caroline, until she died in Florida in 1992; Caroline wrote TV commercials and seemed wealthy, sending frequent gorgeous postcards from all kinds of exotic places to which she travelled. She visited us a number of times in England, during the 1960's, when I was still a small girl. Baby brother Steve was in the Merchant Marines in 1945 and his ship docked in Southampston, from where he made a visit to Northampton. When he was with the US Navy in 1952, he docked in Weymouth and visited Bobby with her young husband Hank. Christmas cards and letters arrived also from Steve's family, (Jennie, Michael and Lisa) who still live in St Petersburg, Florida.
A poem on the TAPS page of the 303rd BG web site finishes with these words:


As long as we live
They too will live
For they are now a part of us
As we remember them.
Researching these details and writing this story has been a cathartic experience for me. Happy memories of my mother are limited, but it feels as though I have connected with her younger unknown self. I can also easily empathise with what it is to be young and in love, and having to sustain the cruel loss of bereavement. There are no children for me to leave this story or the photographs to, but I felt it should be recorded before it is lost forever. Future generations should always remember that the golden youths of yesteryear sacrificed their tomorrows so that we should be blessed with a today.

1Lt Joseph E. Trojan Crew
303rd BG Mission #40 — 29 May 1943
Target: Submarine Locks and Docks Area, St. Nazaire, France
Twenty-eight aircraft flew in perfect weather, unescorted over land, to make a perfect bomb run. A little flak was encountered on the way into the target over the French coast, but the bursts were inaccurate and caused no damage until the target was reached. Over the target, intense and very accurate flak was filling the air. Some crews reported hearing pieces of shrapnel banging against the skin of their planes. The bomb sighting was perfect and bombs landed on the aiming point and target area. Some attempt had been made to conceal the target with a smoke screen.
Considerable enemy aircraft opposition was reported with as many as 35 to 40 seen. There were five encounters with the Group. Gunners claimed two enemy aircraft destroyed, one possible and one damaged.

Yardbird
, #41-24602, 360BS, piloted by 1Lt Joseph E. Trojan, an original 303rd BG(H) failed to return. The Fortress was last seen leaving the target after having been disabled by flak. It was subsequently hit by attacking FW-190s and ME-109s which caused the aircraft to crash. Eight parachutes were seen leaving Yardbird. The Fortress exploded with a burst of fire when it hit the ground. 1Lt Thomas S. Vaughan was killed and 1Lt Trojan, 1Lt Parley W. Madsen, Jr., 1Lt Jack W. Stewart, S/Sgt Paul H. Prescott, S/Sgt Cecil E. Craft, S/Sgt Joseph R. Sunderlin, S/Sgt Martin A. Semonick, S/Sgt Frank W. Bartlett, and S/Sgt Lincoln T. O'Connell were captured by the enemy and taken prisoner. S/Sgt Prescott died in a German hospital at Paris-Clichy on June 4, 1943, a few days after becoming a POW. He is buried in Epinal American Cemetery near Vosges, France. S/Sgt Bartlett was badly wounded and was repatriated in 1944.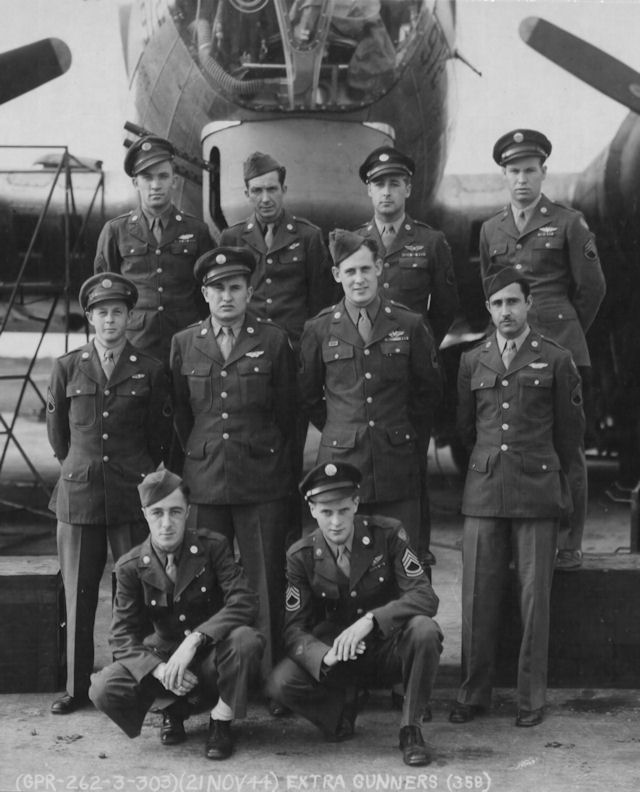 November 21, 1944: 358th BS Extra Gunners
Do you recognize anyone?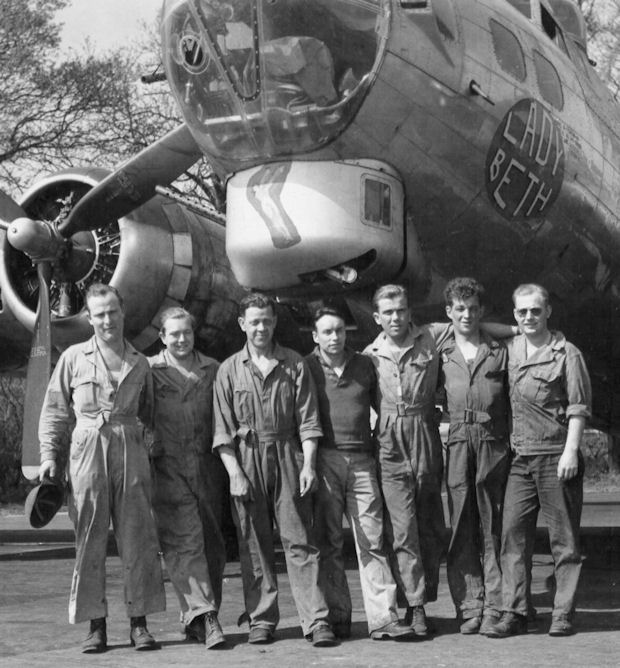 April 19, 1945: Ground Crew of B-17G #43-38883 "Lady Beth"
This newly found photograph is the first we've seen of this B-17. Can anyone identify the ground crewmen?
(Thanks to Daniel Bon of Burgundy, France for finding the photograph. Daniel has been a tremendous help searching the National Archives.)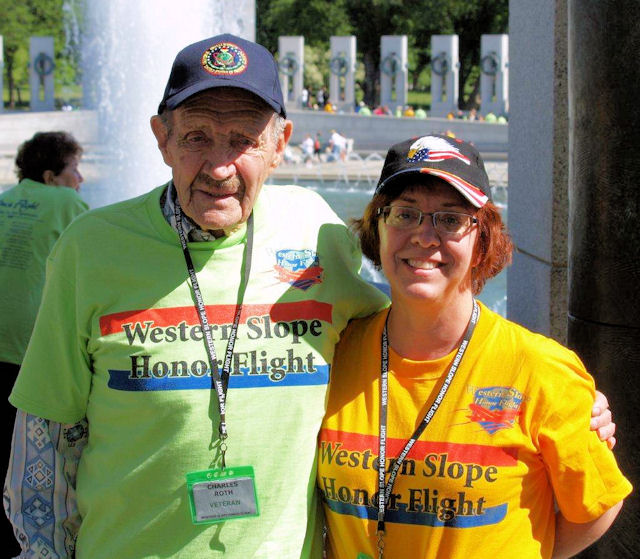 303rd BG's Chuck Roth and his daughter Natalie Britton enjoyed an Honor Flight to the WWII Memorial
Local WWII Vet Tells Story of Survival
by Joe Thompson, KREX TV
May 7, 2010: Grand Junction, Colorado
"I didn't think anybody was gonna shoot us down, but my airplane didn't make it."
Chuck Roth was part of a famous World War Two story that lives on today. It begins like it did for so many men his age, with the events at Pearl Harbor back in 1941.
"I can remember, we were milking cows at my dad's dairy, the day, December the 7th, when the war started," says Roth. "And he [Roth's dad] was crying. He says, 'well, you do what you want.'"
What the 19-year-old did was join the Army Air Corps, and was soon sent to England as a radioman on board a B-17, the plane that was known as the "flying fortress." Not knowing what to name their plane, Roth's B-17 was appropriately dubbed "Beats Me." On Roth's eighth mission in January 1943, what started as a normal bombing mission over northern France quickly changed.
"I said, 'boy, these bombs are gonna hit us.' Well, about that time, they dropped the bomb and it turned us upside down," according to Roth, who believes their plane was struck by a bomb coming from another B-17 that was flying above them in another formation.
Even after the initial hit, his flying fortress continued to receive heavy fire from the German Luftwaffe.
"We had 50 calibers and they had 20 millimeters, and we couldn't reach them. Our tracers are going out there and dying… their bullets were going right through the airplane. That's where I got all the pieces in my legs," says Roth.
Out of the 10 people on board "Beats Me," only Roth and two other men survived.
"I bailed out. I was the last man out of the airplane and I watched it go straight down."
After surviving the crash, Roth now found himself in enemy territory in occupied France, and was soon captured.
"At 5:00 that night, a whole truckload of Germans come in and took me to the prison camp."
Those first moments as a prisoner of war were terrifying for Roth. "They were shooting French sympathizers every morning down in the courtyard, and I thought, 'Man, this ain't going to last very long.'"
But the life for this POW wasn't all bad. Roth was able to get his education while a prisoner by learning from other POWs. And while the Nazis were infamous for their cruel treatment of Soviet POWs and those held in concentration camps, Roth was never abused by his captors, and even got along with them.
"We played football with them once, and our people just killed those Germans. They didn't know what football meant, you know? They thought it was like rugby," Roth said with a smile on his face.
Roth and his fellow POWs were able to keep track of how the war was going through a radio he built that picked up the BBC. Even the Germans listened along to find out how things were going, since they were technically not allowed to have a radio, according to Roth.
27 months after his capture and with the Nazis crumbling, the Ally forces moved in, liberating Roth, who was soon on a ship headed back home to the country he served.
"Real wonderful to get home," said Roth. It's a trip home this Purple Heart recipient was thankful he was able to make.
"I was taken care of. I had my angel on my shoulder all the time."
Roth, who currently resides in Grand Junction and has lived in Colorado his whole life, was one of the 105 World War Two veterans that were part of the Western Slope Honor Flight earlier this week, giving Roth a chance to visit the memorial in Washington built to honor his and his fellow vets service and sacrifice. Citizens in France also built a simple, stone memorial that marks where "Beats Me" crashed back in 1943, which Roth has had the chance to visit along with his family.







Father's Day – June 20, 2010
"By the time a man realizes that maybe his father was right, he usually has a son who thinks he's wrong." -- Charles Wadsworth


Eighth Air Force Reunion – Tucson, Arizona – July 21-25, 2010
Registration is now underway for the 2010 8th Air Force Reunion this July in Tucson, Arizona. Registration information is in the March 2010 issue of the 8th AF News or online here:
http://www.8thafhs.org/reunions.htm
. We're looking for a good turnout from our 303rd Bomb Group veterans, families and friends.

"Thunder over Michigan"
The Largest Gathering of Heavy Bombers in the World
The 8th Air Force Historical Society is hosting veterans, family members, and their guests at the Willow Run Air Show, located just outside Detroit, August 5 thru 8, 2010. The Air Show organizers are expecting 8 to 10 B-17's to attend , 2 B-24's, 12 P-51's, the usual cadre of other WWII aircraft, as well as a flying ME-262 and an ME-109. More information is available here:
http://www.8thafhs.org/detroit.htm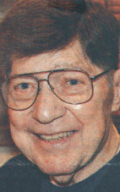 Fabian S. Folmer
, age 92, of Osage, died Saturday (May 22, 2010) at Osage Rehabilitation and Health Care Center in Osage. Memorial services will be held at 2 p.m., Wednesday, May 26, at Our Savior's Lutheran Church in Osage with the Rev. Dennis Hanson and the Rev. Roy Ott officiating, and a flag presentation by Osage V.F.W. Post 7920. The family will greet friends for a time of fellowship after the service at the church.
In lieu of flowers, memorials may be given to the Our Savior's Lutheran Church heating and cooling fund. Fabian was born on April 1, 1918, in Mansfield, Ohio, the son of Michael and Margaret (Zimmerman) Folmer. He attended school in Mansfield, Ohio, and then graduated from Ohio State University with an accounting degree. Fabian married Doris Stein in 1941, and they had two daughters, Judy and Pam.
He joined the Air Force and became a master sergeant in World War II. He was a mechanic working on and flying B17 in Molesworth, England with the Hell's Angels. His buddies nicknamed him "Fabulous Fabian" because of his mechanical abilities. Following the war, Fabian toured the United States promoting the Hell's Angels.
In 1978, he married Donna (Roberts) Shoars of Osage. This gave him two step-children. He worked as an accountant for Hydro-Conduit, being transferred to many cities. Upon retiring, they moved to Loveland, Colo., and then to Osage to be near Donna's children. Fabian had a love for airplanes and football, especially the Denver Broncos, and played golf whenever possible with his wife, Donna. He was well liked, and had a favorite saying - "Keep Smiling." Left to cherish his memory are his wife, Donna Folmer of Osage; two daughters, Pam Easton of Arvada, Colo., Judy Orechio of Denver, Colo.; two step-children, Mike (Deanna) Shoars of Orchard, Connie (Mike) Whitten of Charlotte, N.C.; nine grandchildren; five step-grandchildren; twenty great-grandchildren; six step-great-grandchildren; one great-great-grandchild; and a sister, Margie (Bob) Scodova of Mansfield, Ohio.
He was preceded in death by his parents; a brother, William Folmer; a son-in-law, Lynn Easton; and a granddaughter. Information available and condolences accepted at www.champion-bucheitfuneralhome.com Champion-Bucheit Funeral Home, 641-732-3706.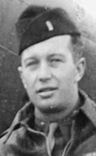 Carl J. Dye, 88, a resident of Bella Vista, Ark., died Friday, May 14, 2010. He was born at the family farm in Hale, Mo., on Oct. 30, 1921 to Cleona Belle (Morgan) and Carl Jesse Dye. He married Eleanor Marie (Allison). He and Eleanor raised their two children in the St. Louis suburb of St. Charles, Mo. He was ordained as a deacon in the First Baptist Church there.
C.J. graduated from Hale (Mo.) High School and attended Chillicothe Business College, Chillicothe, Mo. He began his career with the federal government in Washington, D.C., in the early 1940s. His career with the U.S. government in Kansas City and St. Louis was similarly recognized. He was honored as Civil Servant of the Year in St. Louis in 1966. He retired to Bella Vista at the age of 55.
He joined the U.S. Army Air Corps and became a navigator for a lead crew of the 303rd Bomb Group of the 8th Air Force in World War II. He was based in England and flew 30 missions in a B-17 bomber. He was awarded the Purple Heart, among many other medals of honor. He remained in the U.S. Air Force Reserves after the war and attained the rank of colonel; he also served as commander of the former Richards-Gebaur Air Force Base outside Kansas City.
He is survived by his wife, Eleanor; son, Bob Dye and wife Kathie; daughter, Sue Babson and husband Rick; grandchildren, Kyle Babson and wife, Kaarin, and Jeff Dye; many nieces and nephews and his sister-in-law, Marcene Allison.




Judson "Fred" Watson, Jr., 85, of Leisure World of Virginia at Lansdowne since 2002, formerly of Charlotte, NC, died at home with his family by his side on Tuesday, May 11th 2010. Mr. Watson was born September 22nd 1924 in Powder Springs, Georgia to the late Judson F. and Lois Day Watson Sr.. His first wife of 54 years, Gladys also predeceased him. He served his country in the United States Army/Air Corp during WWII with the 303rd BOMBARDMENT GROUP AND GROUND SUPPORT UNITS AT MOLESWORTH, ENGLAND. Mr. Watson flew 33 missions over Germany during the War including one on D-Day. He was a member of The Chapel at Leisure World, an avid Gardener and Golfer, and he loved to read.
Mr. Watson is survived by his beloved wife of 6 years, Marion Jo Watson. They had just celebrated their sixth anniversary on April 27th. He is also survived by his son: Stephen Watson (Barbara) of Binghamton, NY; two stepchildren: Dan Walters of Leesburg, Donna Ryland (Harold) of Lansdowne; a beloved friend: Shelley Martin of Leesburg; two grandchildren: Kelly Watson, Josh Ryland and a host of other relatives and friends.
Graveside services with military honors will be held at 2:00pm on Tuesday, July 6th 2010 at Arlington National Cemetery, Arlington, Virginia. Interment will follow in Arlington National Cemetery.




Thomas J. Quinn, 359th BS Pilot, died peacefully in his sleep April 24, 2010 in Melbourne, Florida. Tom remained in the US Air Force after WWII and retired in 1963 as a Lieutenant Colonel.
In 1997, 359th BS Navigator Coleman Sanders related this story about Tom Quinn:
In January 1944 the Ken Edwards crew was assigned to the 303rd Bomb Group at Molesworth. We took ground classes for a week and then went for an area familiarization flight with Tommy Quinn, an experienced pilot, and Joe Vieira as radio-operator. We flew around the area so that they could show us the prominent landmarks. When it was time to return to base, the Group was returning from a mission, and Flying Control needed us out of the way while the planes landed. We flew around, climbing through the overcast to about 5,000 feet. As I'd finished my assigned duties for the flight, I didn't pay much attention to the instruments and didn't know that a 100-knot wind had developed at the altitude we were flying.

When it was time for us to let down through the clouds, Quinn asked me for a heading back to Molesworth, I looked down as soon as we broke out and saw London below. Joe Vieira, our radio operator, heard my report to the pilot and came on the intercom with, "London doesn't have an Eiffel Tower!" At first I thought he was joking, but sure enough it was Paris, not London. What a shock! An unarmed B-17 flying around over enemy-held territory was unlikely to be ignored. Sure enough someone calls out that a couple of fighters were coming up fast. Quinn promptly took us back into the clouds, but not before one of the fighters had taken a shot at us. We took a heading for England and finally got a steer from the radar people who had been tracking us and wondering what we were doing. When we eventually got back to base we all swore secrecy, hoping our stupidity would not be known. Next morning the ground crew found a few bullet holes in the B-17 so we had some explaining to do!


Hi Gary:
Great job of recapping what went on during the days when V-E was announced. When it happened I was a Phase Check Instructor on B-29 guns and turrets at Buckingham Air Base in Ft Myers, Fl. Think we got the news just before dinner. First blush reaction was that it was propaganda pitch from Germany to sucker punch us again -- with a second Battle of the Bulge type attack. We were convinced Germany would not surrender that easily without some last ditch massive air attack on England and France.

As we gathered around adult beverages and radios in the Non Com's Club it became clear this was the real McCoy. There was no shouting or yelling. Second thought was the relief that our peers at the 8th and 9th Air Forces and RAF would no longer suffer the ravages of Luftwaffe prop and Jet fighter planes and too accurate flak.

Someone said, "What the hell are they going to do now with 1500 8th Air Force B-17's and 24's?" We all laughed and quickly said prayers for our pals who were still in POW Camps. Then we started pondering on when the War in the Pacific would end. Now Russia would come in and take advantage of what we'd already won in the Pacific.

But for those of us who'd been in the Mighty 8th and 9th it was the strangest feeling any of us had ever had. Hard for us to digest the impact of now no war in Europe. That's all we had known and lived with since 1939. Probably the reverse of the first time we got shot at with live bullets --over Germany..."Can this really be happening to me--to our plane and crew?"

I compliment you again, Gary, for the excellent job you've consistently done since you've taken over our 303rd Molesworth on the Thrapston newsletter.

S/Sgt Frank Boyle
Ball Turret Gunner on Whitlock & Mainwaring's crews-among others
35 Missions --my first 2 were over Merseburg--all downhill from there in mid 1944.

---


Just wanted to say "thank you" for the excellent articles you send out! Very informative and a lot of history. My dad, Robert G. Van Antwerp, who was a B-17 Pilot would be proud of all the history you produce during those times and recognition you give. Bob Van Antwerp

---


I got your latest news letter covering VE day. Perhaps you were not aware but that is also a significant date for LSFM's B-17G 'Thunderbird'. Our aircraft came off the assembly line May 8, 1945 - the day Germany surrendered. Yesterday was Thunderbird's 65th birthday. We had her at Ellington Field for an event and flew four passenger flights. We even had a cake with her picture on it. Our P-47 and AT-6 were also there. On our way back to Galveston we flew over the home of Ray Lancaster (the Galveston Gal P-51 pilot) in formation with the P-47 - did a 360 over his house. The newest LSFM B-17 T-Shirts show a painting of Thunderbird being escorted by Galveston Gal. One of our LSFM mechanics - Bill Reid - had an uncle who flew as a gunner with the 303rd, I believe with the 358th squadron.

Looking forward to seeing you again in June.
John Sykes, Crew Chief, LSFM B-17G Thunderbird

---

Dear Gary,
I just got time to read the V-E anniversary letter you sent. It was so moving to read the contemporaneous reporting from London. Reading about the young lads celebrating in the streets, followed by the today's memorials of those who served really makes me think. One of history's great sighs of relief: my dad was a youngster of 20, I was born less than a decade latter--its pains and lessons seem so close to my lifetime, yet a more distant past to today's young people. Thanks for keeping this story ever fresh in your newsletters.

It's especially notable that you tell the "people's history." Though the famous and powerful make their cameos on the scene, the story you tell is of the great men and women known to but a few and its powerfully touching to read of their lives and contributions.
Best wishes, Mark Greenberg, Newton, MA

---

I am an Australian university teacher researching sport and recreation in POW camps and also leadership in POW Camps. I am writing to ask if any of your ex-POWs would be kind enough to share their memories or views on either of these topics.

I would be very grateful for any insights e.g. what sport and/or recreation was engaged in; if it helped the POWs then how did it help; how was any gear or materials acquired? What sort of good/poor leadership examples can be recalled (without names if comments are critical); what is the best sort of leadership found in POW camps; can leaders be better developed for such really adverse circumstances?

With many thanks for any assistance,
Best wishes
Dr Robin McConnell
Associate Professor
Sport Studies
University of Canberra
Bruce, ACT
Australia 2610
robin.mcconnell@canberra.edu.au

---
Keeping the Legacy Alive,

Submissions of 303rd Bomb Group related stories and articles are most welcome.