303rd Championship
Baseball Teams
Home

About Us

Contact Us

Donate

Newsletters

8th AFHS

Links

FAQ

Facebook

Search
Personnel

Aircraft

Nose Art

B-17 Thunderbird

Ground Support

Uniforms

Journals

More Info
Mission Reports

Combat Crews

Individual Photos

Photos

POW

KIA

MACR

Overseas Graves

TAPS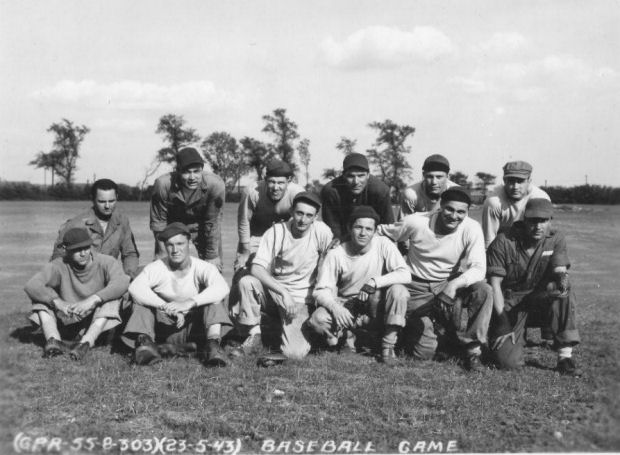 23 May 1943 - 303rd BG Baseball Team
- click image for a larger view -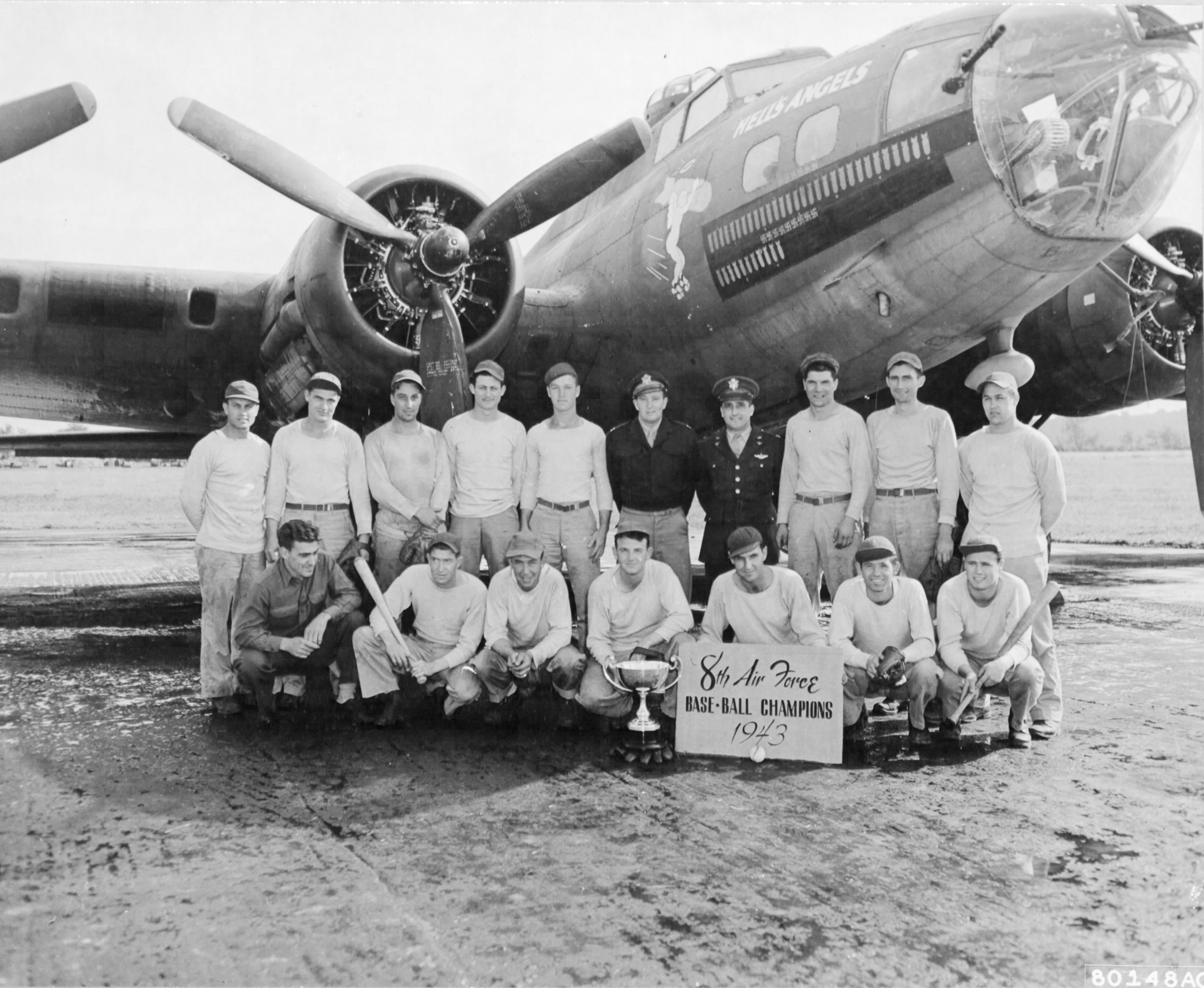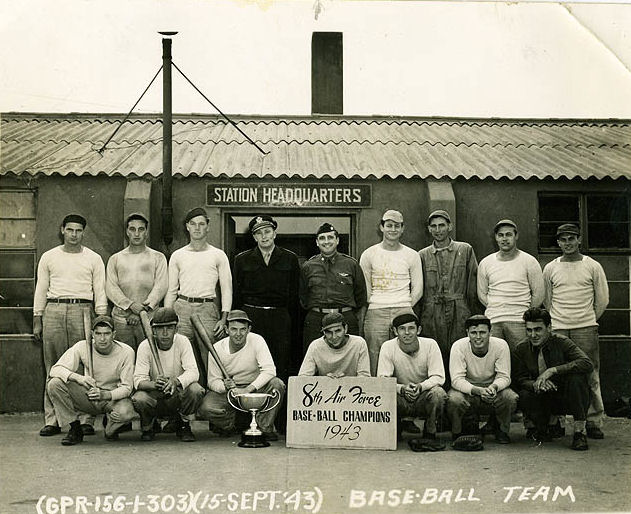 09 SEPTEMBER 1943 - HELL'S ANGELS EIGHTH AIR FORCE CHAMPIONSHIP
Sgt George A. Ruder (Hdqs) Team Manager is front row, far right.
The 303rd BG(H) team competed in the First Bomb Division League and dropped only one game in it's 30 game schedule, to the 482nd BG Alconbury team by a 2-1 score, having previously defeated them in two games. Hell's Angels, as the team was called, was selected to represent the First Bomb Division in the Eighth Bomber Command playoff championships. The favorite was the Second Bomb Division Ted's Flying Circus team representing the 93rd BG B-24 Liberator team from Hardwick. [Left: Championship Trophy displayed in the M8thAF Museum Library.]

Hell's Angels decisively walloped the cocky Circus team with a final score of 20-5 for the Bomber Command championship. Hell's Angels then went on to defeat the Air Support Command and Service Command teams with the final contest with the Fighter Command team. Hell's Angels won this game 7-6, and with it, the Eighth Air Force Championship and an impressive record of 29 wins and 1 loss for the 1943 season.

The championship team consisted of 13 players all of who had previous college, semi-pro or Professional baseball experience.

Capt Leonard J. Wheeler (Hdqs) Athletic Officer
Sgt George A. Ruder (Hdqs) Team Manager
Sgt William Craddock (359BS) Pitcher
Sgt Joseph Rundus (427BS) Pitcher
Cpl Marion Lewis (358BS) Catcher
Sgt Carl Murphy (359BS) 1st Base
Cpl Oscar Marable (358BS) 2nd Base
Cpl Joseph Uhls (358BS) 3rd Base (Team Captain)
Pvt Al Slackish (427BS) Shortstop
Sgt Gilbert Goar (358BS) Utility Infielder
Sgt Lloyd Jones (358BS) Utility Infielder
Sgt William Hitt (358BS) Utility Outfielder
Sgt Donald A. "Red" Wiegand (360BS) Right Fielder
S/Sgt James Stewart (427BS) Center Fielder
Pvt Ed Kumer (358BS) Left Fielder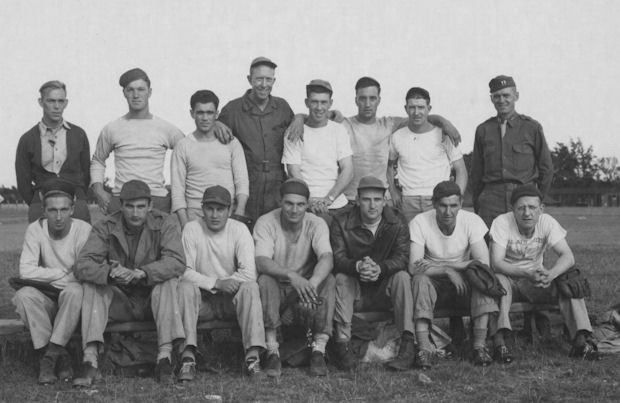 31 AUGUST 1944 - "HELL'S ANGELS" WIN BASEBALL CHAMPIONSHIP OF THE FIRST DIVISION LEAGUE
303rd BG(H) Hell's Angels baseball team from Station 107 at Molesworth defeated the 91st BG(H) team from Station 121 at Bassingborne by a score of 6 to 3 to win the Championship of the First Division League. Both teams played a careful ball game and the score was 2-2 until the Hell's Angels team came to bat in the last of the eighth inning. After Zitzler flyed out, Ferzoco walked to first and was brought home by a 3-base hit by Slackish. Harrelson followed up with another three base hit scoring Slackish.

With the score 4-2, Wiegand singled bringing Harrelson home. Lewis was safe on an error while Wiegand went to third. Uhls struck out. Then Craddock singled to bring Wiegand in to home plate. The inning ended when Phillips flyed out, after one man had scored, the bases were filled with two singles and one walk. The last man went out on a forced play to second base. Zitzler pitched for the home team and struck out three men, as did "Bubbles" Weisenberg pitcher for Station 121.

The next game in the playoffs toward the ETO Championship will be with the Fighter Command team. Line-up of the 31 August 1944 was:

2Lt George Zitzler (41st CW) Pitcher
Cpl Marion Lewis (358BS) Catcher*
Cpl Richard Phillips (359BS) 1st Base
Pvt Felix Ferzoco (363 Cml Co) 2nd Base
Cpl Joe Uhls (358BS) 3rd Base*
Cpl Al Slakish (427BS) Shortstop*
Sgt William Craddock (359BS) Left Field*
Sgt Donald Wiegand (3rd Sta. Com) Center Field*
M/Sgt Thomas K. Harrelson (358BS) Right Field

Alternate Players were:

Sgt Joseph Rundus (427BS) Pitcher
Pvt Henry Ebner (359BS) Outfielder
Sgt Nick Konsuvo (444SD) Outfielder
Sgt James Stewart (427BS) Outfielder*

* Members of the 303rd BG(H) 1943 Eighth Air Force Championship Baseball Team
15 SEPTEMBER 1944 (FRIDAY) - 8th AF BASEBALL CHAMPIONSHIP PLAYOFFS
The Hell's Angels baseball team continued their winning streak Friday when they pummeled the Eighth Fighter Command 4-1. The boys played good heads-up ball to win the first round in the series for the 8th AF Championship. Lt George Zitzler held the Fighters to three hits and their lone tally did not cross the plate until the ninth inning .

| | | | |
| --- | --- | --- | --- |
| | Runs | Hits | Errors |
| Hell's Angels | 4 | 8 | 2 |
| Fighter Command | 1 | 3 | 3 |

The Hell's Angels lost the final Eighth Air Force Championship playoff game.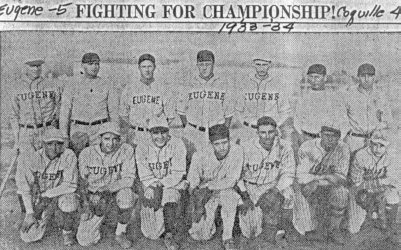 Colonel Kermit D. Stevens
was the 303rd BG(H) Champion Commanding Officer with the distinction of being the longest serving Commanding Officer from 05 August 1943 through 01 September 1944. He was also responsible for making the 303rd BG(H) the Champion Bombardment Group and in developing 303rd Champions in other ways.
Shortstop Kermit Stevens (front left in photo) was a member of the Eugene, Oregon baseball team that won the 1933 -1934 Valley-Bay League Baseball Championship. Shortly thereafter, he joined the Army, became an Army Air Corp Pilot, started his distinguished 30 year Air Force career, and never lost his love of Baseball. While at Molesworth he stimulated the growth of a baseball team and became its #1 fan and rooter.


[Top photo courtesy of the James E. Wylde Family - others from the 303rdBGA Archives]