358th Joy Crew
Ripley W. Joy , Pilot
Home

About Us

Contact Us

Donate

Newsletters

8th AFHS

Links

FAQ

Facebook

Search
Personnel

Aircraft

Nose Art

B-17 Thunderbird

Ground Support

Uniforms

Journals

More Info
Mission Reports

Combat Crews

Individual Photos

Photos

POW

KIA

MACR

Overseas Graves

TAPS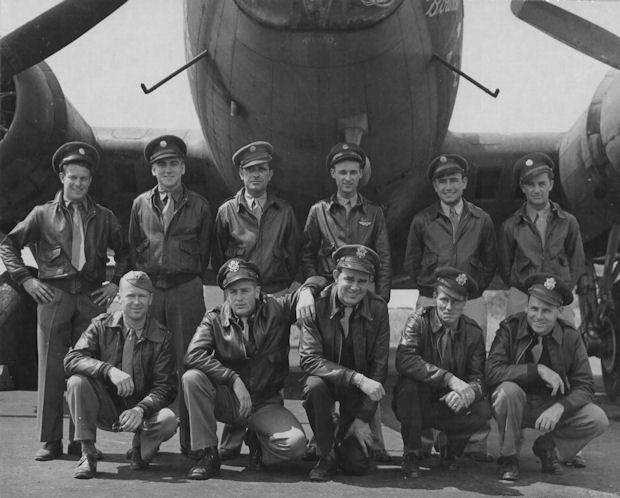 RIPLEY W. JOY CREW - 358th BS
(crew assigned 358BS: 21 June 1943 - photo: 27 July 1943)
(Joy was copilot to I.E. Baldwin, upgraded to pilot 04 June 1943)

(Back L-R) S/Sgt David Miller (TG-KIA)(1)(2); S/Sgt Alfred R. Buinicky (BT-Evd-POW)(1)(8);
S/Sgt Walter Gasser (RWG-POW)(1); S/Sgt James H. Comer, Jr. (LWG-POW)(1);
S/Sgt Marion D. Ignaczewski (E)(1)(5); S/Sgt Frank Kimotek (R-Evd)(1)

(Front L-R) Lt Ripley W. Joy (P)(6); Lt William J. Monahan (CP-POW)(3);
Lt William P. Maher (N-Evd)(1)(7); Lt Walter Hargrove (B-Evd)(1);
Lt Martin L. (Pete) Clark (CP)(1)(4)

Crew flew 5 missions with Lt Ripley W. Joy and 6 missions with
Lt William J. Monahan in Hell's Angels B-17 from 04 July 43 to 27 Aug 43
(KIA-POW-EVD) On 31 August 43 mission #65 to Amiens/Gilsy, France in B-17F #42-29635 Augerhead (358BS) VK-M. B-17 lagged behind formation, pulled out of the formation heading for the coast and seeking cloud cover from attacking enemy fighters. Was last seen going down over Abbeyville, under control, with two enemy fighters attacking. 1Lt L.M. Benepe (CP-POW) was a substitute for 2Lt Martin L. Clark
Sgt V.E. Olson (RWG-POW) was a substitute for regular Engineer T/Sgt Marion D. Ignaczewski
Became members of the 1Lt William J. Monahan Crew. [See 358th Monahan Crew photo]


S/Sgt David Miller came down dead in his parachute with his legs blown off. Crewmen reported that some of the nine attacking German aircraft had fired at the descending men in parachutes.


Lt William J. Monahan was upgraded from CoPilot to Pilot. Flew his first mission as Pilot on 26 July 43


Lt Martin L. Clark was hospitalized when the Lt Monahan Crew was shot down. Flew as CoPilot for five crews that were shot down. Upgraded from CoPilot to Pilot on 26 Oct 43 and completed his 25 mission combat tour. No crewmen was wounded or MIA on his missions.


T/Sgt M.D. Ignaczewski (E) flew his 7th and last mission on 15 August 43 with the Lt William J. Monahan crew


Lt Ripley W. Joy was originally the CoPilot on the Capt Irl E. Baldwin Crew that flew B-17F Hell's Angels from the USA to England. Was upgraded from Co Pilot to Pilot on 04 June 43. Completed his 25 mission tour on 25 July 1943 and returned to the USA. [See 358th Baldwin Crew photo]. 1Lt Ripley W. Joy was killed in an aircraft explosion on October 31, 1943. Serving with the 21st Ferrying Group, he was ferrying a B-24, which stalled and crashed near Fostoria, Ohio. Aslo killed in that crash were 2Lt Harry O Morris, Jr. and Cpl. Erulio F. Angelosanti.


Lt. William P. Maher remained in the USAF after WWII. Was Killed in Service on 18 March 1953 flying in a RB-36H Peacemaker #51-31741, 718th SRS, 28th SRW, on a low-level overwater training flight, just 1,000 ft over the ocean whitecaps, from the Azores to its base at Rapid City, SD. The B-36 became lost in bad weather, had problems with its jet engines and crashed into a frigid wilderness hillside on Random Island, near Burgoyne Cove, Newfoundland. All twenty crewmen aboard were killed, including Capt Maher who was flying as an Observer, Radar Operator. The Senior Officer aboard was BGen Richard E. Ellsworth CG of the 28th SRW. The Rapid City AFB, SD was renamed Ellsworth AFB after BGen Ellsworth by President Eisenhower on 13 June 1953. [See http://www.ellsworth.af.mil/history.html. In September of 2003, William Patrick Maher, Jr. and his wife visited the crash site.
S/Sgt Alfred R. Buinicky - Believed to have evaded capture with help of the French Resistance. Later captured and made a POW. See the Buinicky Evasion Story.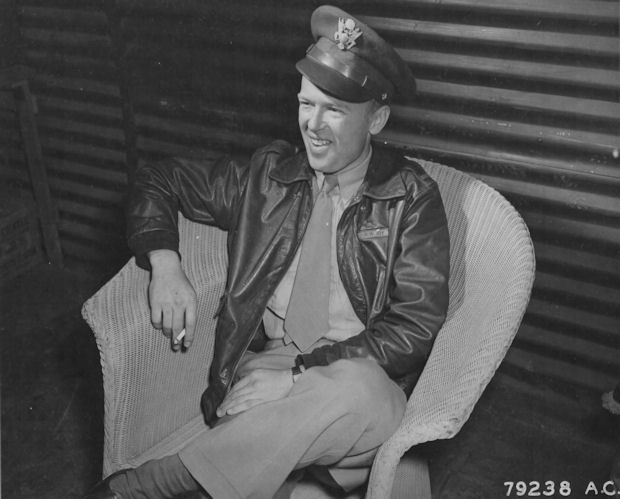 1Lt Ripley W. Joy of San Francisco, California, Co-Pilot of B-17 "Hell's Angels," relaxes after returning to his base in England after completing a mission. (15 June 1943)
[photo from the 303rdBGA Archives]
[Researched by 303rdBGA Historian Harry D. Gobrecht]